There is plenty of unhiked terrain at Frozen Head and we are getting it in prior to the imposition of a tax to backpack there set to implement April 1.  Recognize this guy?  Yep, it is Licklog, aka Rev. Grady.  He is back on the trail with the SouthernHighlanders.  It was a perfect backpack.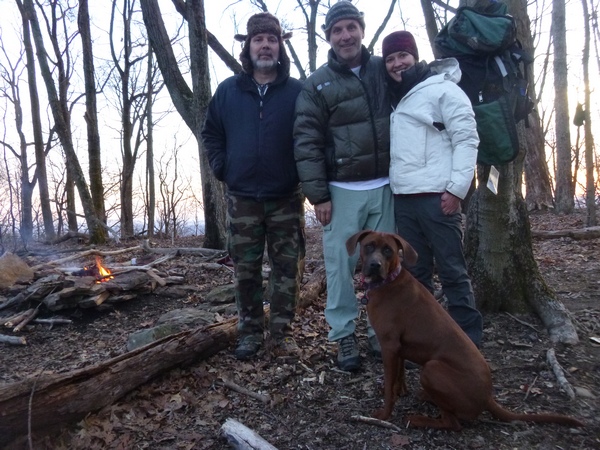 This is the MoCo Mojo.  Be prepared, it is infectious.  We were exposed to it last Monday night following a presentation by the Morgan County Tourism alliance.  They asked us to stay after the County Commission Tourism committee meeting.  It is a nice little song.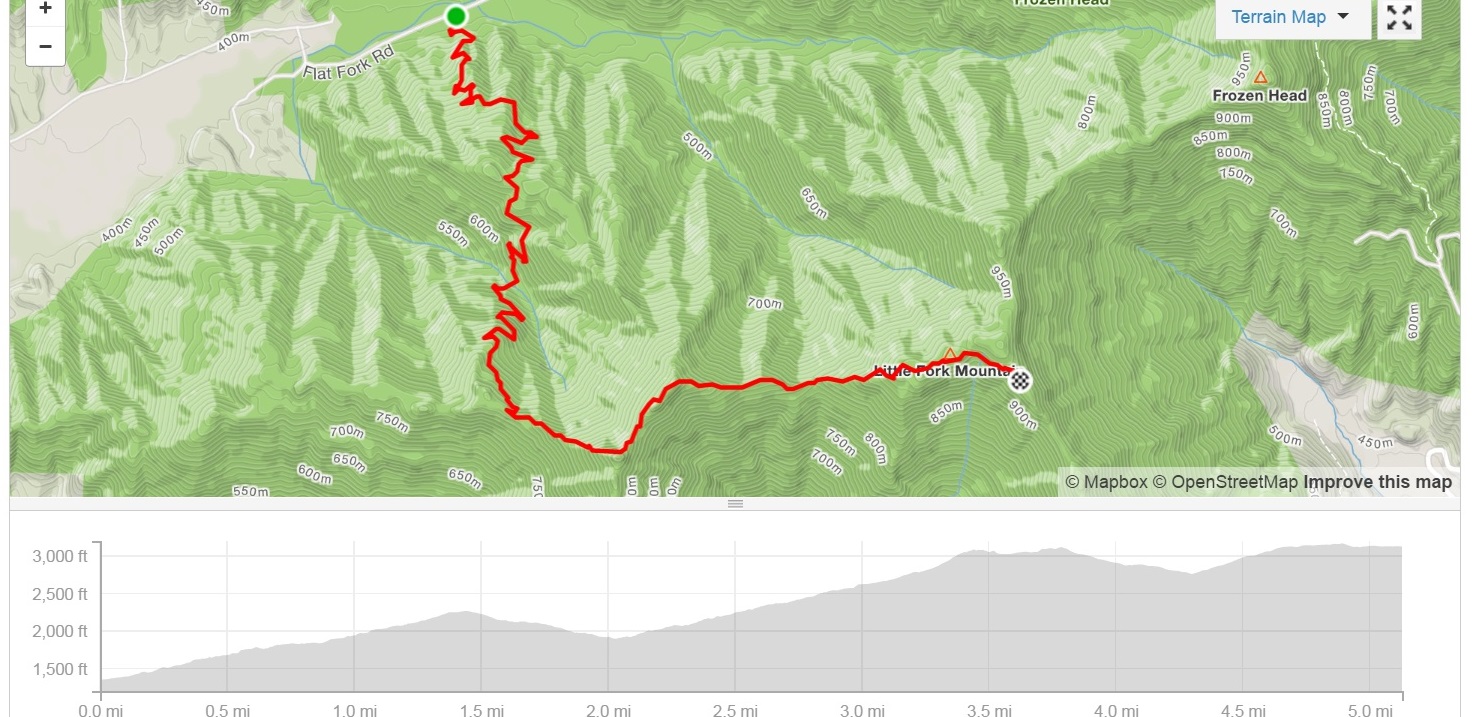 Last time we approached the Mart's Field campsite from Spicewood Trail.  So this weekend we made the ascent of Chimney Tops, which is the most precipitous in the park.  You can see from the elevation profile I mapped via Strava.  If you haven't used Strava, I highly suggest it. I was shown this app from a mountain biking friend and have been using it for the past year over at the Urban Wilderness.  When you pass someone, for instance on the trail, Strava will tell you who it is, provided they are on Strava.  It is a free app and calculates all manner of data.  Now that I am seeing its value in the backpacking world, it will have even more utility.  Probably not good GPS in the Smokies but Frozen Head is definitely in network.  Here is where you can download.  http://www.strava.com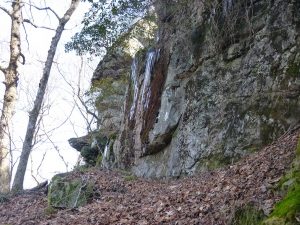 They don't call it Frozen Head for nothing.  We climbed right out of the visitors center and it was steep.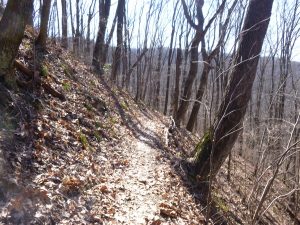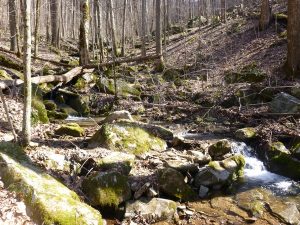 The scenery was beautiful and we passed but a few hikers.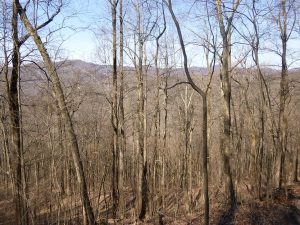 The views, however, were incredible.  This is where they conduct the Barkley Marathon.  I can see why.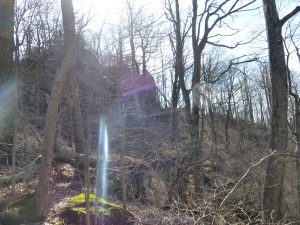 That is the top of our climb.  You probably noticed our ascent was 2575 feet in 5.1 miles.  I made it in two hours, 14 minutes.  There were steep sections.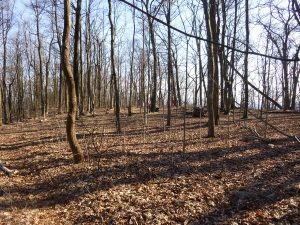 I was glad to see the back side of our old campsite, Mart's Field.  Of course, Laurel and Longstreet had been there for 20 minutes.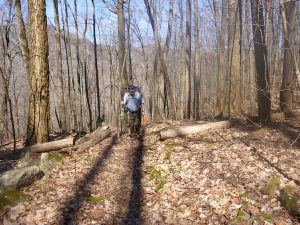 Grady came strolling in a short time later.  He was cursing me for picking the hardest trail in Frozen Head.  He was reminded of why he hasn't backpacked with me in a while, I'm sure.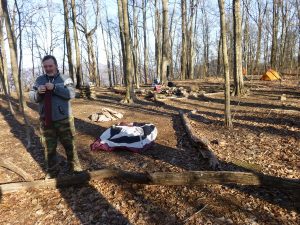 We had the campsite to ourselves.  I am convinced there is zero backpacking pressure in Frozen Head.  Which is why we are battling them over their upcoming backpacking tax.  The Morgan County Commission has supported our efforts to propose legislation to the TN State Delegation asking them to halt all backcountry fees in the State of TN for good.  It is a long shot but we are trying to stop these egregious fees.  You pay taxes for use of this land, help the Southern Forest Watch stop the backpacker taxes.  www.southernforestwatch.org.  How can you assist?  For one, if you buy via amazon, please use this link.  .5% of your purchase will go to support our efforts to hold public lands managers accountable.
http://smile.amazon.com/ch/46-1509528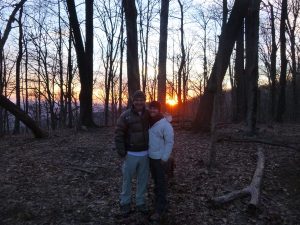 The weather was completely perfect.  No wind with which to contend this time.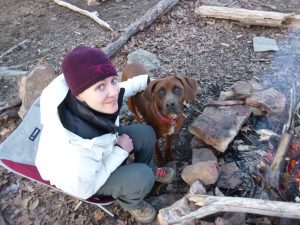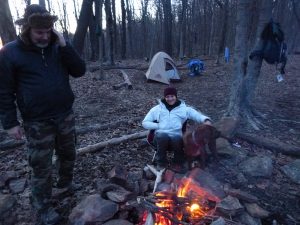 There is plenty of dry wood at Mart's Field.  I discovered that the Mart's family lived there until the 70s and we gathered water from the actual site of their home.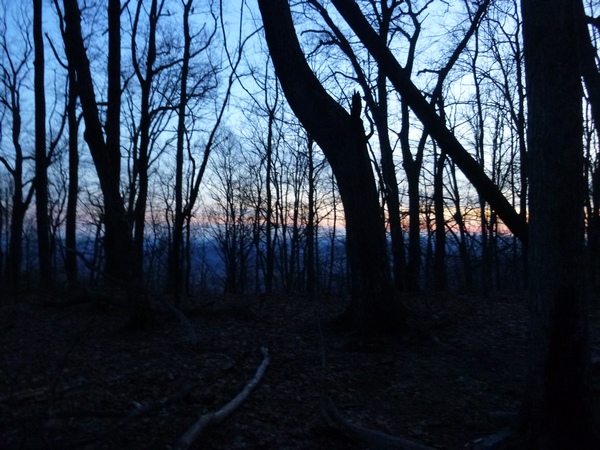 Sunsets are clearly magnificent at Mart's Field.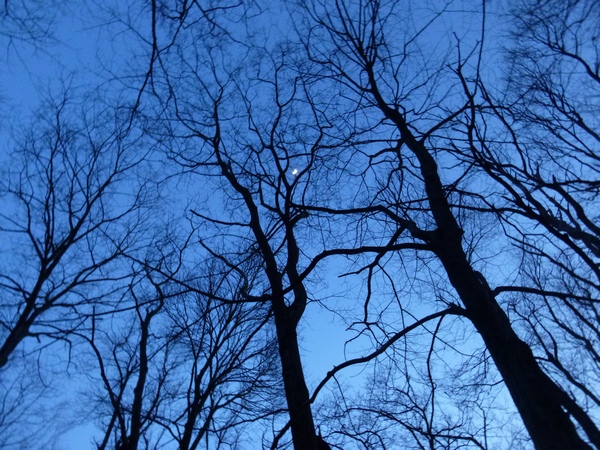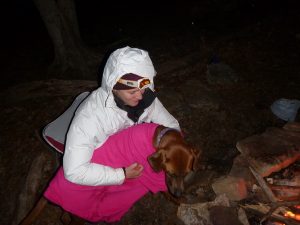 If you are one of those twisted scholars of Highlander Lore, you are familiar with the Pink Fleece.  The Pink Fleece was an adornment reserved for Highlanders who exhibited extreme cowardice or un-manly attributes.  Over the years, several backpackers were required to wear the pink fleece.  One backpacker threw it into the fire after being forced to wear it and it was retired.  Now we resurrected that garment for Longstreet, the shivering dog.  I used to hike with a lot of shivering dogs.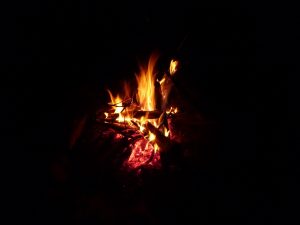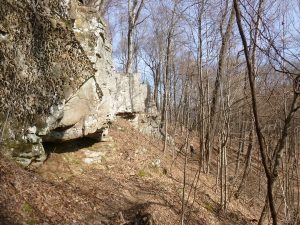 On Sunday morning, or as Kristofferson calls it, "Sunday morning coming down."  Here is what that looked like.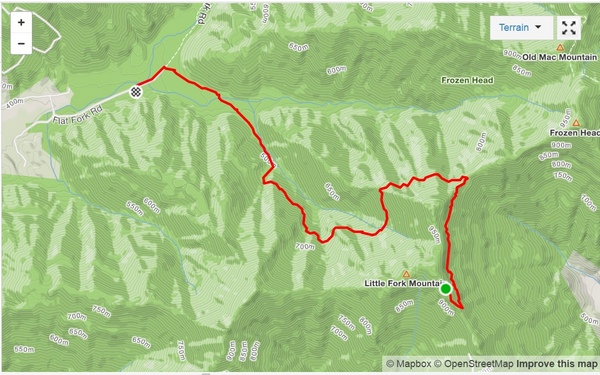 Sunday mornings stats were, 4.4 miles in one hour, 40 minutes.  Not bad for a bunch of old men and young women.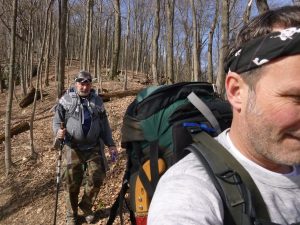 Grady killed it off the couch.  Another outstanding weekend.
Now for a bit of update on Spring events.  Many have been asking about my next climb, as there usually is one.  Well, believe it or not, there isn't.  In a week and a half, Laurel and I are flying to Paris, then heading down to the French Alps for a week of skiing in Chamonix.  That will be my Spring climb.  We got great deals on airfare, $550 r/t out of Knoxville.  So we had to do it.  However, my climbing mate from Cho Oyu last year and Mustagh Ata in 2011, Andrea Rigotti, is leaving for Everest in a week.  He has been training for years to climb his dream mountain and I am experiencing it vicariously through him.  I hope to post updates on his ascent here.  Andrea is an Uber fit dude.  He trains like an Olympian and will be more prepared to tackle Everest than anyone I know.  He will be using the logistics of Arnold Coster, my expedition leader on Muztagh Ata.  So stay tuned.  I hope folks are getting to enjoy this weather.
John
Here is a link for you bike enthusiasts.  https://www.bikemunk.com/cycling-software/