We were back in Bryson City again this weekend at the invitation of Myers and a crew he assembled. Laurel came up from Athens and I drove over the mtn from Maryville. It is approximately halfway for us and we enjoy the area. Having departed from work on Friday we parked Laurel's car downtown, drove up into the park and began our five mile walk into a campsite five miles up a very swollen Noland River.  This was where I made my first bad decision of the weekend.  Having erroneously concluded that Laurel was close behind I marched on into the darkess at a steady clip.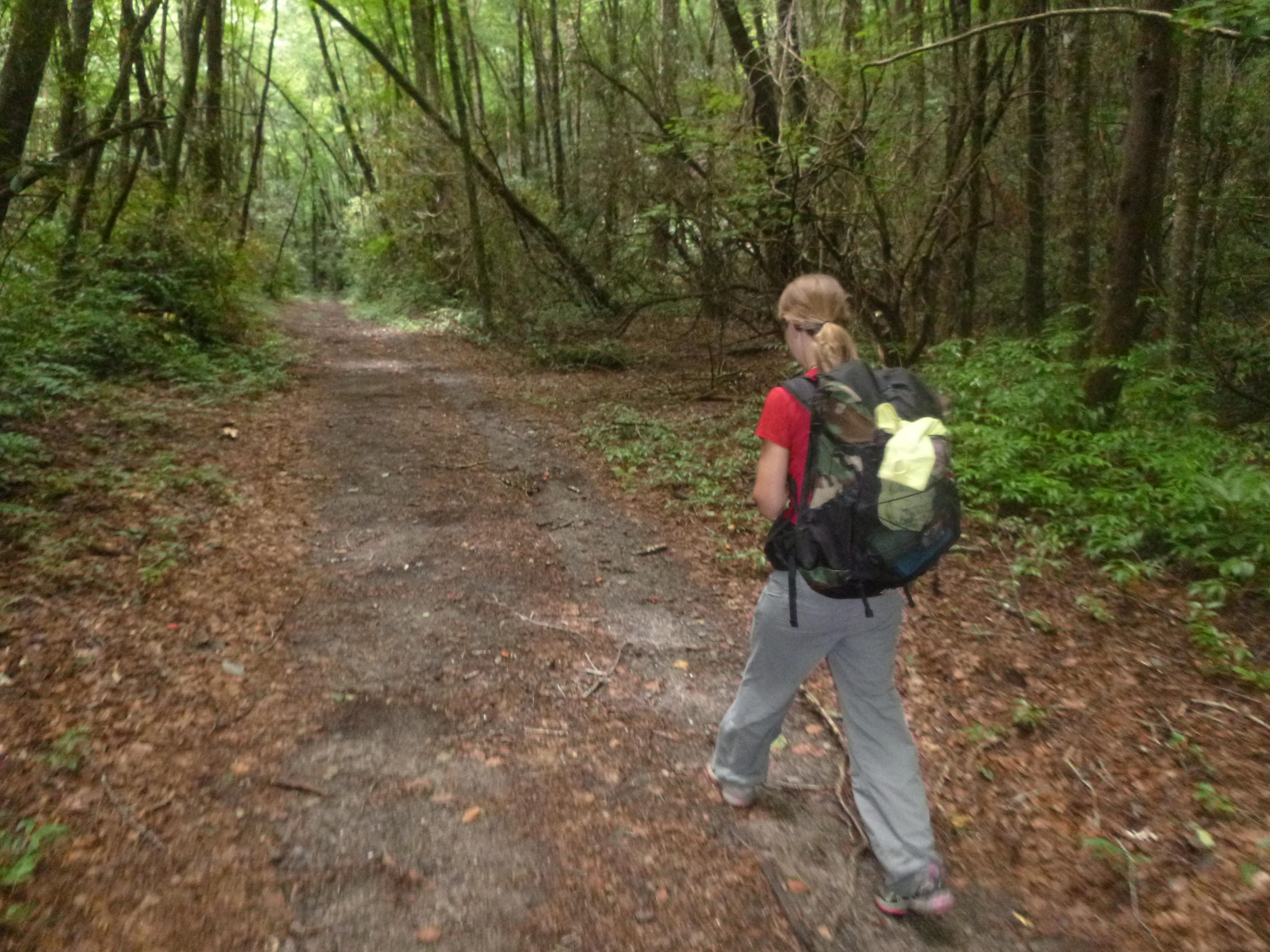 I got into a hiking groove and wanted to beat fading light but failed on that level and one other.  Sorry, Laurel.  So I arrive to a warming fire with Myers, Mark and Nick. Two dripping wet backpackers had preceded me by thirty minutes having dropped down from the dome.  Now think about this for a minute.  The day of flooding rains, they made three very dangerous crossings.  Mark and Gary looked a fright but earned their red trail stripes on Friday making a harrowing ford of an otherwise impassable water crossing.  And they lived to tell about it.  And tell about it they did!  I'm glad no one was seriously injured.
Soon Laurel arrived and informed me that she doesn't enjoy solo night hiking. Once we got that miscommunication squared away It was a very pleasant evening and no company outside our group was to be counted at good old 68.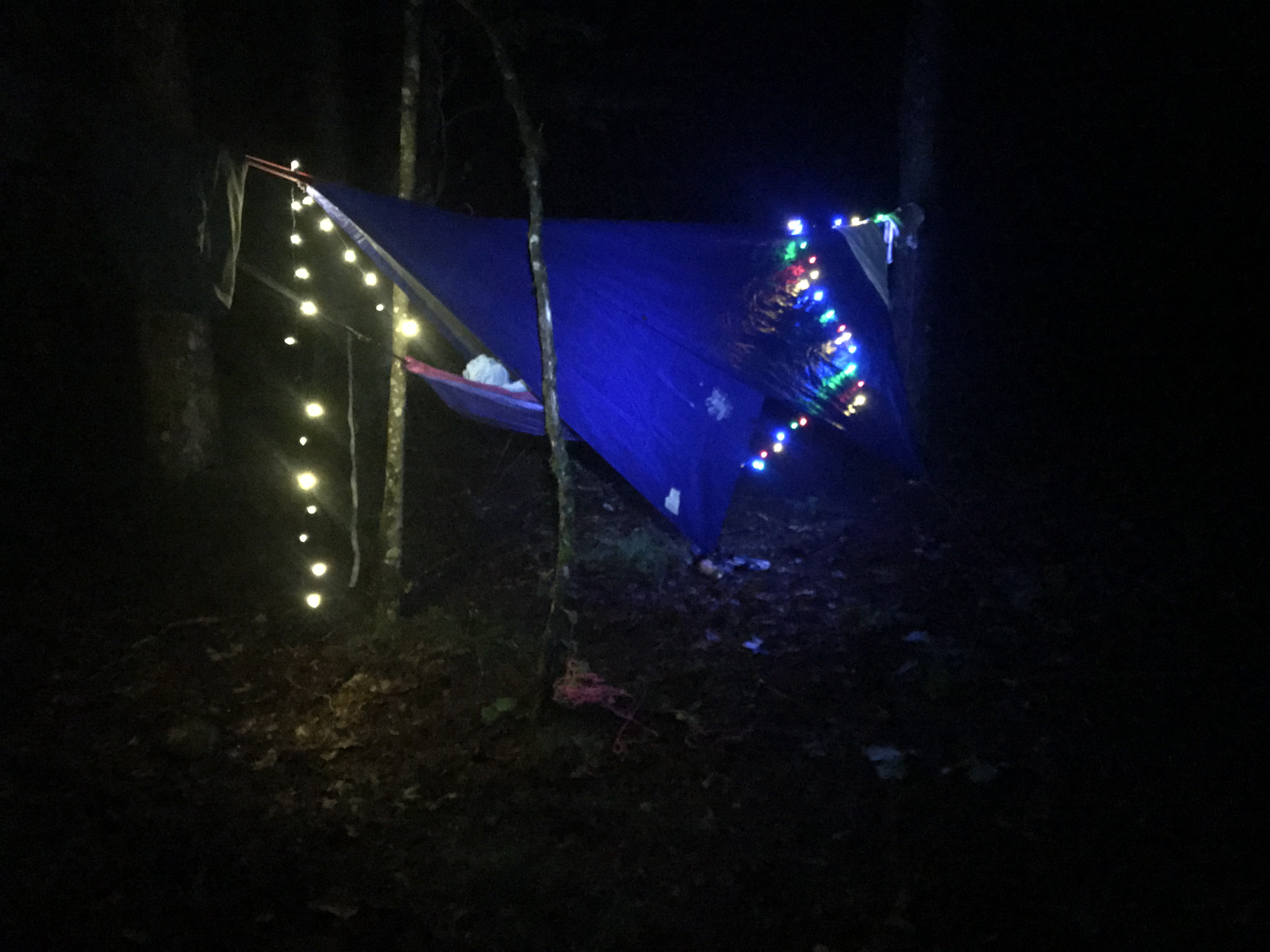 (I felt like we walked into Christmas, it was merely Myer's hammockery luminating-photo by J. Myers Morton)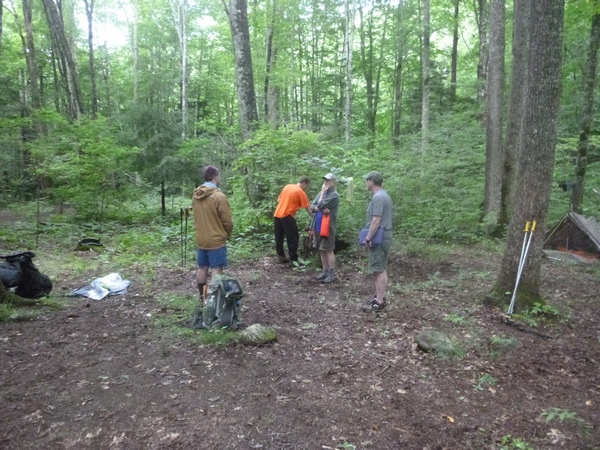 The next morning, Myers, Nick and Mark left to ascend Springhouse Branch and wind up at campsite 74.  Mark and Gary were slated to press down to 67 and meet friends while Laurel and I were undecided.  Eventually we walked back out to the road to nowhere and took a few minutes of deliberation at the trailhead and car.  It was decided that no major decisions should be made until we had lunch, which was the final bad decision of this trip.  Driving down into Bryson City, hungry as hostages, we somehow agreed that chicken wings would make for an appropriate backpacker's lunch.  On a sweltering summer afternoon, with three miles more to hike later in the day with full packs, our decision was widely and roundly lamented.  The lamentations did not end until late Sunday evening.  Chicken wings are not hiking food.  And they may be removed from my palate rotation for a while to come.
We shouldered packs once again and set towards campsite 74 to intercept Myers, Mark and Nick. The three miles is undulating and quite boring. Laurel and I just wanted to get somewhere and forget about chicken wings but with every tortuous step out the Lakeshore Trail proffered consistent reminder of our culinary indiscretion. The wings sought their revenge by clipping ours.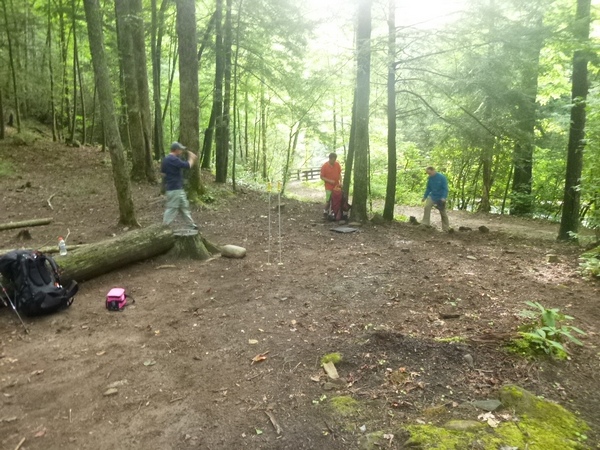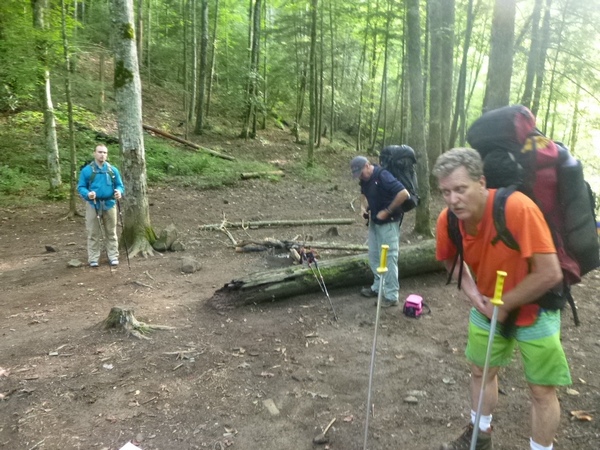 If Myers looks gut punched it is because he says that Springhouse branch kicked his tail.  So much so that he had to jettison weight. There will be some happy hikers somewhere up Springhouse Branch soon.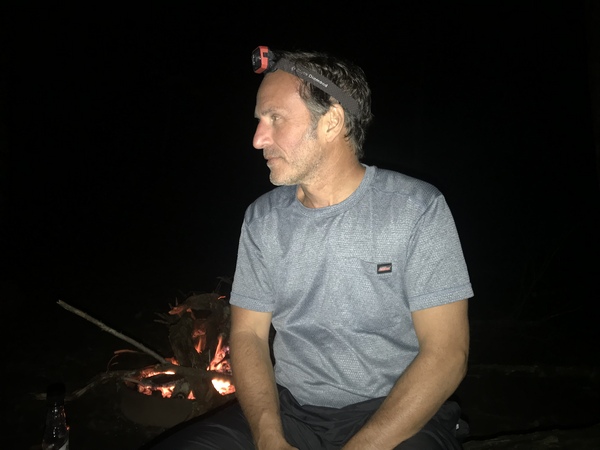 (Photo by J.Myers Morton)
We had a delightful evening around a roaring fire that Nick the former Eagle Scout devised. Everyone went to bed rather early, except me and Myers.  Our second night out was peaceful and relaxing if you don't count the political arguments that were hotly debated.  The spectre of chicken wings was losing its grip on me as the clock turned midnight.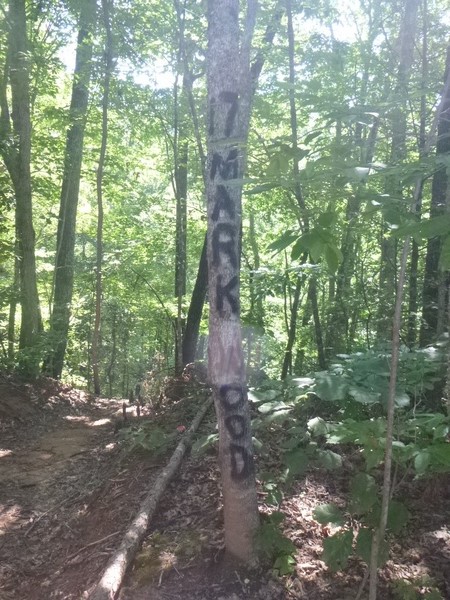 (I don't have the slightest idea either)
Sunday morning found me at the start of this .22 mile tunnel that signifies the end of the Lakeshore Trail and road to nowhere. Very little remained to remind me of the wings.  Laurel split off and captured the bypass trail for new mileage and a copperhead sighting.  Guess who I ran into at the end of the tunnel?  It was Mark, Gary and their friends who were coming out of campsite 67. Carl, who was at Hangover with us last fall had a video of a rattlesnake that slithered into their camp and crawled right over their sitting log.  It was pretty wild.  Rattlesnakes know they are kings of their domain, I remember seeing that happen over on lower Gregory's trail once upon a time.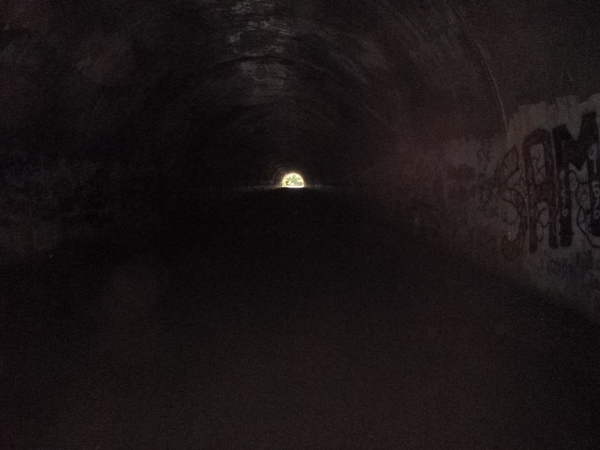 Every time I walk through here it takes me to a sensory deprivation place and I expect to walk out into some level of the Matrix.  The only matrix I hit was the world of Mark Cooke and his crew who had cold soft drinks in their vehicle for us.  That is my kind of matrix!
16 backpacking miles this weekend, no new miles for me.  I skipped the only new, second map miles I needed last weekend to hike out with Laurel and spend more time with this wonderful woman. Perhaps by reminding her of this I will receive forgiveness for other weekend night hiking and lunch choice oversights.  Many thanks to Myers for the invite.