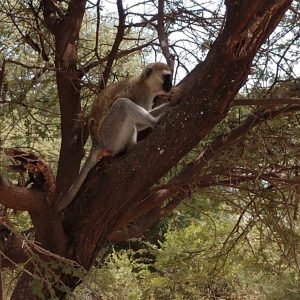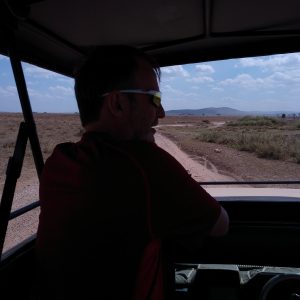 When we got off the big Uhuru summit of Kilimanjaro we took a shower at the hotel in Moshi. I was now in full blown respiratory distress and spent the afternoon/ night in a fever. Imagine being in a hotel in Africa and freezing to death then burning up. Yes, the idea of a safari, or anything else, for that matter was not enticing. But, then again, neither was being laid up sick.  So, we made arrangements, again through Evans, to leave early the next day and drive to Arusha, several hours away and eventually toward Tarangiri National Park.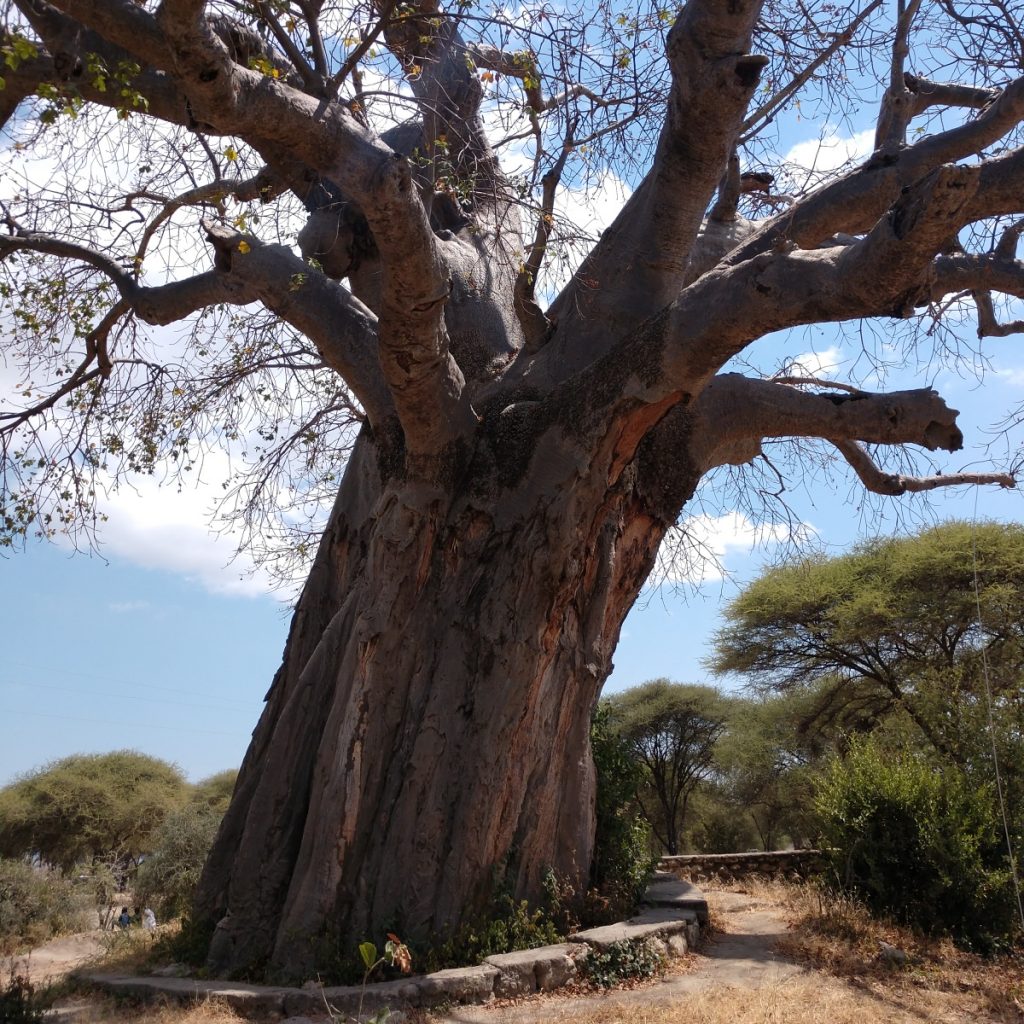 Tarangiri was warm but the dusty roads weren't helping my condition. Still, we pushed on and saw our first animals, ones that would signify the abundance of Africa, the Thompson Gazelles.
Soon we were knee deep in zebra and wildebeest.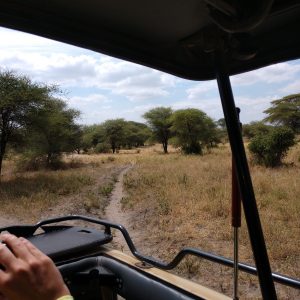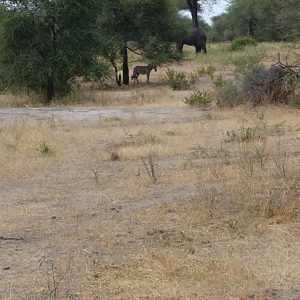 Then we saw our first elephants.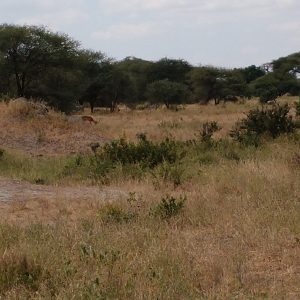 Thompson gazelle are like the buffet items for predators.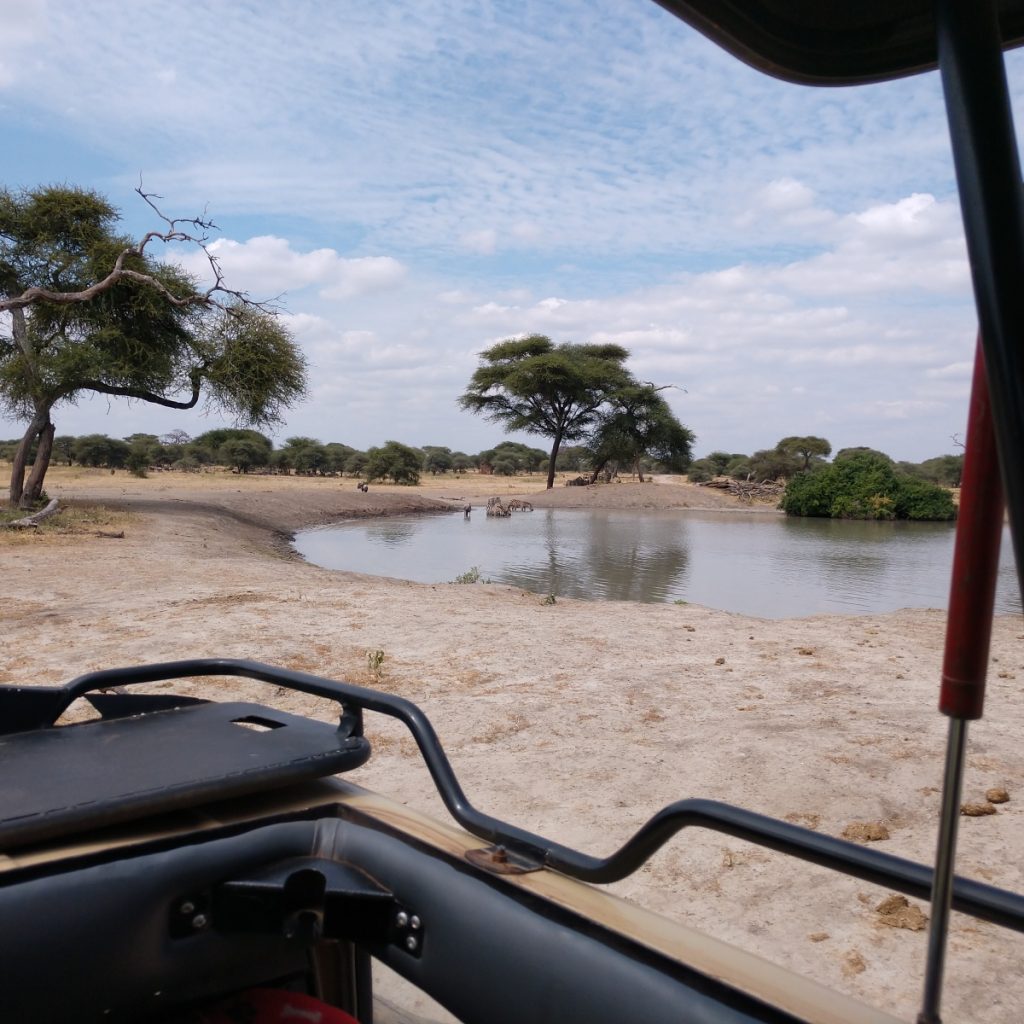 Much like you see in Discovery, animals congregate at the watering hole.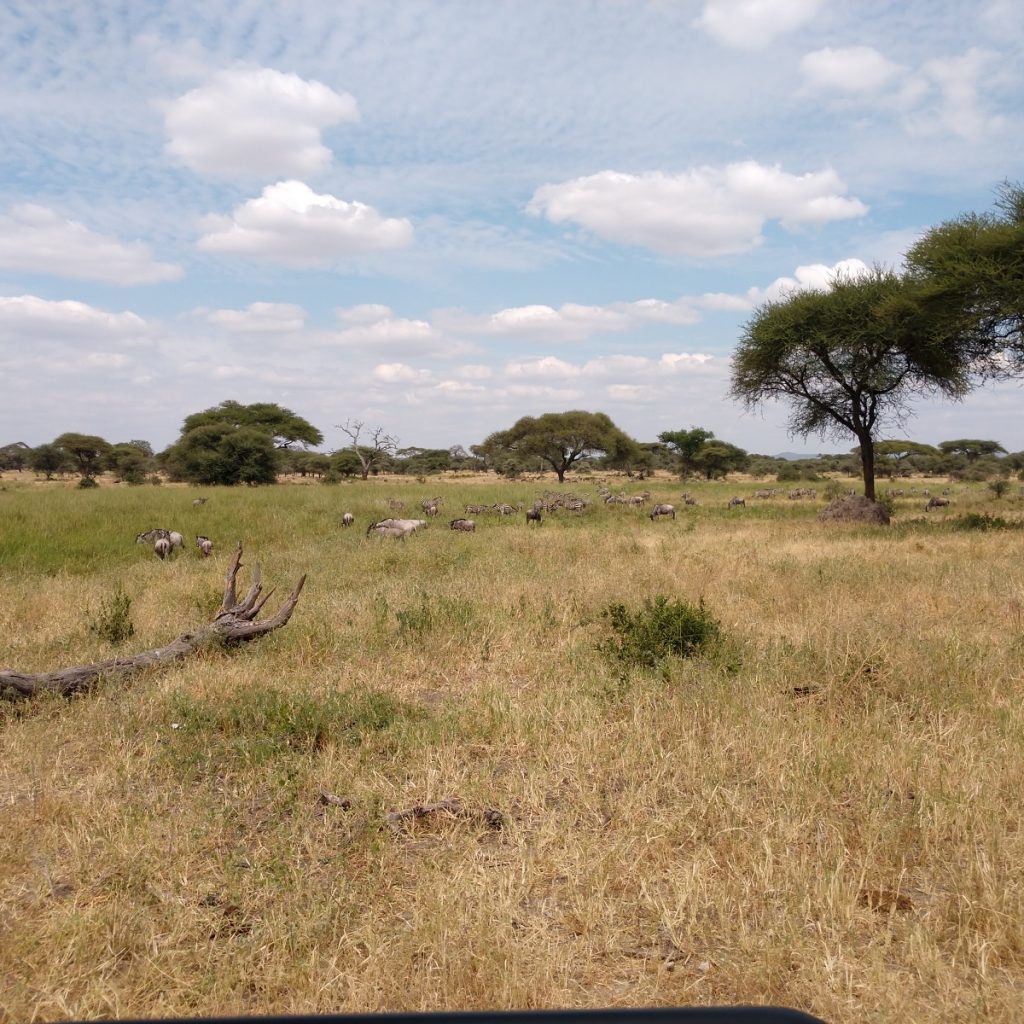 Not that they weren't plentiful elsewhere.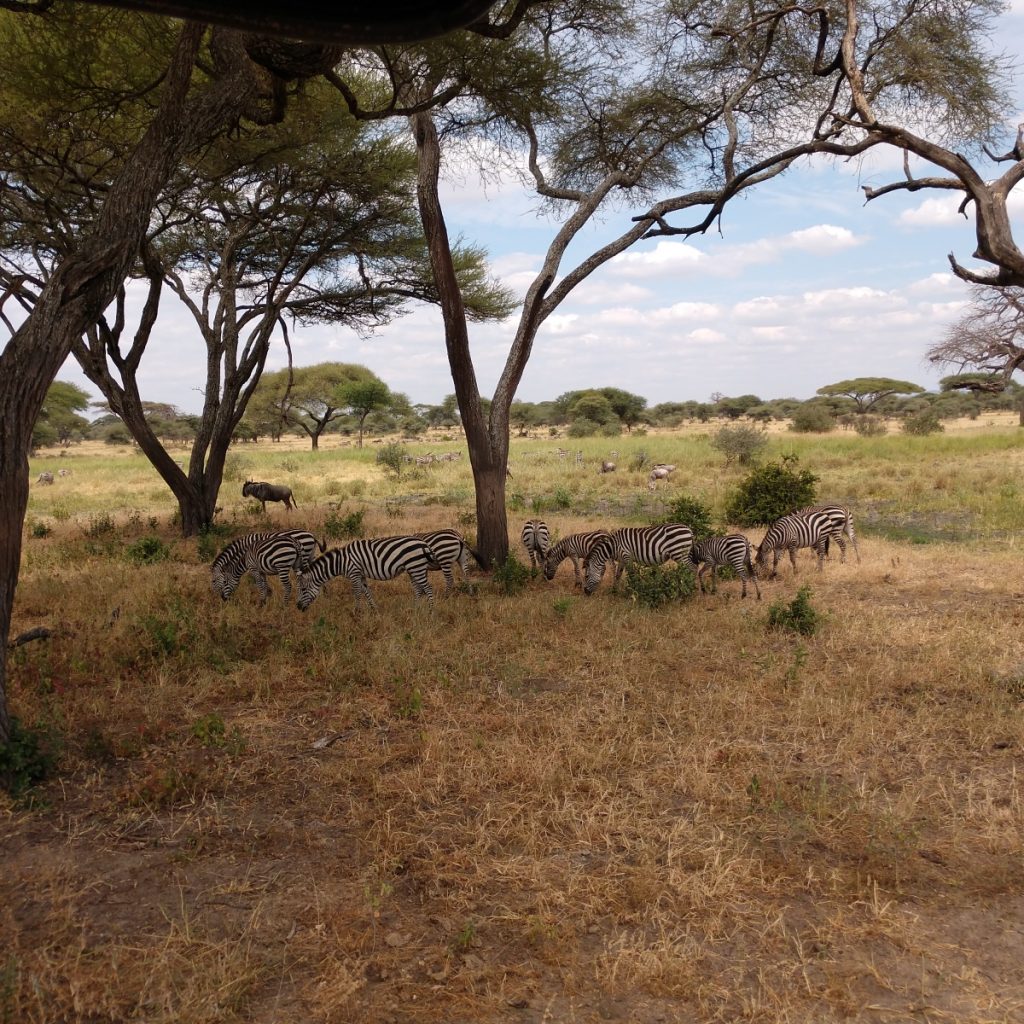 After several hours cruising Tarangiri, we drove for a bit to our first lodging which was exquisite. For some reason I didn't take any photographs here but we had individual bungalos and incredible food. We would depart early the next morning for Serengeti.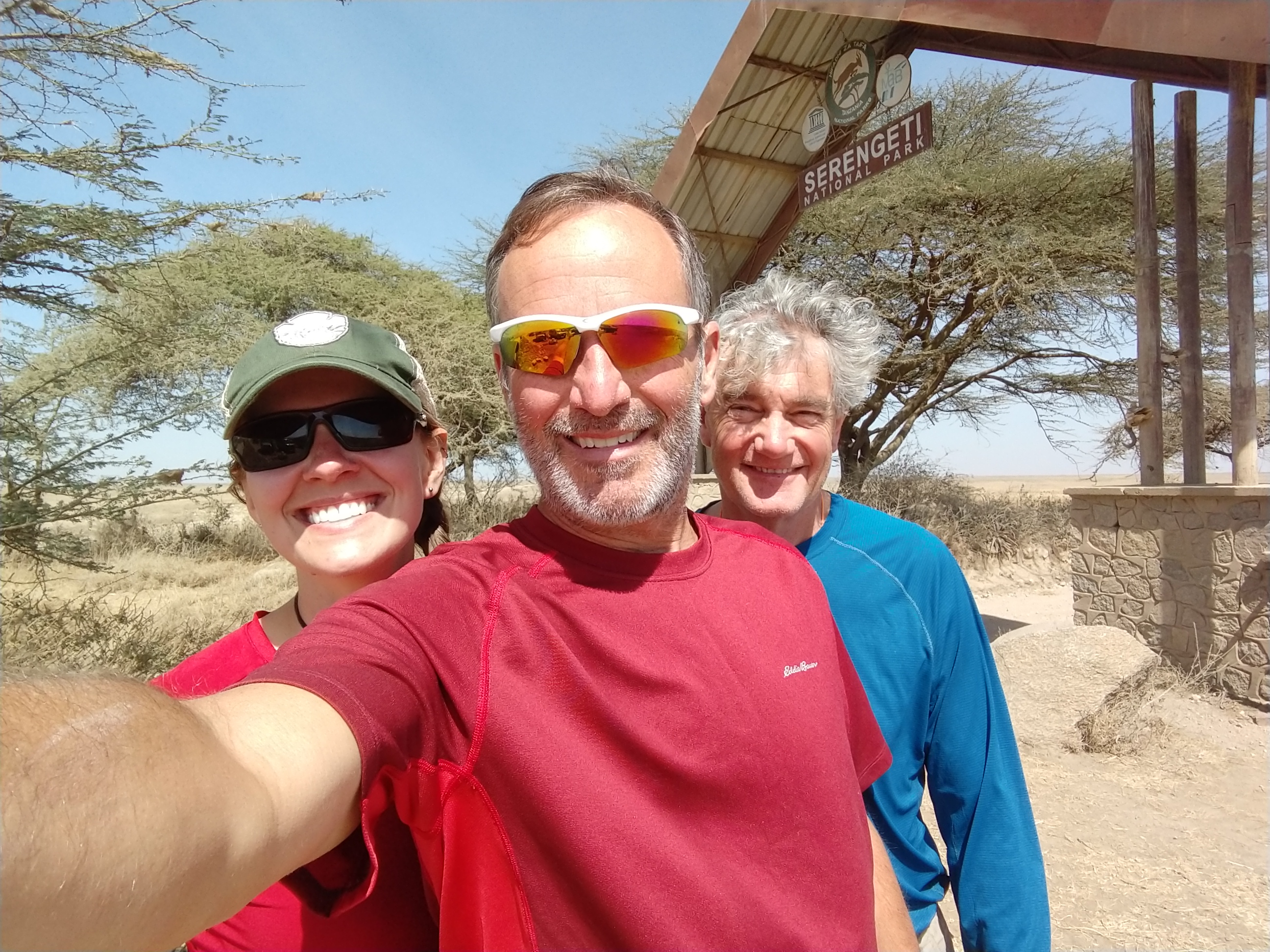 All smiles for a minute as we paid our fees and entered this marvel of nature. It spans 12,000 square miles and extends well into Kenya. The Maasai people used to inhabit this area and are abundant throughout. You recognize them by their colorful dress.
 Howard captured this moment with the Maasai. Then we zoomed in to see how they really felt about being photographed.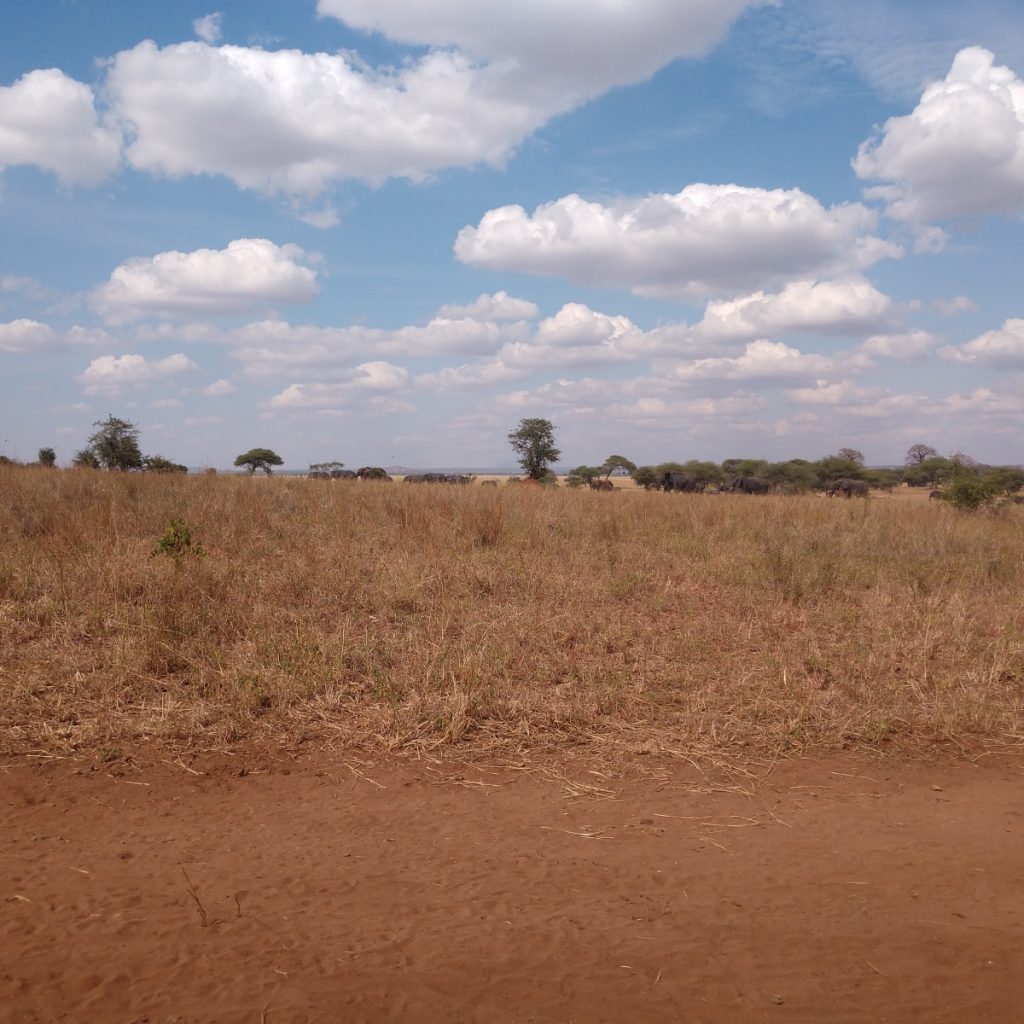 Elephants on the move in Serengeti.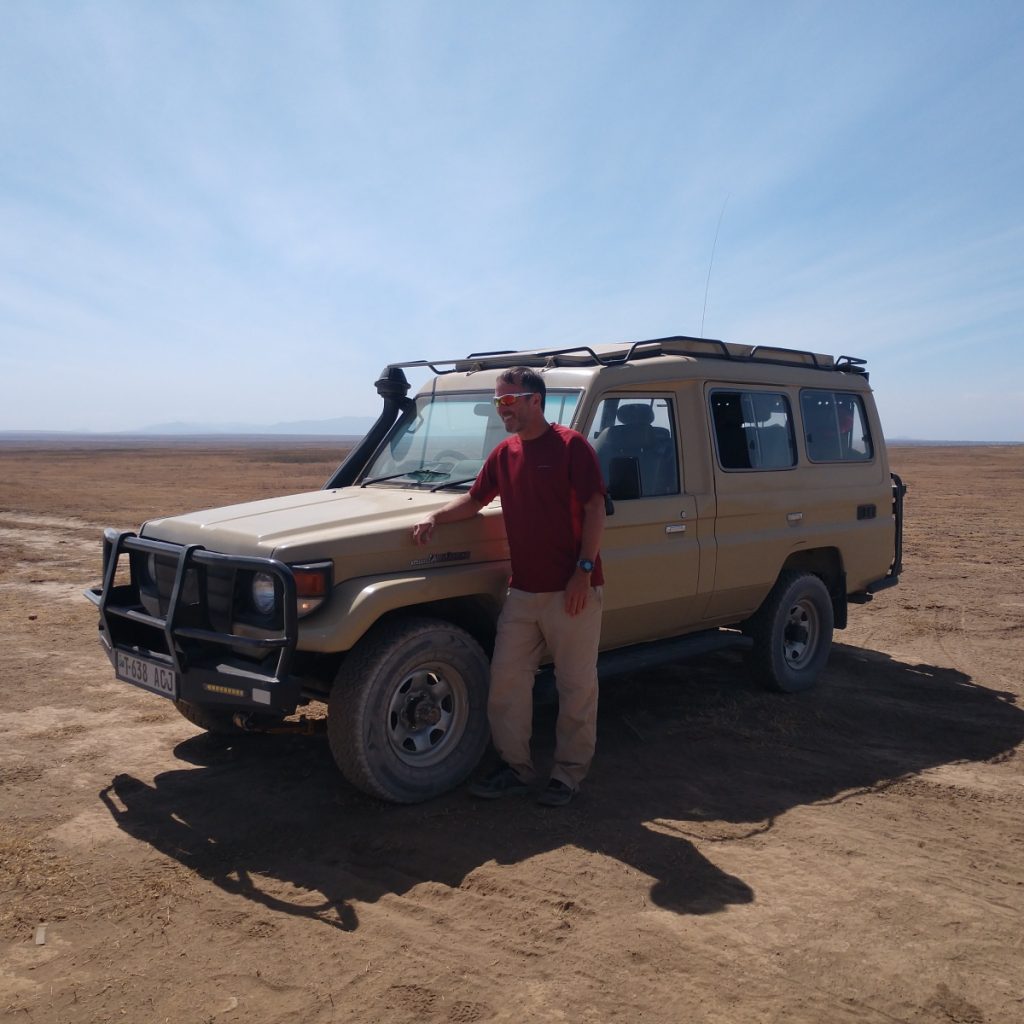 We couldn't get out of the Land Cruiser much. There were dangerous animals around.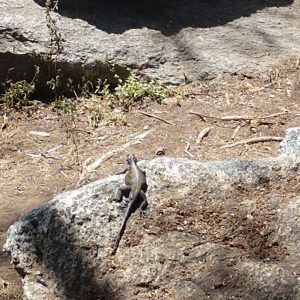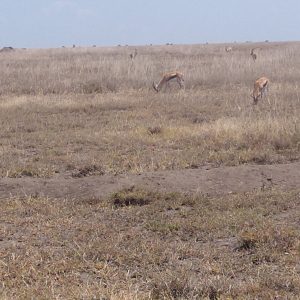 (the ubiquitous gazelle)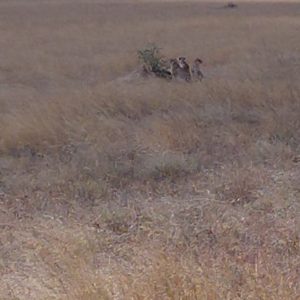 Three jaguar.  But wait until you see what happens here.
Howard captured this Hemingway moment with his phone.  It was amazing. We would see many more amazing things later on.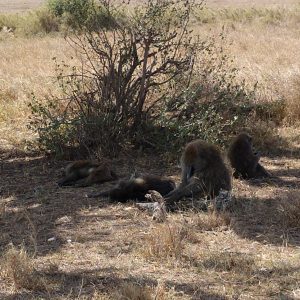 Yes, it was Africa hot in the Serengeti. And since we were in cold temps on Kilimanjaro, this was refreshing. But the monkeys needed shade.
The hippos had the right idea.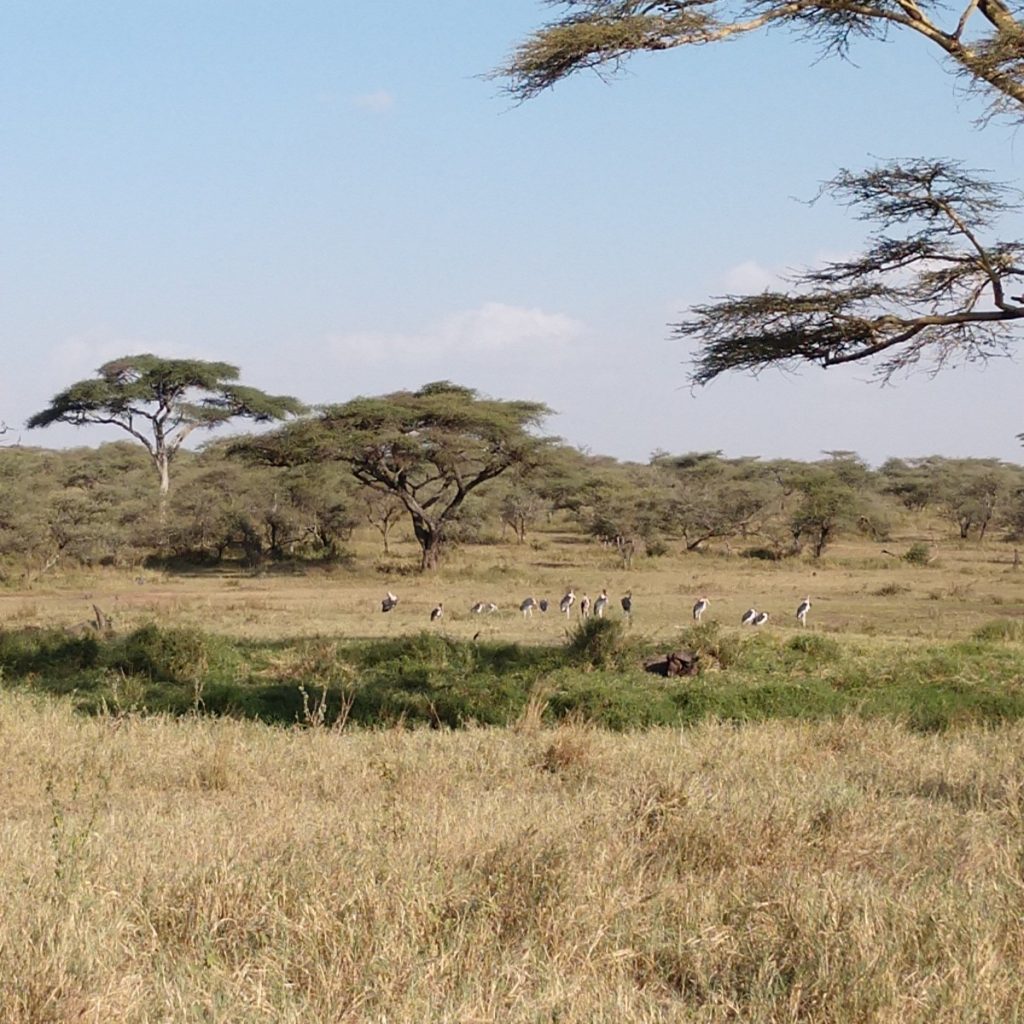 It had been a long and eventful day. We rode to our lodging for the night, smack dab in the middle of the bush.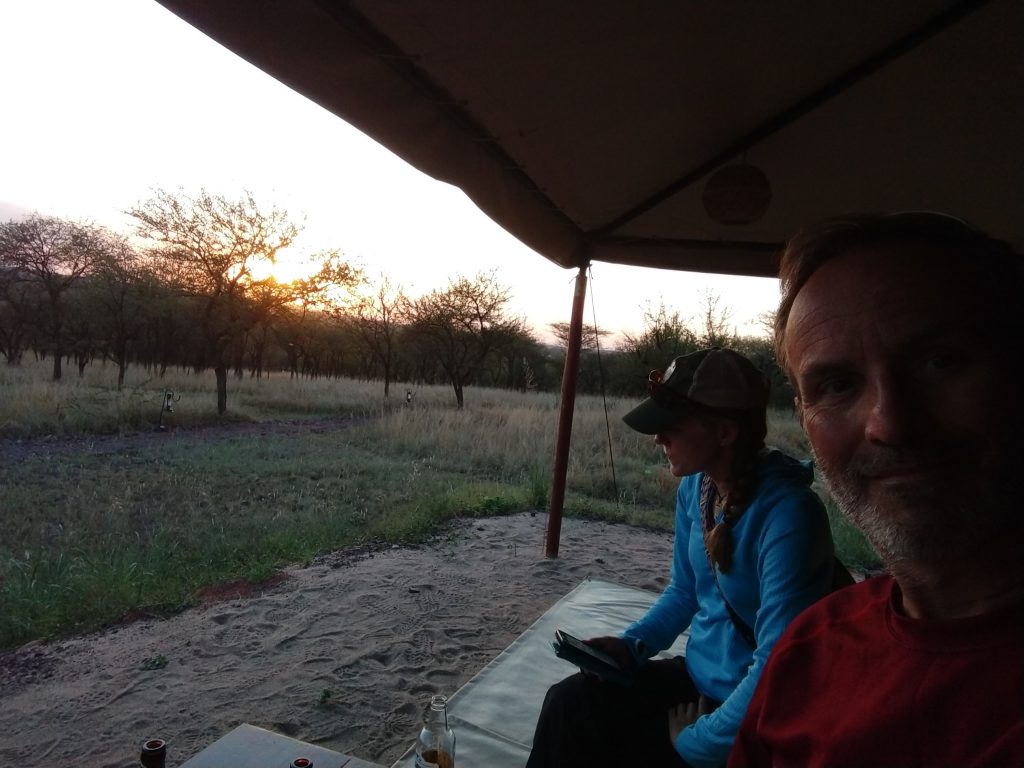 We were treated to a tent resort in the middle of the Serengeti. And it was the nicest tent lodging I will likely ever experience.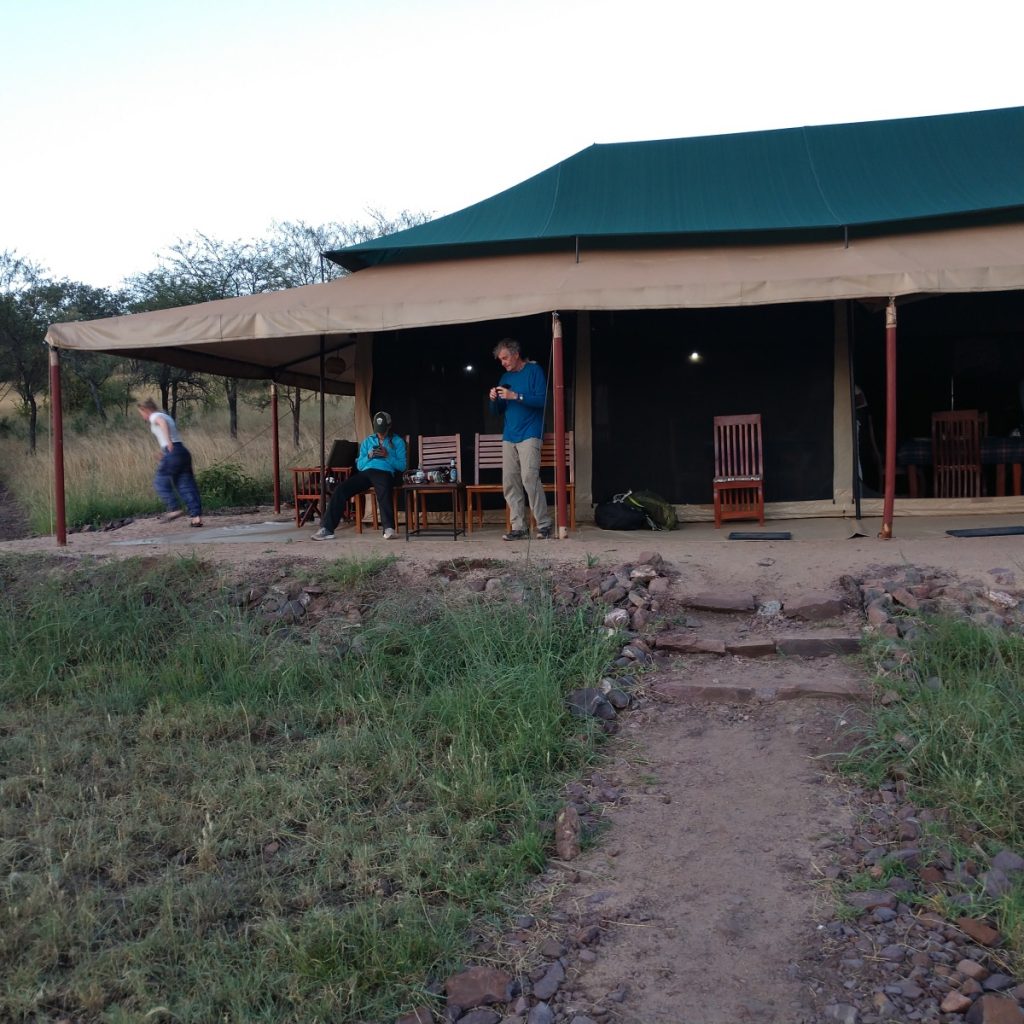 It even had a satellite internet connection. There are rules about camping in the middle of lion country though. You are escorted to your tent and you don't leave your tent until sunrise. But the tents were luxurious.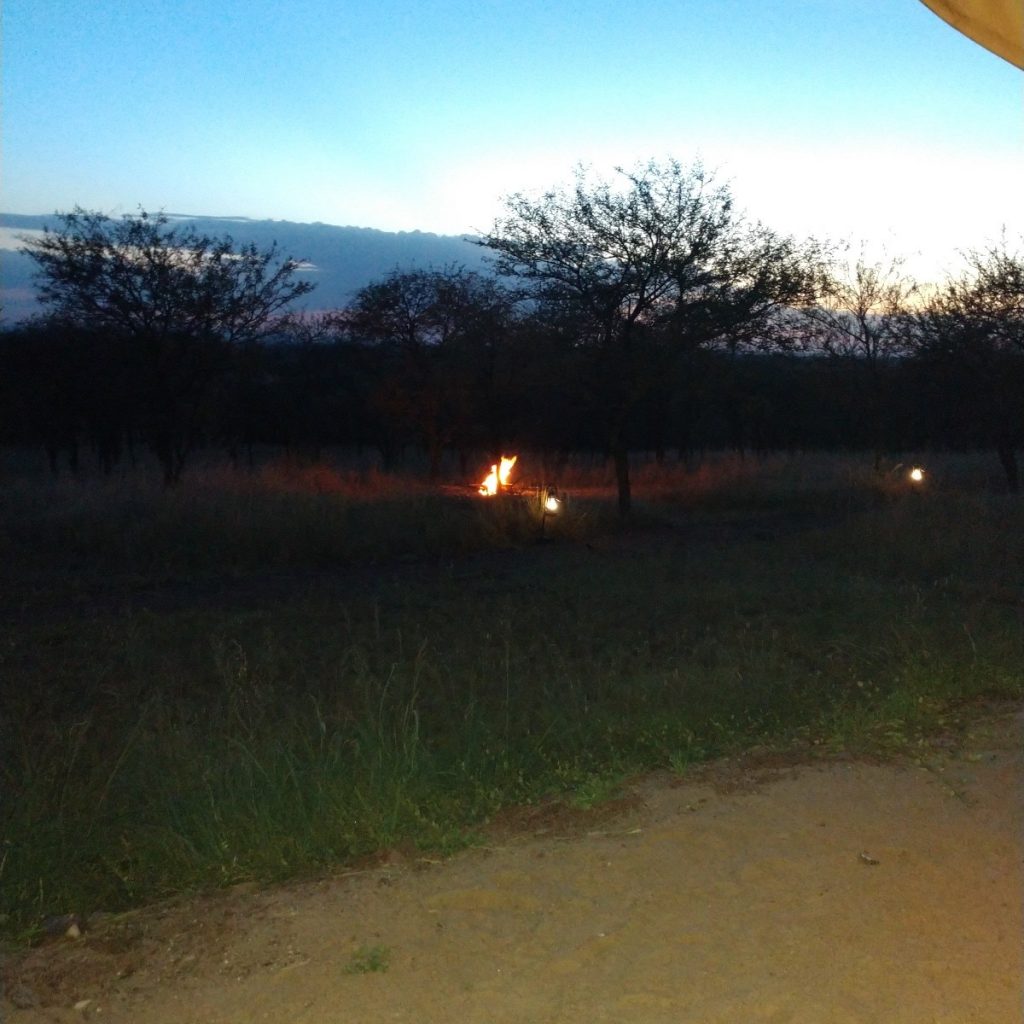 We even had a campfire at dusk.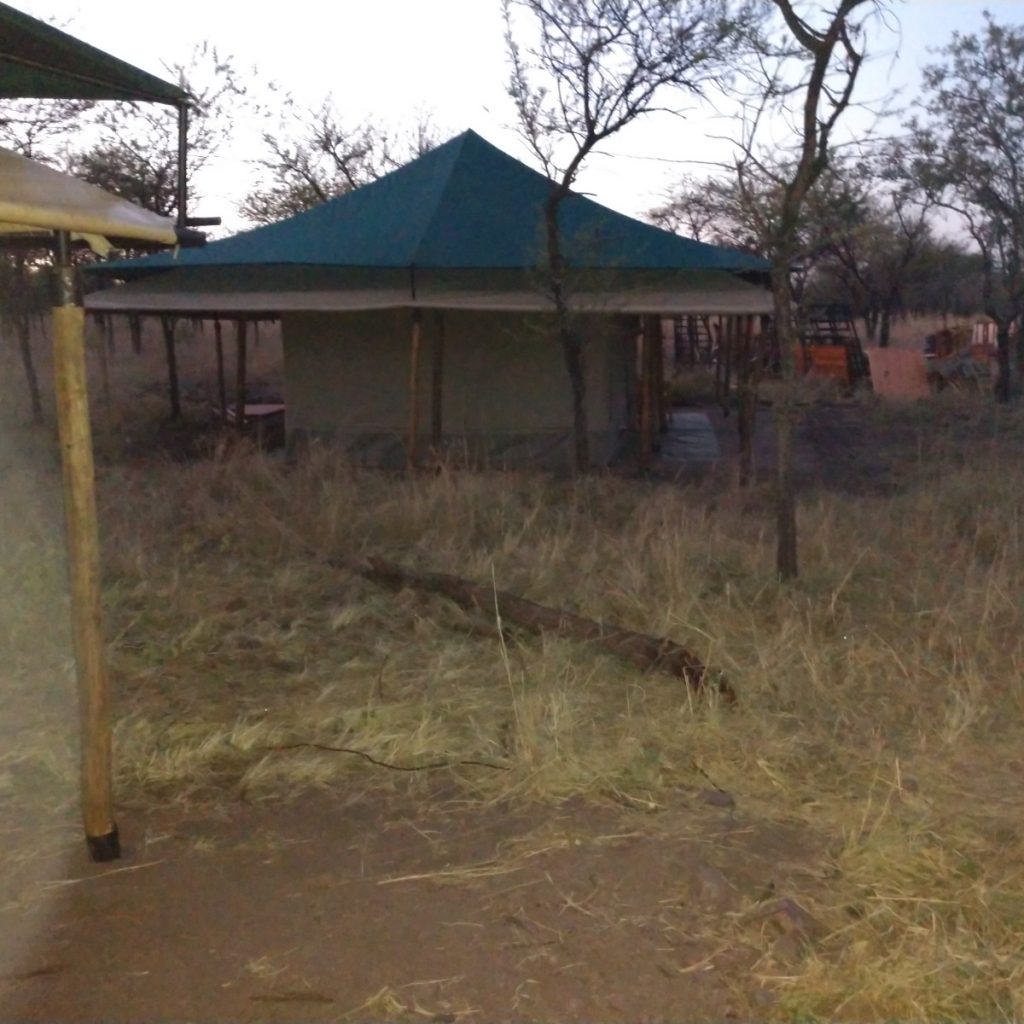 Our private bungaloo in the Serengeti.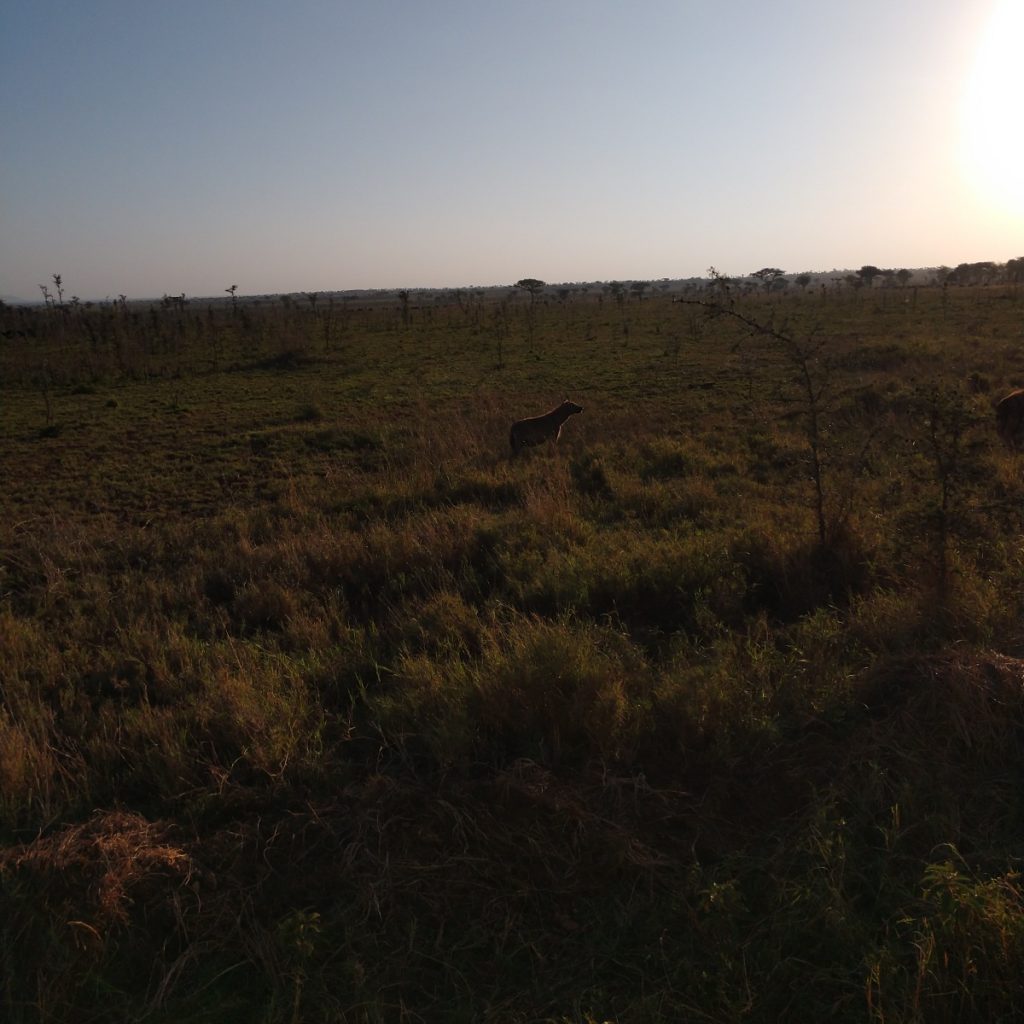 and a hyena slipped lightly along the edge of it.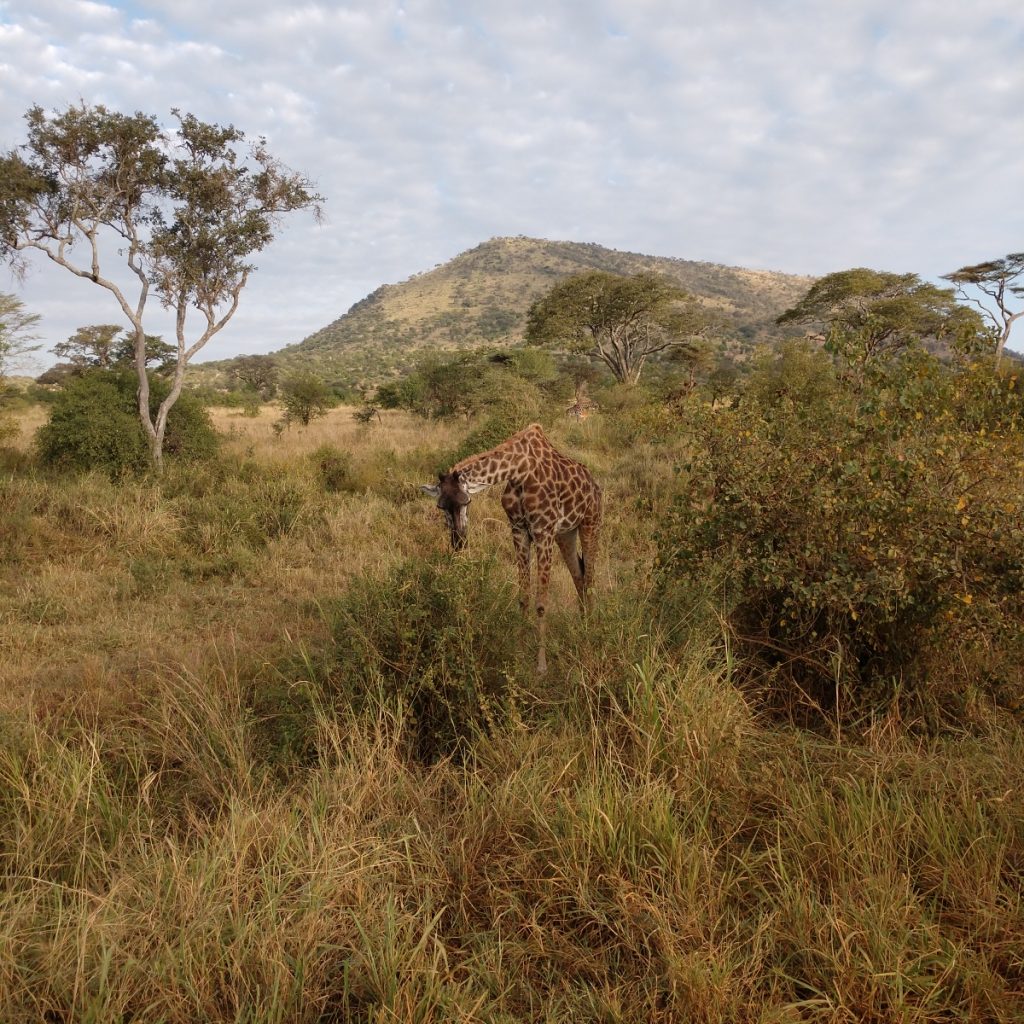 After an interesting night in a tent with full size beds, bathrooms and a shower, we were off for another morning in the Serengeti.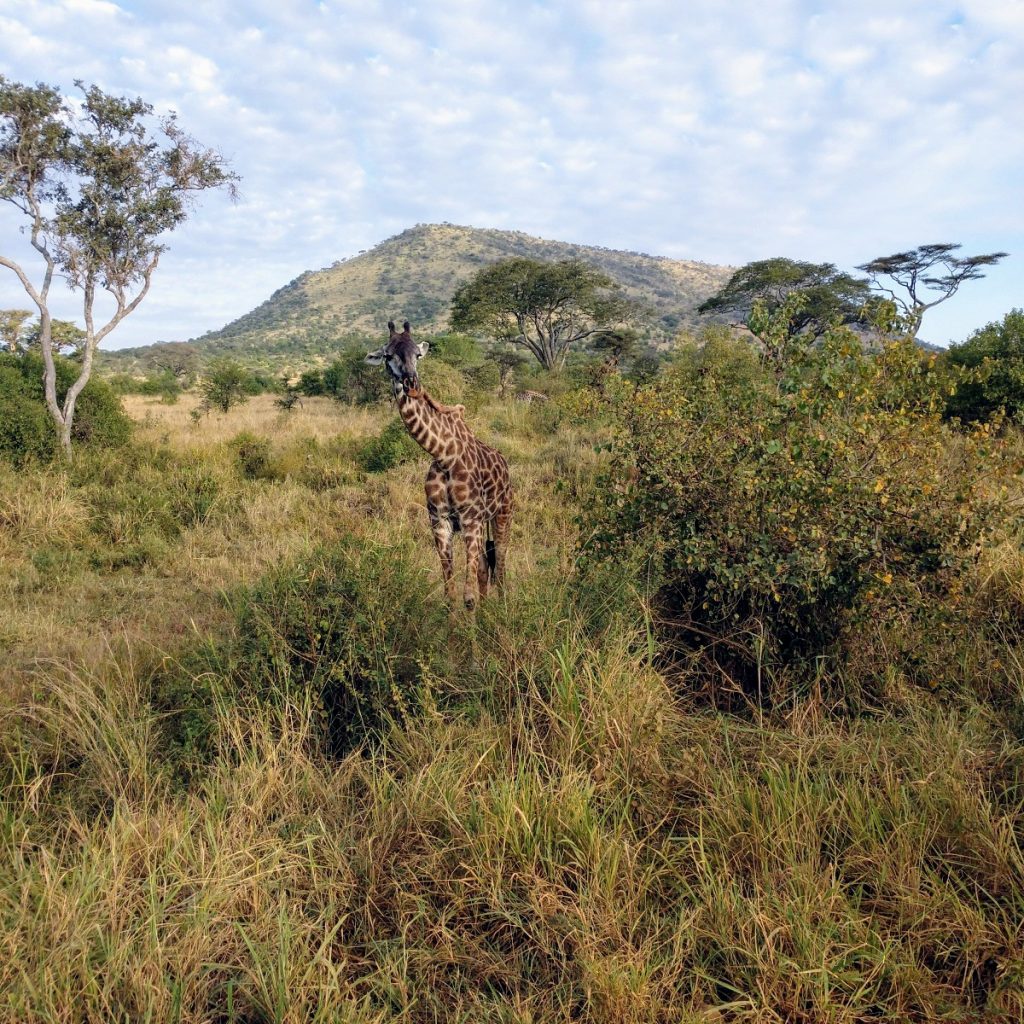 (I'm quite proud of this one and may frame it)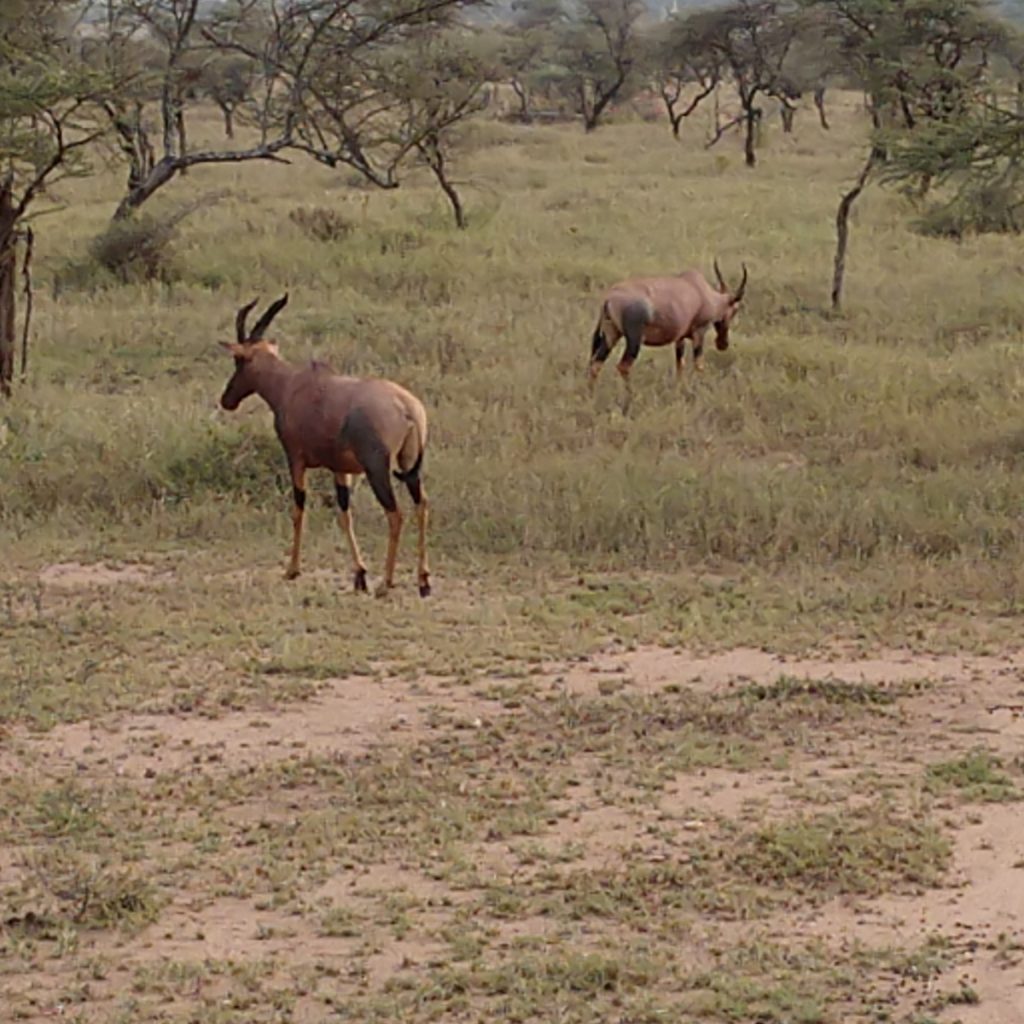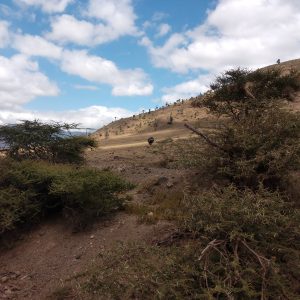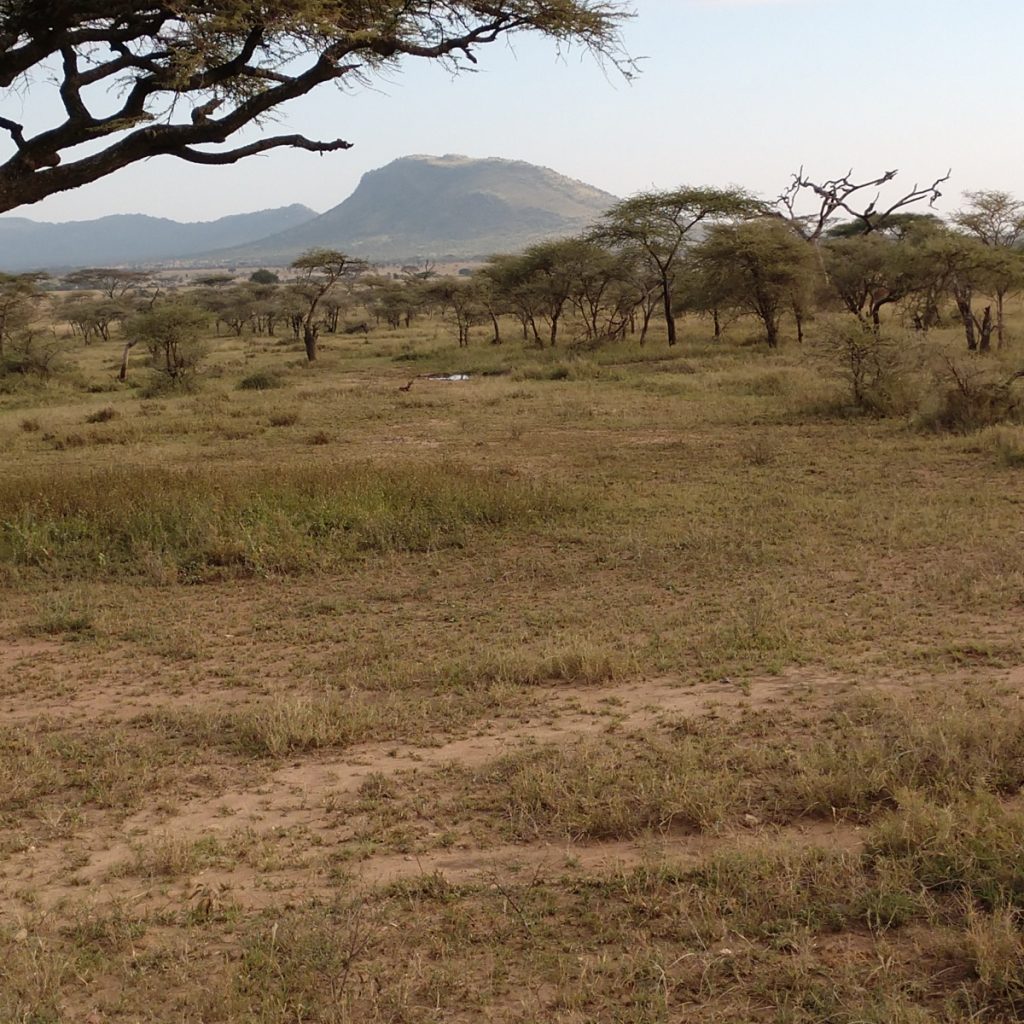 The Serengeti is breathtaking.  But we had miles to go and reach the infamous Ngorngoro Crater.
We exited Serengeti and had a bit of a time getting out due to paperwork issues.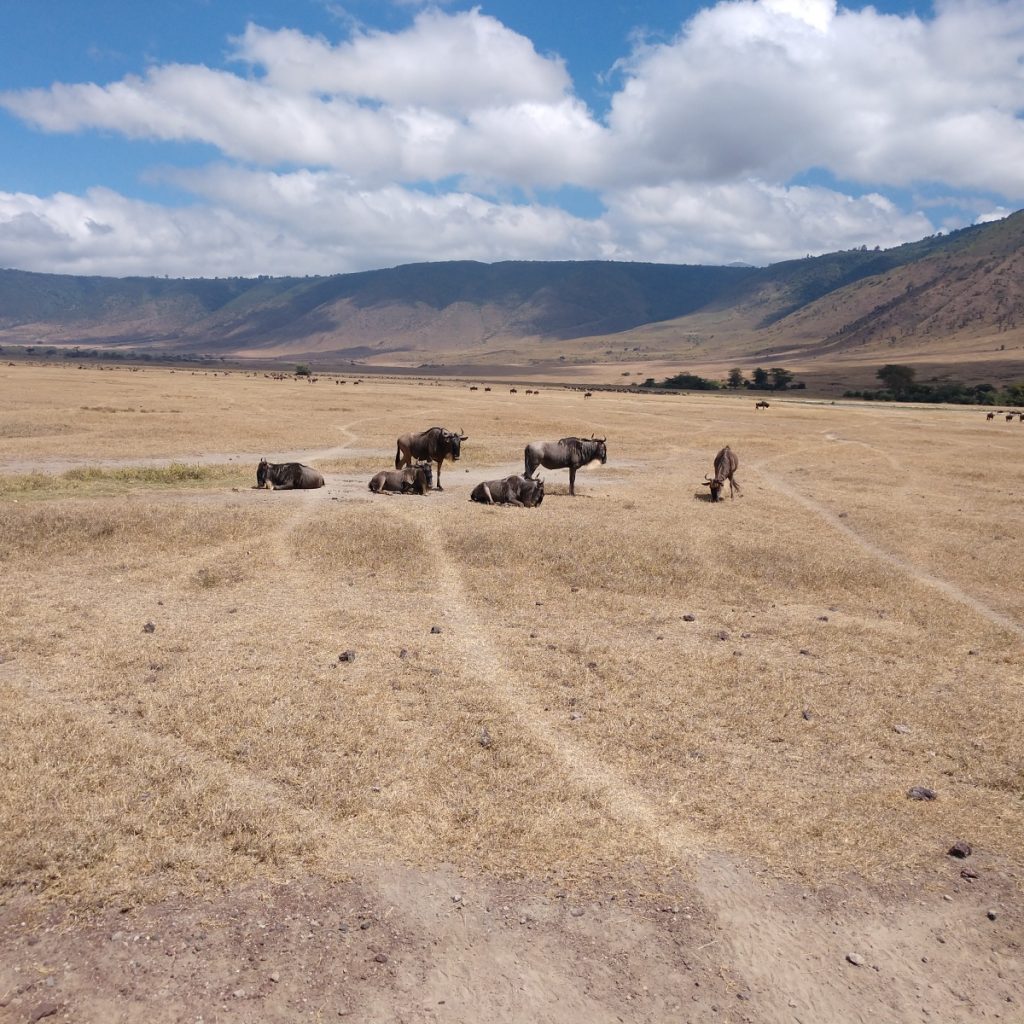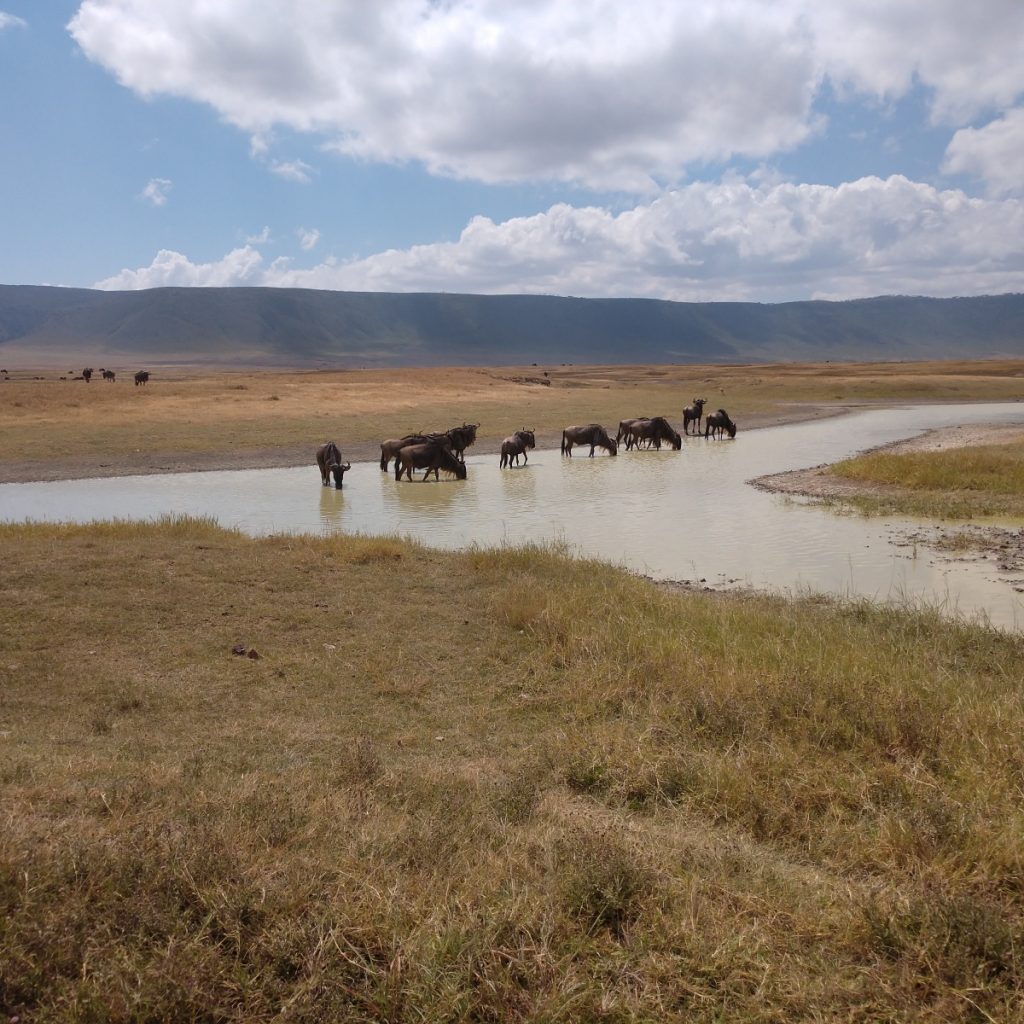 Ngorngoro is an interesting place both geographically and taxonomically.
And it was here that we were enveloped in a moment that I will never forget. You can experience it with us here through the miracle of video technology.
Simply incredible to be a part of this experience. It was a somber thing and affirming thing to witness.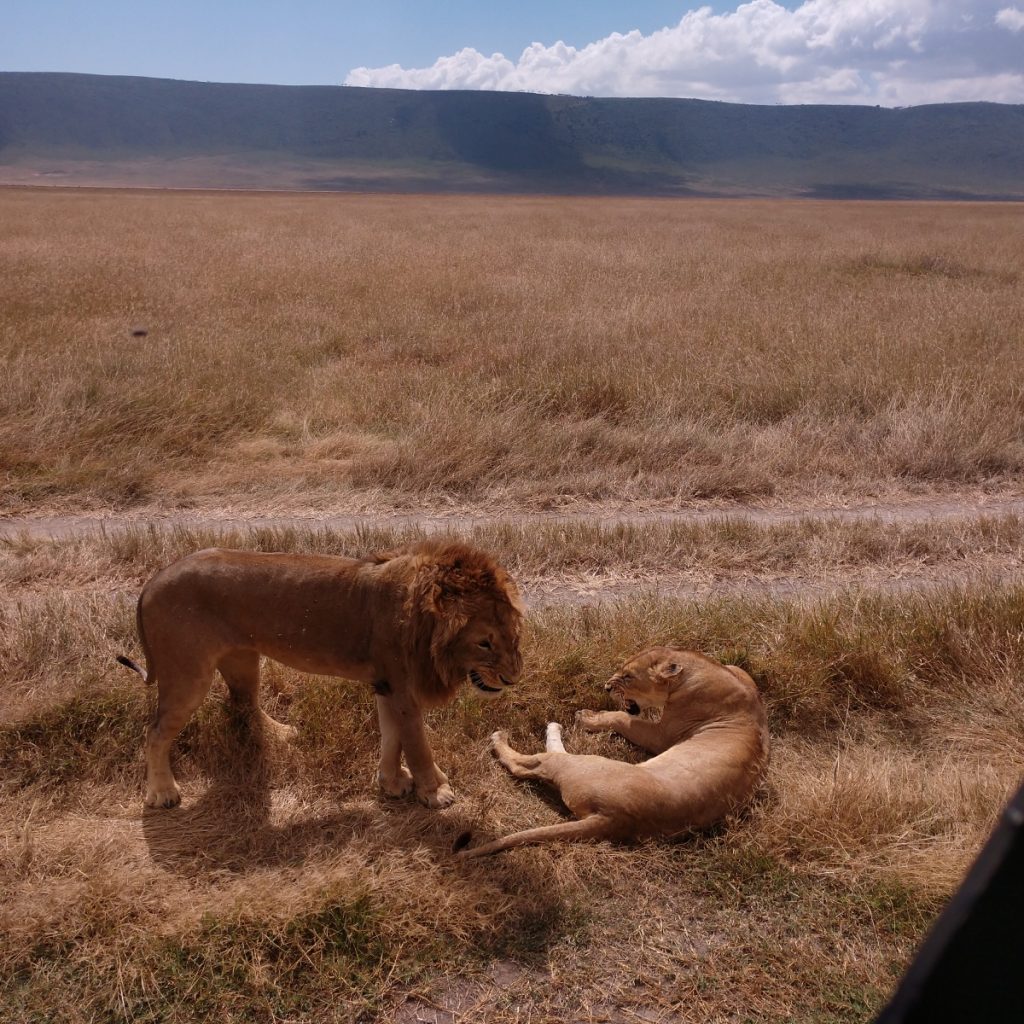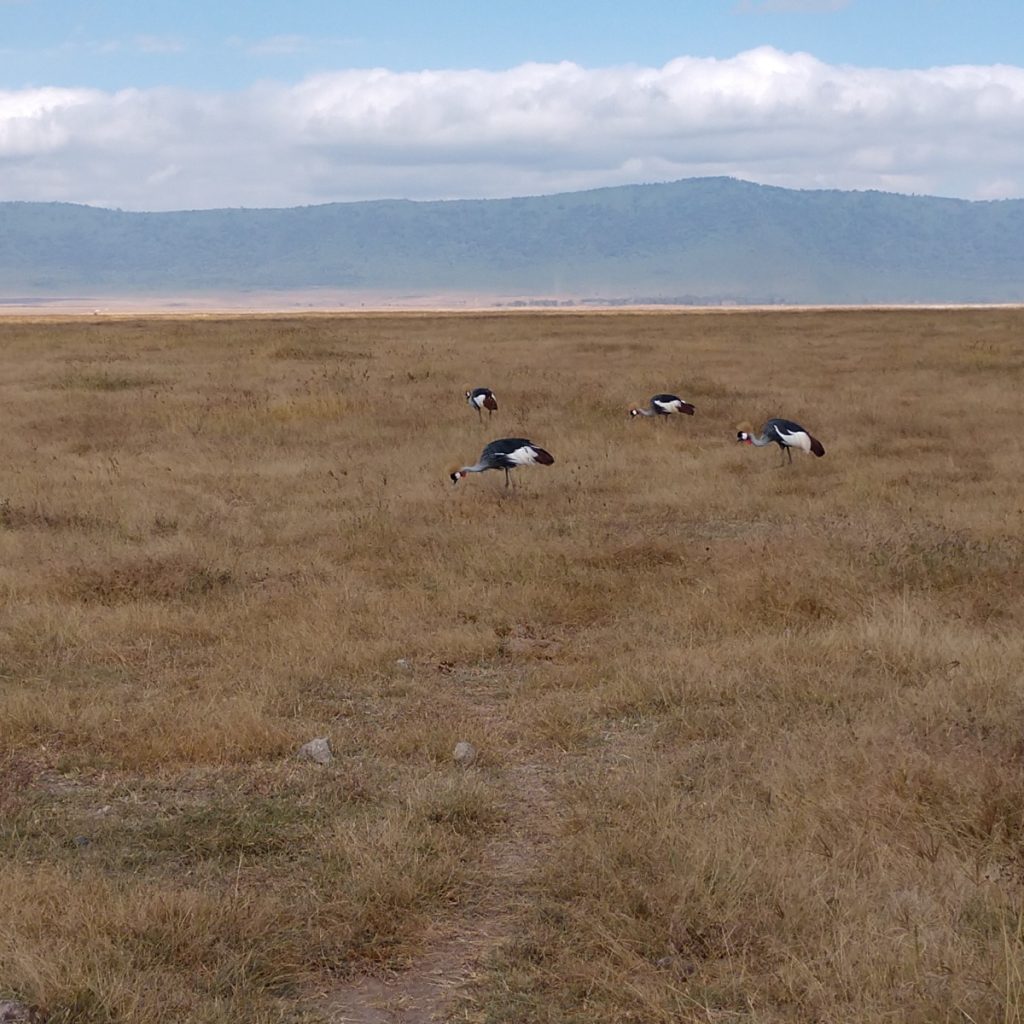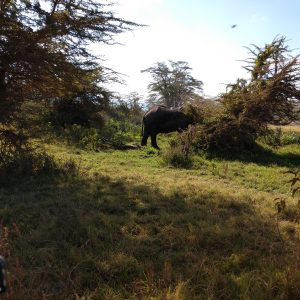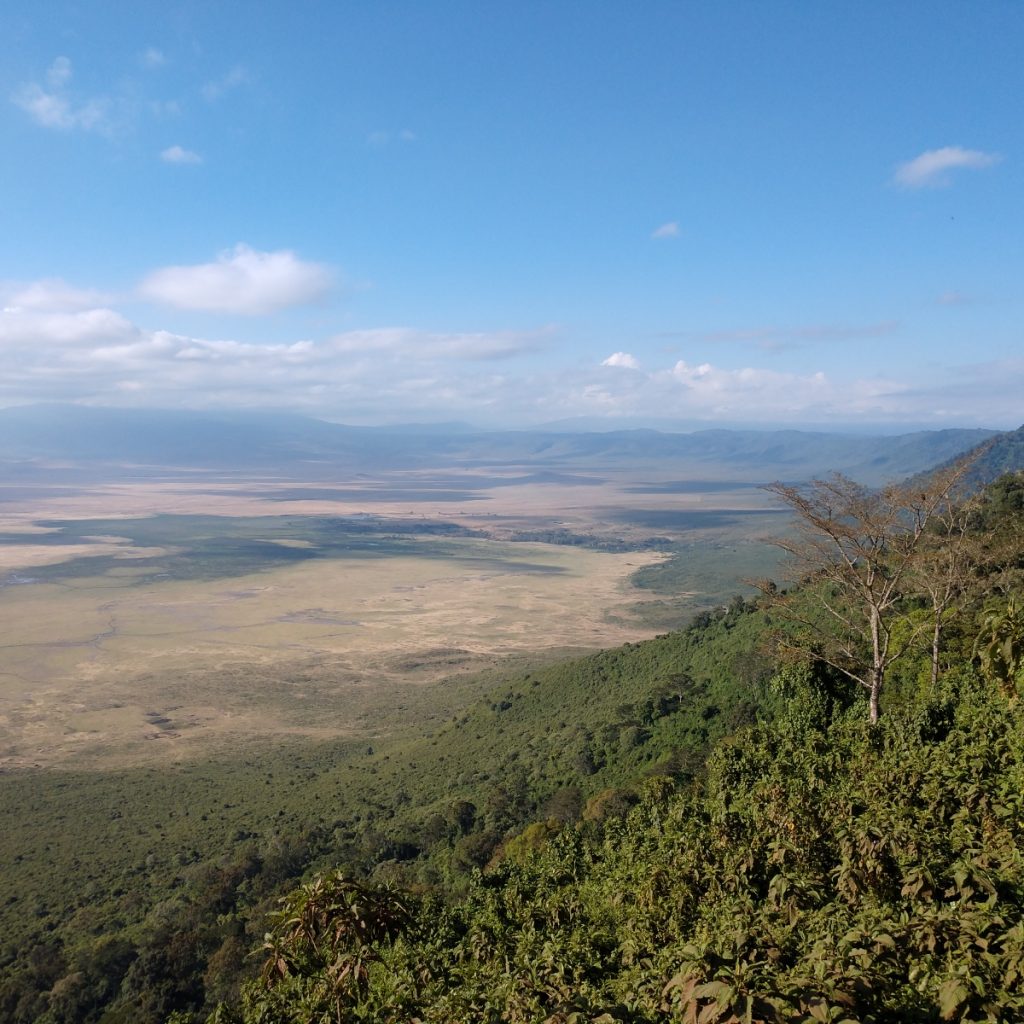 From the top of the Ngorongoro Crater. We dropped way down into this feature.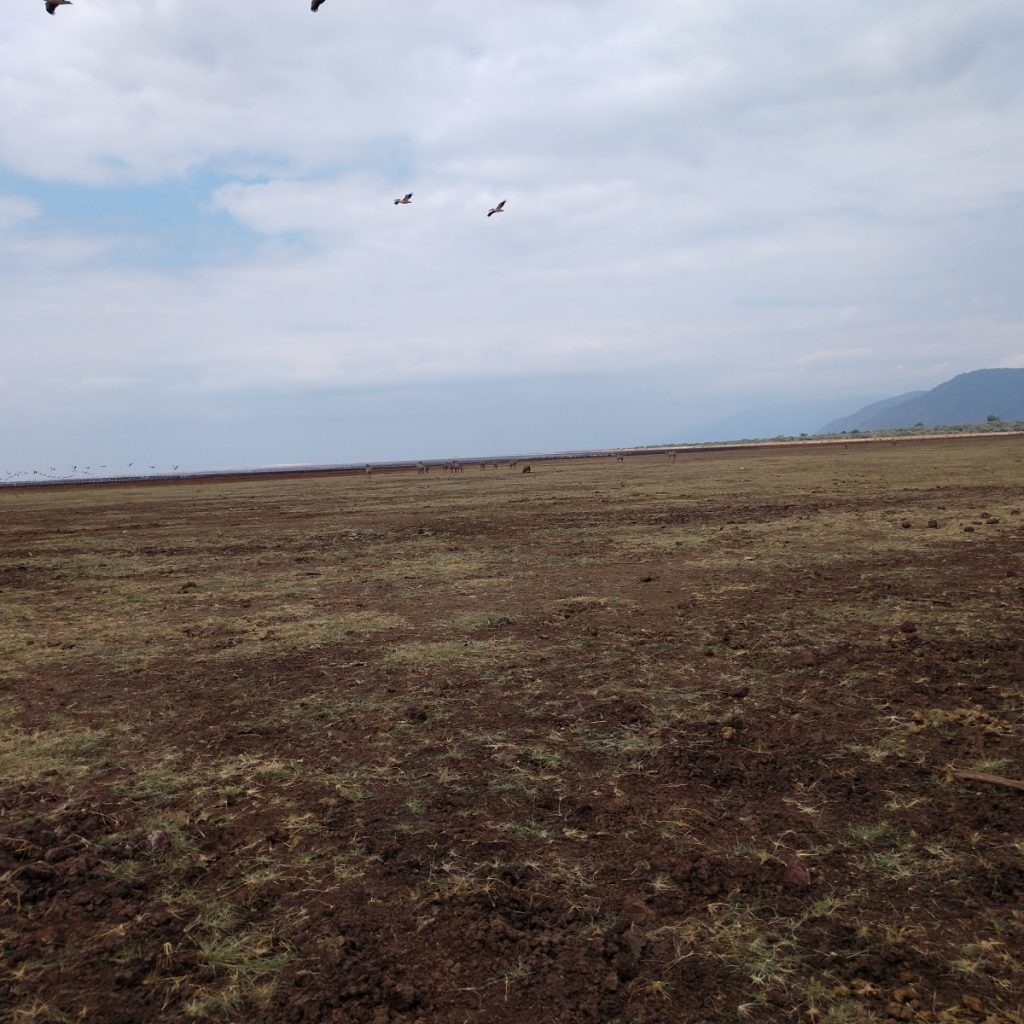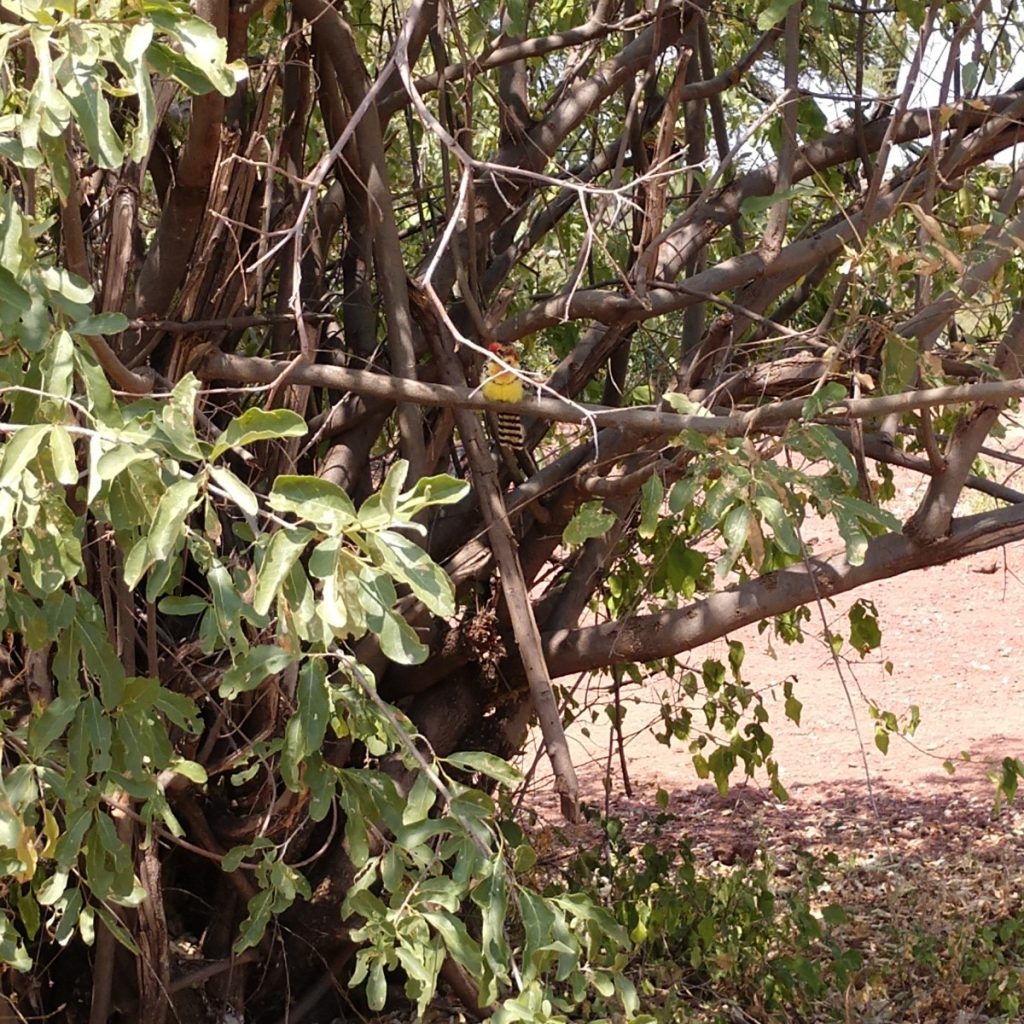 We completed our safari with a stop at another park, Lake Manyara.  It's 125 square miles near Arusha. This smaller park is home to thriving elephant, water buffalo and waterfowl populations not seen in other parks. We finished our journey back at the Oasis we stayed in the first night. This dream had seen us all profoundly moved by the wildness of Africa. I strongly encourage everyone to consider a safari. Our land cost was less than $1400 per person for four days, all inclusive. Our guide, Adidas, was simply unbelievable. His eye for wildlife, combined with his no nonsense and crowd avoidant style made him a perfect fit for the three of us. Again, it was Evans with Baraka Trails that arranged this for our team and we are ever so appreciative. Let me know if you are interested in doing this and I will be glad to make the appropriate introductions for you and your family. I know I sound like a paid endorser, but that is not the case. To have someone greet you at the airport and return you there with every detail patiently attended in between is without a price.  And we are grateful for it.