Howard and I enjoyed some street time in downtown Mendoza after my night in Santiago. And I must say that after being in Chile I really appreciate Argentina. Mendoza has a very relaxed and modern feel.
Today we met our guide and did a gear check. I managed to get some laps in at the swimming pool at our hotel, the Intercontinental. Today we're preparing to switch to our other hotel and then begin the expedition tomorrow.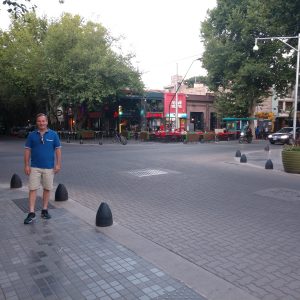 We are cruising the streets looking for Nazi refugees. Howard's new trail name is Colonel Taylor, hero of the Falklands. For some reason our Argentinian friends may not appreciate that.
So all is well here in the middle of summer on the longest day of the year 2019.
I hope everyone is enjoying their Christmas time.