This is a photo of me beating a hasty retreat from South Lake Tahoe. It seems counterintuitive to depart in the midst of the best snow they've had all year. But the decision was not mine to make; it was Vail resorts Incorporated. Thank you very much.
I 50 was chain restricted. And "sporting", to say the least. It took me 4 hours to cross over Echo Pass. I can now attest to the attributes of the Toyota Highlander AWD and hill control systems. The SUV upgrade was justified.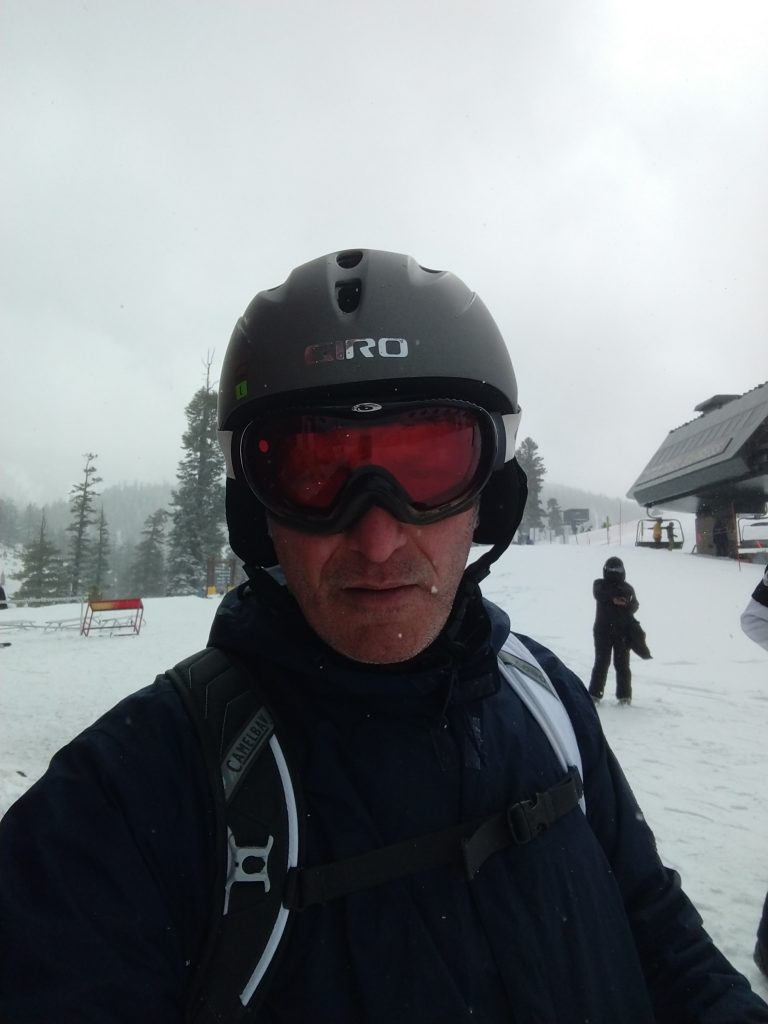 But it didn't begin like that. My spring break promised to be full of powder, intermittent sunshine and bountiful recreation. I had purchased a season pass  the year before. The one outing it  saw any use was absolutely sublime. It was a powder day. Little did I know it would be my only ski day.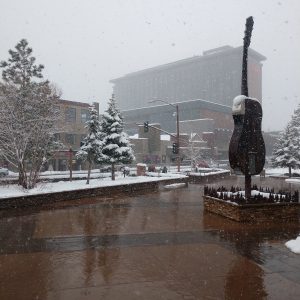 I established basecamp at the hard Rock Cafe and casino. Pursuant to  my first day of skiing I got the dreaded notification. Vail resorts was closing North American operations for the virus. A couple of the hotel staff intimated that the reason Heavenly and Vail resorts was shutting down is because they expected to receive a bailout from Trump. (Why work when you can get free taxpayer money for sending your employees home and reinvesting that money back into your own stock?  This is corporate socialism at the highest level.)
I then realized that I needed  to hightail it back home.  American airlines was unreachable and I was scheduled to leave a week later. Plus they have a $200 change fee.
I ended up having to book three separate legs on Frontier, and pay separately for all of them. That cost about $250.
So last night I gave myself a consolation dinner at the Sage room, my favorite restaurant in North America.
The sage steak is the best prepared piece of meat you will ever have. And the service and views are unmatched. Perched atop Harvey's casino this dining experience is unparalleled. Just listening to myself, you would think that I was some type of paid influencer. However, I paid quite a bit for this meal and savored every morsel. You will concur. Trust me.
9.30 pm, Las Vegas airport
The first leg of my departure triathlon was a success.Relatively speaking, of course. I had to purchase another airline ticket because American was unreachable by phone. That cost $240 on Frontier. (And while I am complaining, why is it that you cannot purchase a ticket to Knoxville from Sacramento on Frontier, but can purchase three separate tickets from Sac to Vegas to Denver to Knoxville. Perhaps it is because that is such a ridiculous itinerary they presume no one would ever buy it.)  Presently I am awaiting a 1.30 a.m. red-eye to Denver. Surrounded by masked human zombies, I battle through the apocalypse. Everyone knows that I am THE most likely person to contract this scourge. Presently, My health status would be described as a cautious "fantastic".  All my colleagues think I had the plague already. In reality, I was sick continuously since return from Argentina. This is the first time I have felt 💯. Knock on wood.
This amused me. At the Hard Rock is a lot of memorabilia. But, the Elvis karate gi is priceless.  He looks drugged up, and probably was. They said that when he came to Tahoe he was always short of breath. So much so they had to build in  in varying intermissions during his shows.
John Davis is a Kenpo practicioner. We have a running joke about the mixture of our respective styles. While ice climbing in Alaska in 2018,   http://southernhighlanders.com/new/2018/03/15/alaskan-ice/ we created a fictitious entity that called upon the mixture of Alpine, mixed ice route climbing and martial arts.  We joked that those skills would be called upon when some high-altitude ass kicking was in order.  We named our team Permafist.
Over the years we've had a great many laughs over this comical creation. Much to the chagrin of Neil and Lee who tolerate our adolescent antics for fear of facing Permafist unleashed. About once a month one of us will text the other with a photo of our closed fist which indicates a potential for elevation to defcon 3. This virus could well provoke some gi wearing texts between us.
I obviously have some airport time on my hands. Everyone stay safe and healthy. Much love.
John