When Mark graciously invited me to join him on this rail-to-trail adventure, I was hesitant primarily because I didn't have the right bicycle. But when his son, Andrew, offered to loan me a bike and Mark's girlfriend, Stephanie, provided pannier bags, the ride was on.
We drove from Knoxville to St. Charles Missouri early in the morning. That afternoon we started our first ride which was to do an out and back from St-Charles to Machen . It was good to stretch our legs after eight and a half hours in the car.  This provided a snapshot  of what to expect in our next 260 +miles of Trail.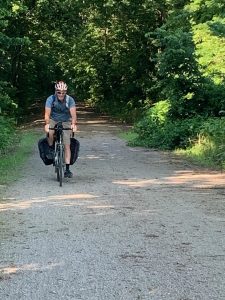 Bikepacking is much like backpacking in that you need to be light to be happy. My gear was weighing in at 30 + pounds. Our intention was to camp most of the time. So the next morning we rose early to mill about town, visit the Lewis and Clark museum and catch a 1 pm shuttle west.. We were taken to the other side of the state where we set up camp in the town of Clinton, MO. The folks of this kind hamlet were gracious enough to allow us to camp out in the community center grass sans fee. Fortunately we had the sense to put up under the aluminum awning with the picnic tables because it came one heck of a storm. There's nothing like the sound of rain on aluminum when you're underneath it until the lightning cracks.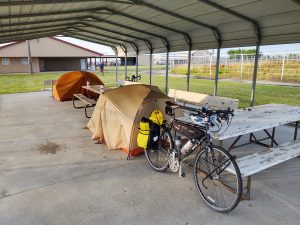 Little did we know that would be the last rain we would see for the entire trip. This was not what the radar indicated, however. And thanks to the assistance of our global Myers Morton positioning system, we had accurate weather updates every day due to his text alerts. It really was helpful because there were days when I could not get internet service and barely had cell service.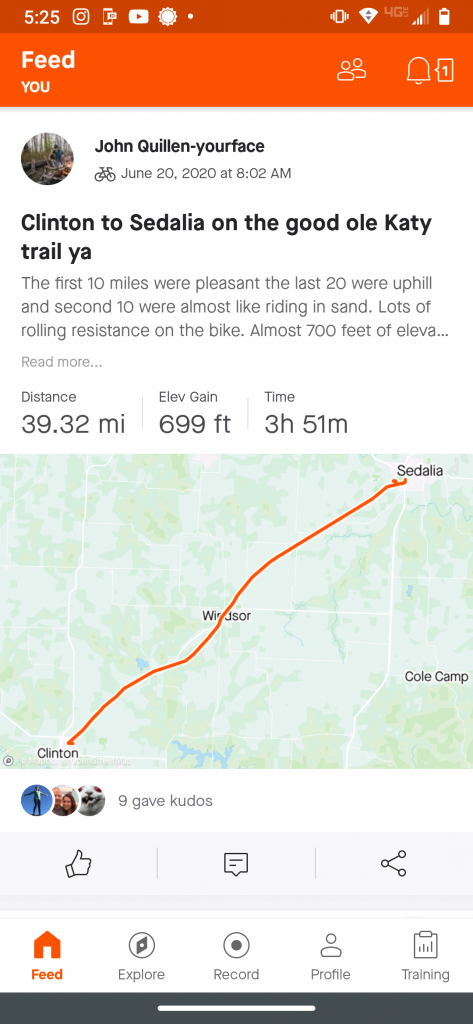 39 miles was a pretty good chunk to me but nothing for good old Mark Jones. He was my mentor and a veteran of several of these type of junkets. Every detail was meticulously plotted by him in advance. Having that much gear on a bicycle makes for some interesting uphill travel as we experienced those first two days.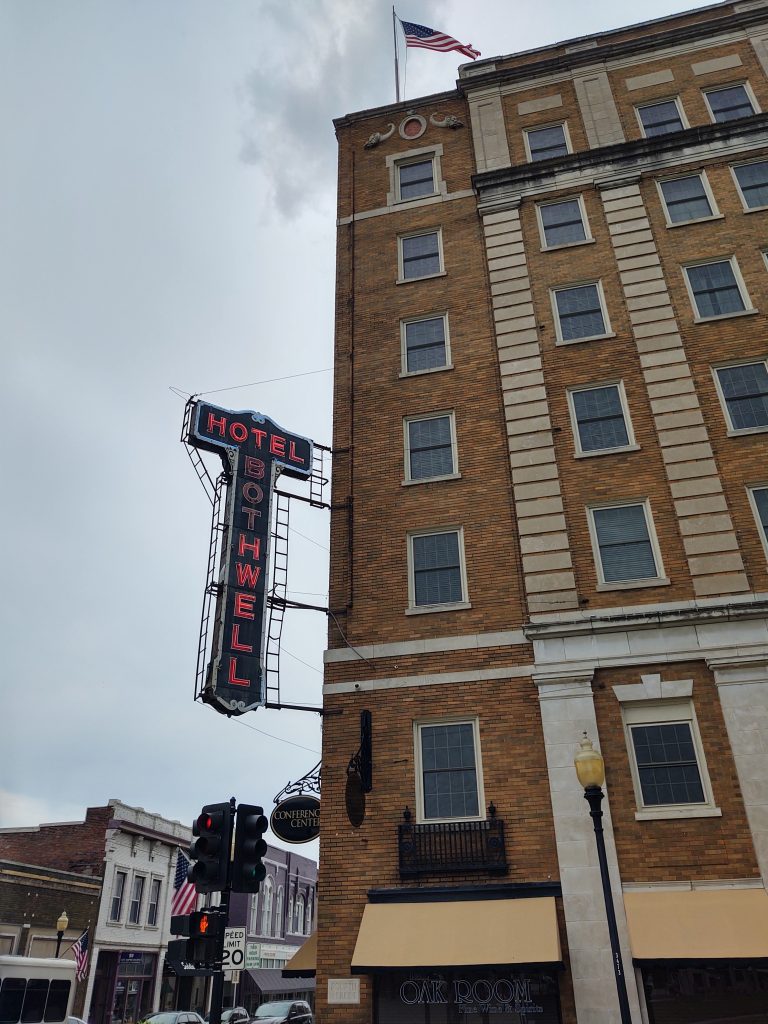 The second night, in conjunction with the Myers meterological updates saw a change in plans. As I mentioned the weather seemed to be following us. Radar showed a big storm advancing. We initially pulled into the Sedalia fairgrounds where we intended to camp. But realizing the severity of the storm the night before we opted to check on hotel prices. After a conversation with the front desk at the hotel Bothwell, an historic property  which President Truman had visited, the negotiations resulted in a room for the both of us in this luxurious hotel.
We  became engulfed in a wedding party that absorbed the entire area. Both of us slept very peacefully in anticipation of another 41 mile day. Or what mark would describe as a 30-mile day.
Sometimes we would have to weave through towns to get back on the trail. Mark was easy to follow in his yellow gear.
This third day was easier riding even though it felt like we had the entiretrail to ourselves because essentially we did. The absence of end-to-end riders was curious to me. In fact we were the only two people who were riding the entire length of the Katy Trail, save for a couple who was doing it on e-bikes. (Battery assisted). Maybe it was a function of COVID or the time of year or a little of both.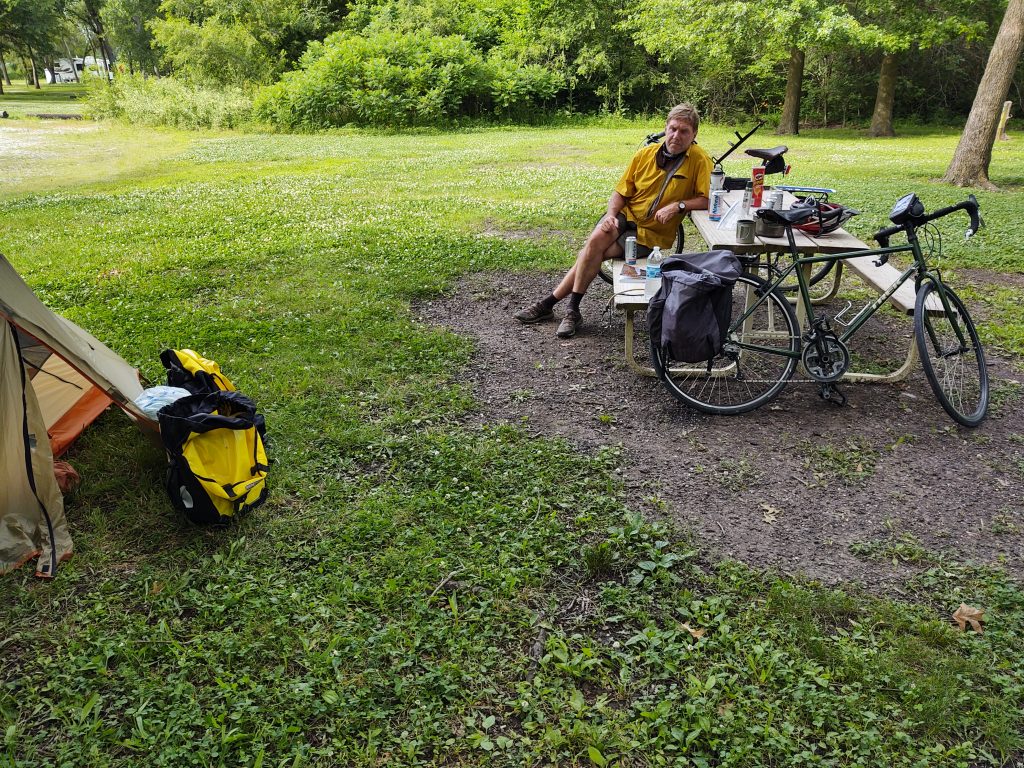 We rode on past Booneville in to Franklin which was across the river and in the middle of nowhere. I will heretofore refer to this as mosquito camp. Which we curiously shared with no one, despite what Mark says.
This is definitely a quaint little campground and I probably enjoyed it as much as any from the safety of bug netting thanks to Frank Whitehead and the MSR hubba hubba tent body he donated to me. As I settled in for the evening, having secured all of my biking essentials to a pole, the shadow of some familiar creature crossed my periphery, necessitating a near-naked run back to my bicycle for the food stash. Raccoons leave an unmistakable profile.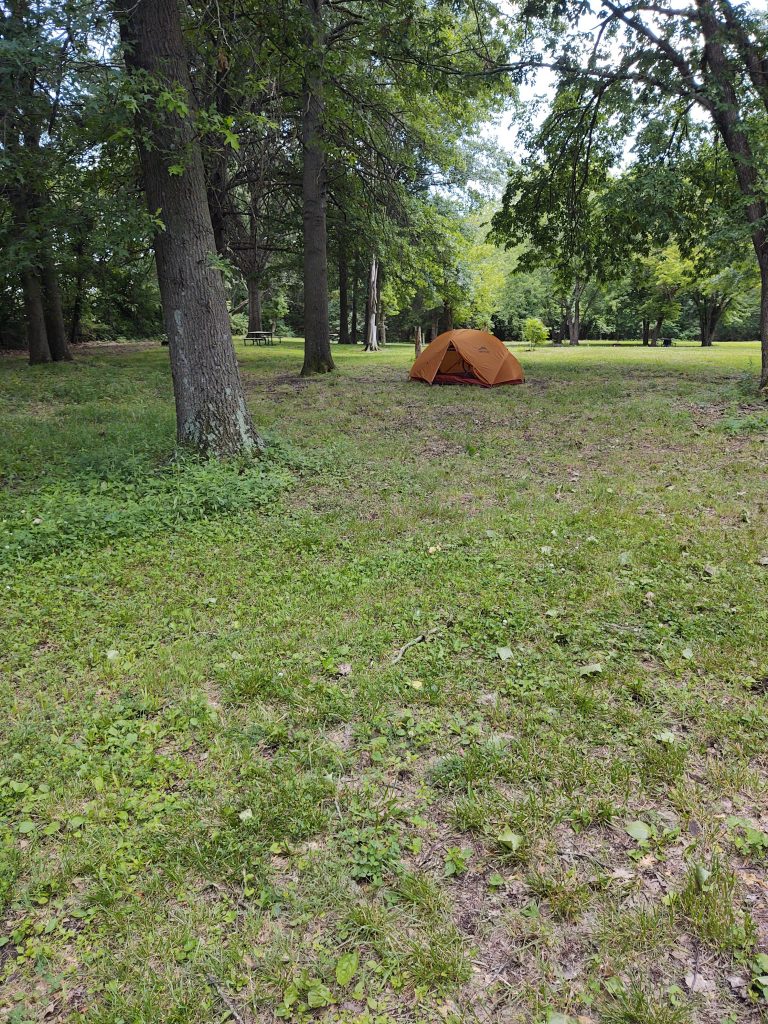 ( Skeeter/coon camp)
Mark and I were very much social distancing.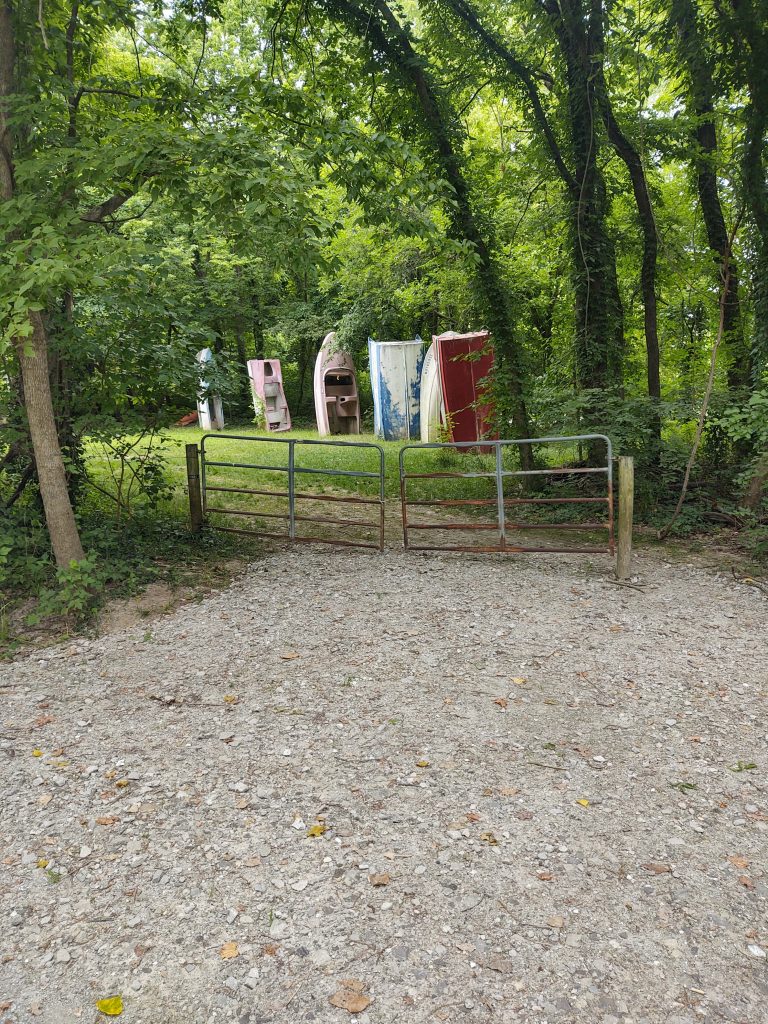 There's no shortage of interesting sites along the Katy Trail. Mark informed me that all of these boats were belonging to one individual who rode them up and down the Missouri River. Much of the time you would be riding in the canopy of trees and sometimes along the shoulder of the river. Other times you would be out in the middle of endless corn fields and pastures.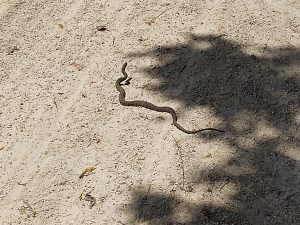 Among the wildlife we ran into and nearly over was snakes, snapping turtles, 1 million rabbits, 10 billion squirrels, hawks, lizards and an injured deer.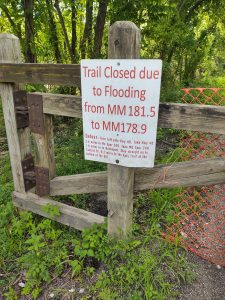 Not that didn't we didn't encounter some reroutes. These are what make for adventure.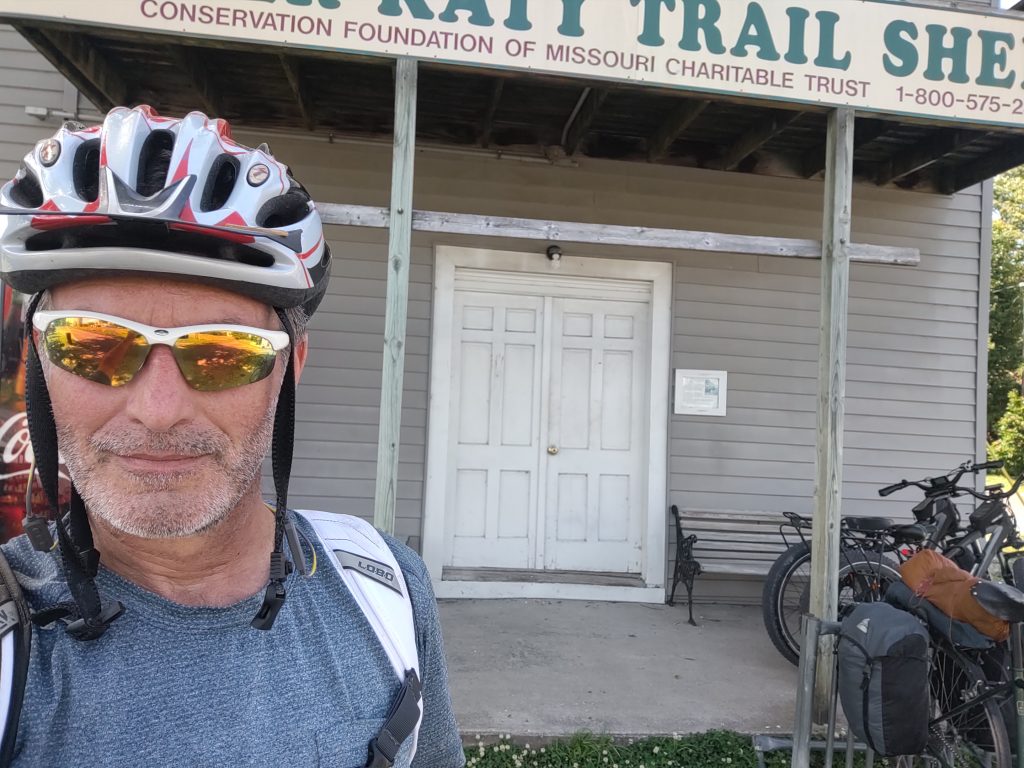 June 22nd was our most intense day. 63 miles worth. You can see from my Strava profile that we earned any type of food or beverage of which there was none in this tiny hamlet that reminds me of Bulls Gap, TN. We came rolling through the capital, or outskirts thereof the following day. We did not even eat dinner that night, which didn't matter because everyone was so knackered that we crashed early after our tour of the town.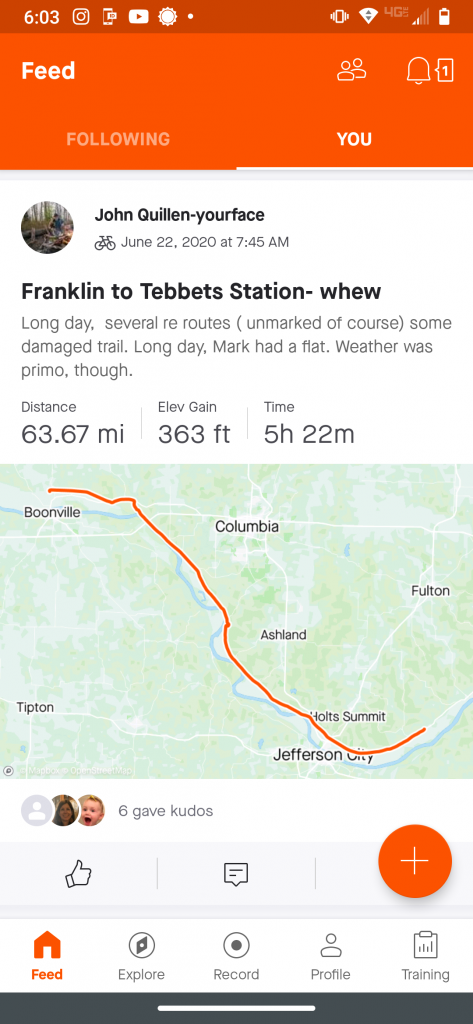 Unbeknownst to me Mark had encountered a flat tire. This would dog him later on in the trip. I settled into our bunkhouse stay at Tebbetts station. When Mark finally came rolling in he had been offered assistance from our bunk mates for the night.
We met a group who was doing a large section of the Katy Trail and would be joined by them for the rest of our sojourn. As it turns out one of the men from Alaska was named Tom Wickwire. If that last name rings a bell it should. Jim Wickwire is a famous mountaineer and the first American to summit mighty K2. Tom is his cousin.
We also met a man named Jim who owned what used to be the only bar in town. He took us on a tour of what used to be the bank and his storage building that contains two or three model A and model T cars. My Dad is a car collector so I was eager to photograph these.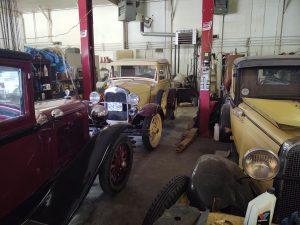 These are the kind of experiences that make a journey like this a real adventure.
It was important to get a good night's sleep though because we had another long day coming up.  We were headed to Marthasville. This was one of my more enjoyable days as the weather seemed to have cooled off a bit from 90 down into the low 80s or upper 70s.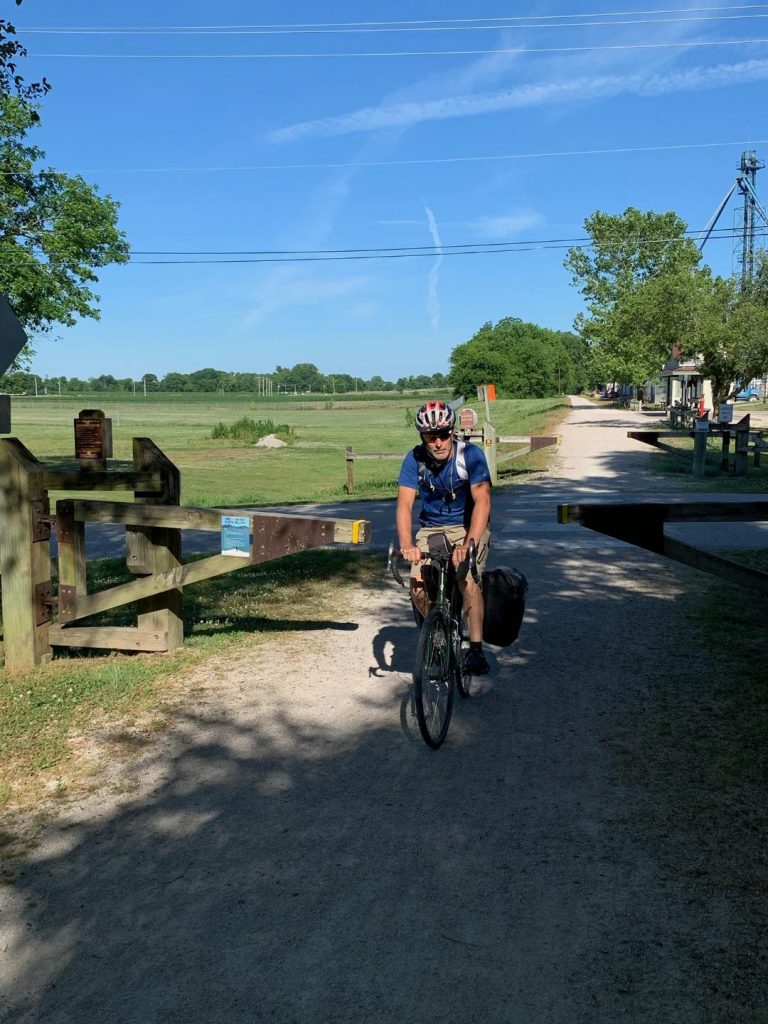 On this day Mark and I managed to ride together when he had his next flat.  We spent some time that morning doing some what I call forensic flat- ology. There was a small barb that penetrated his tire into the tube. We managed to get him patched up and on into Marthasville. I was really starting to feel my stride now. Previously some of the miles had felt a little taxing. But I was getting in what we call  "Trail shape". Just trying to keep up with Mark who was there already.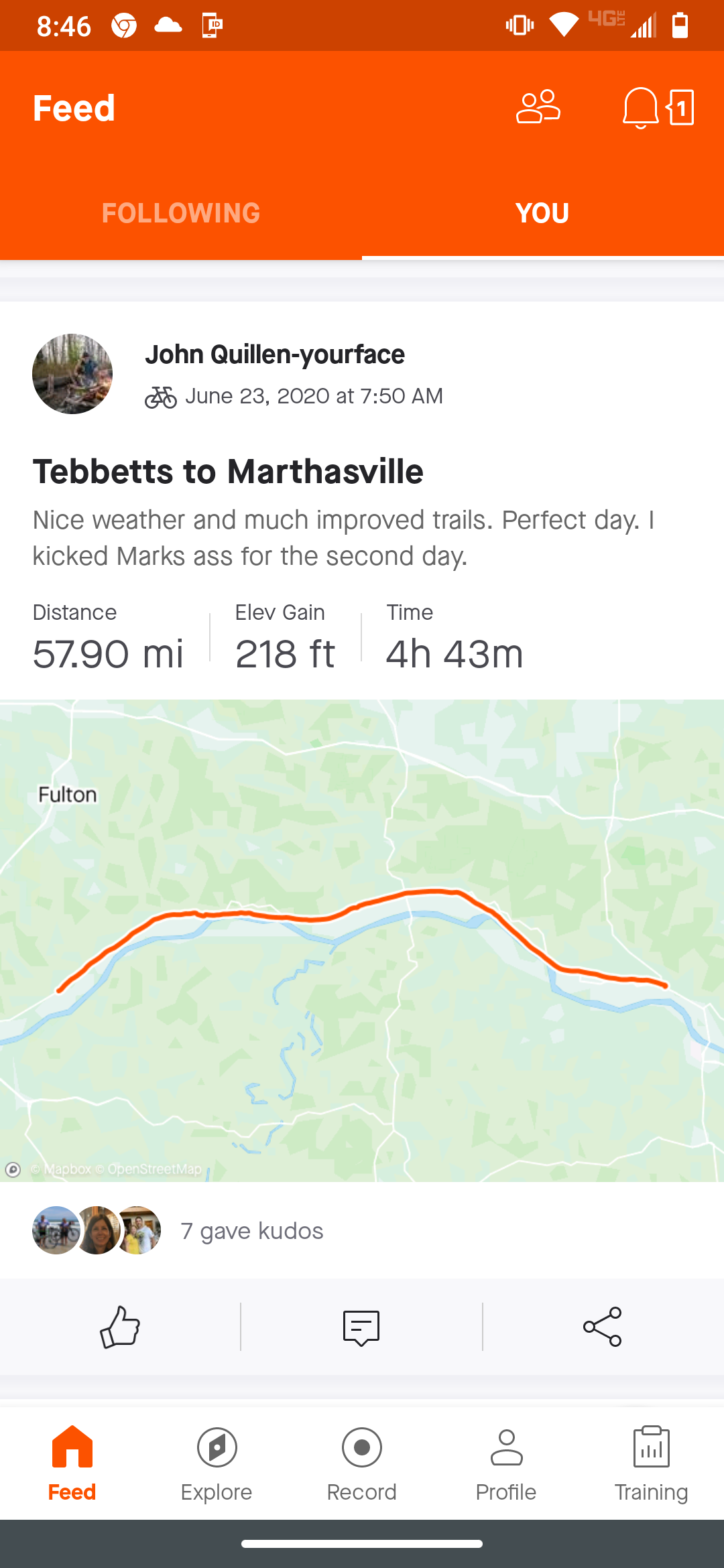 We passed our friends from the previous night who were going assisted on their sections of the Katy Trail. They were gracious enough to provide cool drinks for us upon arrival in their support RV. Very nice folks from the St Louis area, I hope we can ride with them again.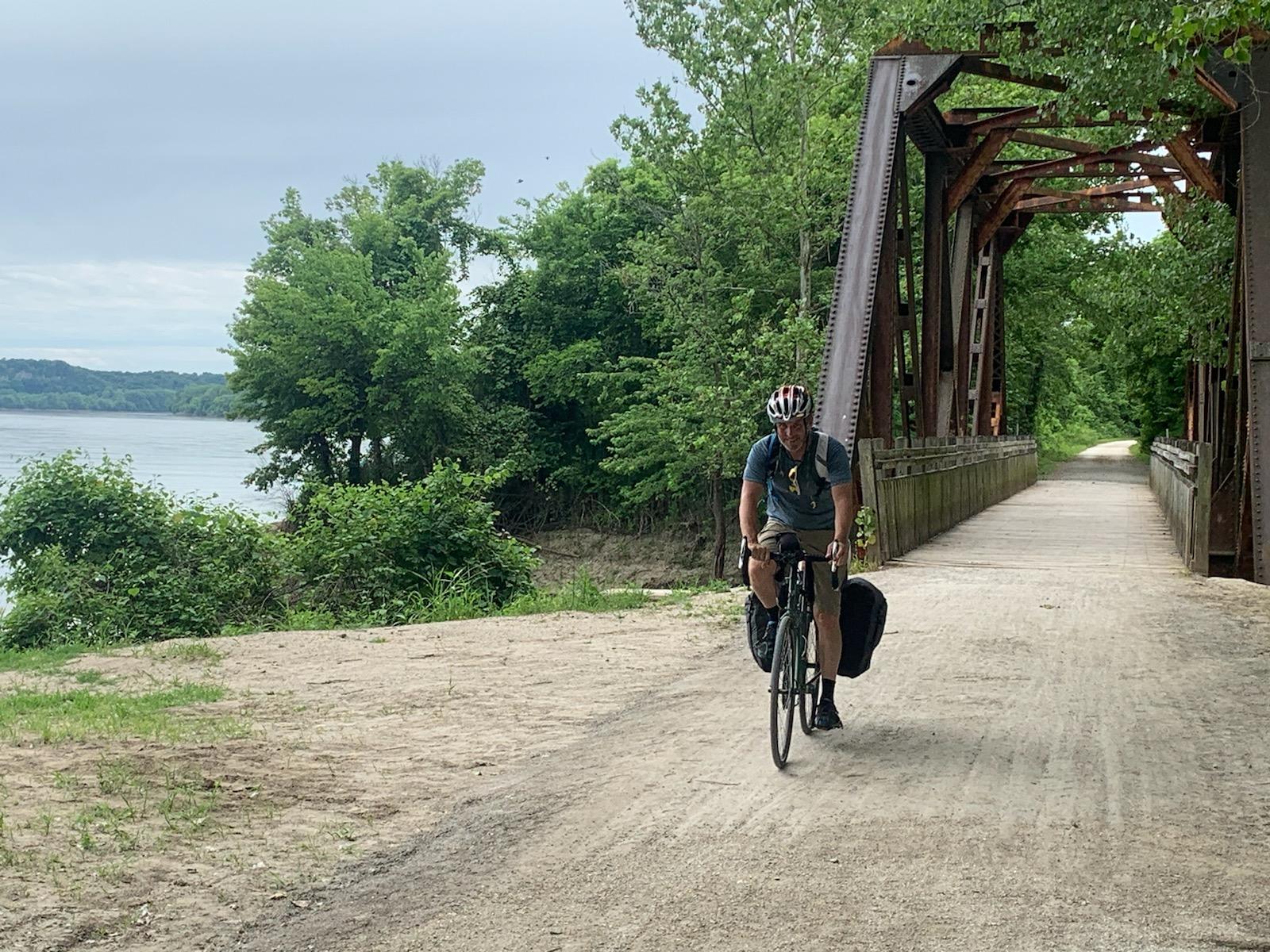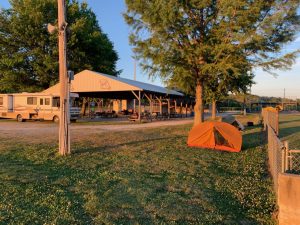 That's my tent there along the baseball field, we had to wait for them to finish playing a game to set up. It cost $5 to camp here.
On June 24th we did a shorter day, only 41.3 miles.

Mark and I took off and left our friends and ended up having a hotdog for lunch in some little way station. It was more of a biker bar really.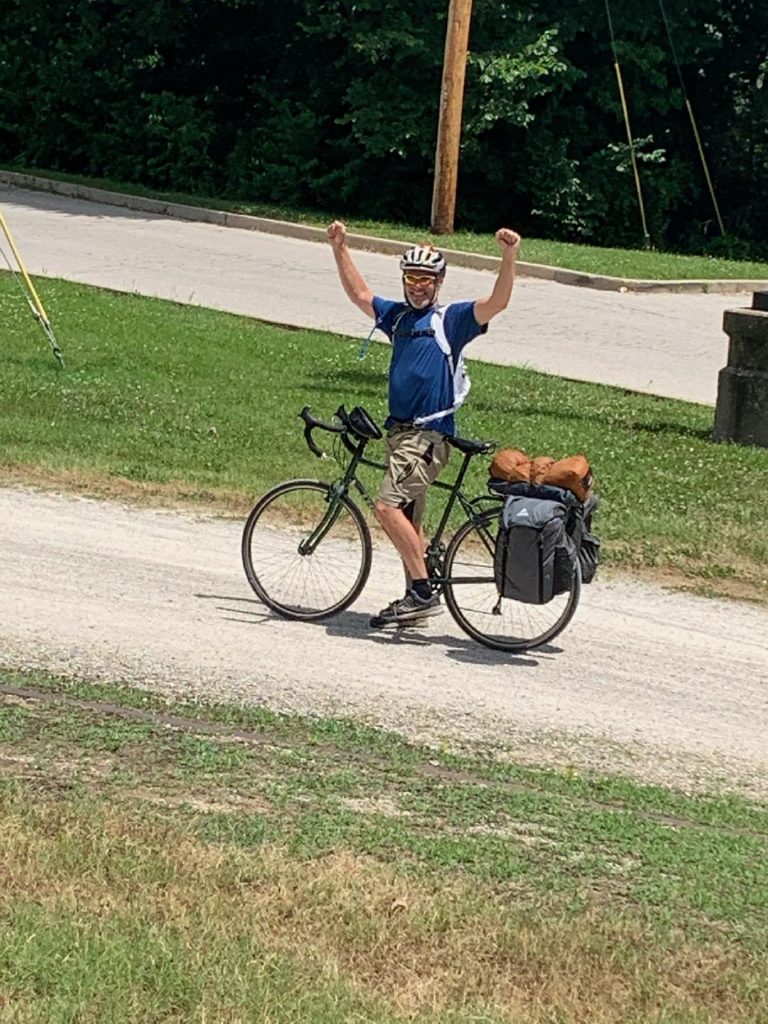 These photos were obviously taken by Mark because he beat me back to the car. It had gotten hot again on our final day.
After celebrating with our friends  that afternoon we retired to a hotel and rose early the next morning to visit Daniel Boone's home.
Highlights for me on this trip was spending time with Mark, who shares my political values and otherwise, channeling Lewis and Clark and visiting their museum, meandering along the Missouri River, and generally feeling the flow of Missouri in my veins. The journey exceeded my expectations and I'm very grateful to Mark and to his son Andrew for allowing me to borrow their vehicles to get there. Special thanks to Stephanie Welch for donating the pannier bags temporarily. I highly recommend this journey.  I will end with a video Mark shot along the way.