It was that time of year when Frank and I embark where I left off, good old downtown Damascus, Virginia. Notice the elevation we were facing on this leg.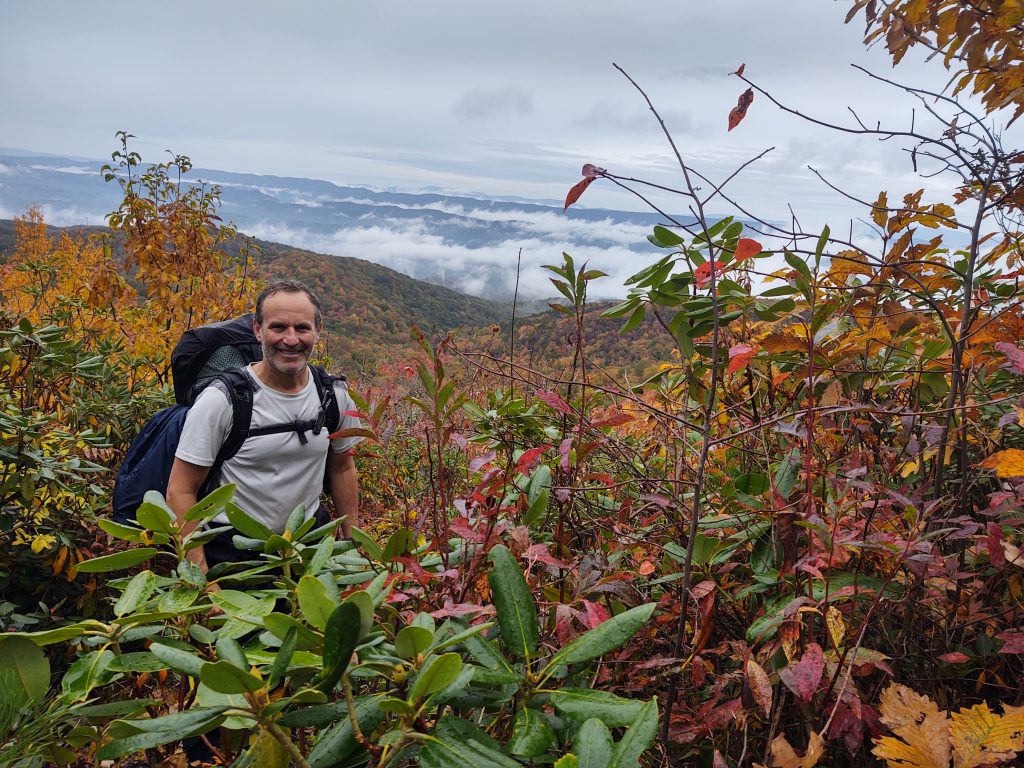 We overnighted at the Dancing Bear Lodge and left early the following morning after completing a car shuttle. It is roughly 80 miles via Trail to Atkins Virginia. Our first morning saw some pretty good climbing.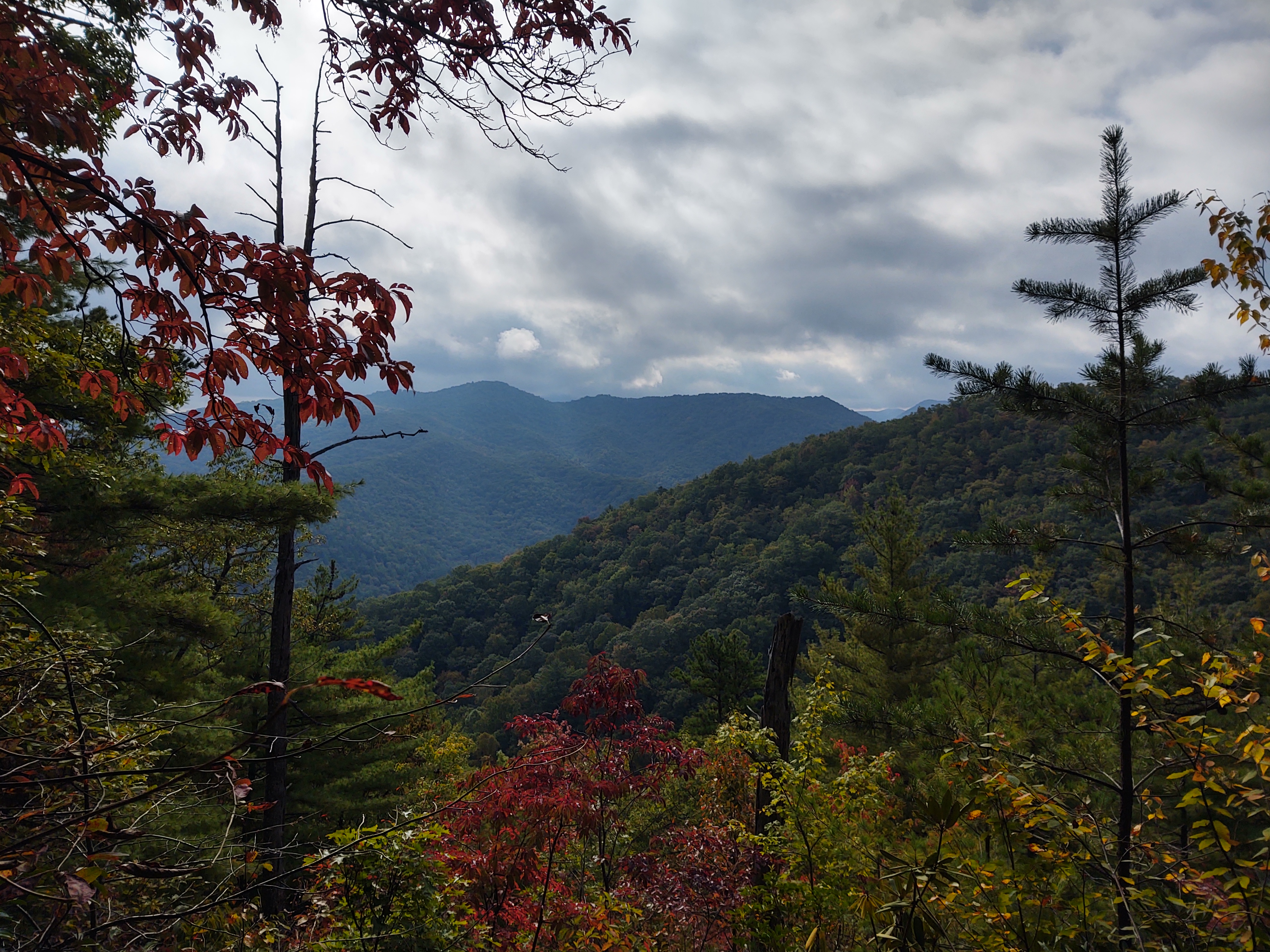 The views climbing up out of Damascus along the creeper Trail are, well you can see.
I was weighing in at 37 lbs. Approximately 10 lbs. of which  was my food weight. Of course Frank was at 25.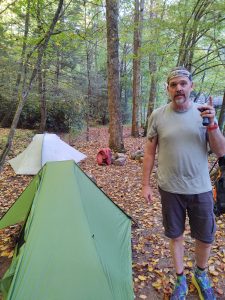 Our first night was by a clear mountain stream. The temperatures dropped into the lower 40s. I was carrying a warm bag and appreciated it that particular evening and the next.  But not so much later in the trip when my sticky legs were welded together like velcro.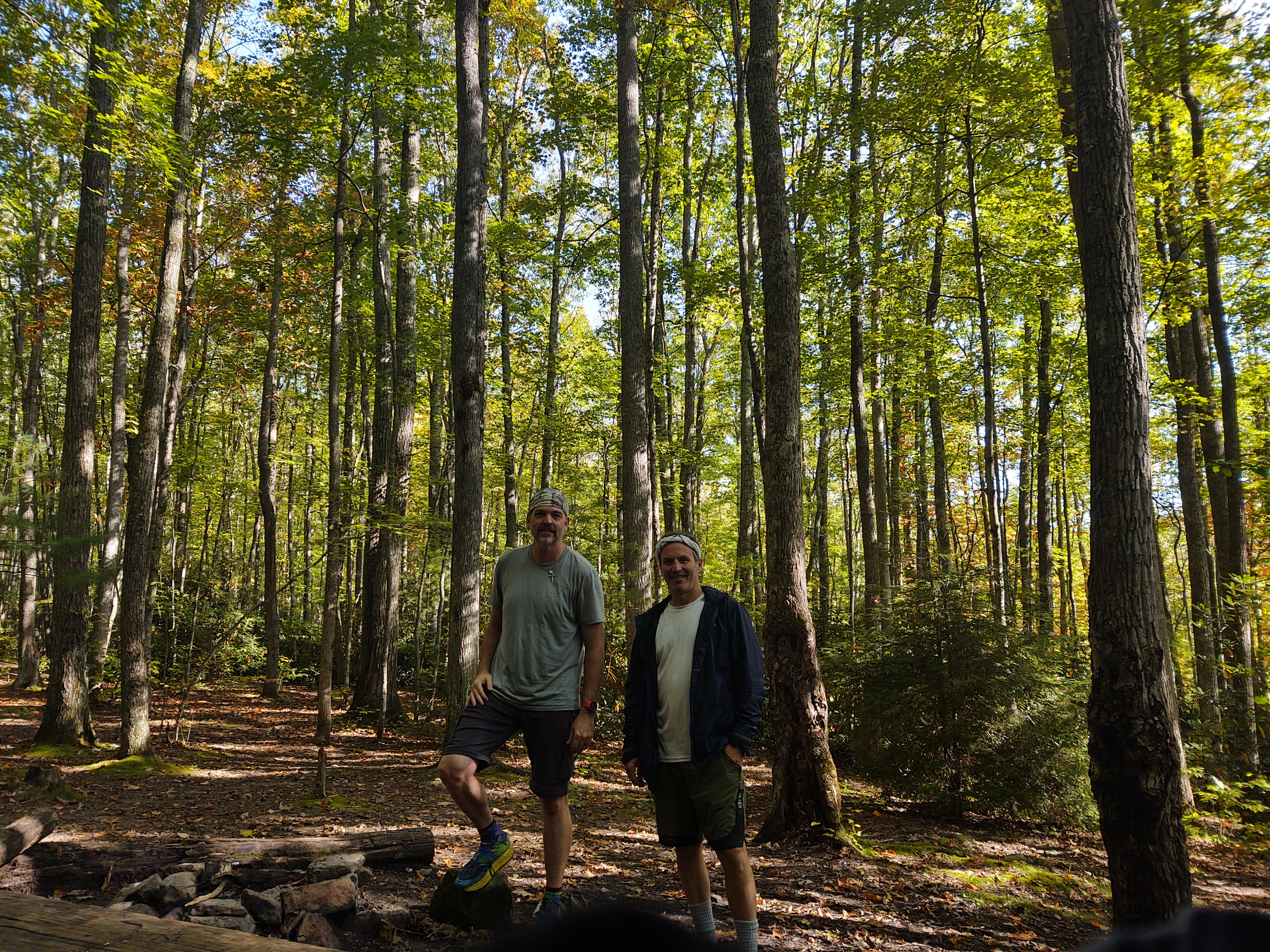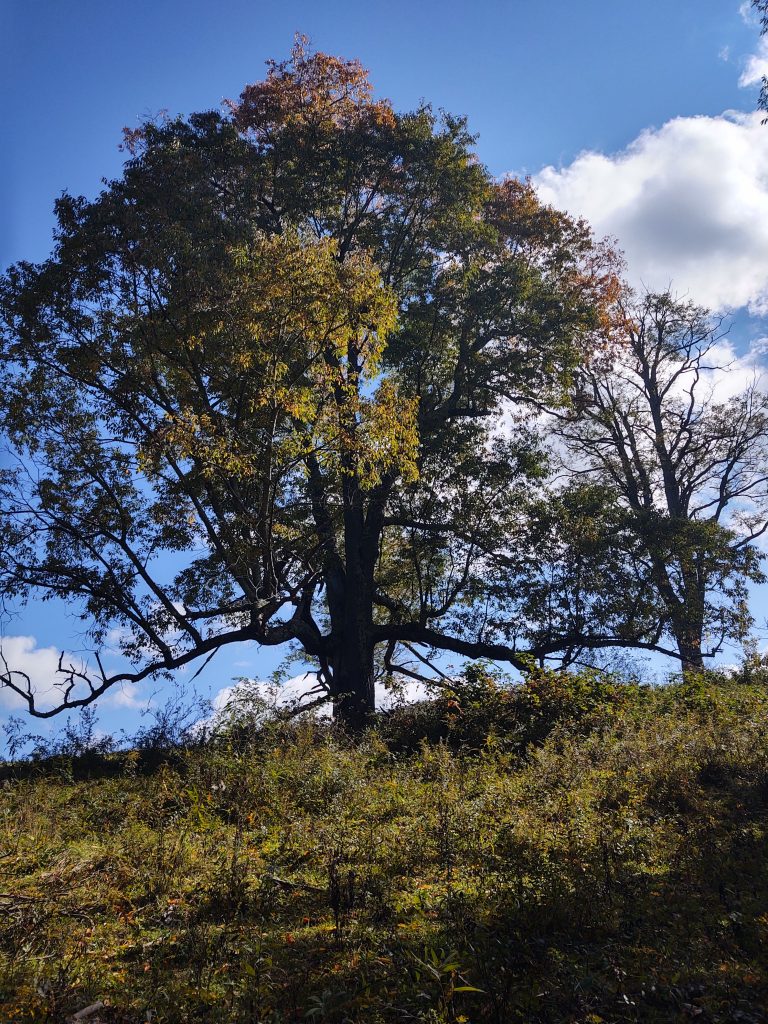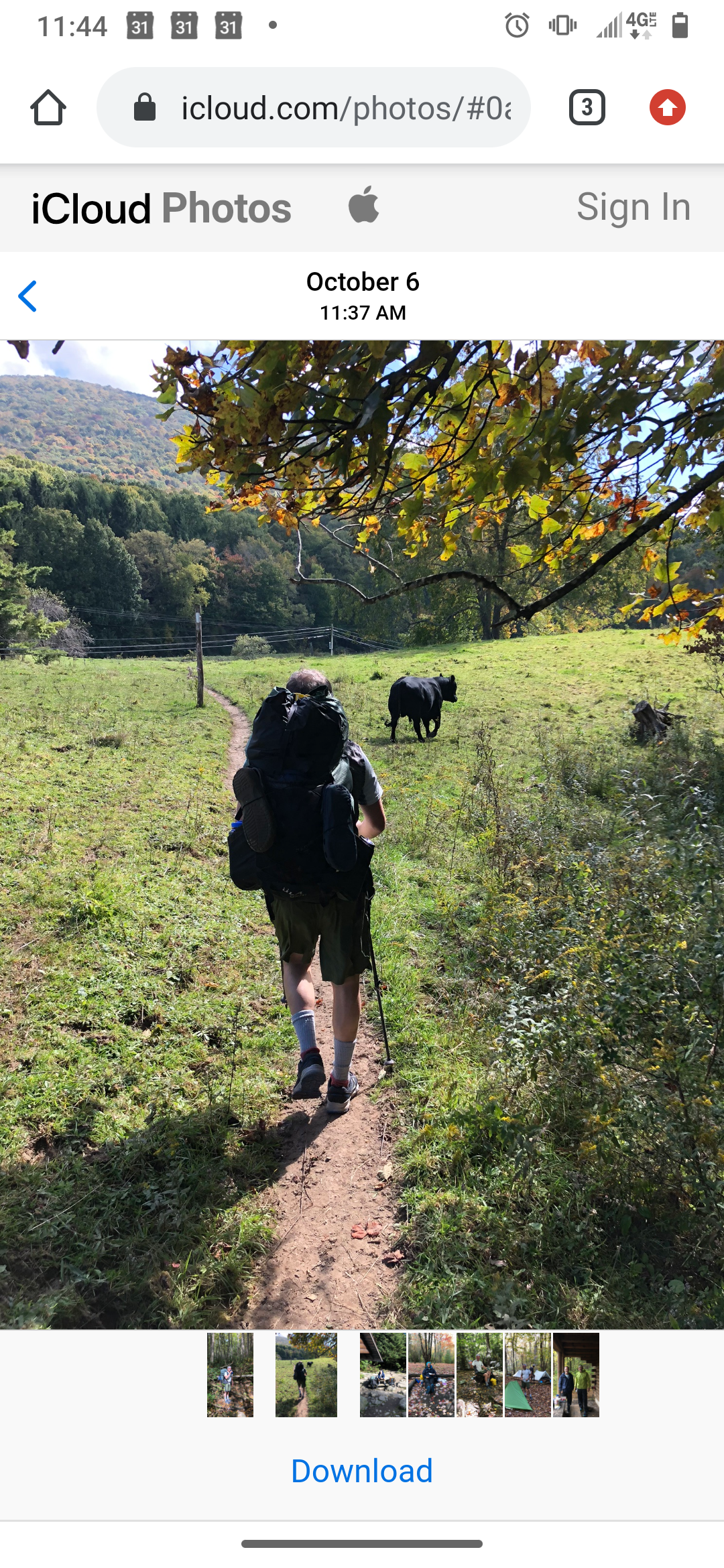 That's me hiking with the livestock prior to the big climb up to Buzzard Roost.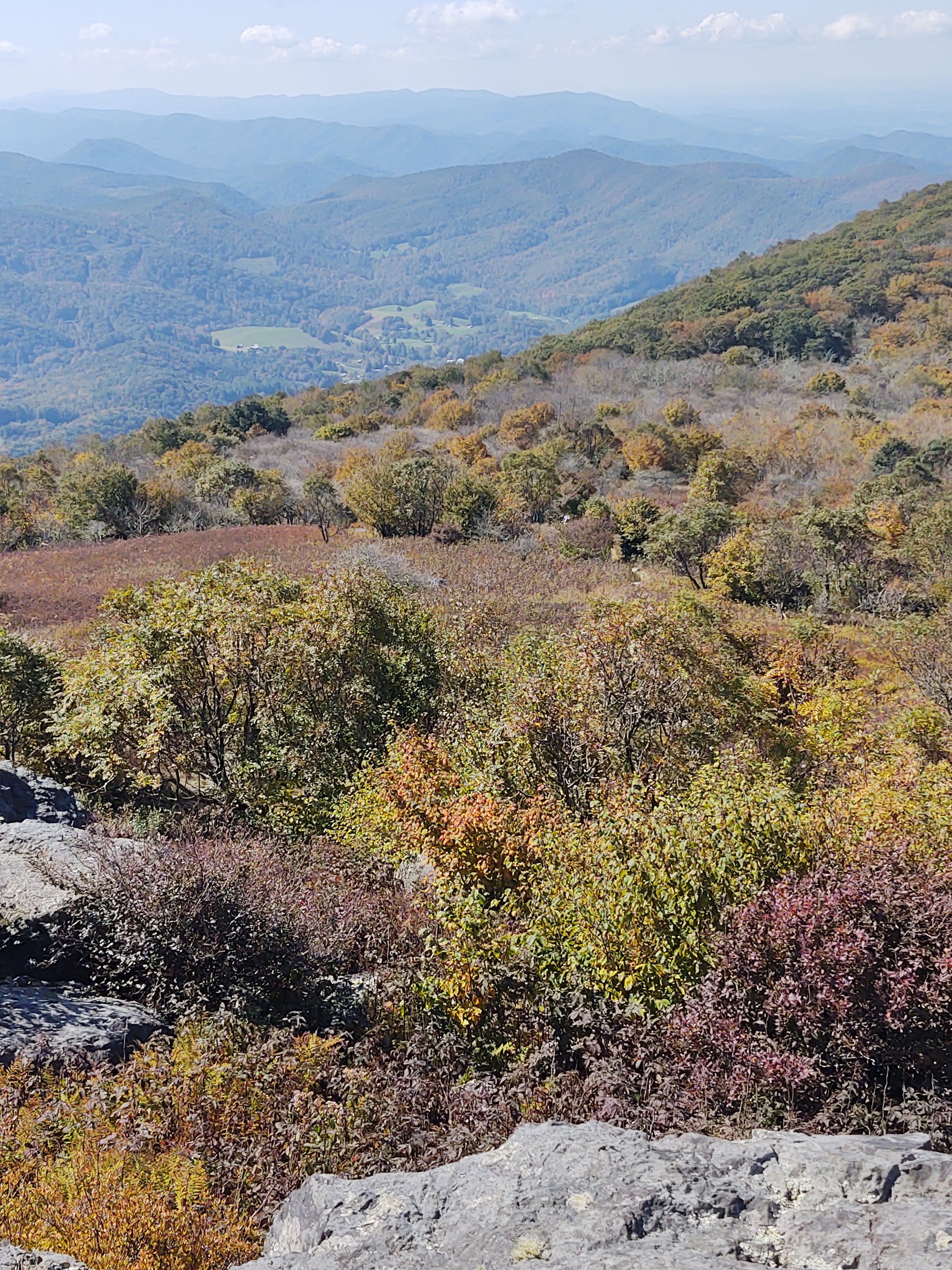 That's Frank emerging from the heath toward the summit of buzzard roost.
Tuesday would end up being our monster pull. I would say it's one of the toughest sections of the Appalachian Trail I can remember. We ascended to a place called Buzzard Rock. It was over 2,200 ft of climbing. With full packs this was quite the chore but our weather was ideal. Here is a look at the elevation profile of that particular climb.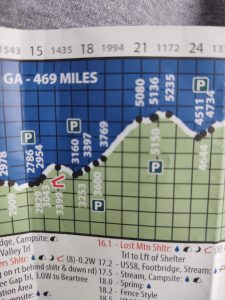 The work was hard but the pay is good as you will see from these views.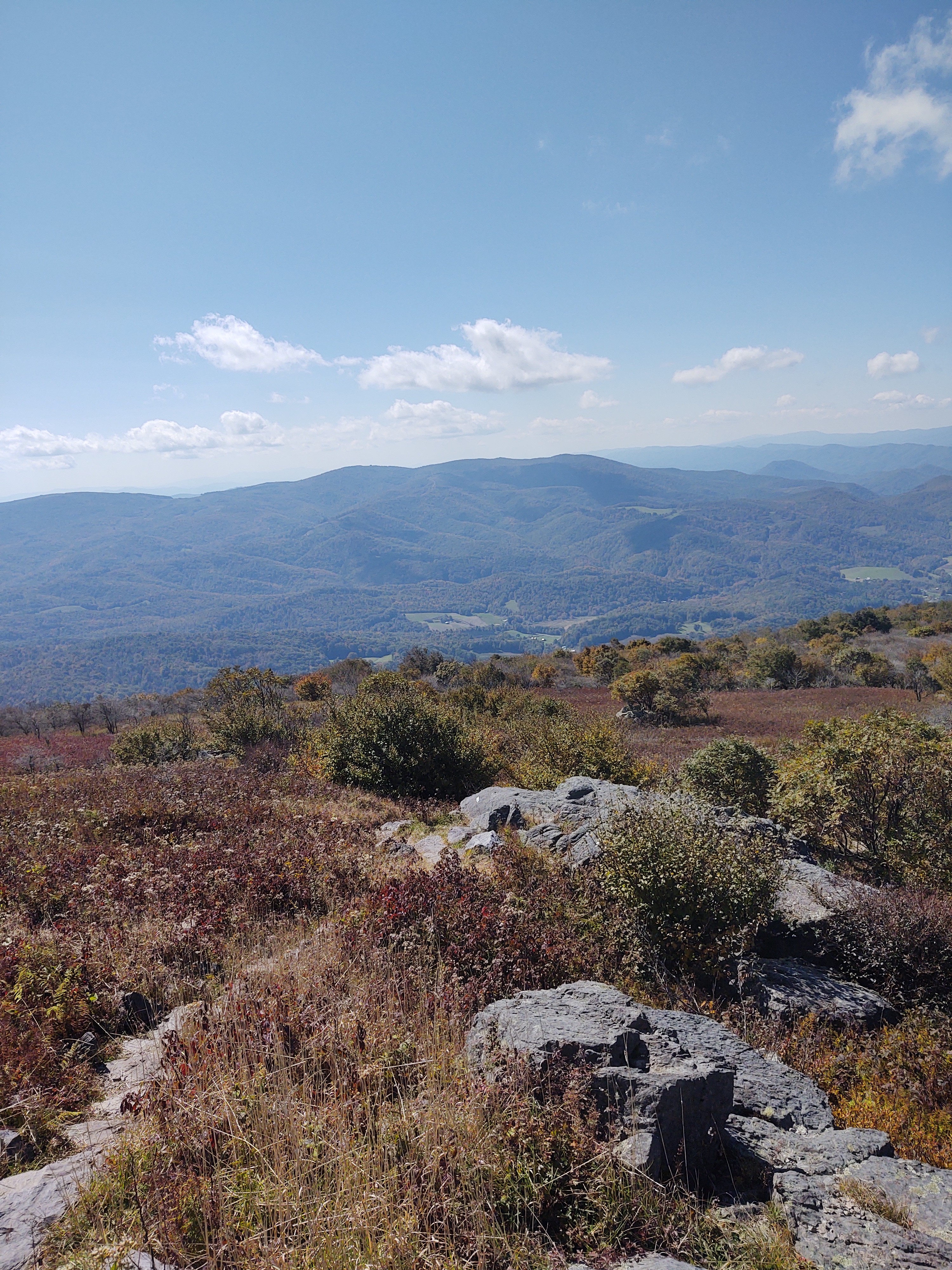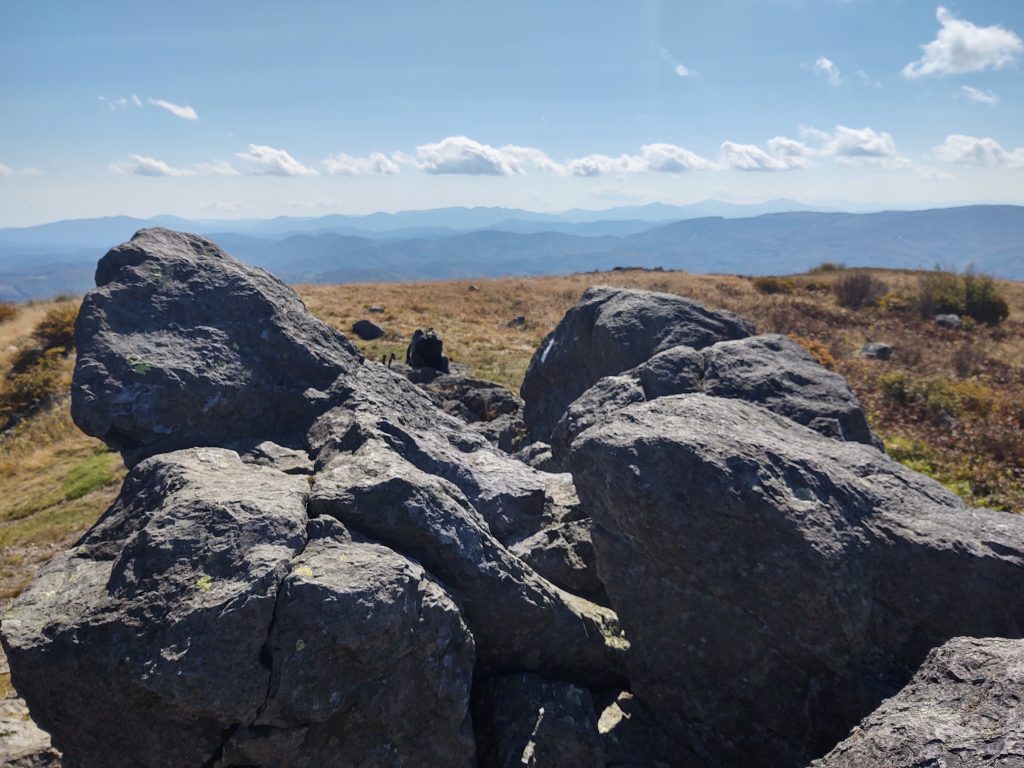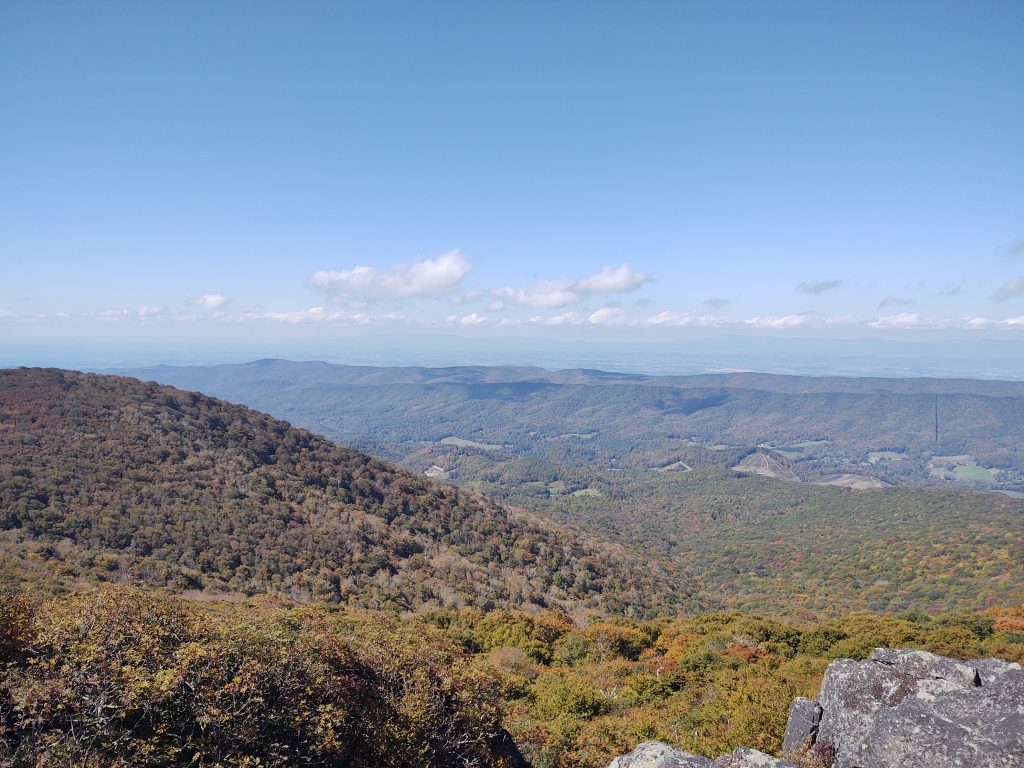 After a short rest it was time to get back after it.
We had miles to go before we slept that day. It was going to be another 14 miler.
Our original plan was to camp at elk garden until we learned there was no water in the vicinity. We found a suitable spot a couple of miles on up the trail towards Grayson Highlands. this cowboy spot would have been perfect had it not been for the water hole being six tenths of a mile down the hill. he was getting dark and by the time we made the second run down to the bottom of the hill to fetch water after 14 miles we were joined by JB. He was out for one night and started a beautiful fire on another crisp and cool evening. We enjoyed his company and conversation.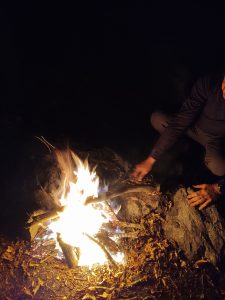 JB has traveled the world trekking and exploring so we had a lot to talk about. He owns a river guide service called oars.
We Rose the next morning to make the acsent to Mount Rogers, the highest point in Virginia. I've been to Mount Rogers several times and the Grayson Highlands area. It is a high Alpine environment, reminiscent of somewhere out west.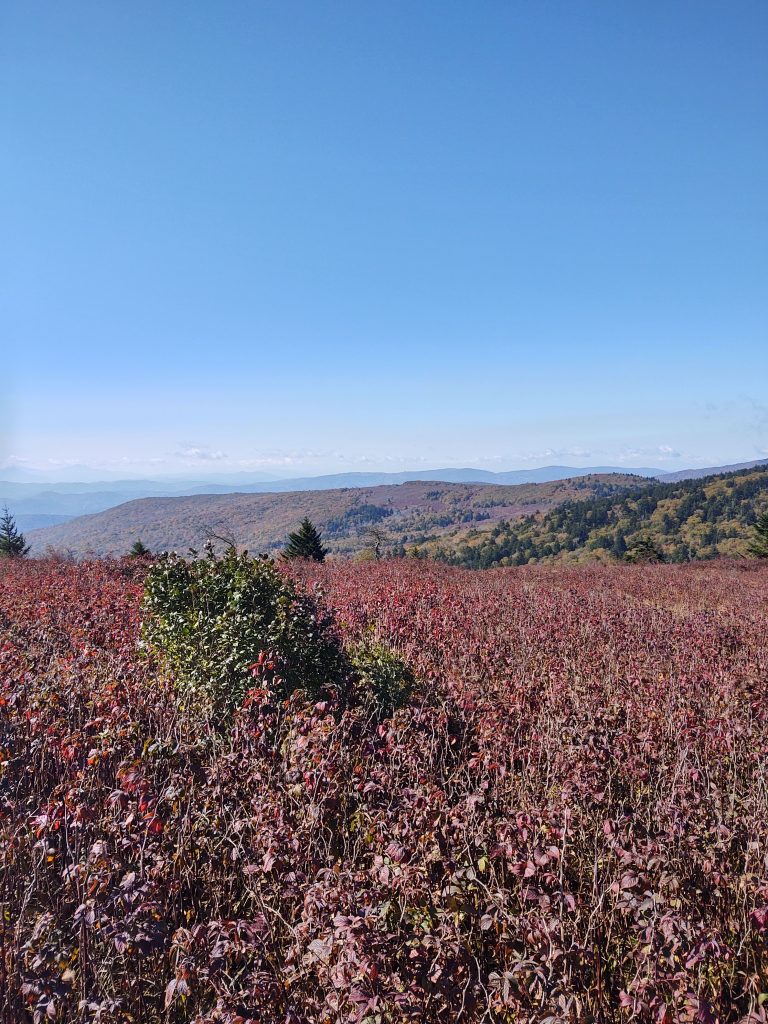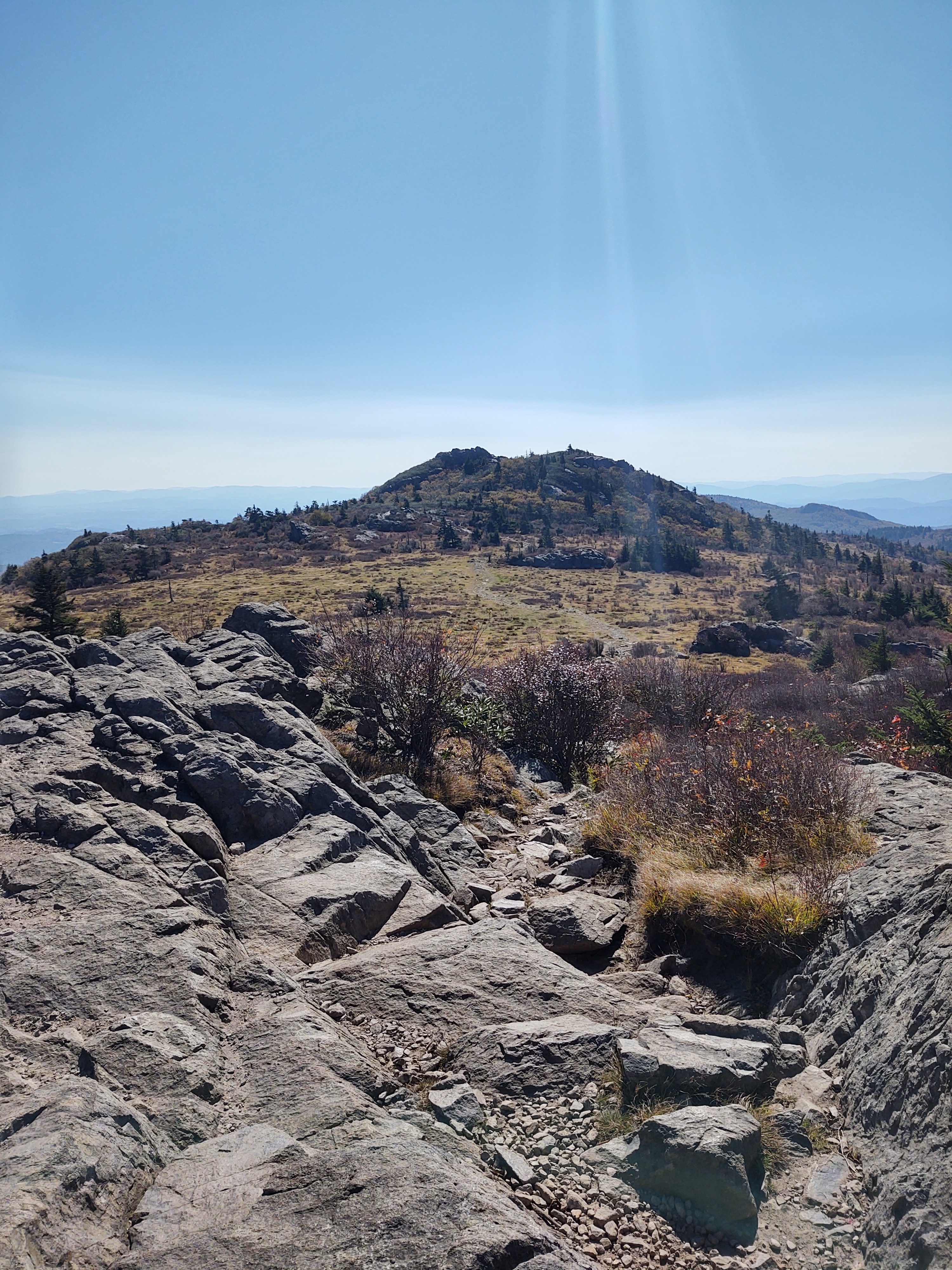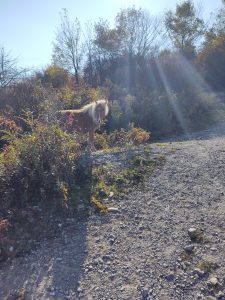 Ponies are an iconic part of the Grayson Highlands landscape. Unfortunately, they had rounded up most of them the day before our arrival.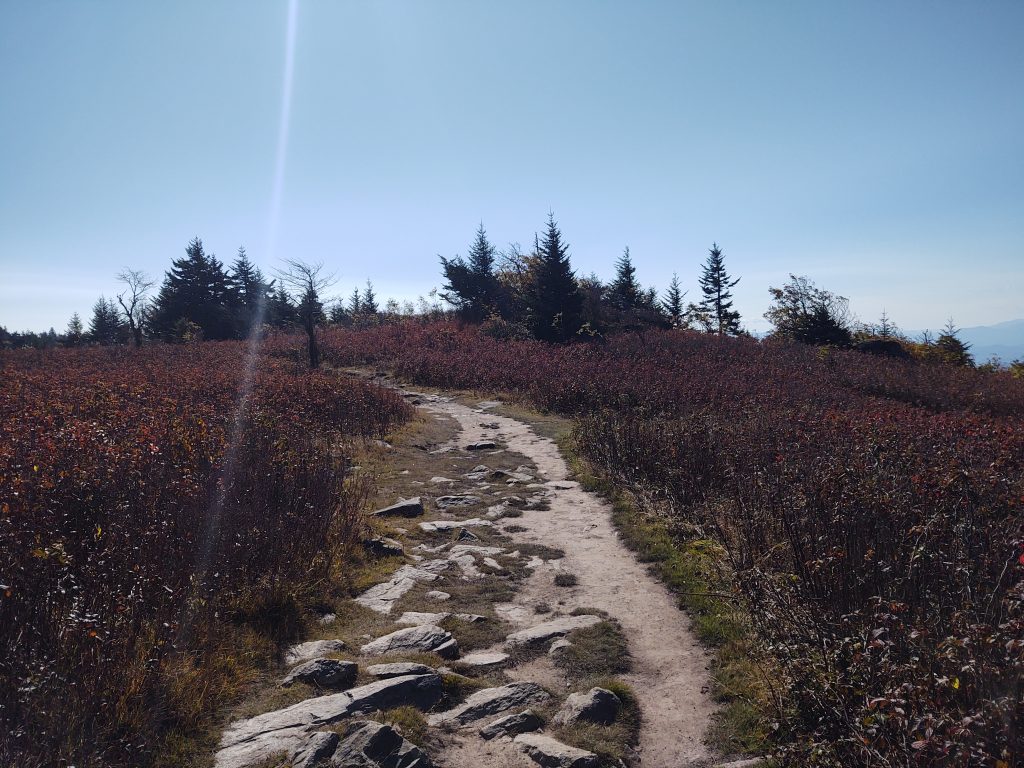 On this, our third day, we missed a turn somewhere. It added to our mileage. We overshot the trail to the tune of a mile, which is aggravating to say the least. This night found us dragging into the Old Orchard shelter. Great camping was to be found here and we knew of this thanks to the ranger who apprised us the previous day.  The stars and moon were blazing. The old Orchard campsite was one of the highlights of this trip. Sadly, we were never too far from the sound of traffic noise.  Modified muffler cars and Harley-Davidsons sometimes ruin the wilderness experience.
I'm getting older and it's a point that is driven home on some of these treks. We ended up hiking with a bunch of young guys who were 29 and 30 years old. Granted, I hike most of the time by myself and so did Frank, but we would always end up in camps together. There are things that I forget sometimes. They say that successful mountaineers must have short memories. I'm not that successful but I certainly forget how much pain each previous expedition was. And so it is with these A.T. backpacking journeys. This was one of the more difficult sections I could remember. If you look at the elevation profile it's self-explanatory. There were many 15 Mile days if you count the backtracks, turnarounds and water fetchings. But our weather was splendid and I watched Fall happen every night before my eyes.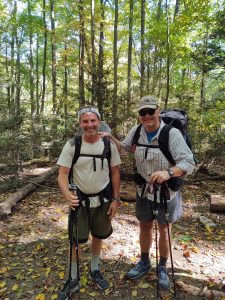 That's me and Senator Tim Kaine, the Man who would have been vice President of the United States. Not really but it could have been. He does look like him. And I had Frank convinced that's who it was. Then he tried to convince us that he was. We camped with these guys three out of five nights.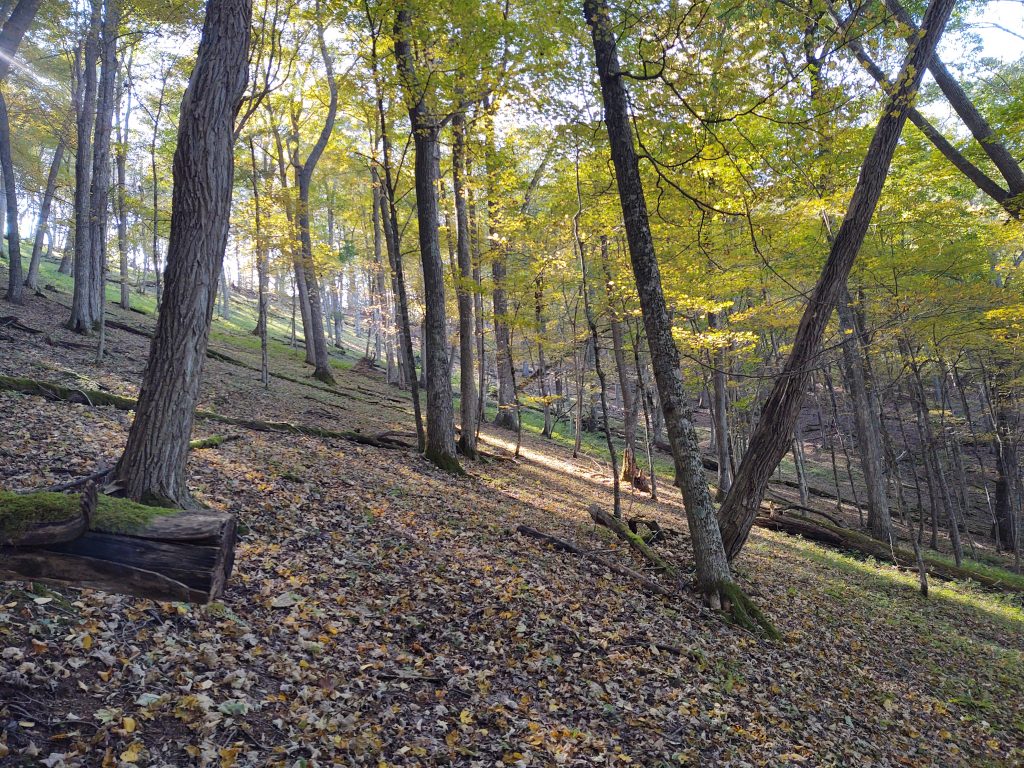 Such variety of scenery and topography. And to see fall emerge  before our eyes. This is what I call the good good.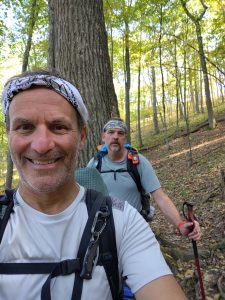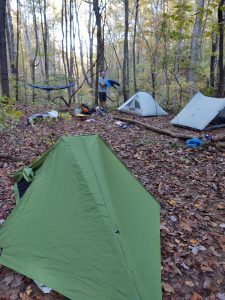 Our fourth night was at the Trinity shelter and it was kind of crowded. We were sharing it with an outdoor wilderness School of teenage girls. So this made for some cramped camping conditions. As you know I'm generally averse to shelter staying anyway. But it is fairly safe to assume that none of us slept well that night due to the snoring of an unnamed man we will just call Larry.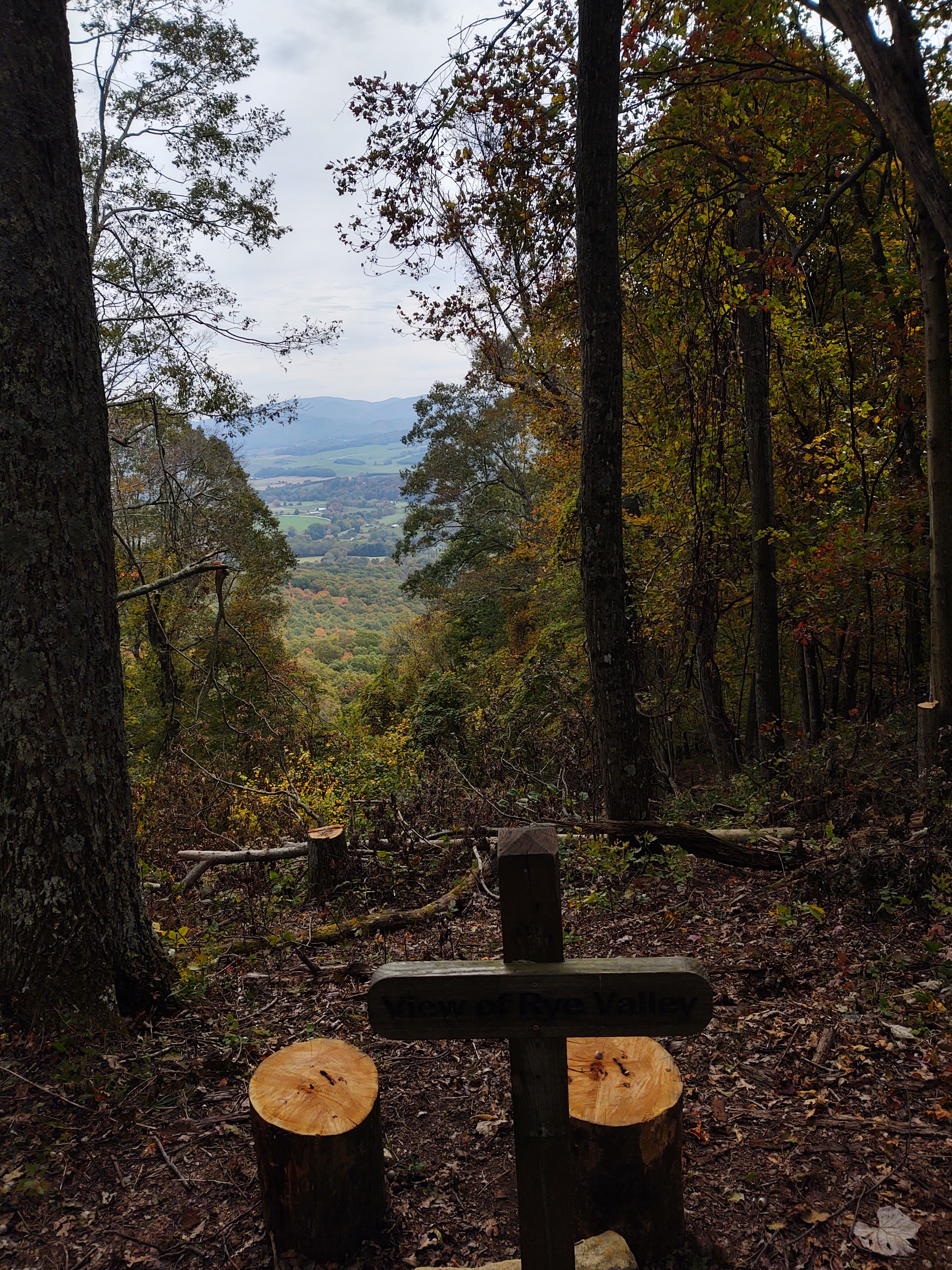 Our final push was into the last shelter called partnership shelter. this is without a doubt one of the nicest shelters I have ever seen. this night we opted to actually sleep in the shelter given its amenities. That in the impending threat of huge rain. To this point we had unparalleled weather. But a hurricane in the gulf was stirring some things up. partnership shelter is also known as a place for being able to receive  pizza delivery. So we all were anticipating this luxury after 5 days on the trail. And of course our eyes were bigger than our stomach.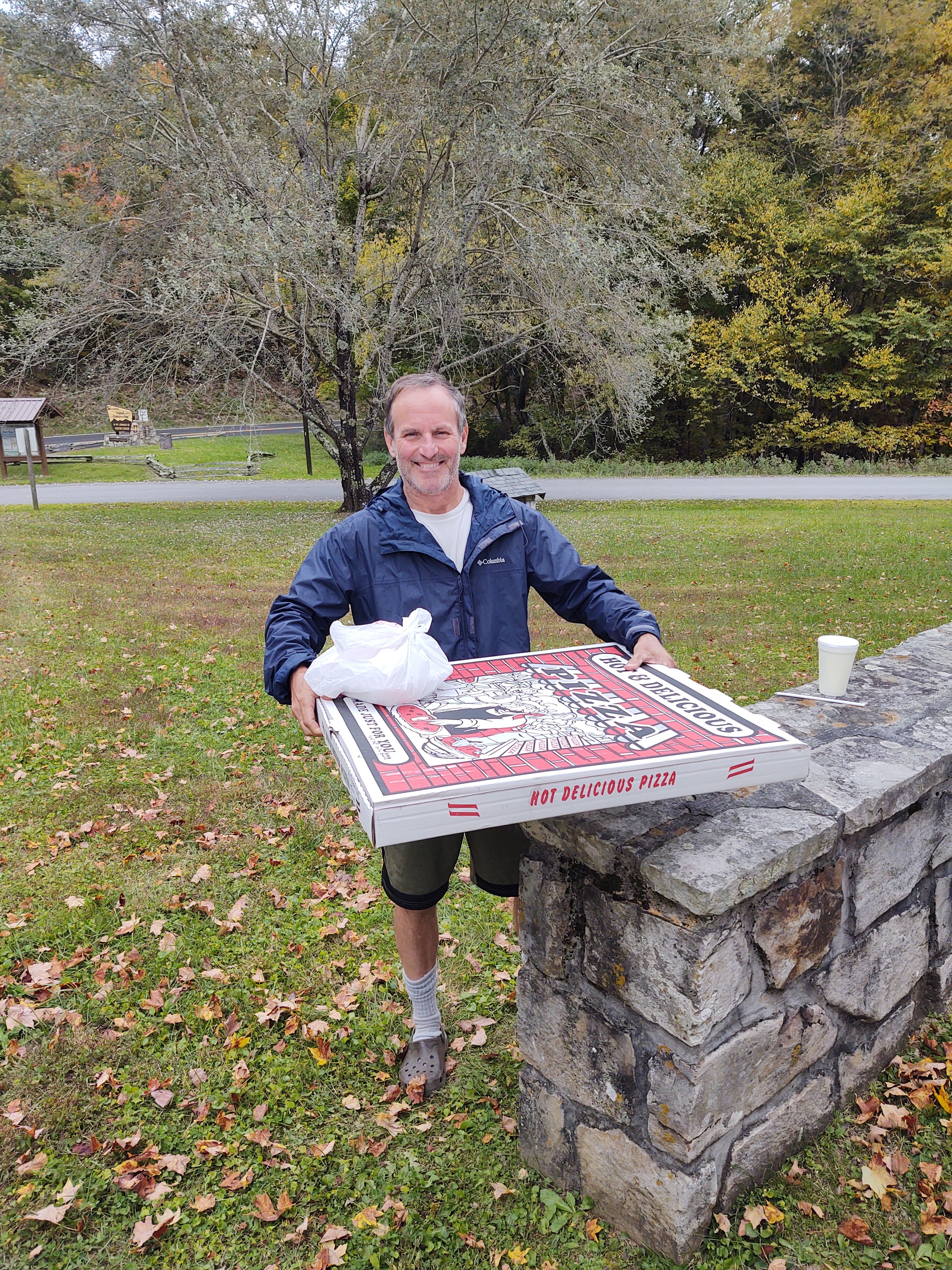 When they said 28-in Pizza they really meant it. I scarf down eight pieces in one quick swell. Frank ate about six. We were able to give some away to a through hiker, and the rest was donated to the girls outdoor wilderness group when they came rolling in later. Those young ladies were very appreciative. We also hung with two guys who were hucking old school rucksacks. Mark and Zulu were doing a section to Harper's Ferry. They are intrepid adventurers taking off with old school, heavy gear. But I didn't hear a single complaint from them. Glad to have shared camps with these fellers. It is a grand section so let's end with a bit of Gabriella doing what she does best.