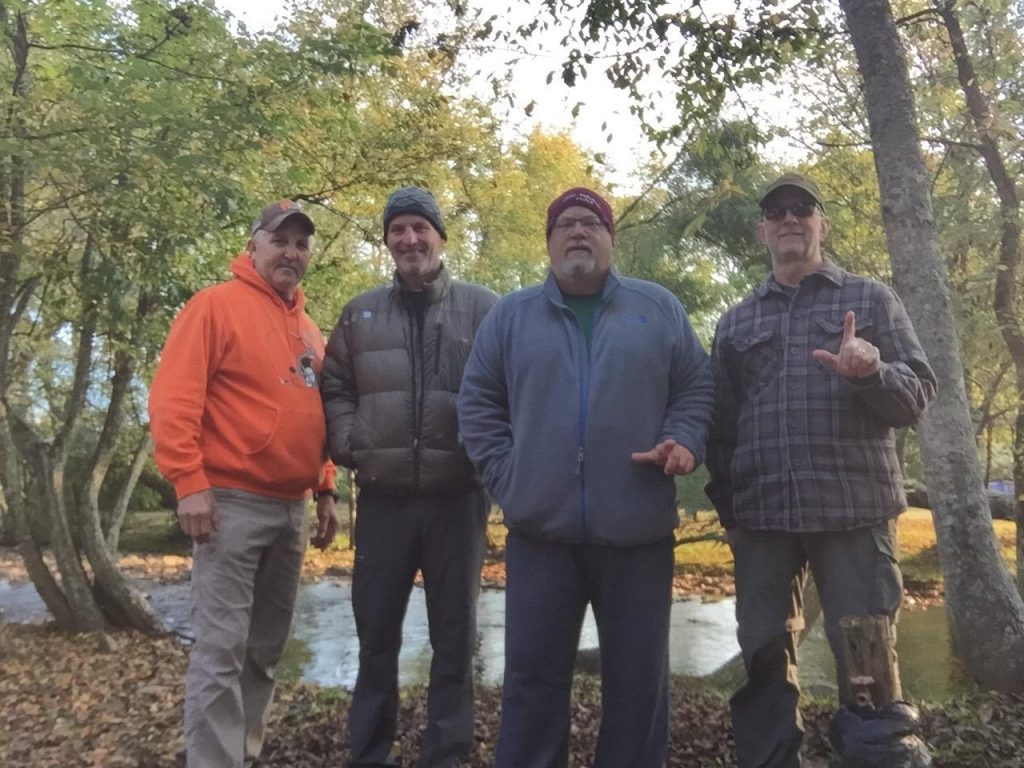 It is not often that we get to join forces again with the mighty Muir faction. The story about how we all came together is the stuff of Smoky's legend.
When Chuck,  Ledge and bunion told me they were coming down this weekend, I needed to clear the schedule. Although they are aging and suffering from some physical issues, the Faction was undeterred in their hiking goals. Ledge and Chuck made the ascent up to Ramsay's Cascades with about a thousand of their closest friends.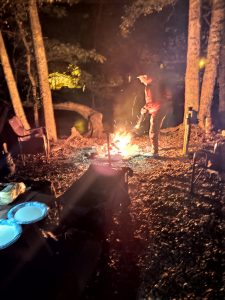 Even though it was car camping we still had a blazing fire and a most excellent meal was prepared by Bunyan. These guys are incredible, stalwart outdoor men. but one thing I really appreciated was two years ago before leaving for Nepal, Bunyan drove all the way down to hang out with me. He wanted to wish me good tidings for my trip to Everest. What he did was bring the Muir faction luck which carried me to the top of the world. I was very happy to carry them and Muir along.
Upon my return, we had a welcome home party and all three of these guys drove down to share this moment with me. That the the sign of true friendship. Looking back over the people that are important in my life I have realized that some of them haven't been around forever. And some of the folks who have been around forever, ended up not being there when you need them. They say that integrity is defined by doing the right thing when no one is watching. I'm happy to be surrounded today with friends who do have personal integrity. These things are blessings from above.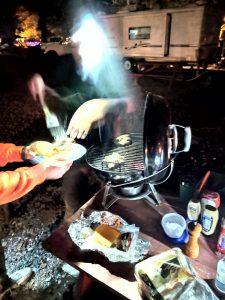 I left them that morning after a leisurely breakfast in hopes of doing the offtrail to Injun Creek. It was another glorious Smokies Fall morn, with steam rising from the river as I rounded the corner into Greenbrier. I jogged into campsite 32 and passed more people than you could imagine. Three of them were my neighbors and Highlander pal, Andrew, Jacqui and Marguerite, their daughter. You can imagine their surprise as I came emerging from the woods all sweaty from jogging uphill for three miles.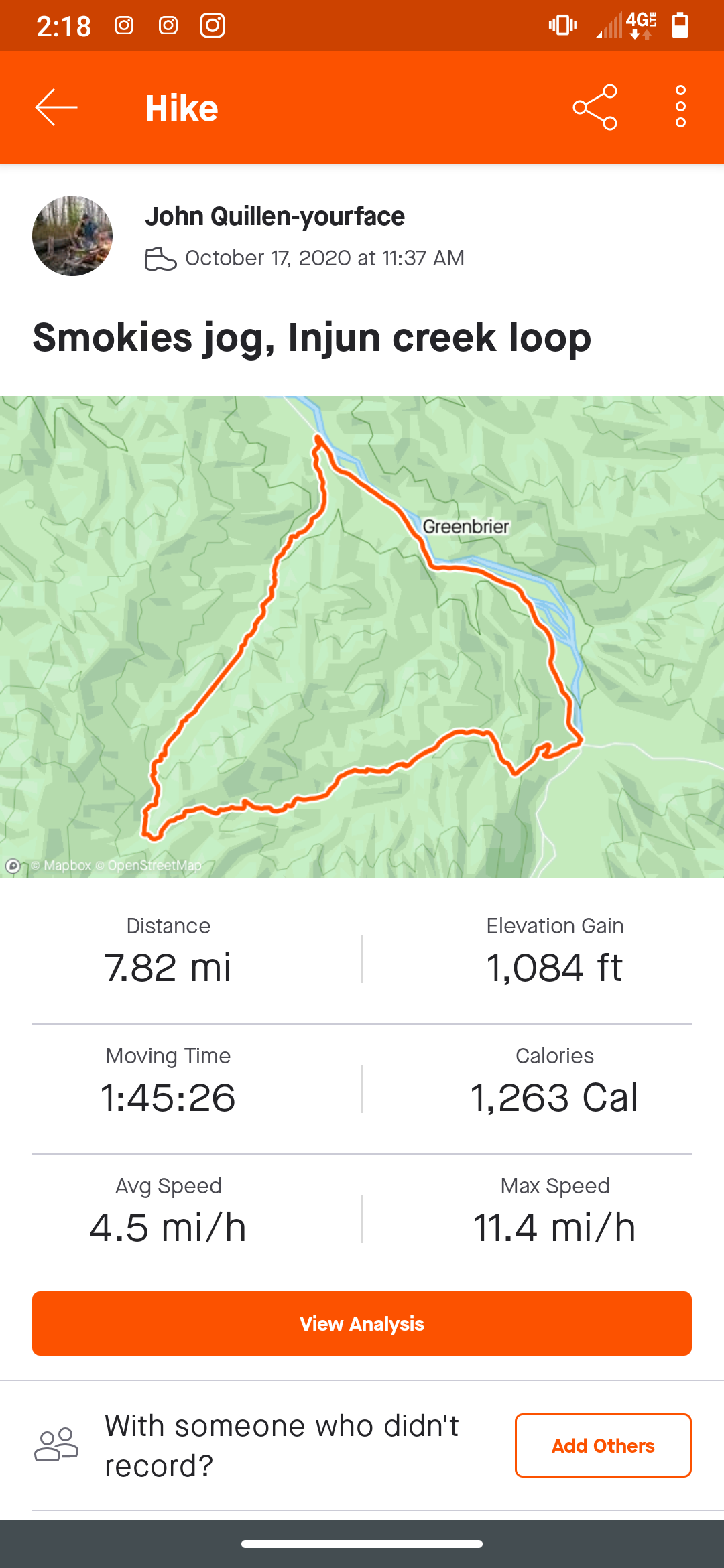 There are so many people out and about in the Smokies right now it's ridiculous. It's almost as if people didn't know the outside world existed pre Covid.
Anyway, I had to get back home and rest a little before part three of my weekend started Sunday morning.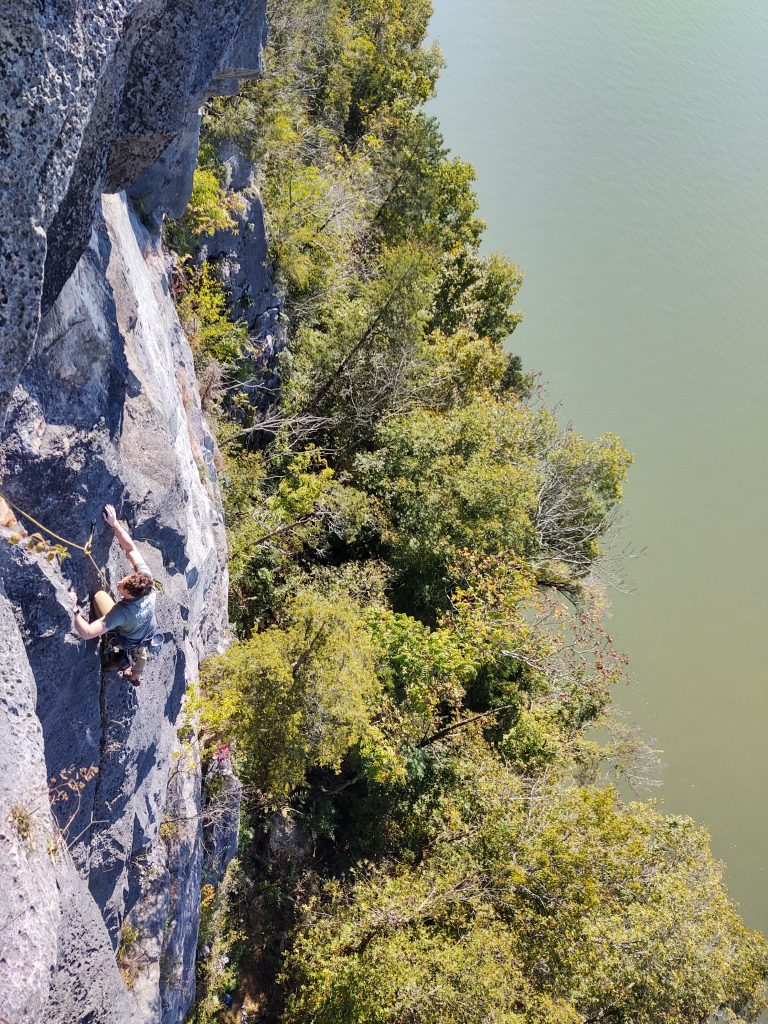 This is one place you don't have to worry about crowds. Michaela, Scotty, Micah, Davey and I embarked for what I think is the best rock in town. But it is a secret, undisclosed location.
We did have it to ourselves. Multi-pitch climbing in Knoxville is a little known venue. You can see the weather was perfect. We spent  about 4 hours to climb this one route. That's with three of us on one rope. The way multi-pitch works is you have a leader, which in our case was Mikayla. She led us up to the first anchor point. Then we set up another lead to the next anchor point. There were three pitches on this route and a bees nest in the middle. Again, our group was alone on this rock and my reluctance to publicize the whereabouts are understandable.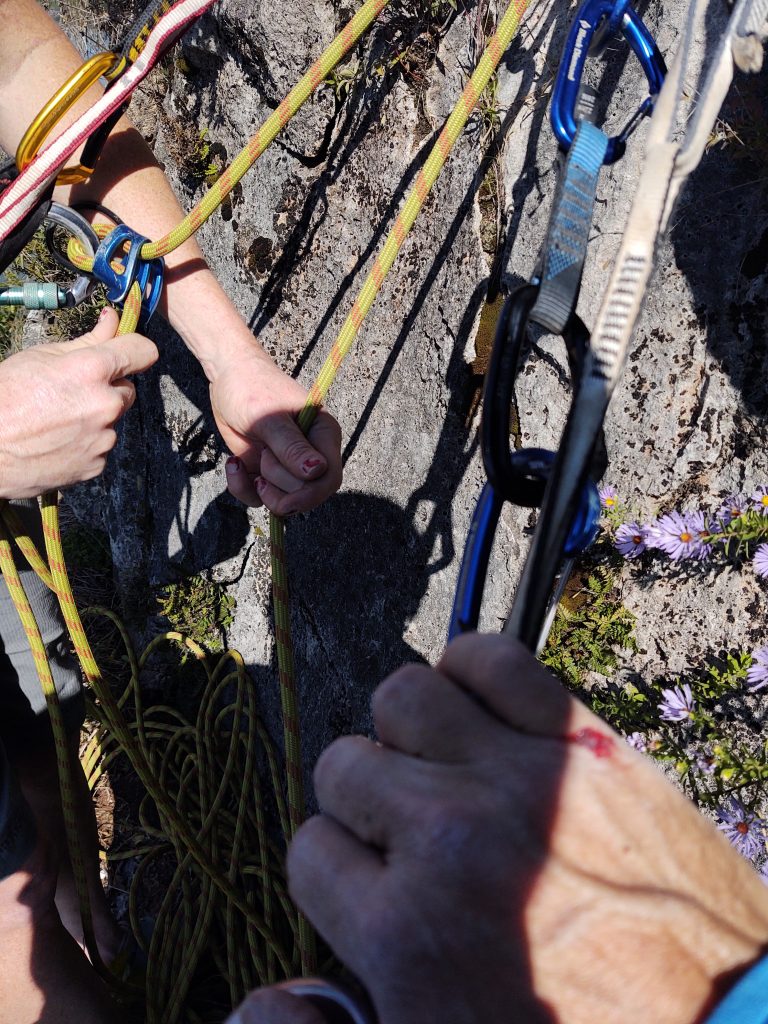 A fair amount of rigging is required at the anchor point. Along with a bit of a blood sacrifice. This limestone is sharp and rarely used. So I had to deposit some skin.
That's where Michaela comes in. She breezed right through that 5.10 crux like it was nothing.
It was such a fantastic and glorious weekend of activity in Knoxville and the surrounding area. Sometimes you got to take a break where you can find one.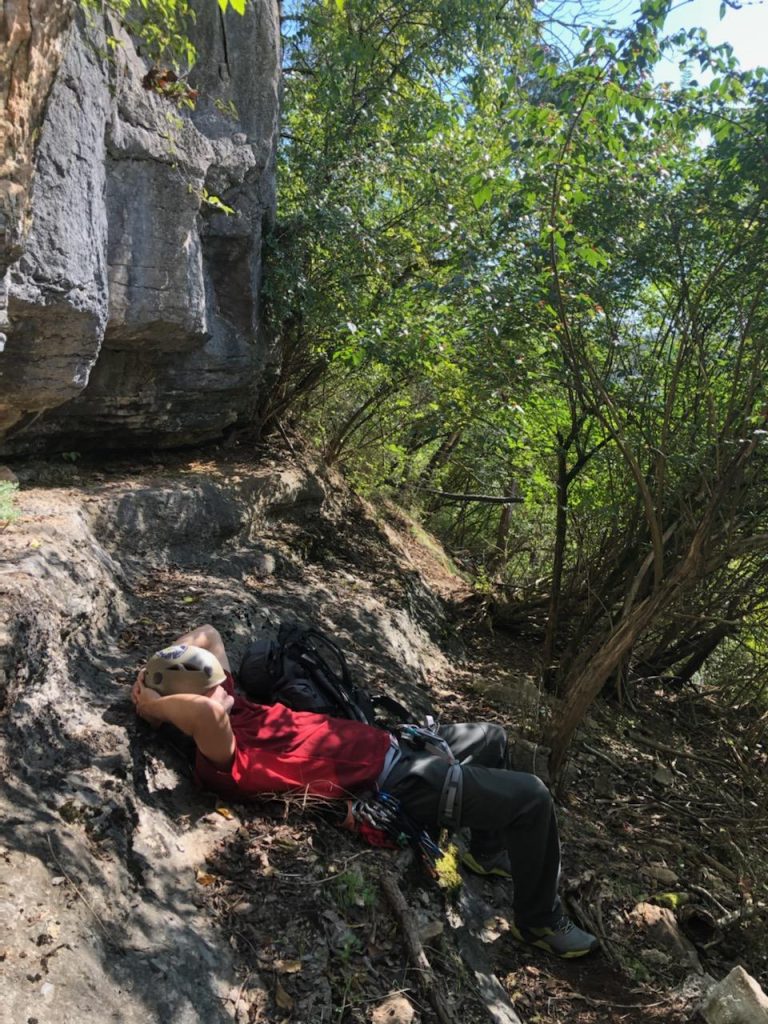 I would say that was the end of our weekend but we found time to go commune together afterwards. Many thanks to Micah and Robbie for the beta and shuttling.
Now, let's end with a musical note, shall we? It's Del's version, but since he was one of the Bluegrass Boys, I don't think Uncle Penn or Bill would mind.