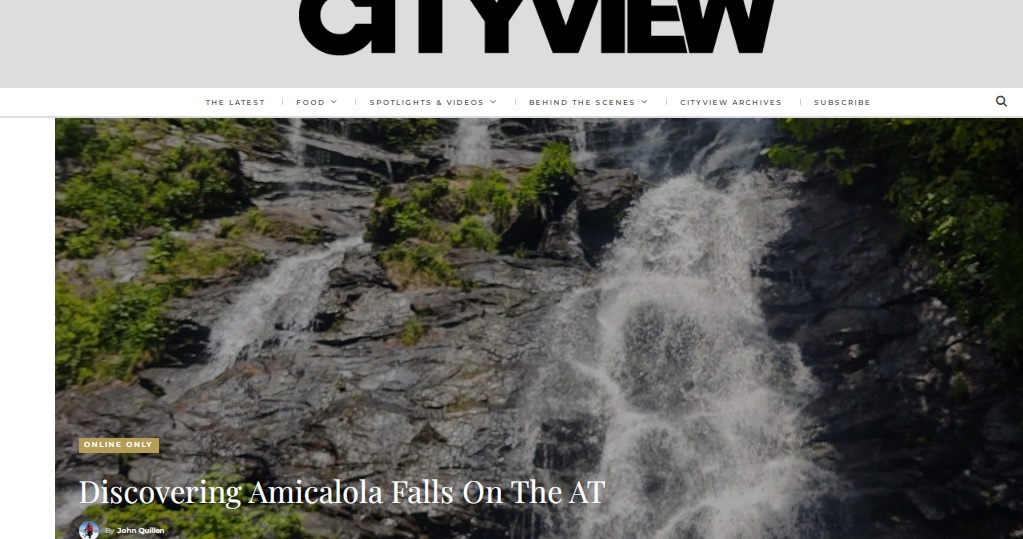 direct link here:   https://cityviewmag.com/discovering-amicalola-falls-on-the-at/
I was cursing whoever decided to put 604 steps up to this waterfall. Maybe it was the four-day pack I was carrying or the freakish 90 degree heat, but I just wasn't enjoying the start of my solo backpacking trip.
Cresting Springer Mountain and the proper beginning of the Appalachian Trail, not one shred of my body was dry, save for my water bottle. And the spring at this anticipated shelter was but a trickle. It was looking like a solo night atop this iconic peak at the beginning of America's most famous footpath, so I took advantage of the solitude to completely disrobe, which invited company in the form of another hiker.
Now that we were completely acquainted, (he learned why my trail name is, "Buff".) My new friend was beginning his thru-hike with a 60 lb. pack.  When the swarm of biting gnats engulfed us, I appreciated some of his bug spray weight. Owls serenaded me to sleep and I departed the following morning amidst a hedgerow of flame azalea in full bloom.
I descended five miles through cascading rhododendron blooms to a beautiful creek called Three Forks for a bite of lunch. As the water rolled over rocks a group emerged in my periphery from the same trail. There, alongside this babbling brook, miles from home, was a Meetup Group from Knoxville and I was greeted by friends with whom I have shared more than a few trails. It was destined for us to join forces for the day, so I followed them to my intended home for the night along Justus Creek some nine miles ahead. We camped in a hemlock grove between fingers of this watershed and marveled at the likelihood of running into each other.
We parted ways after five miles the next morning. Their shuttle plan was for one night, but I still had Blood Mountain and 17 total remaining miles. The Appalachian Trail would carry me over 4,000 feet this day through what can only be described as a Biblical plague of inchworms dangling from laurel in two miles of the most uncomfortable backpacking you can imagine. Blood Mountain was earning its name as I battled both horseflies and these millions of worms now nibbling on every piece of salty skin. Cresting the final steps into the shelter, approaching hikers regarded me as some apparition; perhaps a John the Baptist character caked in dead and dying insects with matted hair.
Despite the vermin, this beginning section and approach of the Appalachian Trail is quite scenic. Views abound from Blood Mountain summit and many other points along this 40.5 mile Georgia chunk. Safe parking is available at Amicalola Falls State Park and a shuttle is reasonable through" A Further Shuttle" at Neel's Gap back to your starting point for $80.