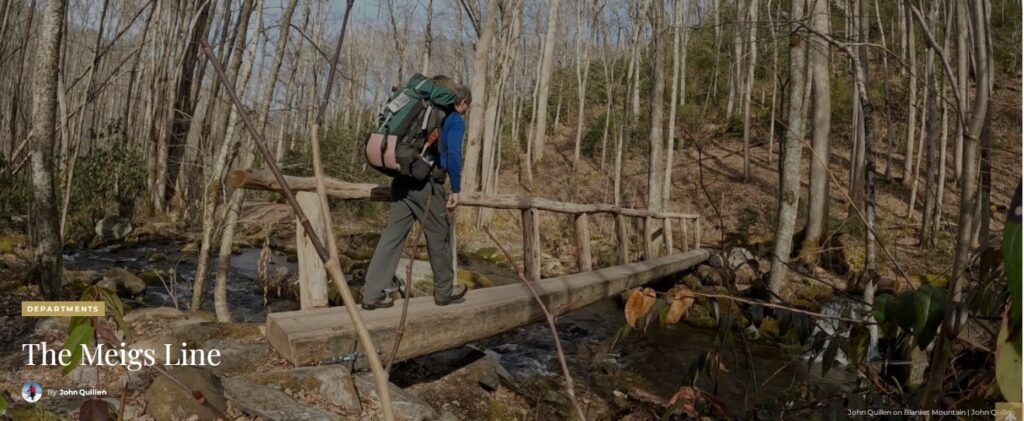 https://cityviewmag.com/the-meigs-line/
Walking in the footsteps of a forgotten expedition
Iwas surfing through bottomless rhododendron patches on Blanket Mountain for miles. This stretch out of Elkmont, Tennessee, in the Smokies, was as off trail as it gets. My objective was a long forgotten passageway that exists only in defunct maps and the imagination of Smokies historians.
In 1802, Colonel Return Jonathan Meigs Sr., agent to the Cherokee Nation, and surveyor Thomas Freeman set out to define the line between Cherokee lands and those of new settlers. Meigs was a hero long before accepting this assignment from President Jefferson. In 1777, Revolutionary Army Colonel Meigs led 220 men across British lines in Sag Harbor, New York, where he burned 12 British ships and captured 90 prisoners without the loss of a single man in his detachment.
These pioneers stumbled along my present route delineating a boundary using everything from marked boulders to unusual arboreal arrangements referred to as "witness trees". Some called this the "White path". Meigs's directive was to settle disputes from earlier boundary attempts. In many ways, his foray was the progenitor of Lewis and Clark's more well-known journey two years later.
I eventually stepped on some flat ground and was confronted by an anomalous quartz rock embedded into an ancient tree. Later, I was made aware of its significance. Turns out, I had discovered a boundary marker integral to Meigs's mission. That was 15 years ago, but my quest to uncover the Meigs Line secrets continues to this day.
I recently returned to Blanket Mountain. While I won't share the exact location of the marker—souvenir hunters and day hikers can get into trouble off trail—the path up is well-worn. From Jake's Creek, I ascended the junction of Miry Ridge. Trekking the unmaintained trail to the right, I came across the remnants of an old fire tower.
Back in Meigs's day, their methods were somewhat rudimentary. When Meigs needed to mark something, they supposedly threw a red blanket over it, allowing it to be sighted across the col between Jake's Creek and Miry Ridge. A prominence I found there bore direct resemblance to Meigs's writings on the subject.
Back in the '70s, a couple of Smokies rangers traced this trail from its beginning outside the Smokies to its end near—something of particular interest to me—Mt. Quillen in South Carolina. Like Meigs, these government employees encountered all manner of bears, snakes, and geographic encumbrance albeit with the resources of their positions within the National Park Service. Vinn Garoon, who was nearing retirement, was one of them.
In the shadow of Clingmans Dome, Garoon got seriously lost having forfeited a boot in the headwaters of the Little River. As he was more than a day late for scheduled completion, park service colleagues organized an extensive search involving airplanes and seasoned trackers. They found the aging ranger hobbling shoelessly in the back of beyond, having learned a final lesson from the mountains he thought he knew. I'm sure Garoon was pining for the amenities of Meigs's survey group, which included Cherokee scouts and seasoned locals. I could seriously relate to the frustration of false summits that these hills and hollers can produce when alone and bushwhacking.

High atop Mt. Collins is the most important marker for this survey expedition, a stone which has seemed to walk across the mountain alongside the surveys, elusive as a bobcat. Some blame the lumber companies who sawed full bore right up to the day these lands were marked as federal property. I have wandered in search of this particular stone to no avail, but treading through time definitely channels the spirit of these early adventurers. Next stop for me is the ending point and my namesake mountain. It's probably through private land, and I will end up with a backside full of buckshot. Any takers?