AJ and John Dempsey are friends of ours and we rarely miss an opportunity to commune with them in the wilderness.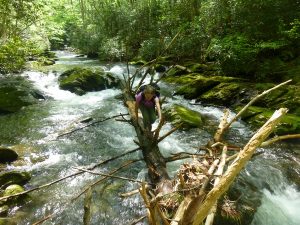 There were miles for me to capture in this area and high water or not, we did them.  Laurel negotiates one of about 20 serious crossings on Slickrock.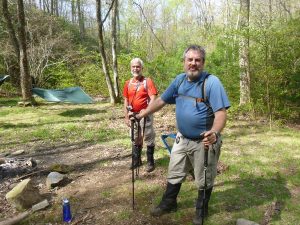 AJ and John were set up at Crowder Branch with a complement of wood and good company.  AJ even brought me a generous birthday present that was shared around a roaring fire.
But first they had to clear the road up to Farr Gap.  It is a wilderness and fortunately, someone had a chainsaw.  That is one road where you probably need to carry one.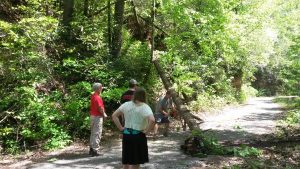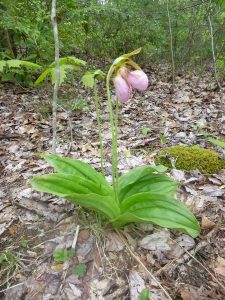 AJ pointed out a huge prize in our campsite.  I will add that we usually camp at the Crowder Horse camp in the shadow of Hangover.  But they had set up down here and we almost didn't find them in the fading daylight of a friday evening. It was a better choice for two reasons.  One was the abundance of firewood and the second is a spring with some extremely sweet tasting water.  We caught up with each other and bedded down for what was going to be a big day for me and Laurel.  Here is a map of our loop.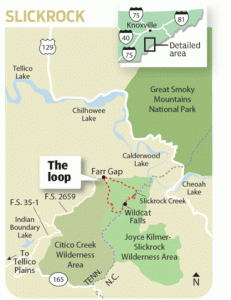 It is a 12 mile loop and begins at Farr Gap.  We dropped from Crowder Branch down to Slickrock Creek.  It was hot, snaky and full of bugs and ticks.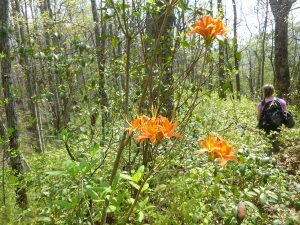 This is Big Stack Gap.  It drops about 1200 feet down to Slickrock Creek.  Every stop promised to uncover a timber rattler much like the one John and AJ almost stepped on hiking in on Friday.  Fortunately, we saw none of those, but we also didn't see our feet.  The flame azaleas were amazing.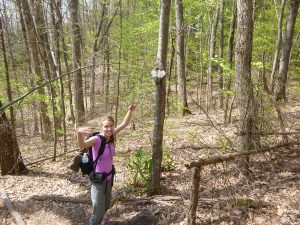 Bear Reserve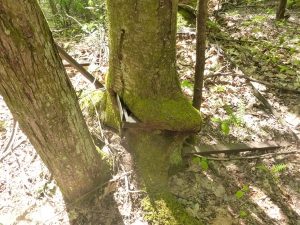 Know what that is?  Let me zoom in for you.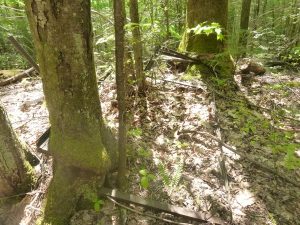 Yeah, its a bed frame and the tree has grown through it.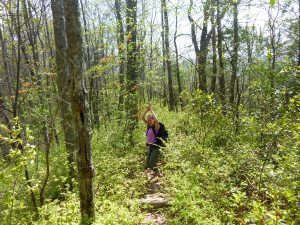 Big sawbriers and weeds.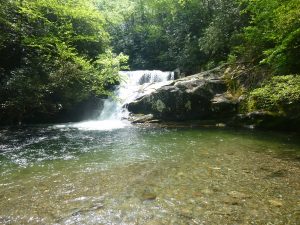 Wildcat Falls is iconic.  Given that we were steamy hot from two hours of hiking, a swim was in order.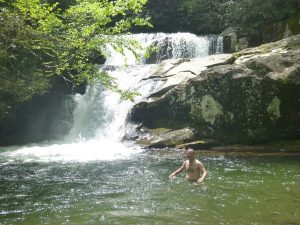 Man, was it refreshing.  I was so taken with the bath, I almost didn't notice this guy.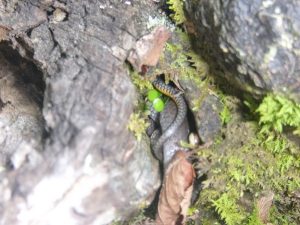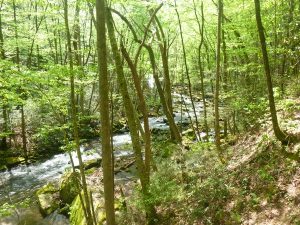 Little did we realize the amount of work that lay ahead.  About 20 serious crossings of Slickrock creek ensued.  A weekend of record rains had set the tone for this epic.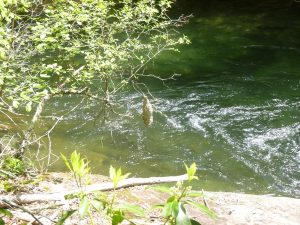 Looks like even the hornets wanted near the cool water.  We were soaked the entire time and I took an epic fall.
 This was one of the easy ones.  With record rains came record crossings.  There was a reason we saw no one at all on this trail.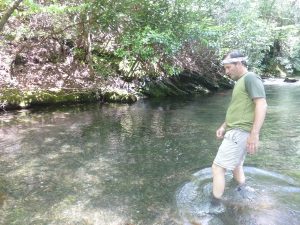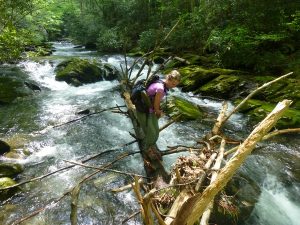 This was more representative of our trials by this trail.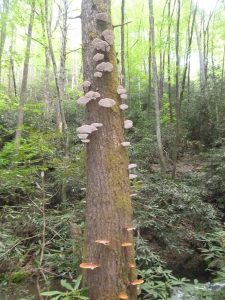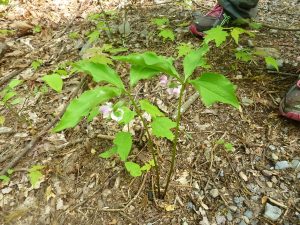 Rocky Ledge would know this one. I'm looking forward to being with the Muir Guys next weekend.
When we made our last crossing of Slickrock and began the Stiffknee, I was prepared.  Stiffknee is 1600 feet of climbing in 3.2 miles.  And aptly named.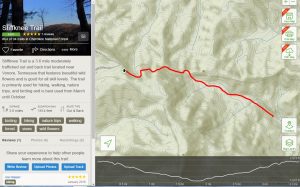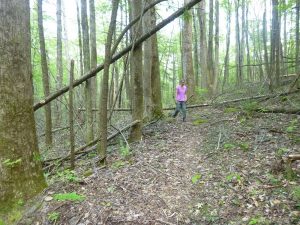 Stiffknee can best be described as a second growth scrub forest with some incredible uphill pulls.  It came by the name honestly.  By now we were running out of steam.  Slickrock had kicked our butts and we still had 7 miles back to camp at Crowder Branch.  We climbed, and we climbed and we climbed.  Laurel reached a wall about the time she encountered a bigfoot.  Or a rock thrown that sounded like one.  That resulted in her stepping in a suck muck and totally muddying her shoes.  She wasn't amused.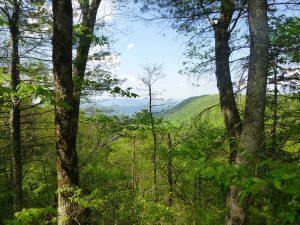 What you are looking at is 1800 acres of wilderness that I hope will be added to Citico.  It has been held up in legislative hell for many years and since I was heading that way, decided to do a little investigating.  I found out that the TN Wilderness Act was approved but never enacted.  Apparently there was some problem with Congressman Fleischmann down Chattanooga way.  A lot of these guys don't like taking land off the table when there is a dime to be made by milking the crap out of it.  I contacted Will Skelton, because I knew he would have the scoop.  As expected, he confirmed that Fleischmann was holding things up.  I told Will I would pass along the word so any of you folks down in Chatty or in his district should contact him to let your thoughts be known.  This stretch of Wilderness is an important corridor between Slickrock and the Smokies.  I would hate to see it developed, as I'm sure some politicians would.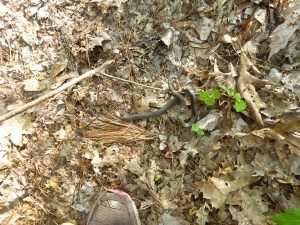 Left turn Laurel was playing with the dying ring necked snake when I approached.  Judging by the wound, it had been bitten by a rattler.  I advised her to drop the snake and move on because the rattler was probably nearby waiting for it to die.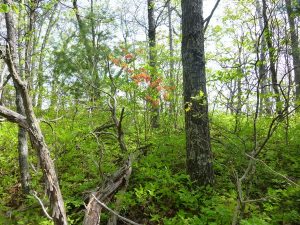 More flame azalea action was found along the Fodderstack Trail as we drug ourselves the final three miles back into camp.  AJ and John did the Mill branch loop for their daytime outing.  Our total time on the trail was 8 hours, six of which was hiking if you discount the swim time and a break at Farr Gap.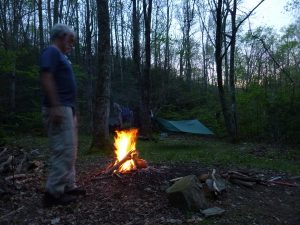 We exchanged tales of our respective journeys into the Wilderness.  If there is one good thing about the Smokies fee, it is that I have been driven to Slickrock/Citico.  Slickrock/Citico is wilderness and I am thankful for the efforts of those who made it such.  Let's help them add that portion to it.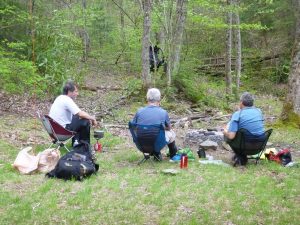 We coffeed up Sunday morning.  I was sore from my fall on Slickrock.  We got out of camp for the three miles back to Farr gap where my intention was to fish down the creek.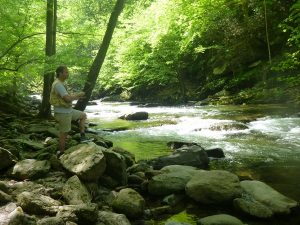 And fish I did.  Citico hasn't failed my in the last two outings.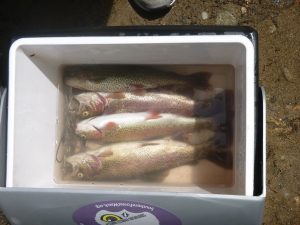 I call that dinner for two nights.  And also a perfect ending to a wonderful weekend.  Yes, there were snakes, ticks (I pulled about four off), bugs and heat.  However, the offset was new miles, great company, good fishing, and a 20 mile hiking weekend.  If that isn't success, then I don't know what is.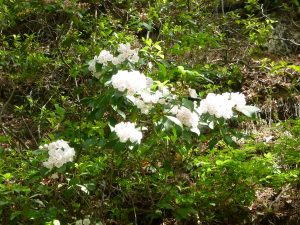 Mtn. Laurel was in full bloom.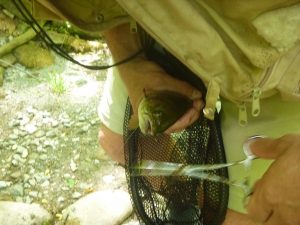 Fish ON!