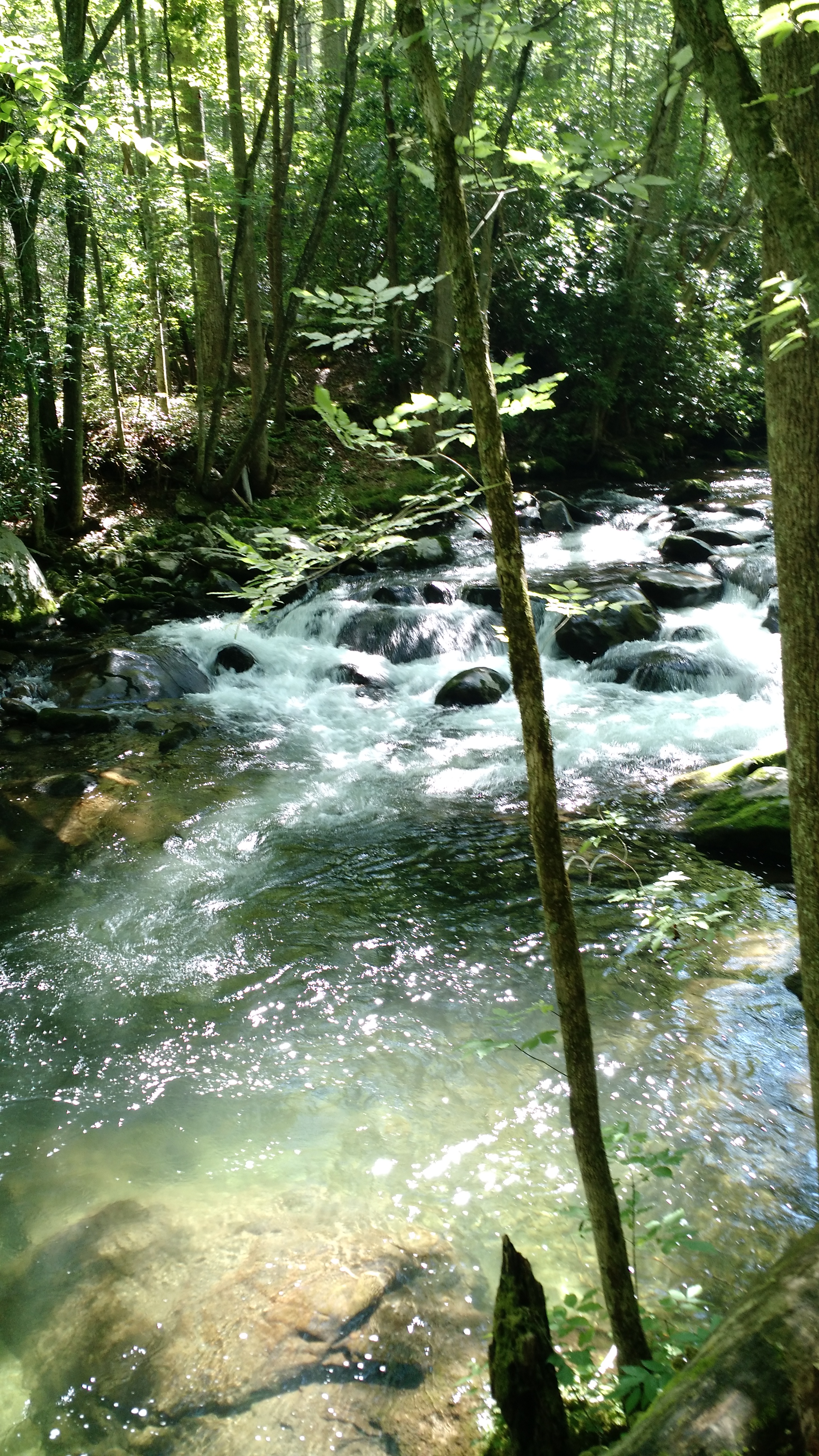 The water was inviting so I availed myself of the opportunity.,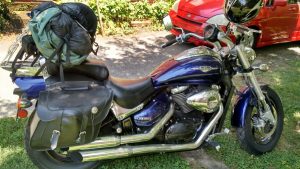 It was a great day for bikepacking into Elkmont. I went solo.  My absence from the Smokies has been situational.  Several trips have been cancelled due to Spring storms.  Last weekend was a doozie and judging by the after effects, am appreciative to have slept indoors instead of campsite 15 as planned.  That makes two recent trip plans upended by weather.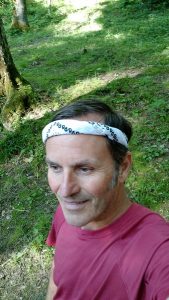 There was one spot remaining at 24. Our usual lightning bug viewing site is closed for bear activity.  I had been craving a solo night in the woods.  I would not be solo, however.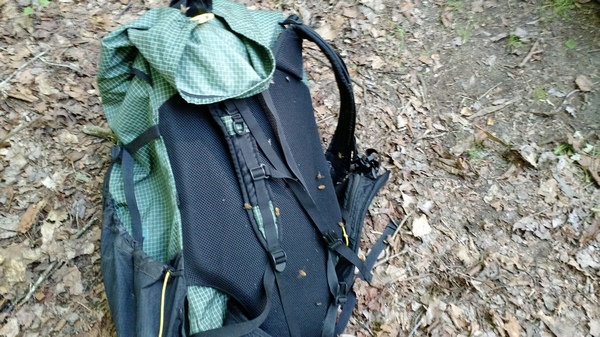 Although my intention was to interact with the infamous insects, these were the ones with which we all had to contend.  A swarm of honeybees infiltrated the entire drainage.  I spoke with a guy who got run out of campsite 30 because of the intensity of bees only to find them equally thick at Rough Creek.  And they persisted from dawn to dusk.  I have never experienced a bee issue of this magnitude.  It is reminiscent of the black fly hatches I also seem to nail with equal precision.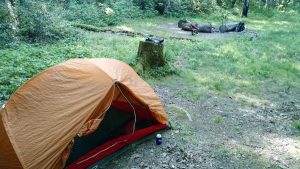 Anyway, I found some solitude along this beautiful spot full of memories.  My first true backpacking trip outside of the scouts was with my friend Chris when he got his driver's license.  We took off to this campsite and fished.  I remember catching a small brook trout on my second cast and with that it was I who was hooked.  I figure this was sometime around 1981.  No true count exists of how many times I have stayed here but it must be nearing a hundred. (There are likely 30 on the Southernhighlander site)
As the afternoon sun began to drop, a couple from Ohio came down to ask about the bee phenomena.  They noticed I was now bee free so I suggested that Maggie and Everett take a swim.  It is the salt to which the stingers are attracted.  Soon the pyrotechnics began slowly about a half hour into 9.  With rolling crescendo a cacaphony of silent and initially muted lights began to ebb and flow in chorus.  As I explained to my neighbor, John C from Cincinatti, it is the stopping that is synchronized.  No matter how many times I witness this miracle, I am humbled by nature's majesty.  Soon insects had infiltrated my treeline and light free campsite.  I was enveloped in their swarm and carried away by the symphony.
No photographic evidence exists, though I made great efforts.  Forty five minutes of gopro were wasted trying to share this with Laurel who is out of town.  I believe that the lightning bugs are only to be experienced first hand and look forward to taking her into that din.   As the hour approached midnight the Christmas blinking diminshed as I fell into my tent with the vestibule wide open.  My eyes drifted, losing a battle with the urge, but the twinkling still was visible as I fell into a trance.
The sun showed up at 6 am and breakfast was simmering by 7.30.  After all, I had to feed all those well rested bees.  By 9.30 they had run me out of Rough Creek and a beautiful stroll was reward enough.  That, of course, entailed another swim at the Husky Gap intersection.  I thought about the Muir Faction.  We had scheduled a backpack into Goshen several weeks ago when the big storms closed the park.  Chuck and Ledge were stranded in Townsend at a hotel, their trip to the Smokies thwarted by Mother Nature.
Ironically, I received a text from Chuck Adams and it was a picture of a black snake.  He thought of me.  The irony is that while he was sending me the picture, I was on the motorcycle departing Elkmont.  About halfway down the road before you reach the Little River road, Brian and I came upon this big black snake years ago and we stopped to move him from traffic.  I was thinking of this as I rounded the corner, and guess what?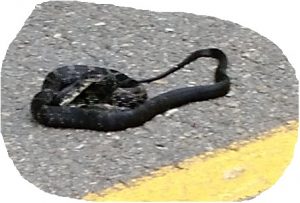 In the exact same spot. Could it be the same snake?  Snakes are following me, falling on me and nipping at my heels.  Skeptic?  Read below.
Apparently I am quite the snake whisperer.  More people equate me with snakes than anything.  I'm not one of those herpetological freaks but respect them and tend to be in the snake place at the snake time.  On the way over the day before I narrowly missed another big, likely five footer, black snake draped across the pavement in Sevier county.
However, the big serpent tale comes from my So Knox abode.  Upon entering my shop building two weeks ago, this gal dropped down almost on my shoulders.  She was halfway between the door and the frame.  When I cracked the door she fell right across my arm. My response, slamming the door shut injured the creature.  Anyway, she wasn't happy, as you can see.  Notice how she is able to make her tail rattle leaves to mimic a viper.  Why do I think she is a she?  I am told that the females are aggressive during birthing periods.
" ]
so in summary, it was great to get into the Smokies again.  Mostly.  I could have done without the bees but Lightning bugs were the focus and disapoint they did not.