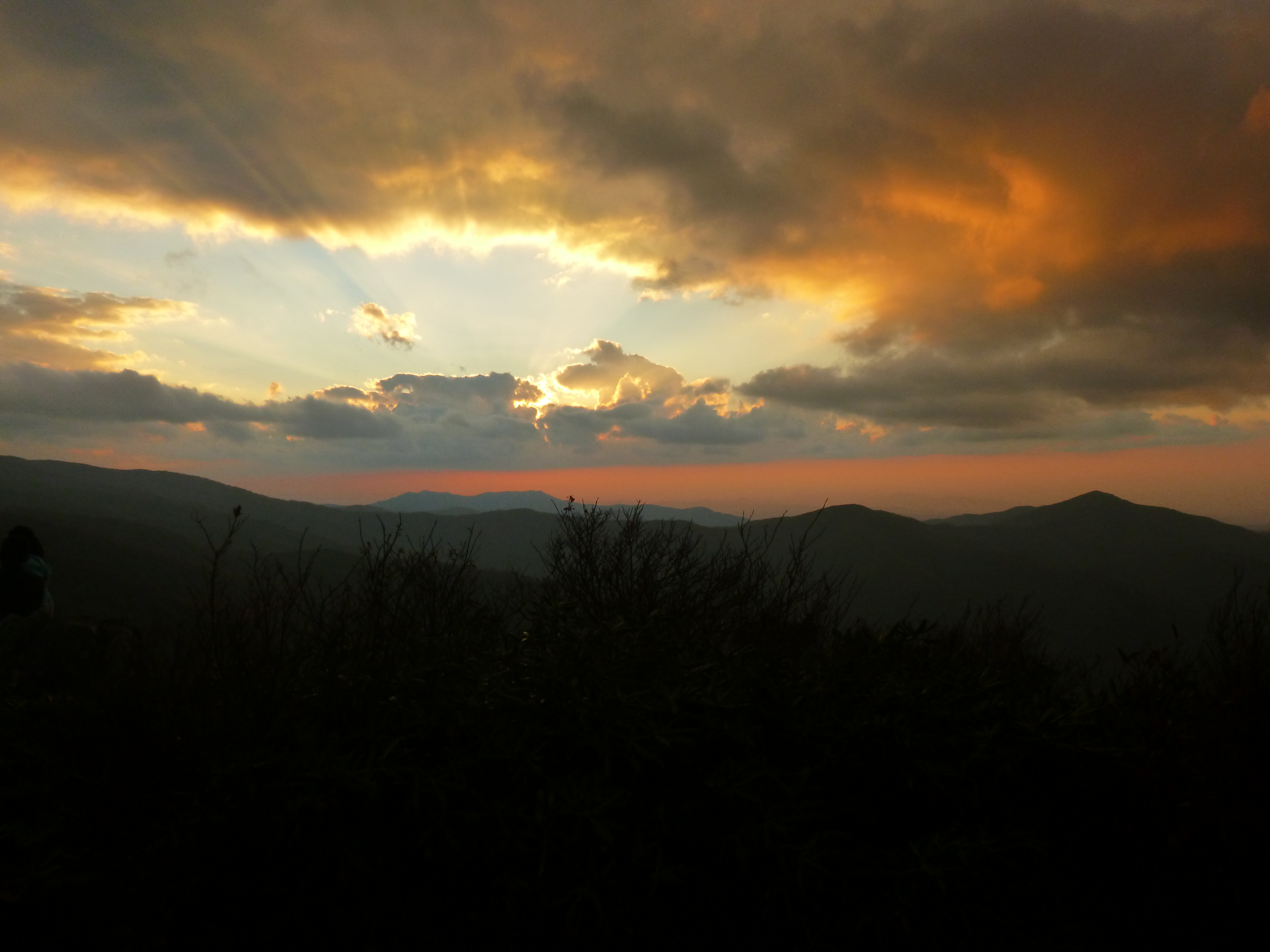 As I headed back up to the Hang for the annual October pilgrimage, I was reminded of the two previous trips and realized that the eclipse will forever likely be the most magic moment I have ever spent on this mountain. And that is saying a lot for somewhere that holds such import with me.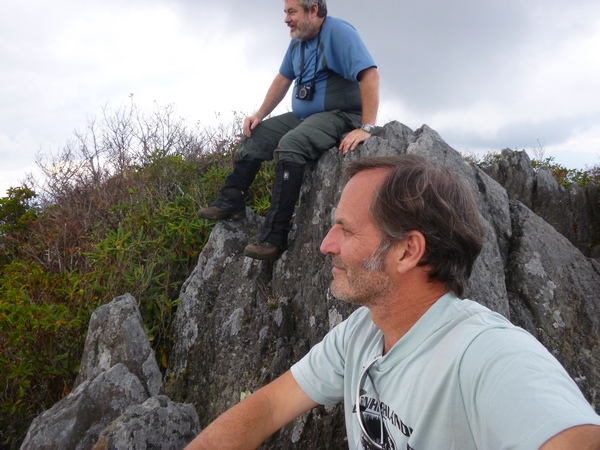 But it is the people that often make the place, and the memories. AJ chose to spend his birthday up here with us back in June.  I dug this up out of the geocache.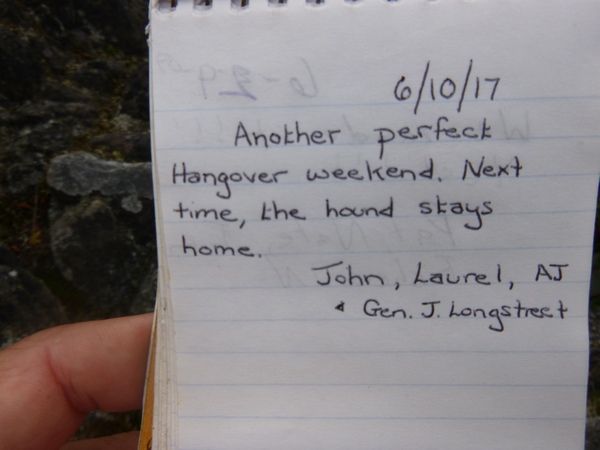 That of course, was a lie.  The hound followed us up for the eclipse and I could have used him on this one with my 72 lb, record Hangover pack. His utility as a load bearing Sherpa mutt is redemptive.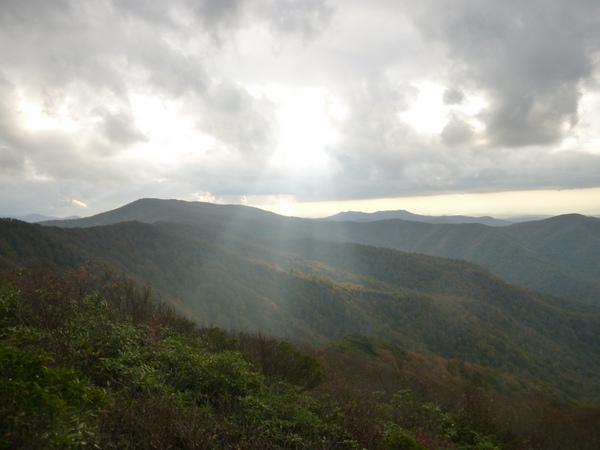 AJ and I made it up on Friday, along with Mark Cooke and his crew.
Between June and this past weekend I have spent about 10 days on this particular piece of ground.  And, being the traditional Hangover weekend that I alone have observed for well over a quarter century, was blessed with the traditionally good weather therein.
Friday's sunset was not to be missed.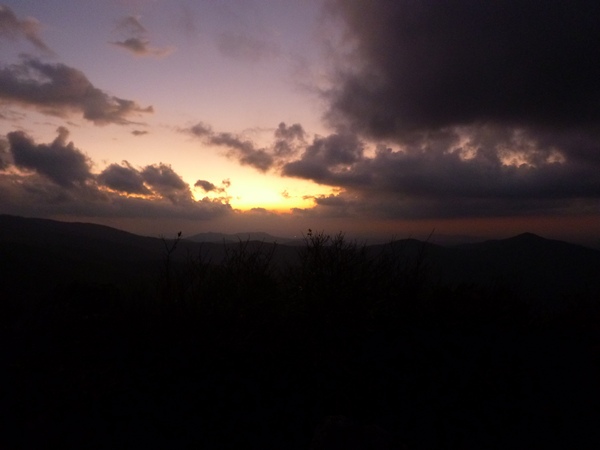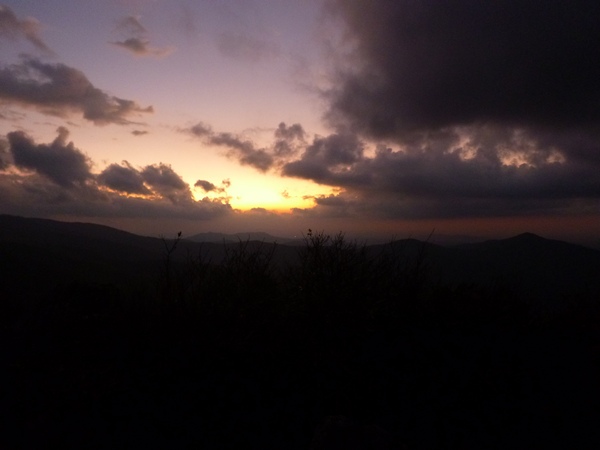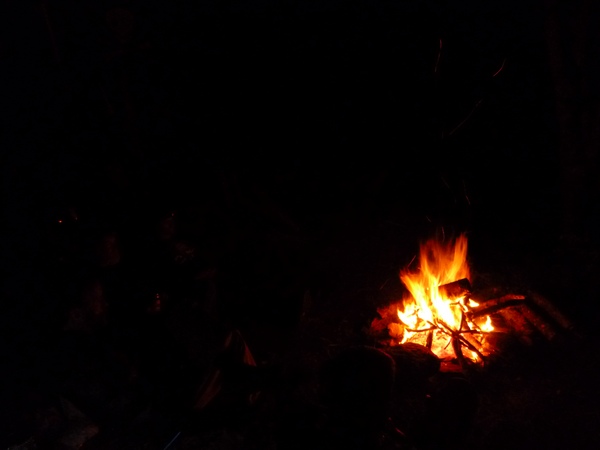 It was a very mellow evening. Since AJ, myself and Mark Cooke and his crew ascended the traditional Lead we had earned a peaceful night of sleep atop the hill. Mark and his crew wisely avoided the late night scene but were not sufficiently far enough away for latecomers the second evening. And for that, and my part in it, I sincerely apologize.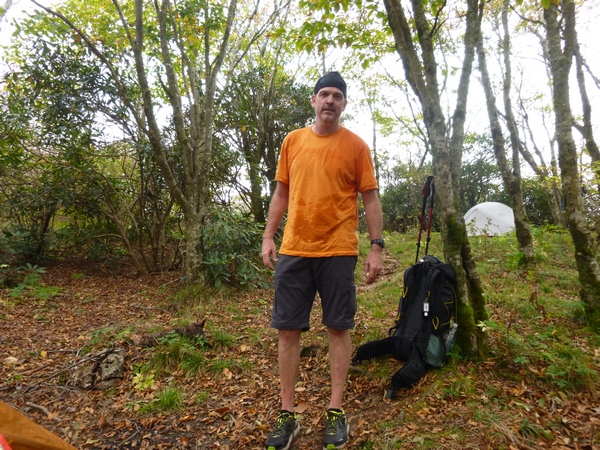 Then Yo-Yo show-showed.  He too, took the traditional, true Hangover ascent route pioneered and adhered by the stalwart.  Being a hardy man, Frank did the quick turnaround and joined us in a dayhike out to Bob's Bald.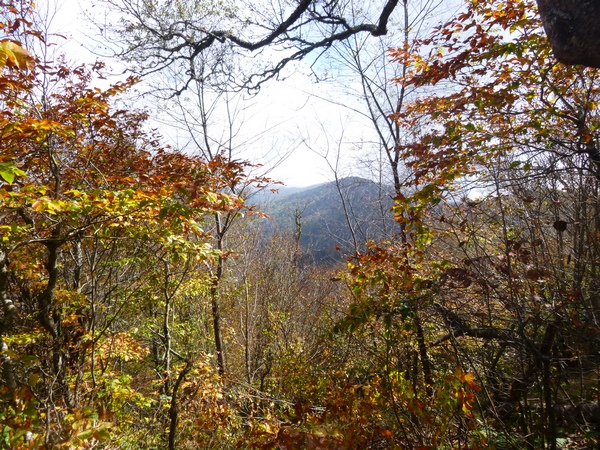 So off we marched towards Naked Ground. And in the splendor of early Autumn a hint of crispness swept like wispy clouds over the ridge.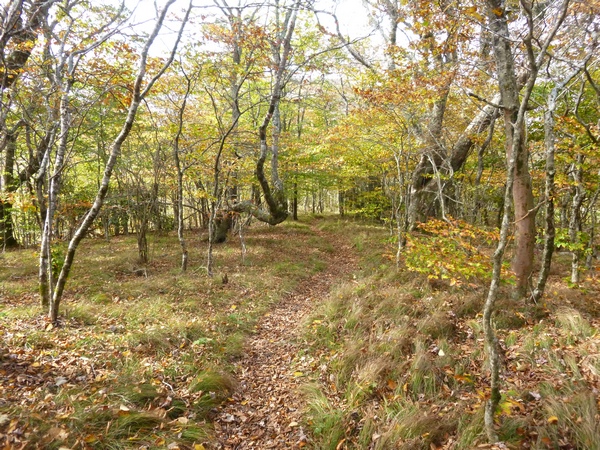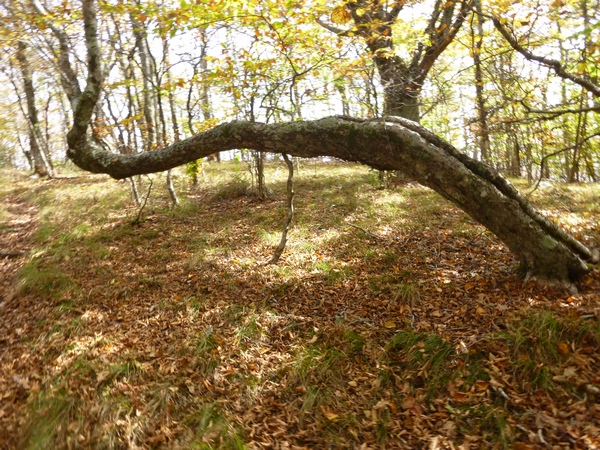 I love the way light bends like this tree in the period of refraction we call Fall. Makes for different angles.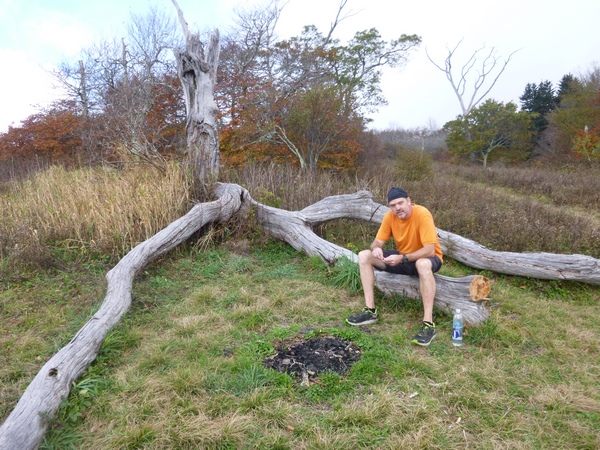 The iconic Bob tree has fallen victim to the ages. Many are the times I have camped beneath his flanks.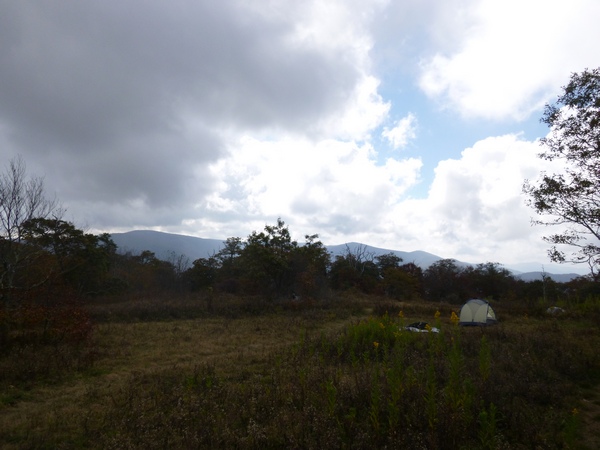 But a few folks were holding vigil.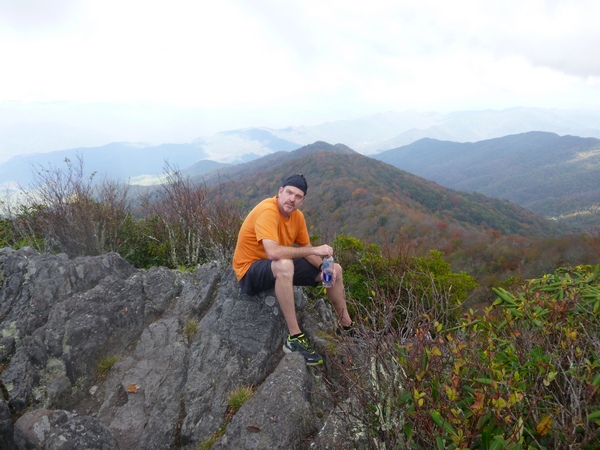 Frank is mad as hell and not going to take it anymore.  Reminds me of the time I first met him many moons ago as I ascended Leconte via Alum Trail. In reality, Frank is one of the least unkind folks you will ever meet.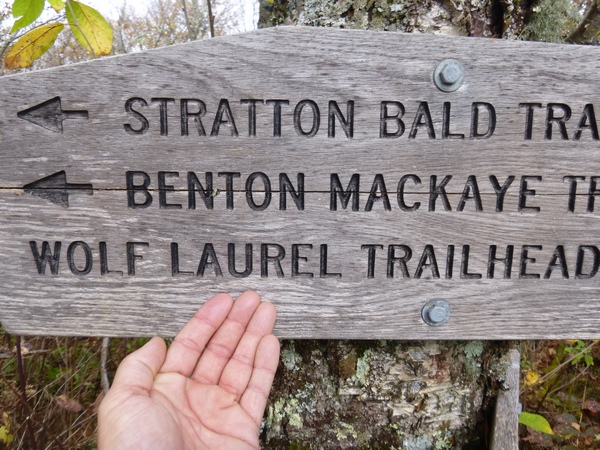 Made me miss my favorite of all Hangover partners.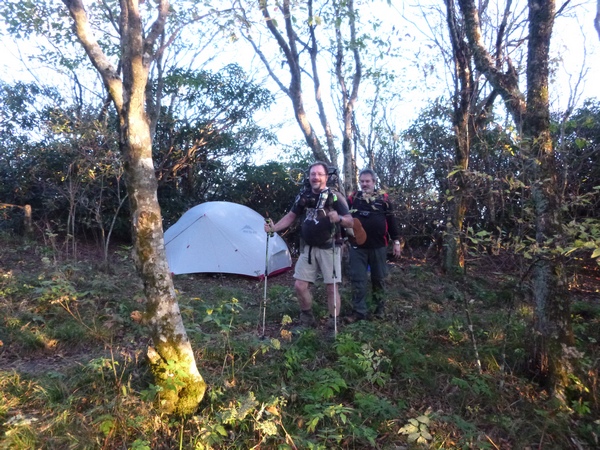 I had all but given up hope of ever seeing Martin and he busts into camp at dusk thirty.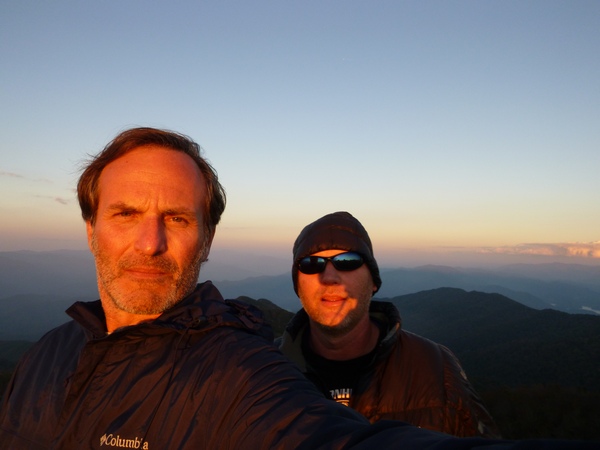 Martin made it out to the rock where we rocked with another magnificent sunset and an old friend or two. During the eclipse, I shared the rock with friends from many years and trips to the region. If you didn't see the video, you should.  It is HERE.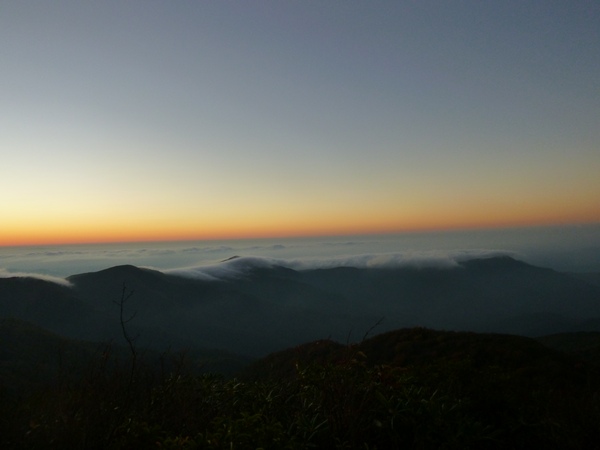 Billowy vapor enveloped the Fodderstacks and cleansed them. Purging detritus from the edges this moisture flowed through us and did the same. Old air is removed from cobwebbed lungs and replaced with all nutrients essential for second growth.
And suggestive of the view from a lunar landing craft's window, the place is renewed through both ice and flame.  And I end this tale with one of my favorite works.
Some say the world will end in fire, 
Some say in ice. 
From what I've tasted of desire 
I hold with those who favor fire. 
But if it had to perish twice, 
I think I know enough of hate 
To say that for destruction ice 
Is also great 
And would suffice.      —Robert Frost