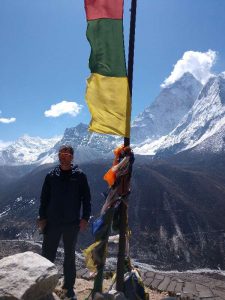 Last night we were sitting around a yak dung fire in a teahouse in Dingboche. The afternoon saw snow spitting in a pure cloud bank. After a restless night for me (I don't use diamox) we arose, devoured breakfast and headed 783 feet uphill for an acclimatization hike. So much for a rest day.
At 14290 feet, rest is critical. But so is acclimatization. I didn't feel like making the walk but knew it was essential. We are inching closer to Everest and the climate and atmosphere is changing accordingly. Soon the trekking group will leave us, along with Laurel and the real work of climbing begins. Internet here is spotty and expensive but I'm hearing much better in EBC.
Thanks for following and posting comments, I read each one.