John probably has a few uneventful days ahead of him and poor WiFi, so I figured I'd give my own trip report and update since yesterday was not only eventful but marked the end of my adventure with John. Until next time.
For those of you asking about John's health, he's been able to avoid his typical altitude related stomach issues so far, but he has developed a runny nose. I honestly think we'd be more surprised if he didn't develop some sort of sinus issue.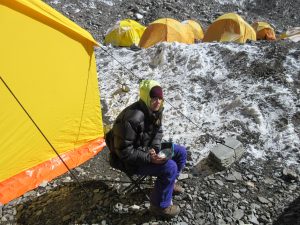 (Me trying to eat rice porridge and ginger tea after a night of upchucking. Probably my favourite picture of the entire trip.) As for for me, I was flown out of EBC to the Kathmandu airport and transported by ambulance to a local hospital that specialises in altitude related illness. By the time I reached the hospital my altitude sickness was replaced by motion sickness from the bumpy helicopter ride and Kathmandu traffic. The doctor cleared me after a brief examination akin to a roadside DUI assessment and also assured me that my days at altitude are NOT over but that I need to take things more slowly in the future. So all is well with us both and John has now transitioned from trekking to Everest to starting to climb in the coming days.
I did want to add a few pictures of the trek since John typically doesn't have pictures of himself (other than selfies) and because I got a few he missed.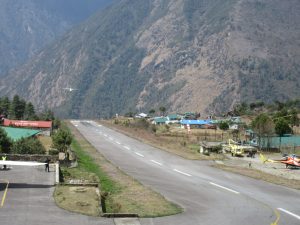 Plane landing at Lukla airport. My flight had clear weather (unlike John's), but there was an audible gasp when everyone on board got a glimpse of the runway before landing. The single runway is carved into the mountain at a 12° angle with a solid concrete wall at the end. If you miss the runway…well, they only use senior pilots for good reason.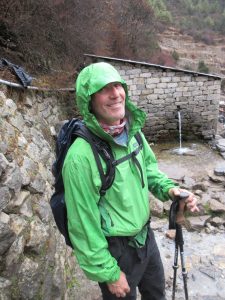 Everyone's favourite (well, mine at least) mountaineer after a long day of trekking to Namche Bazaar…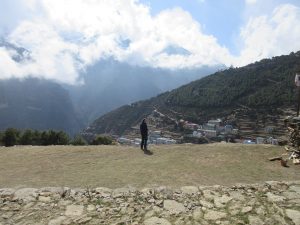 and John taking in Namche Bazaar from our tea house well above town.
One of the many cable bridges we crossed over several gorges. I thought these swaying bridges would be scary, but after seeing several yak teams crossing them without issue I figured my 120 lbs would probably not be sufficient to bring any of the bridges down.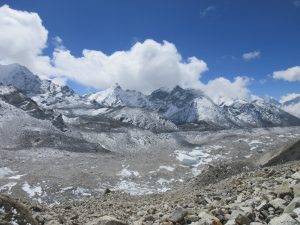 Some mountains. I think I was getting sick at this point, so just enjoy this picture and accept that I can provide no more detail.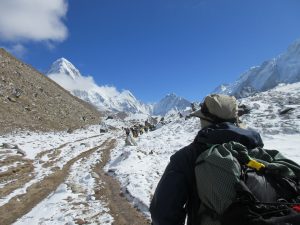 John following the yaks (or gzos, a yak/cow hybrid) that hauled our bags out of Lobuche village on our last day of hiking.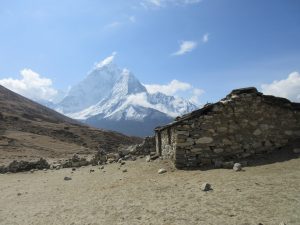 Abandoned hut near Dingboche with Ama Dablam in the background.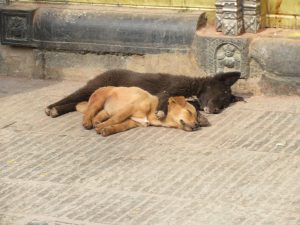 And finally, to prove that it is in fact Laurel and not some other imposter on John's page, an obligatory puppy dog picture from the monkey temple in Kathmandu.
We have appreciated everyone's support and words of encouragement throughout our trip. Now the real work begins for John, and I couldn't be more proud of or excited for him. If he is unable to keep everyone updated here (WiFi at Everest BC is super expensive and very unreliable), I'll do my best to fill in the gaps. Thanks everyone!
Laurel