---
---
These past few days have been characterized by a couple of challenges. First is my sinus issues that are consistent, if nothing else. Everyone has some form of Khumbu cough. Any mucous production for me ends this way. I am debating whether to treat with antibiotics because it affects acclimatization.
But, I did take my first shower in two weeks. Man, was I disgusting. It involved a 5 gallon bag of cold plus one gallon of boiled water, a tent, a hose and a bar of soap. #bestshowerever.
Yesterday, we made a run up to ABC on Pumori with the group. We climbed almost 2k feet. This saves us one trip through the icefall. It was a big workout for the team.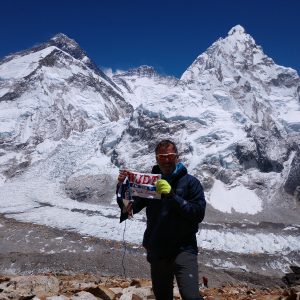 Today was our Puja ceremony. No climbing is supposed to take place until the Llama and all Sherpa pray to the MTN "gods" .  Team members place climbing gear boots, crampons and whatever they wish to have blessed and the ceremony devolves into a drunken bacchanal.
I do not participate in Puja ceremonies but try to do so in a respectful way. This is the third one I have declined in my Himalayan climbing career. I figure that I have broken enough commandments in my life that this is one I can walk away from. I respect our Sherpa and their culture. They don't necessarily understand and neither do many of my team.  But in the end, we must each do what our conscience allows. I am appreciative of our hard working Sherpa.  They still brought me a Coke and I joined them when the ceremony was concluding. It's all good.
We don't have camp 1 fully established so a few more days remain before our first foray into the ice fall. We are building red blood cells and I walked around Basecamp during the Puja and met Mike Hammil. He is a legendary Everest guide who tolf me his team hasn't really done much more than us.
So all in all, things are normal here. I have a lucky coin that Kelly Bailey gave me, a lucky braided charm from Bri, a lucky autographed handkerchief from all my students at MA and lots of other important items to get atop Sagarmatha.
Thanks for your thoughts, good vibes, comments and energy. I really feel it. (Wait till you hear what Laurel has been doing in Chitwan, I'll let her write about it)
Namaste .  John
Ps, my friend, Neil Murphy just completed his ski up to the North Pole. Very proud of you Neil. Rock on