John's pretty sure he has a full blown sinus infection and forgot to pack Sudafed, so he's battling that now. We're hoping some meds left by one of the trekkers can be located and help with his congestion. Keep him in your thoughts as it's making acclimatization and activity in general more difficult.
While he suffered up in basecamp (and will be for the next month since that's apparently what mountaineering is about), I enjoyed as much of Nepal as I could cram into 4 days. I spent the day after my altitude ordeal recovering in Kathmandu and planning some day trips for my remaining days in country. However, that evening I was reunited with two of the trekkers from our trip who had other plans. This gets long, but this is also about the only means I have to update John since we're only able to text each other so you won't hurt my feelings if you quit now.
Cary, an incredibly nice Canuck even by Canadian standards, had planned on spending a few days in Chitwan National Park in central Nepal and invited my trekking friend Katrina and I to join him. Katrina and I had bonded instantly during the trek because not only is she also a Southern girl, but she also was in the Everest region entrusting the one she loves to the whims of the mountain- her husband Heiko is climbing Lhotse, which shares the same route as Everest until camp 3 (Heiko is also an incredible woodworker, so if you're interested in some beautiful bowls or vases check out his website at http://www.hwrwood.com/ ). The former nurse even cleaned out a barf bag for me during my first night of the trek so I'm pretty much indebted to her for life.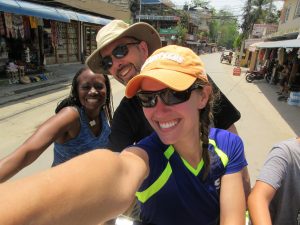 (The crew in question)
The 3 of us piled into a hired car the next morning at 7 am for what should have been a 5 hour ride to the park. As we stopped at a roadside Nepali resort for lunch our driver informed us we would rest there for 4 hours. When we sought clarification, we were told that since a section of the road to Chitwan was destroyed during the 2015 earthquake, the road is closed every day from 10am to 4 pm for repairs. No one felt the need to tell us this whole time we were making our plans. So we waited and finally made it to our hotel around 5:30 (and the road- I don't have time to go into it, but I have no idea what they're doing from 10am to 4pm because it ain't roadwork).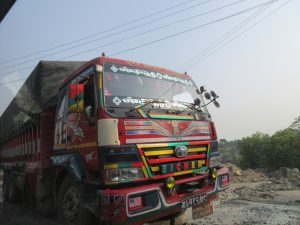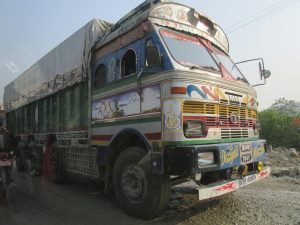 (If your truck isn't brightly colored with the words "Road King" on the front, you're doing something wrong)
We started our morning hitting up a bucket list item for all of us- a jungle safari on the back of an elephant. We didn't see any tigers or jaguars, but we got pretty close to some rhinos, deer, and a lot of wild chickens that look identical to and every bit as delicious as domesticated chickens. I would not recommend an elephant to anyone with back problems…or really anyone at all. However, while it's incredibly uncomfortable you've probably gotta do it once.
We then piled into a truck and made our way to the river where the elephants were bathing after our safari. Bathing with an elephant may be one of the most fun things I have ever done- we crawled up on an elephant's back (which was a struggle since elephants are sort of big) and were sprayed repeatedly with river water and elephant boogers. So far it doesn't  appear than any of us contracted anything  from the river. The bath ended when the elephant shook us off her back into the water. It was an unexpectedly ridiculous thing to do and so incredible getting to play on the back of such a massive animal.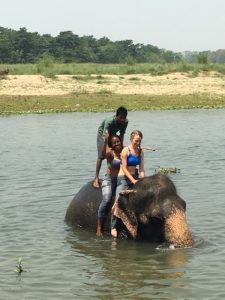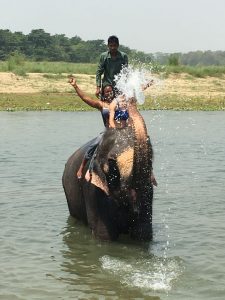 The next morning we got an early start to avoid the 10am road closure and to give us time to stop at a Hindu temple that required a gondola ride up to it. What we didn't realize was that it was a participatory temple and to go inside you had to make an offering to the goddess Kali (and bribe a security guard to skip the 2+ hour line, but that's another story). This was going on at the same time as the puja in John's basecamp, so while he was dodging a Buddhist ceremony I was actively avoiding one of the Hindu variety.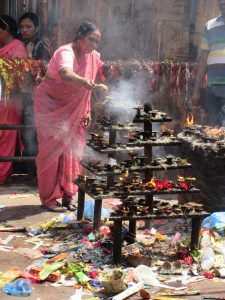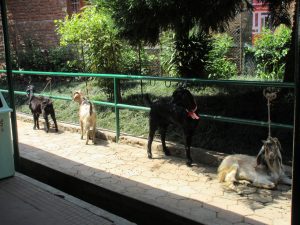 (Goat parking. For 40 rupees round trip, you could take your goat on the gondola to be blessed at the temple. Fortunately no goats rode in our gondola car.)
I'm currently sitting in a hotel room in Doha, Qatar for my 14 hour layover. If you've made it this far, thanks for humoring me. Thank you for being continually interested in John's expedition, health, and safety. I have also really appreciated everyone's concern about my illness and ability to get home, but I'm almost there and ready to be reunited with our dog (also, many thanks to my parents for housing him for us all month!). We love you all!
Laurel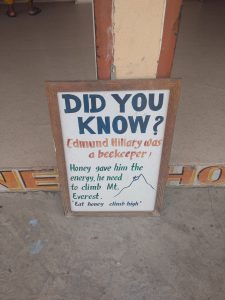 "Eat honey, climb high!"