It seems like this trip has been one long waiting game. I don't have any "news" per se, but Summit Climb posted that John and team were headed up to camp 3 yesterday which puts them right on their anticipated schedule. They should be waking up in about 2 or 3 hours and heading up to camp 4 tonight. If the weather continues to remain fair, we're looking at a summit push starting tomorrow evening.
So since I can't give you a very interesting John update, do we have any Sandra Bullock or "Hope Floats" fans? I was visiting a farm in Smithville, TX last week and realized I was 2 miles from "Birdee's" house. I'm not 100% sure I've seen the  movie but I did swing by anyway.
And this is what my house currently looks like. The pup and I leave Florida for good on Thursday and we are so excited to be closer to John so we can be together on weekends. Longstreet can barely contain his excitement.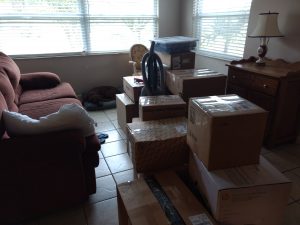 Thanks for keeping up with John's progress. I may update again, but most likely I'll leave it to John when he gets back to basecamp. Hopefully the internet will be good enough for him to give a thorough report.
Laurel