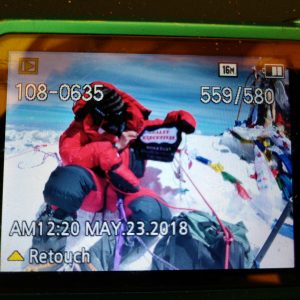 (Sorry for the pic of a pic, I need a new wifi camera}
I'm still floating on air since my 24 hours above 8000 meters to the summit of Mt. Everest four days ago. It seems like yesterday. I realize that it will take a while to assimilate the events. One thing that has not been revealed was our role in the rescue of a seriously injured Sherpa at the beginning of our summit push which altered the entire schedule to our advantage.
On May 21, our full team headed up to camp 3 on our summit push and started up the bergschrund on the base of the Lhotse face. Immediately an oxygen bottle comes tumbling down the 45 degree slopes and careens over our helmeted heads. Sherpa eschew helmet use for one primary reason. It prohibits use of the endemic forehead strap that connects them to occasional 100 lb loads.  This day, it would almost prove fatal for one heavily laden porter.
Subsequent to the oxygen bottle near miss, I, along with my Sherpa, Ang Dawa and Neil Kushwaha along with his Sherpa, Sange paused to re evaluate the safety of the route given the recent spate of projectiles.  Within two minutes a large rock dislodged from ascending teams on what was becoming a typically blistering day in the Western Cwm of Everest.
The dull thud unmistakably suggested that someone had received the business end of this one. A fully suited Sherpa came dragging towards me. Down was leaking from a profuse gash in his suit. Aside from the obvious injury to an expensive down garment, this high altitude dude appeared uninjured.  He pointed at the hockey stick gulley and indicated there was another victim.
Neil, Dawa and Sange rushed to the scene as ascending climbers ignored the splattered blood and crumpled form in a pool at the base of Lhotse. A sizeable rock, which had clipped the first Sherpa nailed this poor porter. Neil and our Sherpa essentially carried this considerably bloodied chap to a safer point off the fixed line.
Blood was everywhere. We immediately found a pair of his socks to apply pressure to his skull. It was the one thing Icould recall from my last first aid class years ago. This Sherpa was in trouble and was in shock. He couldn't remember his name. We gave him water and immediately got on the radio. It was Neal, Sange and Dawa who reached Kaji, our Sirdar at Basecamp. From there, Kaji was able to get in touch with the HRA who dispatched a helicopter. The helicopter made a high altitude rescue above camp 2 and this Sherpa was airlifted to Kathmandu. My Sherpa and Neil walked many extra feet to ensure this guy would live to climb again.
The resulting delay caused us to depart from the South Col one day late. In my next post, I will explain how this made all the difference. Right now we are on hold in Namche Bazaar as flights from Lukla are on weather hold. Thanks for following, I will post more photos soon.
John