Kilimanjaro July 3-18 2019.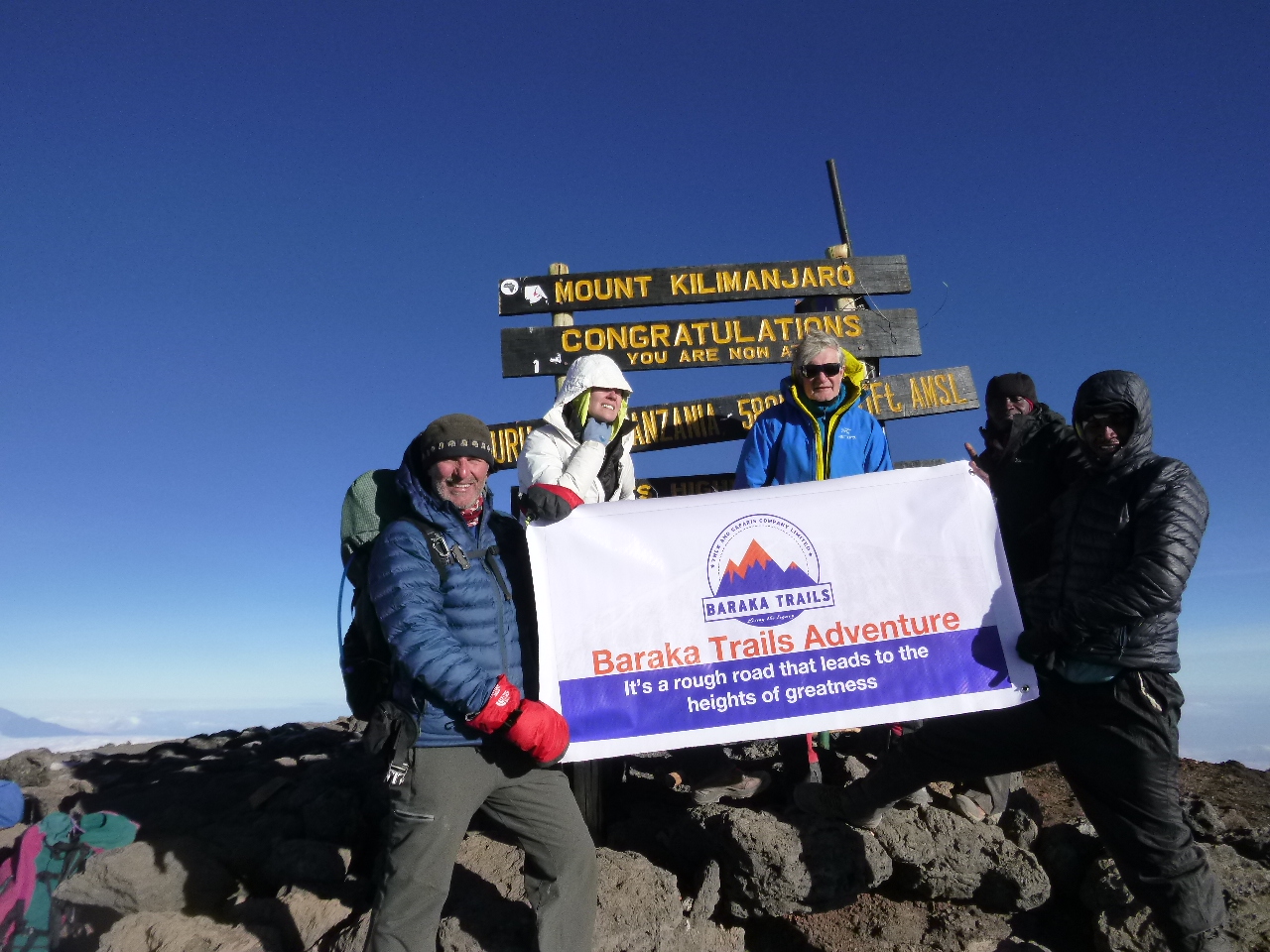 Long on our bucket list, Kili loomed like a storm cloud over my climbing resume. Everyone had finished it at some point. Brian Moran told me it was his favorite of them all. Many thwarted attempts to secure plane tickets had been derailed by exorbitant prices. But, late in the spring of this year,  ticket prices dropped and so did our credit cards. Before we knew it, Laurel and I had pulled the trigger. A short time later, we mentioned it to Howard who was gung ho following his successful trek to Everest Base camp.
I reached out to my friend from Everest, Sibusiso Vilane. We spent a good deal of down time in Namche last spring waiting for rope fixing on the mountain. I learned that he was quite an expert on Kilimanjaro, having led multiple trips there. He is also quite well know in Africa as being the first black man to summit Everest and has completed what we call the Explorers Grand Slam. That includes all the highest peaks on each continent plus the two poles. He has summited Everest twice and was going for a no oxygen attempt in 2018 which was unsuccessful.
Sibu, aka "Simba" suggested that I contact Evans with Baraka Trails. After a string of correspondence and logistics we agreed upon the 7 day Lemosho Route. That is what Laurel and I had researched as having the best chance for summit success given the acclimatization built into that path. Next we had to determine if a safari would be an appropriate way to conclude our sojourn. Our triumvirate collectively agreed that we would wait until the conclusion of the climb to pull that trigger. Evans had us lined up in that eventuality.
Evans put us up in a great hotel in Moshi and agreed to deliver a copy of my book to Sibusiso at his request. I now have a copy of Sibu's book about his journey from nothing to the top of Everest. It is incredibly inspirational.
It takes a full day to get to Tanzania. We began in Knoxville, then Atlanta, then Amsterdam then Kilimanjaro International.  Very jet-weary, we de-planed and Evans was waiting patiently as we navigated our first objective hazard, Tanzania customs. Our gracious host had been waiting patiently outside for two hours. Nevertheless, he drove us over one and a half hours to Moshi where we would disembark for the mountain. I trusted him immediately, not just because of his recommendation from Sibu, but his genuine honesty and kind face.  We were all immediately at ease with our African host and his driver. We  were in good hands.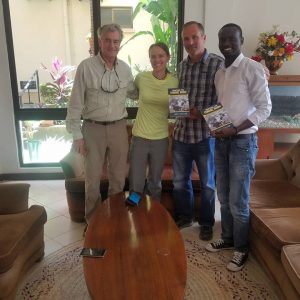 Evans put us up in a great hotel in Moshi and agreed to deliver a copy of my book to Sibusiso at his request. I now have a copy of Sibu's book about his journey from nothing to the top of Everest. It is incredibly inspirational.
After at day in Moshi and making final preparations, we were picked up early on July 6 where we headed to the National Park for weighing of supplies and permits. Our three -person team was supported by 13 support staff. This included two guides, a cook, waiter and personal toilet tent.  These are luxuries I have never experienced on any expedition. Our first day saw us begin in the rain forest as we followed varying monkeys for several hours on a short day to the Big Tree Camp. Here we found what would come to characterize our subsequent journey to the roof of Africa. Food was gourmet, service was unequaled and smiles abundant. Our lead guide was Florian and the number 2 was Mustafa. They never left our side. We had a restful night in the first camp from an elevation of 6900 to 8695 feet at Mkubwa (Big Tree) Camp.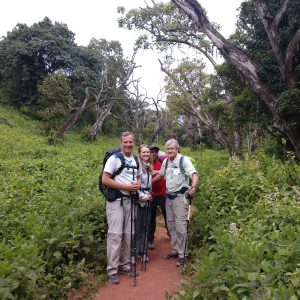 Laurel, Howard, myself and Mustafa, who had to make an unfortunate departure from our expedition later in the trip.
The next day was dramatic. Many, many teams were sharing this campsite low in the jungle. It was quite the party scene amongst the low stung canopy we would soon lose. As we packed up in the morning, monkeys took over for scraps of food as we chased the rising sun up into a different alpine zone. Kilimanjaro is unique in the variety of scenery experienced on the respective climbs. This day would find us ascending something called the Elephant Ridge which reminded me of the Appalachains. It was like somewhere between Bob's Bald and the Hangover, perhaps even going up Slickrock Creek.  The geographic relief was dramatic and we gained a bit of elevation. Some struggled with the increased altitude. Instead of setting up at the next campsite, Shira 1, we pushed on through to Shira 2. However, our team halted at Shira 1 and prepared a full, hot lunch for us. Can you believe our entire expedition stopped to perform this task and set up not just a dining and cook area but the toilet tent as well. It was the best spaghetti I ever had. We would need the carbs for the second portion of our day. This was a full eight hour hike and we found our elevation gain now to be 12,600 feet. Quite significant jump and we were all feeling some effect of the new increase. Shira 2 was above the clouds and afforded dramatic vistas into the jungle below. Some headaches were experienced by Laurel and Howard. Overall, though, the Diamox was doing its job for them and our porters were carrying the heavy loads. I had about 15 pounds on my back just in the form of junk, aka, usual trail detritus. I don't think it is possible for me to go light on any ascent. We did 12 miles this day and I was feeling them.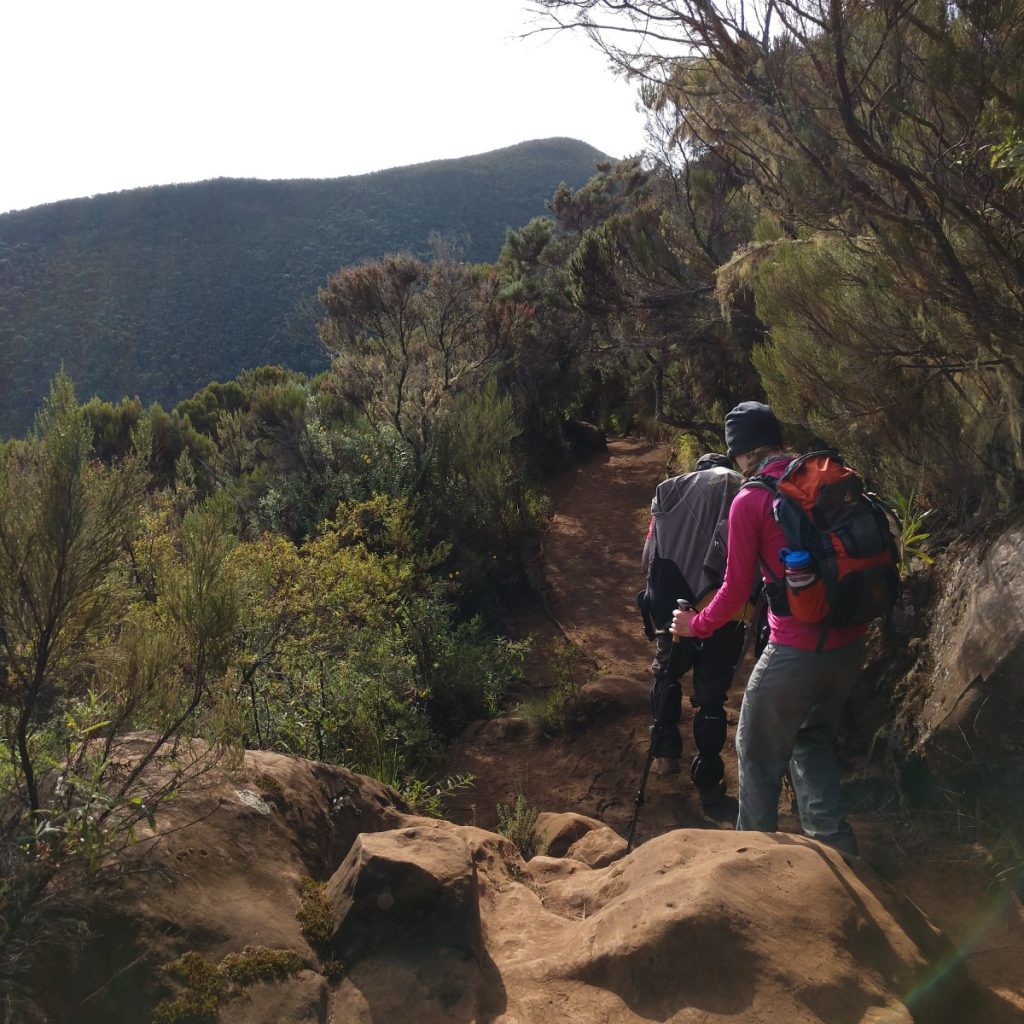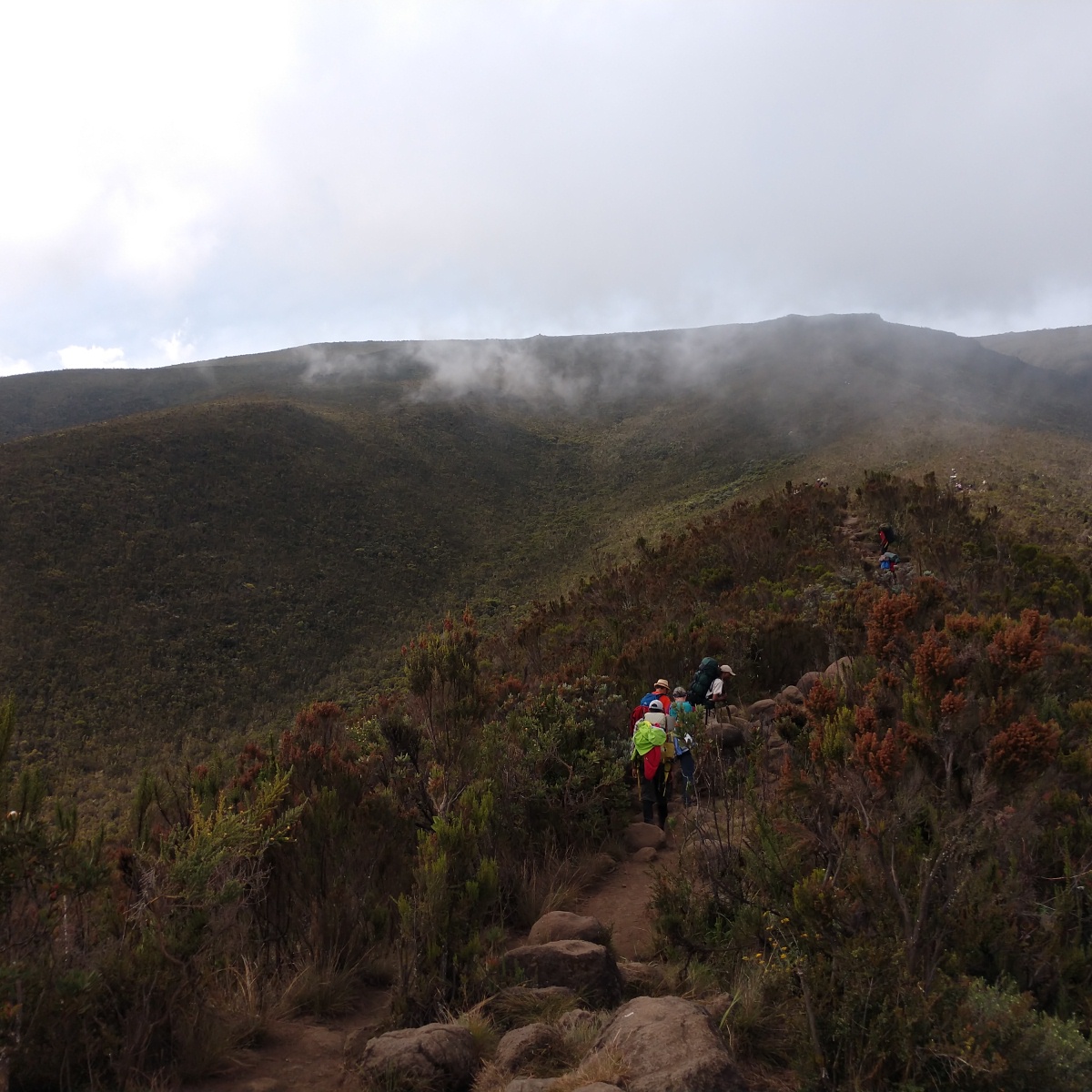 The next morning we would climb over the hills and into dust. I was not feeling well at all due to a severe sore throat and sinus issues. It was uncomfortable given the climb we faced. Howard had been struggling with a chest cold he acquired on the airplane and I caught it full bore. Unfortunately, we had some miles to do and elevation to gain.
The Lemosho route gains this Lava Tower for acclimatization purposes. Our porters bypassed this and proceeded directly to the next campsite. The Lava Tower is 15,200 feet but we would lose much of that dropping back down to our next campsite. This is strictly for acclimatization purposes and it is well served for a summit on Kilimanjaro. Climb high and sleep low. That is important.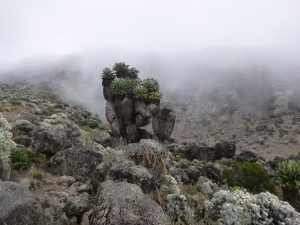 You can see that the zones are more interesting as we climb.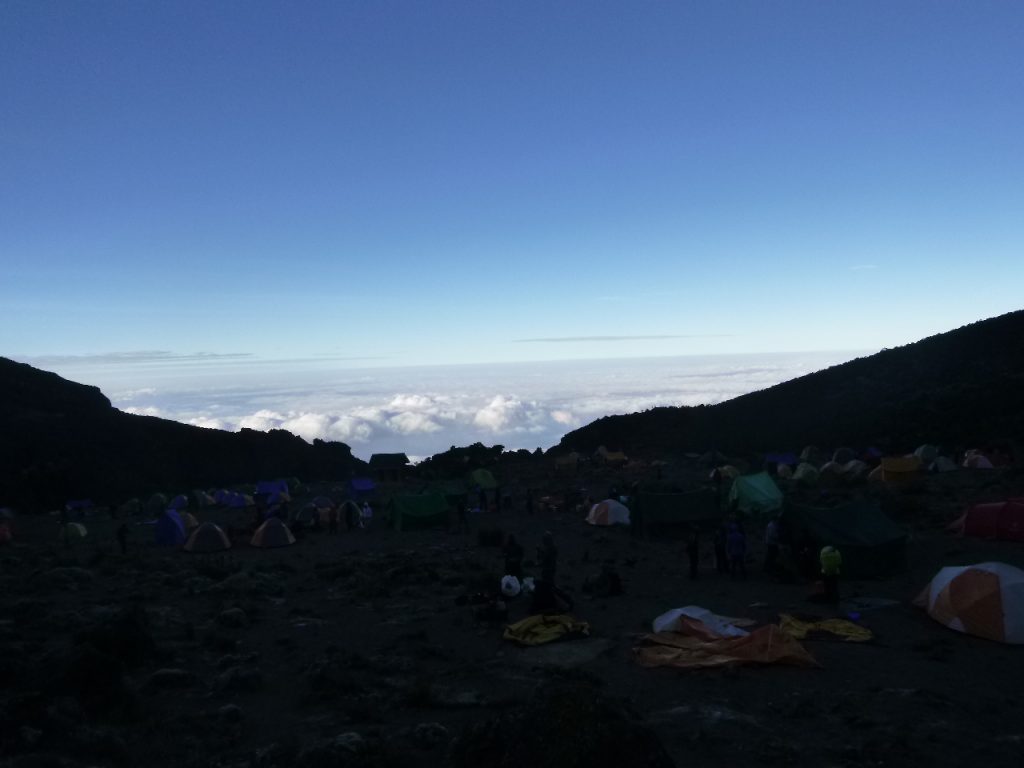 This is Baranca camp. We would rise early the next morning to make our big ascent of the infamous Baranca wall.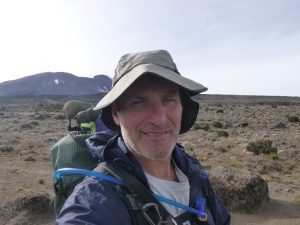 Despite looking great here, I wasn't doing well. Awaking with the worst sore throat I can remember which turned into a full blown chest infection and eventually, pneumonia on summit day.
Of course, Howard was thriving. He suffered with a cold but it didn't migrate into pneumonia. I'm proud of how well he handled some challenging terrain.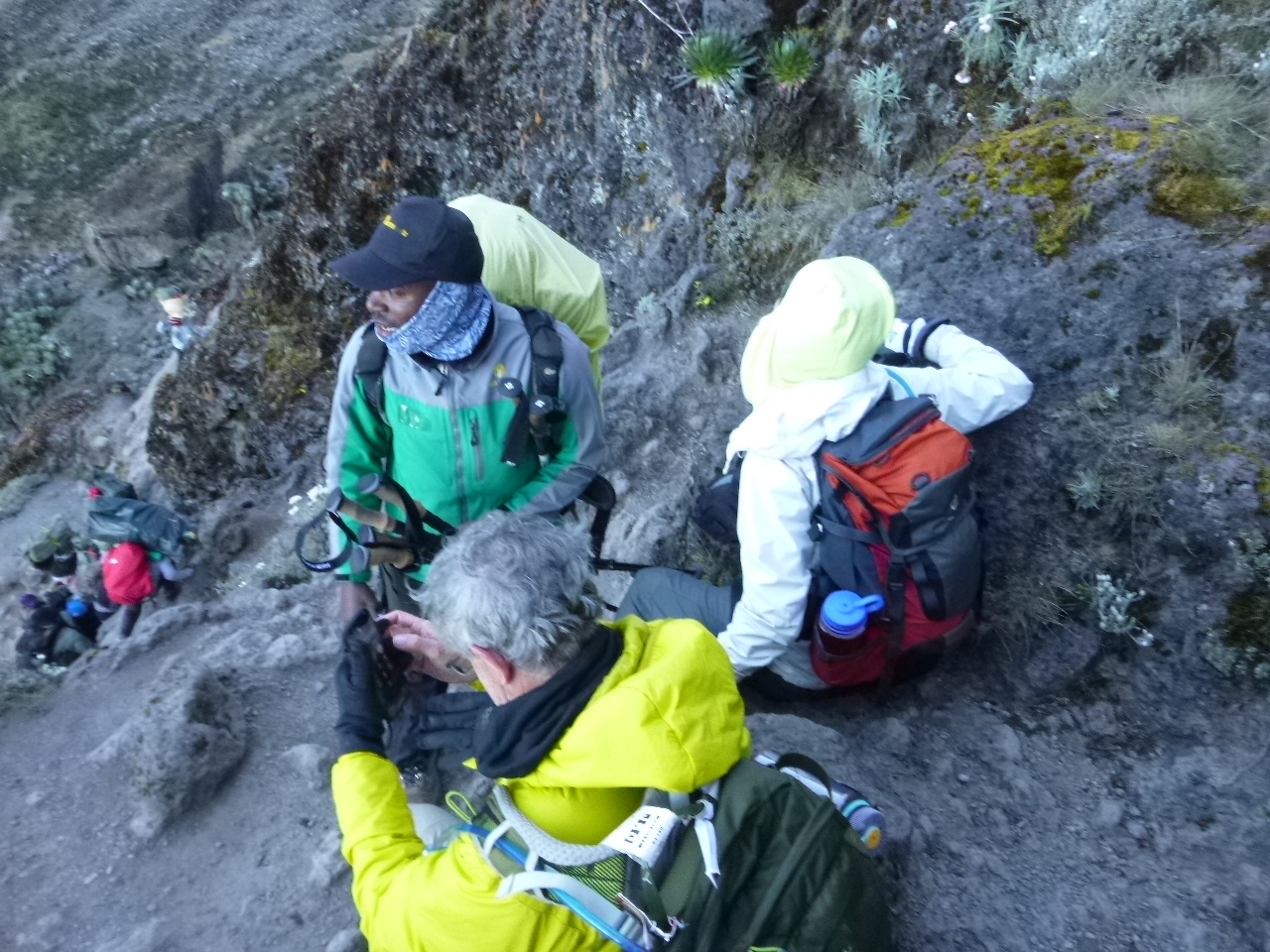 Our fourth morning we tackled the infamous Baranca Wall, which was over a thousand feet of climbing, some of it required three points of contact.  It was cold and we warmed up negotiating the volcanic terrain.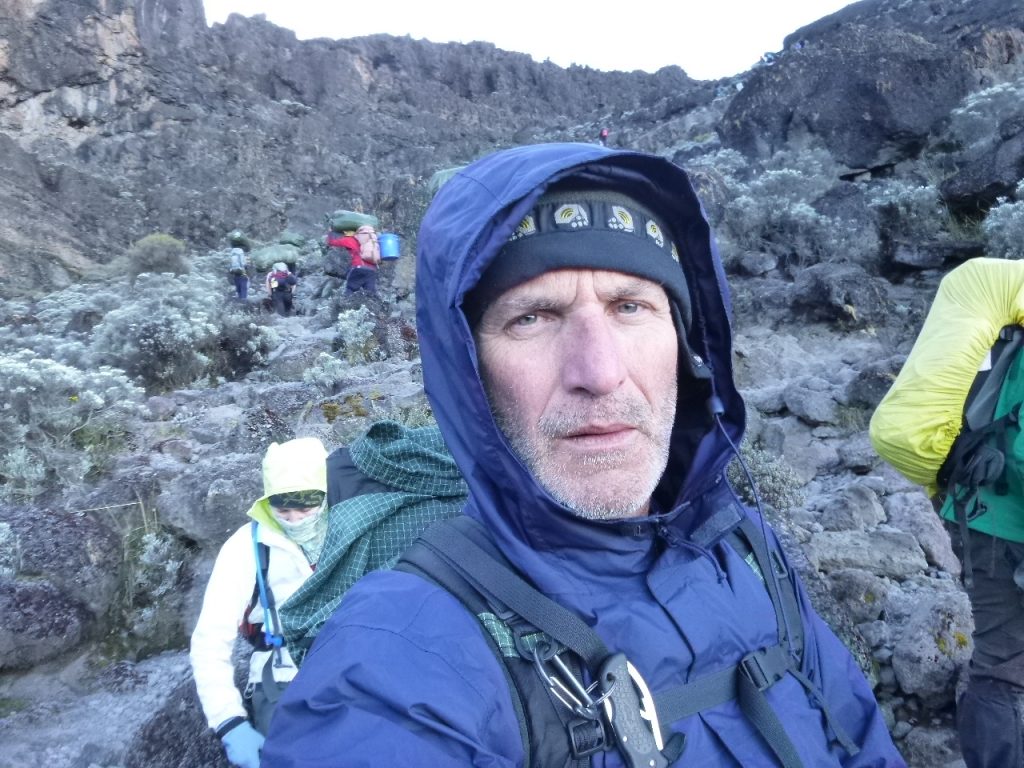 Now I look more like how I was feeling.  Usual Buff expedition luck.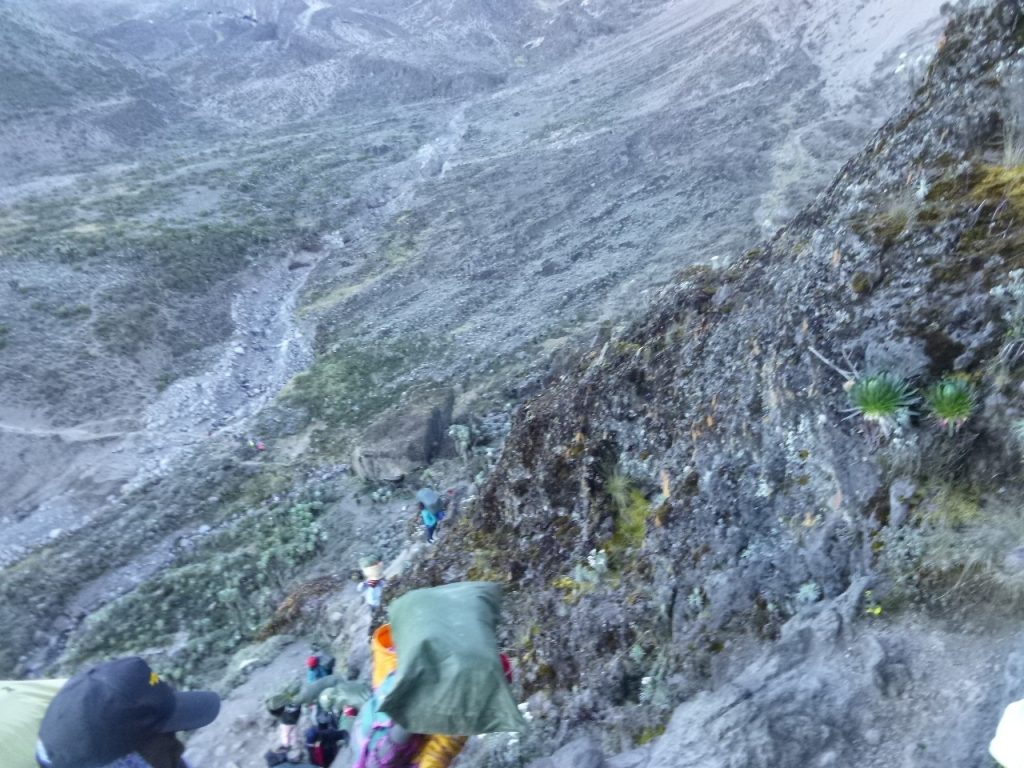 It really was quite steep in this section.
We never lost sight of our objective through our travails. I loved the walking, doing all of it in tennis shoes save for summit night.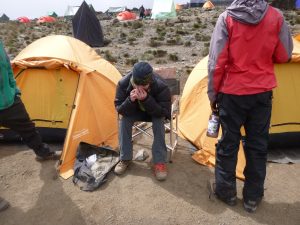 Laurel contracted a day long nose bleed. I'll let her tell you how that happened.  But it did bleed for most of the day. This was at our high camp from which we were to make our summit bid. (That is Mustafa tending to her on the right.) Unfortunately, Musatafa had to make an unplanned departure from our expedition. His brother had died as a result of self inflicted wounds and we were very sad for our new friend and his family.  It was a bittersweet goodbye.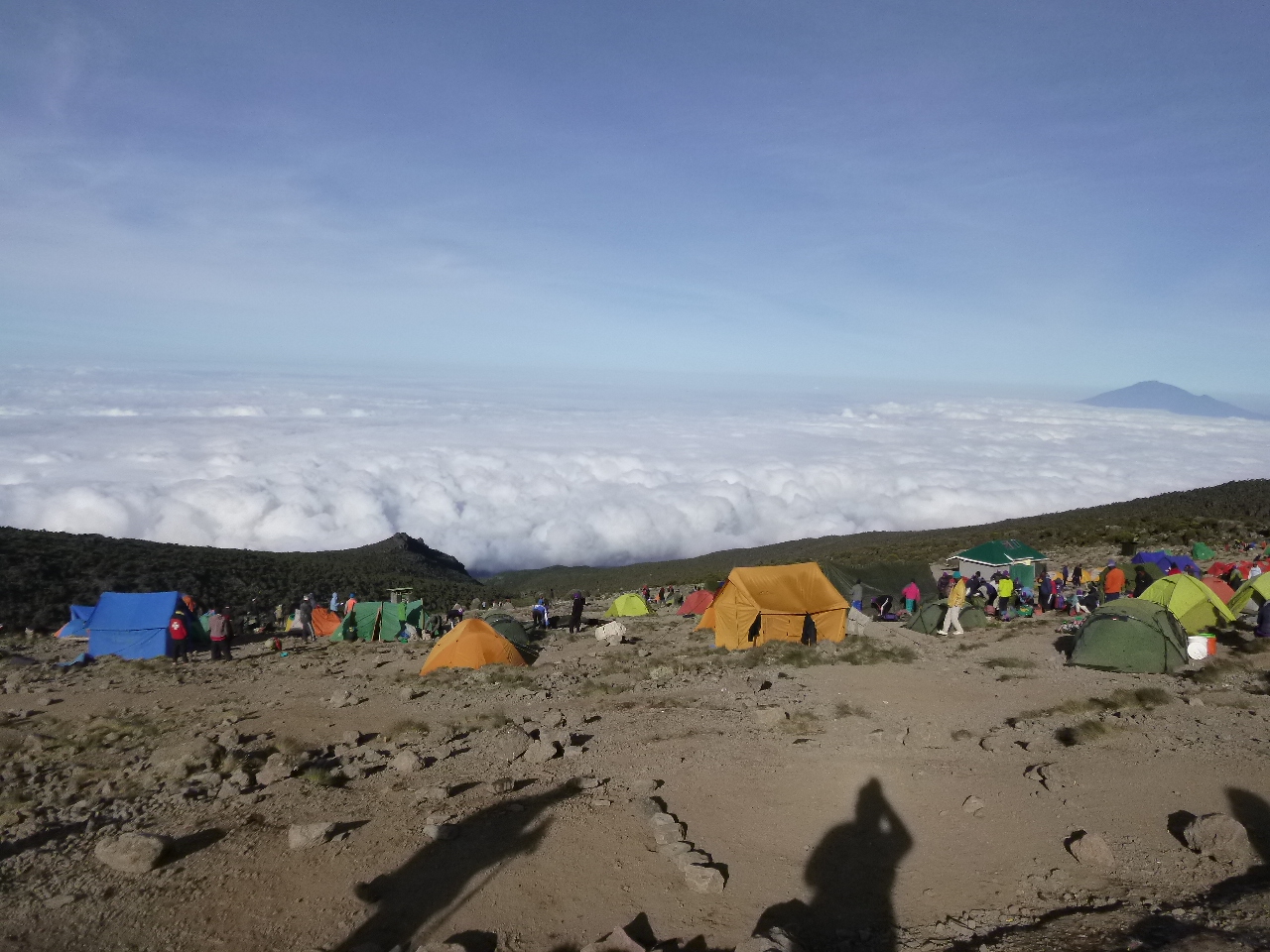 We departed at midnight and I was in full blown fever as we left our warm tents for temperatures that hovered in the low teens. Laurel and Howard learned what it means to make a true "alpine start" as we headed off into the unknown with two replacement porters. Rest stepping and pressure breathing we climbed from 15,000 feet to the volcano crater at 19,000 feet. It took us a full 7.5 hours. Pole' Pole' the Swahili language reminds us.  Go slow, go slow.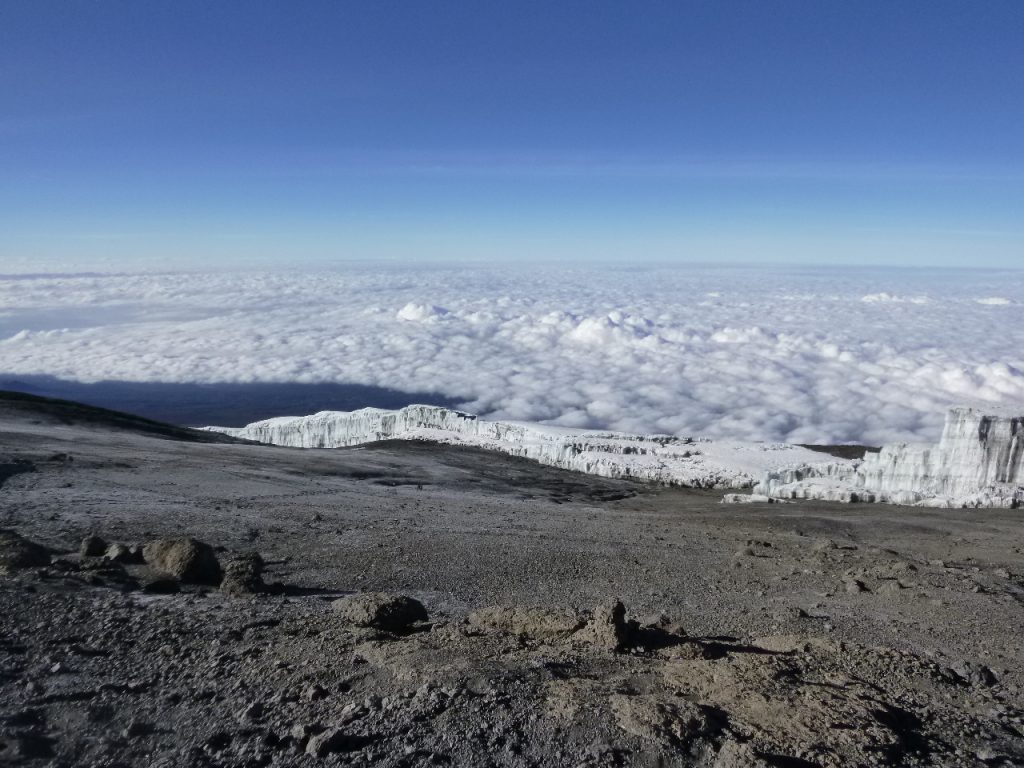 People asked about the snow up there. Now you see what remains. Very little of the white stuff but a whole lot to remind us of the effects of global warming, which is a real phenomena. Glaciers are retreating across the globe and our mountains are losing their snow.
I was not feeling well but a summit raised my spirits considerably.  This was my fourth of the seven and minus health issues, thoroughly enjoyed.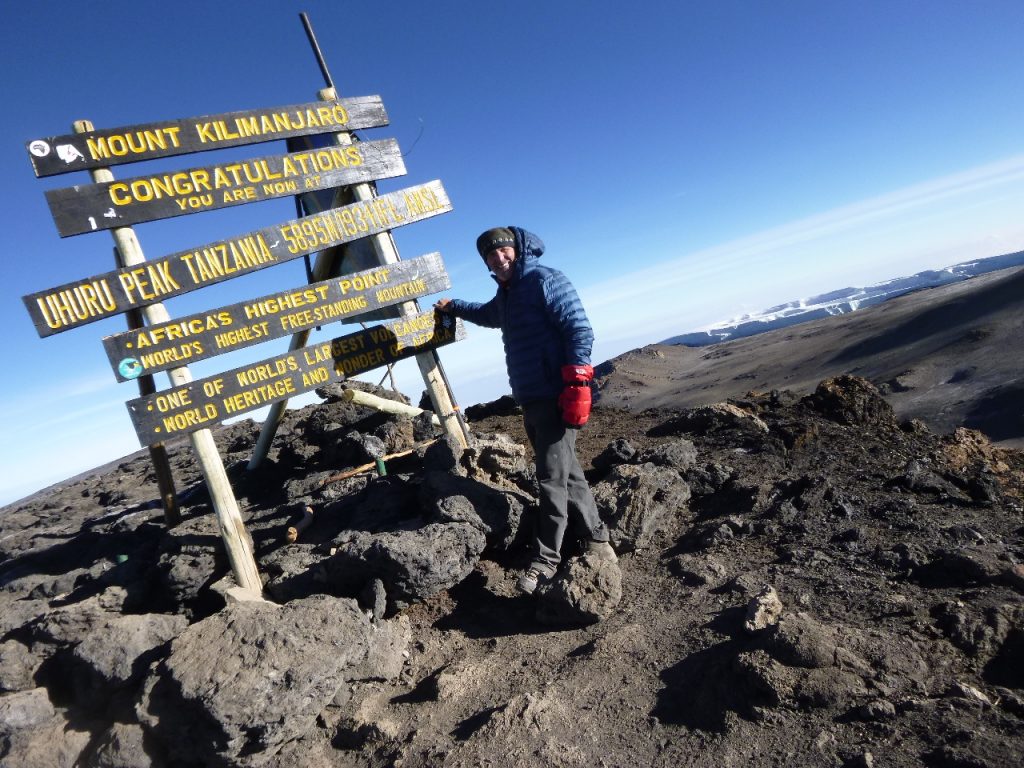 I was proud of Laurel and Howard.  Another interesting aside is that we lost one of our porters on the summit push to altitude sickness. Yeah, it happens even to the locals.  We climbed four thousand feet. After taking some time on the summit, we began our descent and my friends learned one of the cheater ways to get down off a mountain quick; plunge stepping through scree. It is the stand up version of glissading and we dropped elevation fast.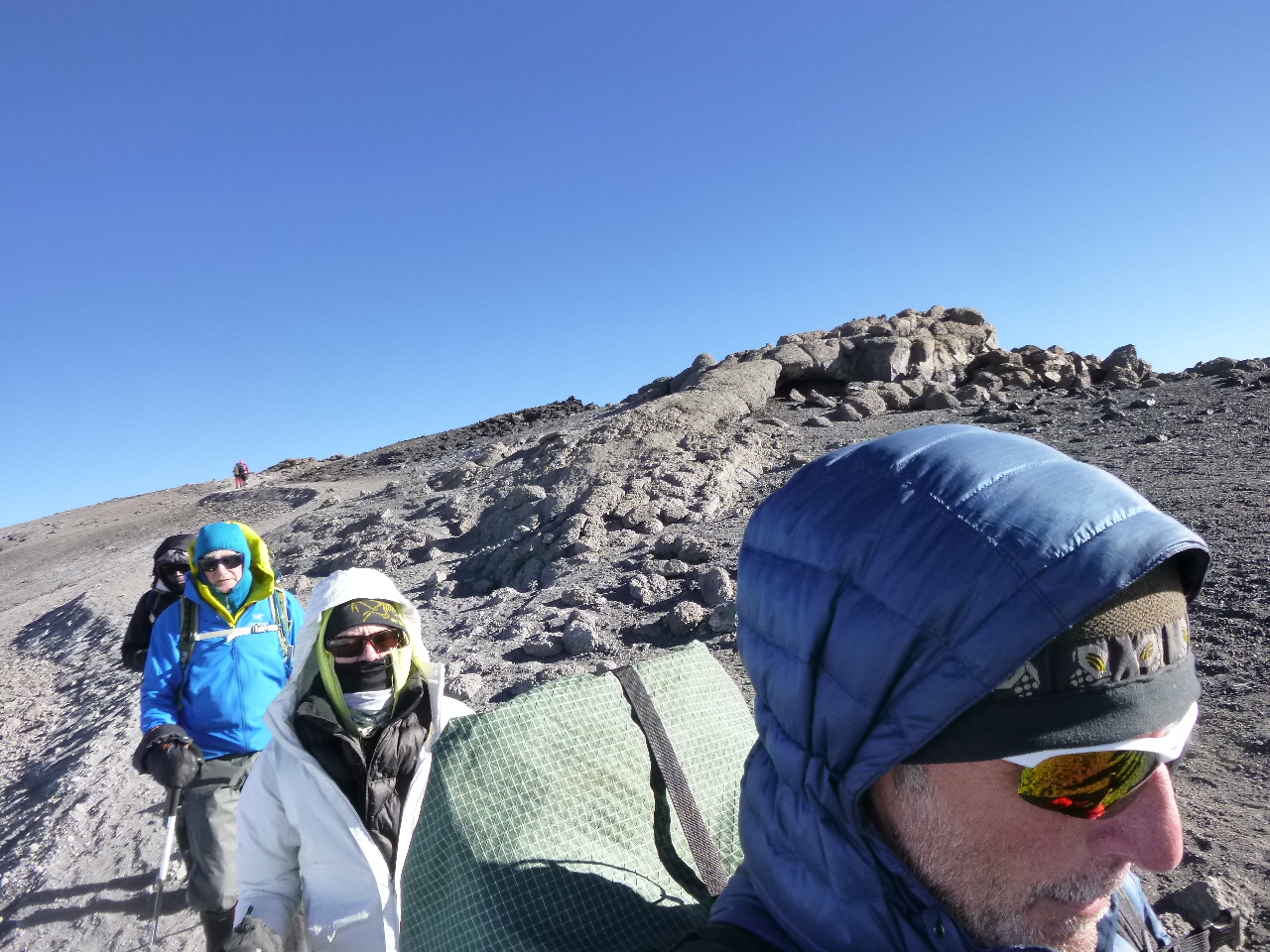 We had a LOOOOONG day ahead. To our surprise, however, our porters and support staff greeted us an hour up from base camp with cold drinks. I can't say enough about the kindness of our Kili family and Daddy Evans of Baraka Trails.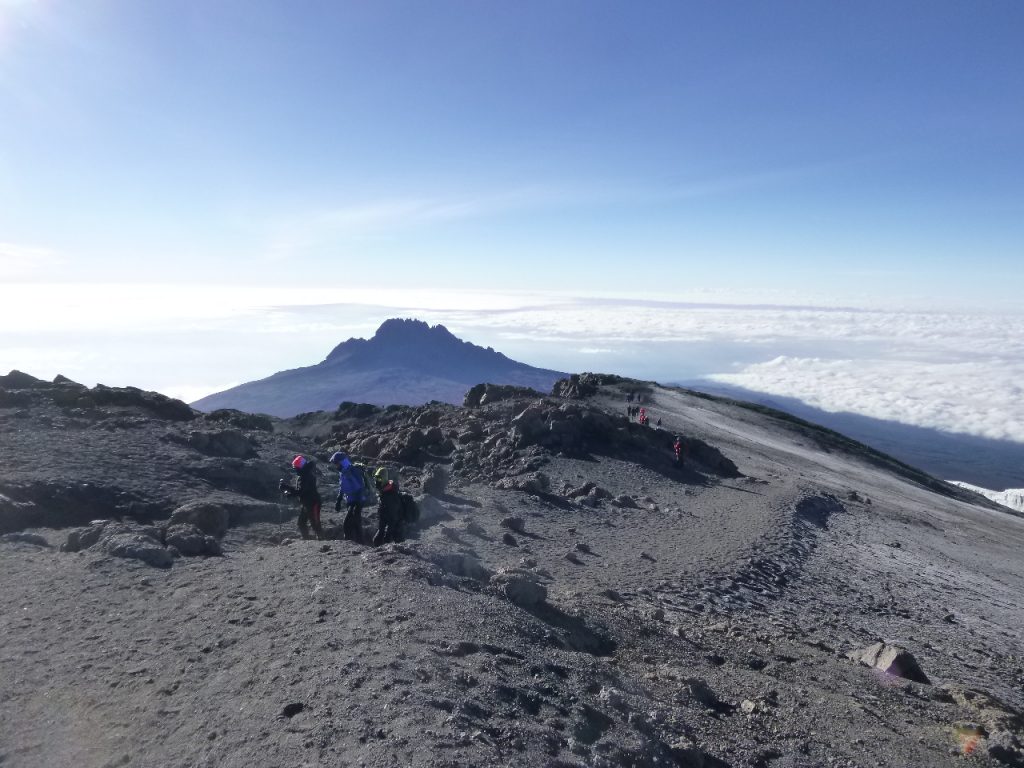 After a brief respite in our high camp, it was time to descend back to 10,000 feet. Yes, it turned into a Bataan Death march. Although the air got thicker, so did the soles of my feet and blackening toenail.  We had been up since 11 pm and it was now well past 2 pm with many more miles to descend lower into the jungle floor.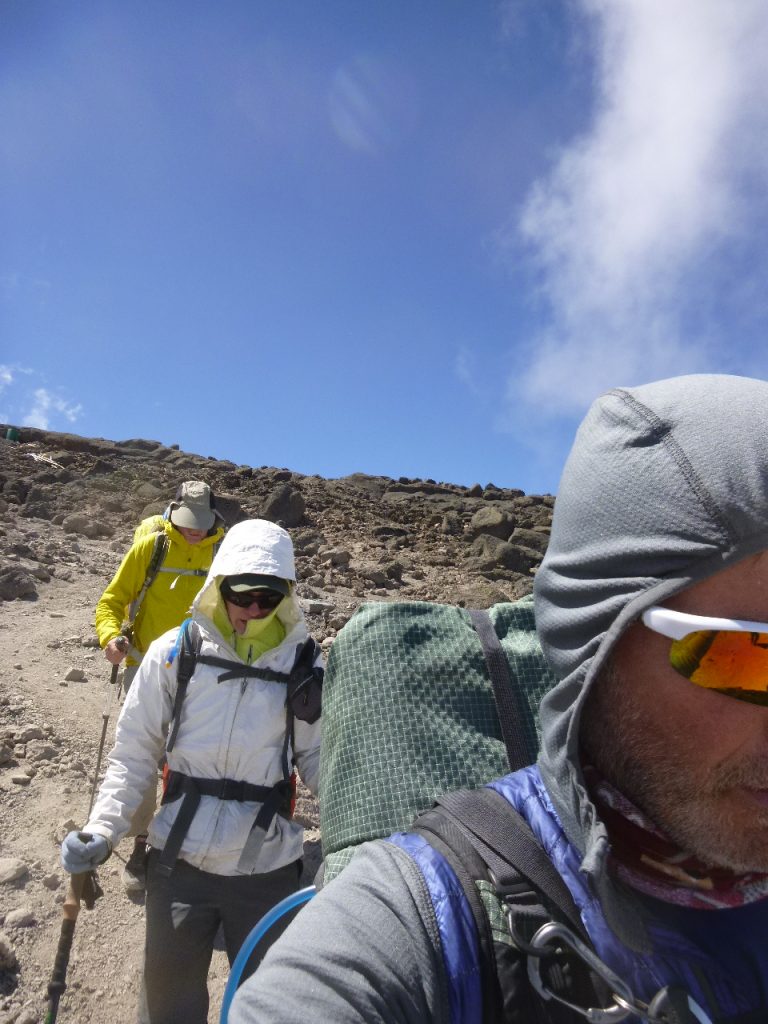 We arrived at our final camp worn out but chewing on the thick air. After a delicious and celebratory dinner, we retired and slept like the dead.  I was coughing and hacking up parts of the dusty mountain in addition to my lungs and spine.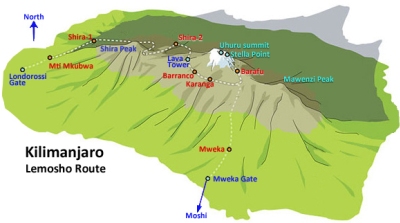 This map gives some perspective of our route.

You can see by the elevation profiles that we did some serious altitude and mileage that final day.  But it was worth it.  Totally.
I hope you get the chance to visit Tanzania.  In my next installment, I will focus on the Safari, which is an entirely different experience and one not to be missed.