it's one thing to start out on the trail when you know it's going to rain, it's quite another to get on there when it already is. Throw in the fact you got that big crossing at the beginning of rabbit Creek and we were off to a great adventure.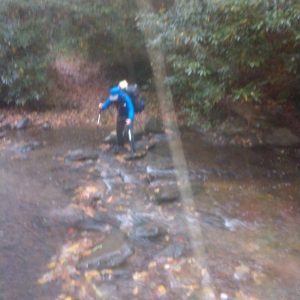 you may recall the same shot from a couple of weeks ago and Howard was crossing in the dry.
(Incidentally, Nick informed us that Myers had lost his battle with the 9 iron this weekend. He would not be joining us at Rabbit Creek).  Nick wanted to redo this trail to improve his time. He got in the camp before the rain started in earnest.
We did not. As a result I will be purchasing a new pair of rain breeches.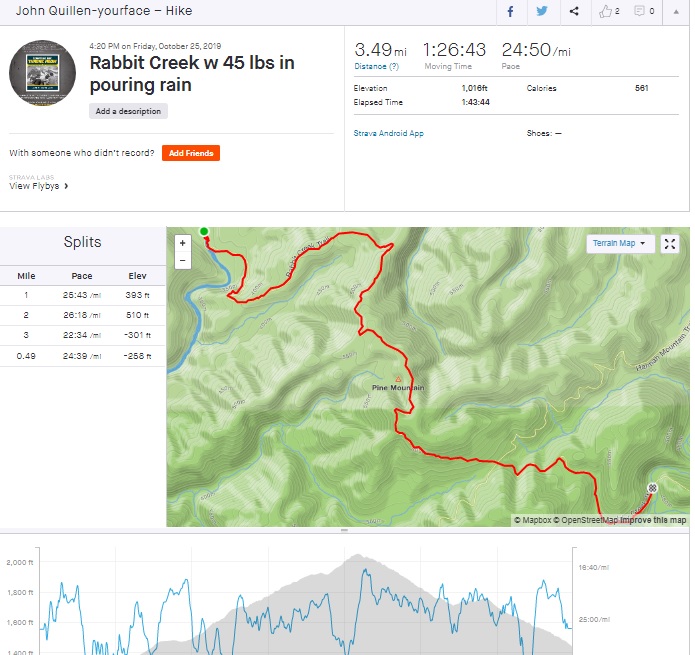 Full packs in pouring rain. That is the essence of mountaineering training. On that level, I would say we all killed it.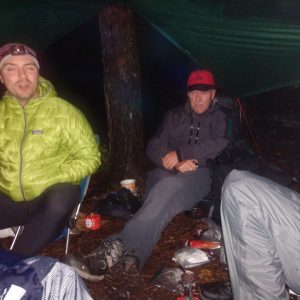 But since Nick forgot his pants, that earned him a real trail name.
Ballerina britches was dry.
So we spent the evening underneath the tarp with Mark and ballerina britches. Believe it or not we had a blast swapping stories. Eventually the rain relented and ballerina britches made us a delightful fire.
If there's one thing old bb can do well its start a fire. He didn't Roach it one little bit.

All were awakened early that morning, post rain, by a loud thunderous crashing sound. At first we thought it was a tree falling but soon realized it was only Ralph driving his Buick in the camp. Ralph's knocked ballerina britches out of his perch with the Buick.
But Nick recovered nicely.
All is well that ends well and our hike promised some glorious fall views.

Pine mountain is a great place to see some of these nice reds and yellows.

This is magic time in the southern Appalachians. There's nowhere else I'd rather be.  Did you get out?  This is the window. It will close soon.  Let's end with some music.  As you know, Myers and I pick a little. We love the classic bluegrass sound. I mean no disrespect to the Father of bluegrass music, but I couldn't find a live version of my favorite tune. However, Del was a member of the Bluegrass Boys so I don't feel sacrilege in posting his rendetion.