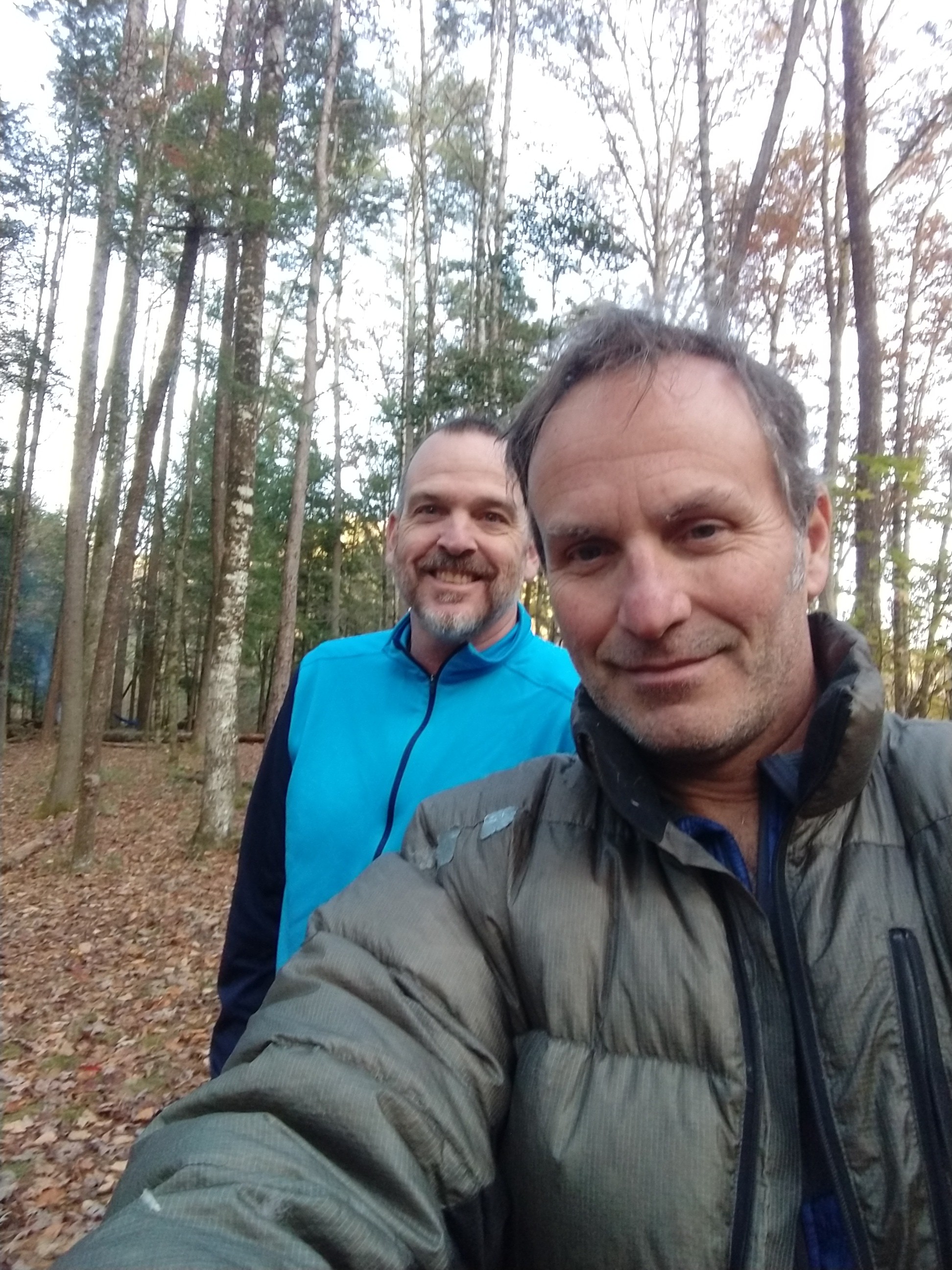 Let's start with the most important news. I got to hang out with yo-yo AKA Frank. Now Frank moves a lot is an upwardly Mobile Urban professional. this means that he has a career that takes him on a path that seems to always follow the Appalachian trail. His newest posting is in Virginia. His last posting was in the Tri-Cities. And that just happens to coincide with miles he needs.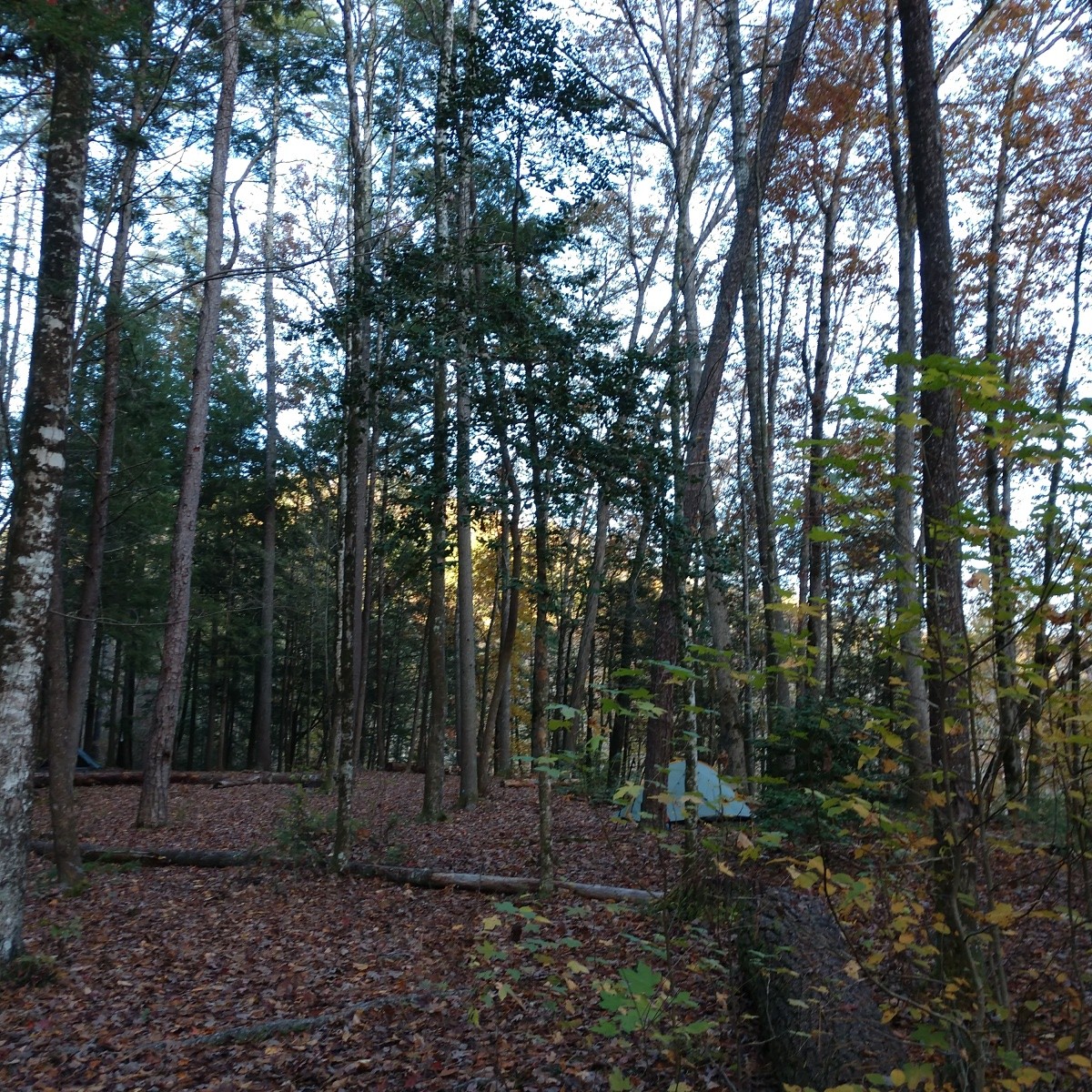 Like me, Frank really appreciates good old campsite 17. As a matter of fac,t I've decided that there is no campsite in  the park in which I have spent more nights on the ground kicking a fire more than campsite 17. Good old little bottoms.
A very peaceful place  we had  almost to ourselves with the exception of one girl who is apparently a YouTube phenomena and another couple that all seemed to retire right at dusk. Hiker midnight we used to call it.
A true Highlander knows that their work is just beginning when the sun falls behind the holler. And I needed to get Frank on it as soon as possible. It promised to be a cold one and the weather delivered.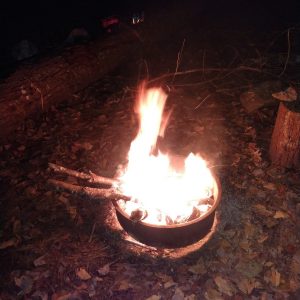 Highlanders like to thrive as opposed to merely survive and that's precisely what we did. Frank and I have spent many a night around a campfire and done several big mile legs on the Appalachian trail together. Frank also sits on the board of Southern Forest Watch. Everyone is familiar with the epic of how Frank and I met on the way up to Mount LeConte several years ago.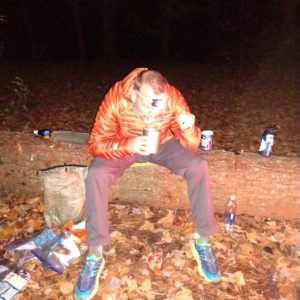 Frank is with backpacking like I am with climbing. He watches everything on the internet about it. That's how he knew who I was when he ran into me on the trail about 58 million years ago. So it's a little surprise to me that he would recognize the chick who is in camp next to us from her YouTube channel.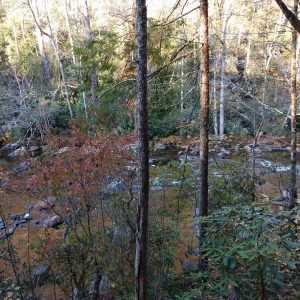 We experienced a wonderful evening catching up on life. It had been almost two years since we shared the trail together on this trip. Howard was unable to join us this weekend. Apparently the shingles vaccination didn't sit so well with him. We also were deprived of the company of Myers and ballerina britches.
But it was nice that Frank and I were reunited. We both got beaten up in the fee fight but  emerged with some measure of victory.
As we circled the campfire, however, a small glow appeared on the ridge up over the hill from us. It was obviously some type of headlamp but it never moved. It was not a star but some kind of lights that were on the hill not far in the forest . So puzzling it was we actually headed  off in its direction sometime around 10:30 or 11 p.m.. It retreated back into the wilderness as curiously as it appeared with our approach.
We finally retired as a temperature dropped down into the lower 30s. A very restful night was had by all. I had to rise early to get on the trail and be back in Knoxville for the second stage of the triathlon.
I made it out with such time to spare I was able to actually catch Church before embarking on this phase.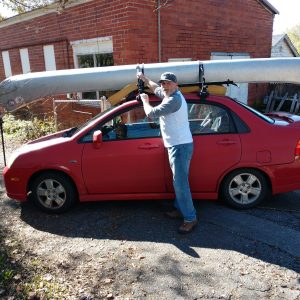 Yes that is my brother Todd and anytime you see the canoe on top of the Aerio, you know an adventure beckons.
This beautiful Sunday afternoon was to find us driving out to West Knoxville and paddling to an undisclosed location. We were met by my friend Frank Harvey, notable local climber and activist. A very interesting side note about Frank, for those of you Smokies enthusiasts is that his grandfather is the infamous Carlos Campbell. You may have read the book he authored about the Birth of the Smokies. As a matter of fact we quoted him in our lawsuit against the fee, as Myers later reminds.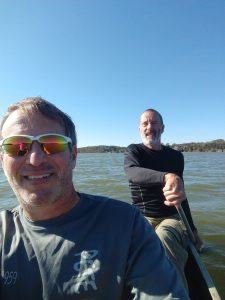 Now there's three full grown adults in my 17 foot Grumman canoe, paddling on an absolutely beautiful Sunday afternoon with temperatures promising to meet 60 degree mark. We worked for 40 minutes to reach this undisclosed location.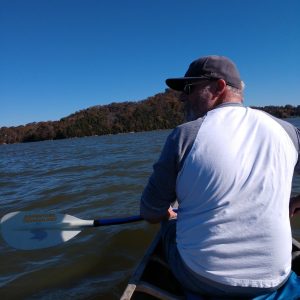 Obviously some good old Tennessee limestone.
the southern Forest watch has partnered with the East Tennessee climbers coalition. Our cabal has been working in secret for the past several months to create an initiative that will benefit outdoor enthusiasst all over Tennessee. Without going into too much detail it was important that we went and documented footage at one of these new areas.
Our vision is to create a connected climbing community much like the urban wilderness and mountain biking model that exists in Knoxville presently.
This project has the backing of may important people and groups. Myers and I are excited about helping participate in move it along, in conjunction with the East Tennessee Climbers Coalition.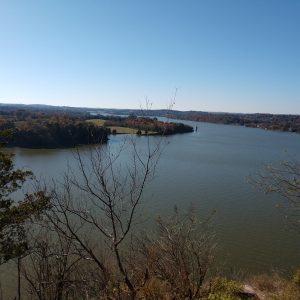 The view from this particular area is incredible. Frank and his crew have been developing routes over here for the last couple of years. although climbers have known about this place for decades it is only recently been developed and maintained and cleaned, I might add by members of the e t c c.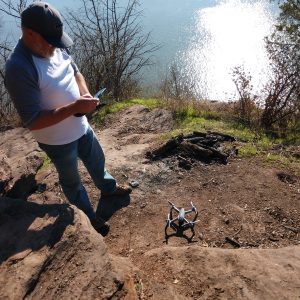 Todd adjusts the drone for  footage were going to shoot from this beautiful piece of Rock. Despite some technical glitches we were able to capture what was needed.  And we had time to paddle back across and get out before dark.
Thus concluding the outdoor triathlon for the weekend.