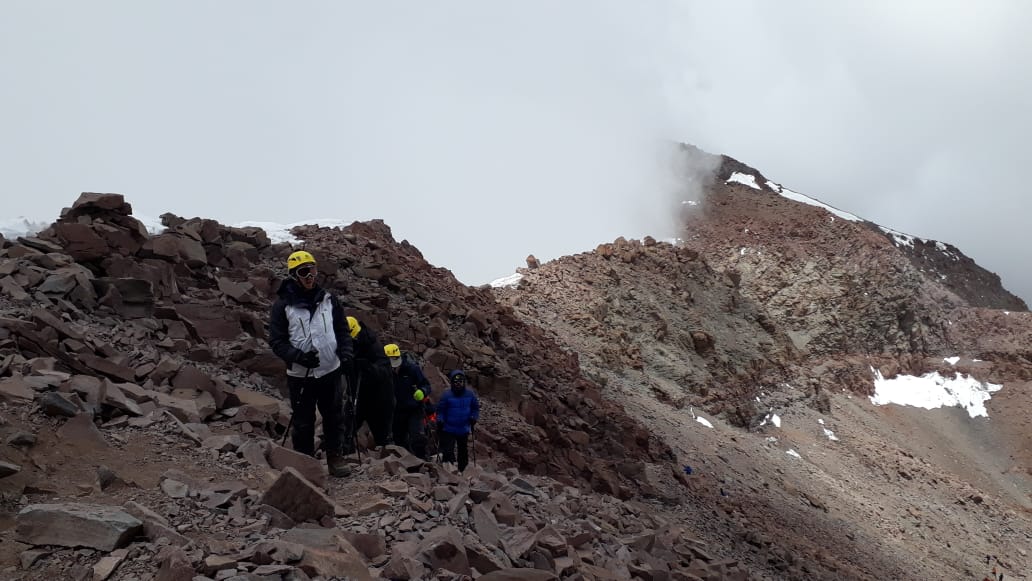 Our team makes the final steps to the summit of North and South America's highest peak. 22,800 feet.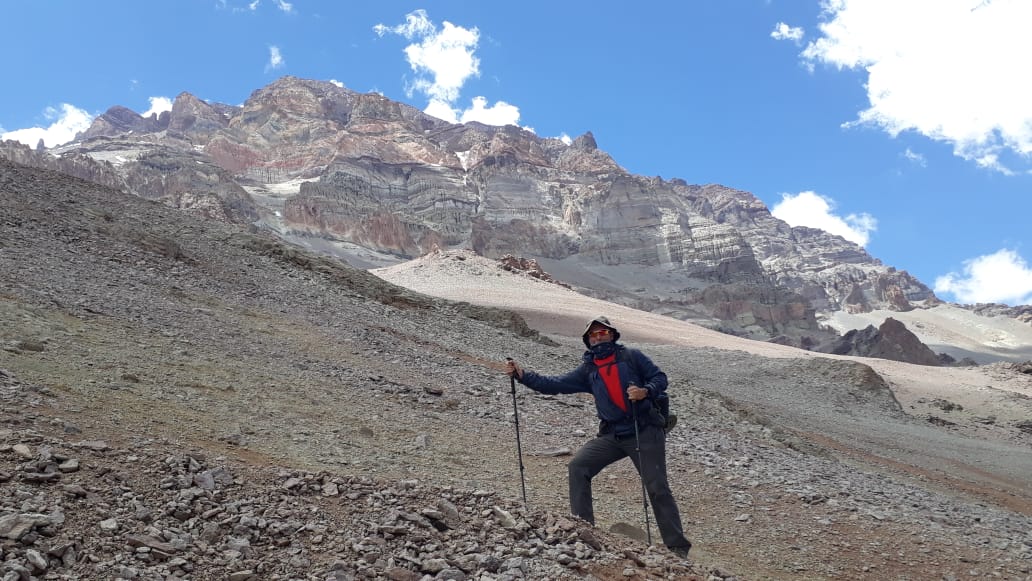 Nothing like a little mountain modeling to get us started.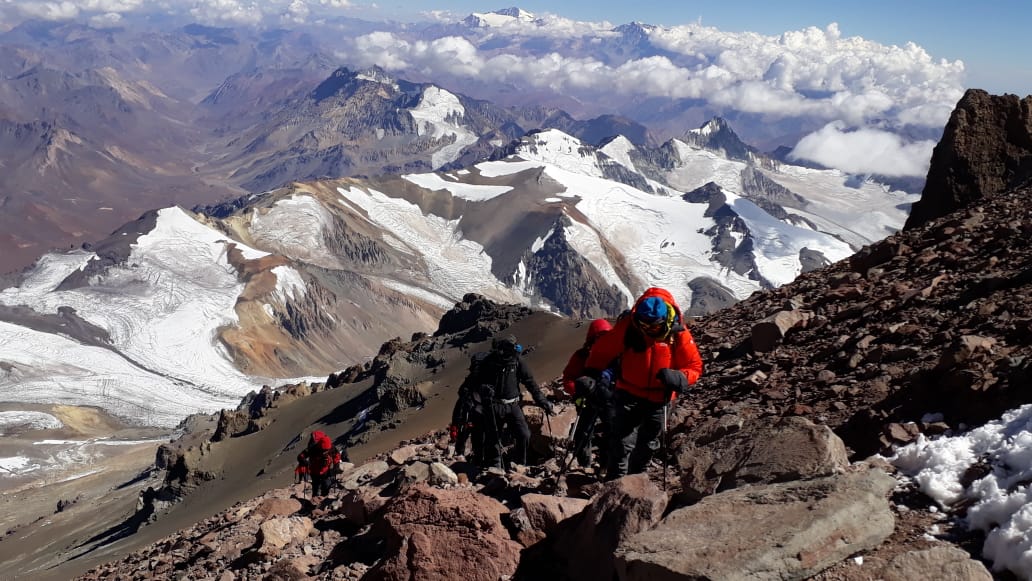 But do not forget this is a serious mountain with  significant altitude and some serious challenges.
This is our team at 14 thousand foot Plaza de Mulas base camp. It was an interesting and diversely populated group. One thing they all had in common, Kilimanjaro. Tommy on the left is even wearing his Killi hat. We entertained a great many hours of Kilimanjaro discussion around the base camp meals. People tend to talk about what they have in common.  The problem is, however this mountain has nothing to do with Kili. At all.
Yes, I am fully aware that it is one of the seven Summits having just completed my fifth one personally. Many were the days on this expedition that I longed for a personal toilet tent and Porter. How nice it would have been for someone to run ahead of us, say in camp 1, for instance, to  prepare a fresh lunch with vegetables while fluffing our pillows on our sleeping bags.
But, Aconcagua is not Kilimanjaro. So why am I beating this dead mule, you'll pardon the expression? Because I heard over and over about how this was not Kilimanjaro. No kidding? we actually had a girl on our team who could not believe there were no flush toilets and showers at camps. (Even though there were flush toilets at Confluencia and an occasional shower could be found at Plaza de Mulas)
Having been on a few high-altitude climbs in my life I'm no stranger to the anxious discussions that occasionally crop up around the base camp meal. Most will pay around $5,000 to climb Aconcagua. (Of course it is less for me because I know how to shop around). We had people on our team who paid a middleman to broker this deal for them. In exchange, they were rewarded with a price that was $1,200 more than ours. Another member of our team admitted that she did zero research on this mountain at all.  Period. This was reflected in her sparse gear and insufficient mental preparedness.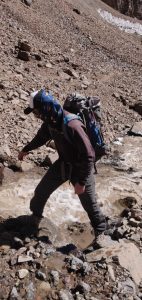 (there are no River crossings like this on Kili)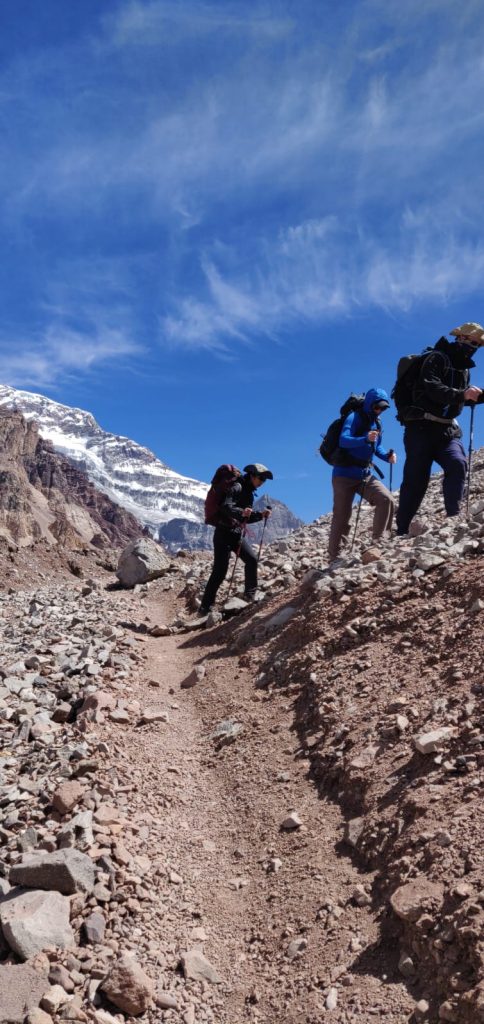 There is a lot of this on Aconcagua. And it should not come as a surprise. This mountain is very well-documented,  heavily climbed, and sufficiently mapped. There are multitudinous YouTube videos, summitpost entries and Instagram logs. Only those wishing to avoid knowledge of the mountain could do so. And somehow they all managed to end up on our team. I'm not saying every member of our team.
When you've got $50,000 riding on a summit, like Everest, for example, a wee bit of anxiety about reaching that high point is understandable. When this is the second mountain you've ever climbed and summiting dominates your conversation, your priorities are screwed. Its not been that long ago that I can remember my early forays into big mountains. And to this day I share the humility of being allowed to grace the lower flanks of these Giants.  Anatoli Boukreev once proclaimed,  "mountains are not stadiums where I go to practice my sport. They are cathedrals in which I go to exercise my religion."
Every expedition for me is a test, a final examination of my preparedness for that particular peak. It is not a place where I would argue with a guide about the need for taking diamox. I eschew diamox. That is a personal decision. I would rather not mask my symptoms at high altitude. This is not to say that diamox is not a right decision for others. Just not for me. I've been fortunate in my ability to tolerate elevation, but that doesn't mean I don't suffer.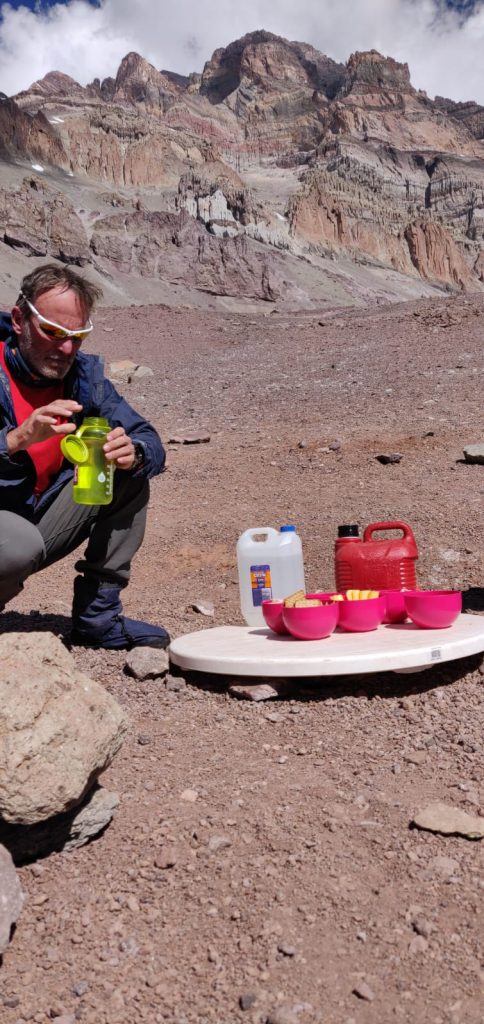 (we all shared a big diarrhea epidemic at camp 2, brought on likely by unfiltered water, I suspect)
The rate of summit success on this mountain is somewhere around 30%. And I attribute this directly to lack of research and experience on behalf of the participants. I tried to make sure Howard was in the proper shape both mentally and physically. Before we embarked we had spent many weekends backpacking and carrying heavy loads up steep hills in the Smokies. We spent many nights out in a tent in rain storms and otherwise.
Howard was fully prepared. However, we had people on our team who were not comfortable sleeping in a tent. I keep coming back to this because I have a hard time wrapping my head around the concept. What is the purpose of being outdoors in the wilderness if you are uncomfortable sleeping on the ground. You're climbing the highest mountain outside of the Himalaya. Did you expect there to be a tea house?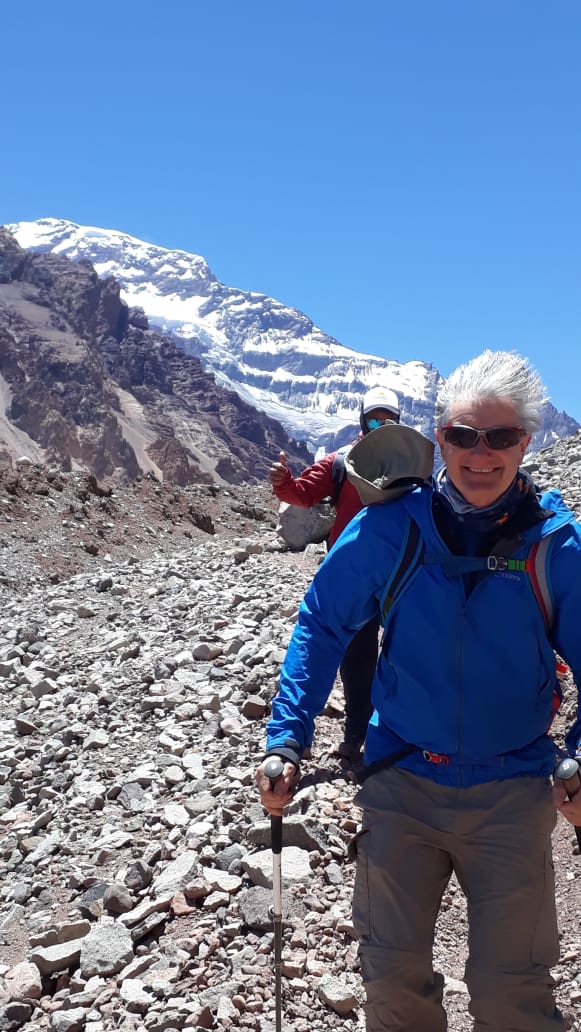 (Howard doesn't complain about having to sleep in a tent)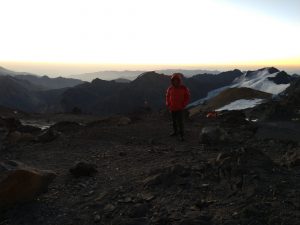 Our summit day was 12 hours long. That's 8 hours up and 4 hours back. This is a big day on any summit. But I will also add it's a pretty typical day for big summits. Remember that my Everest summit day was 24 hours long up and  back. Many were not mentally prepared for this exercise in slogging. We also had a team member who underreported their physical condition. The result was that person had to receive a shot intra muscular of dexamethasone. Then our guide had to short rope him off the mountain. All because he lied to the guide two hours before the summit.
(A major storm was brewing upon our return to camp 3. Raj and I nearly lost our tent, with us in it. So much for a post summit rest!)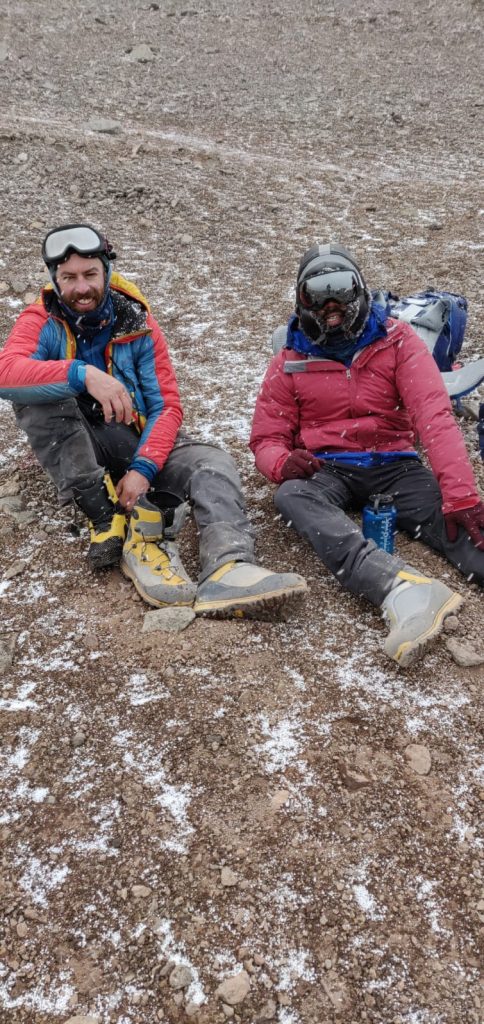 (Raj was a great partner; here he rests with our very experienced and capable guide, Tinto)
So, in summary, I would like to say that I very much enjoyed our ascent of Aconcagua. It is a super dry mountain which brings on a different set of challenges. There's a low amount of water on the mountain. The snowpack is virtually non-existent. We experienced a massive windstorm after-our summit. For 12 hours, my tent mate, Raj and I, had to physically hold our tent down to keep it and us from blowing off the mountain. As our guides screamed over the wind the following morning, "We need to evacuate this camp!" And so we did, dropping all the way down with, for me anyway, a fully loaded pack from 19k to 14k in a matter of hours.
http://www.youtube.com/watch?v=QaM-c7x_0x4
just as I recommend Baraka trails for Kilimanjaro, I endorse Grajales for Aconcagua. Just plan on treating all your water. Augustine "Tinto" is an excellent mountain guide, alone with Julio and Augustine, another guy who has some serious big wall credibility.
Despite our minor "challenges" as a team. We managed to wrangle a good outcome. Here is a video from the summit, which was socked in despite sun most of the ascent.
If you are looking for a "next step" after you Kili conquest then turn your eyes towards Rainier. Go do a mountaineering course then a two day summit. If you are still interested in high altitude mountaineering then get dialed in on your crevasse rescue and mountaineering skill sets and take a shot at Elbrus. Then, after you have spent some time on a mountain, IN A TENT, you may, perhaps, possibly be ready for the highest mountain outside of the Himalaya.  But not a minute before. And please, do your team, your guide and yourself a favor. Perform your due diligence prior to setting foot on the mountain and making yourself a liablility for others.
John
Here is a link to all my gopro videos on youtube.