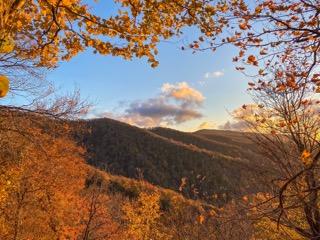 (Seth Dortch makes this photographic magic happen)

But Myers captured the one above. In fact, Jon, Seth and I only made it up to here before the sun set on us Friday.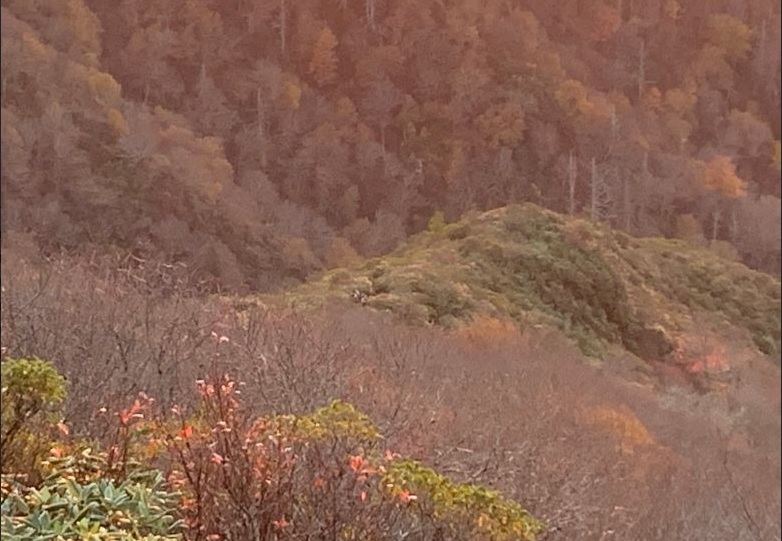 (Myers was on the rock and captured this photo of us actually emerging from the heath bald)
We made good time with full, heavily laden packs.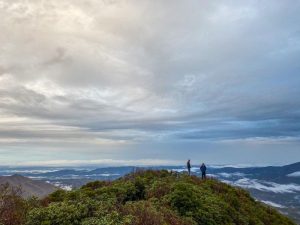 (another of Myer's shots above)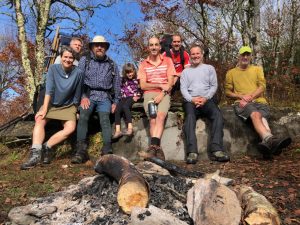 This photo is but a small fraction of the near record-breaking group in attendance at the annual SouthernHighlander Hangover event. The last big number was during THIS event.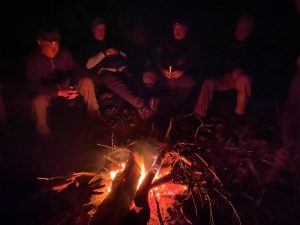 Hangover 2020 was one for the ages. It beckons back to the days of John Muir and Ronrico.
 We began late Friday afternoon. The weather was fine and we wished to hit the rock before sunset. We only made it to the heath bald because I ran into this guy.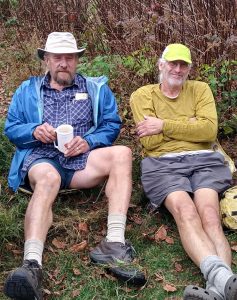 (Not Bert, but Tipi. Bert came up with us.) Tipi was camped at Grassy Gap as our team scrambled up to the Hangover. We briefly visited before departing into the sunset. Tipi promised to come up the next morning. Tipi and I have been friends since 2008 when we worked on trying to reverse the damage done up at the Hangover when the forest service clear cut all those trees. But that is a story for another campfire. I always enjoy running into him, he is a kindred soul and sage of the Citico. If you run into Tipi, it is a blessing and we enjoyed catching up since it has been a few years since we crossed paths back down on the lower Big Fat Trail shown here.
We met Myers and AJ and Jon Dempsey and David Snyder who had established camp. We had the Hangover to ourselves and what would end up being 18 of our closest friends.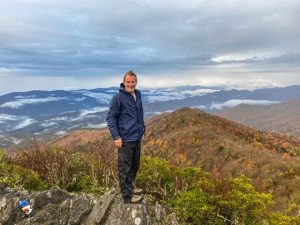 (yours truly Sat. morn)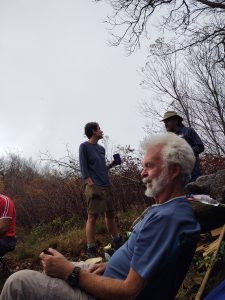 If that face looks familiar, it should. It's Jon Dempsey. In the background is Jacqui who didn't quite summit Friday night, despite their best efforts. She did make it to the Grassy Gap spot and camped alongside Tipi with her daughter, Marguerite and Andrew.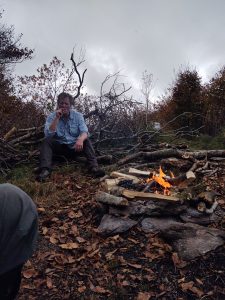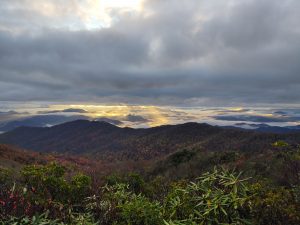 Myers was missing something on this trip. Ballerina Britches opted out after hefting his pack and deciding in was too much to bear. That never stopped 71 year old Tipi, though. At 75 lbs, his pack was the prize winner. You can say, he was definitely humping a heavy pack.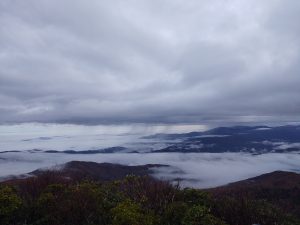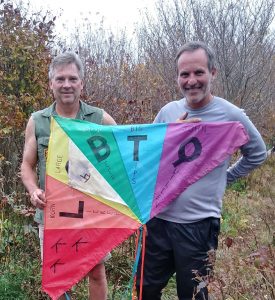 Richard's kite of diversity. And somehow it now has my name on it. He has flown it from all the high peaks of the South, or a lot of them.  Ok, maybe three or four.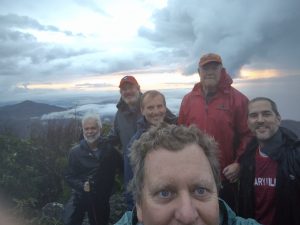 This was a  Saturday group photo. Because everyone else was tent bound. Why? because it was piss pouring the rain.  Buckets. We had a lot of rain through the nights and a good hour torrent at sunset Saturday. But here we were, minus Curt, who had hiked up all the way from Slickrock via the Nutbuster. Backpacker Magazine rated it as the toughest backpacking trip in the South several years ago. Tipi would agree, and so do I. It is a hefty pull. So Curt ended up in his tent for the evening. It was great to have David, Jon and AJ come all the way out with us. Myers did a great job establishing camp and taking photos, even though he looks like Kilroy here.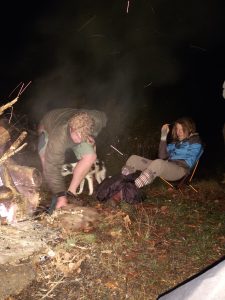 Mikayla and Summer arrived Saturday, along with Robbie and Marley. It was nice to have some of the climbing crew along for this special place and time.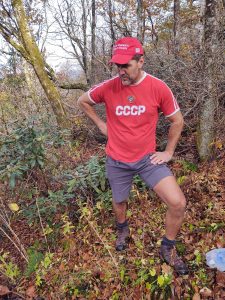 There was a Russian in the midst wearing a MAGA hat. I have always said there is a correlation between the two. Now you have proof. We had to do some engineering on the water source. The main one was but a drip. Years ago, Danno and I excavated this one , so I brought alone some flexible tubing to make it flow like a river. Richard and Jon assisted in this engineering feat. Too bad Robbie B is a water engineer and arrived too late for any input.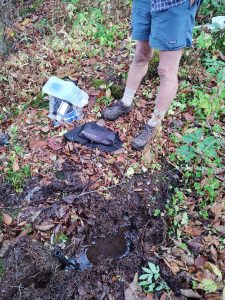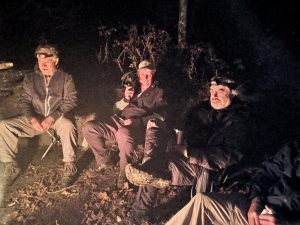 AJ, David Snyder and Myers relax after a hard earned ascent.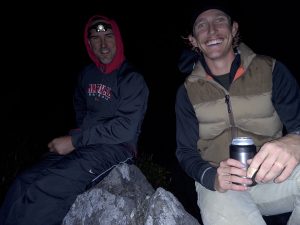 Seth made it up and provided those great initial shots. In fact, there were so may great shots, I couldn't possibly upload them all here. But man, the clouds made for some good refraction.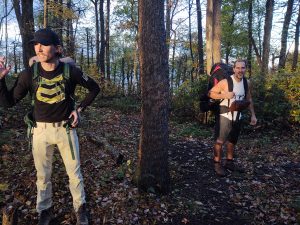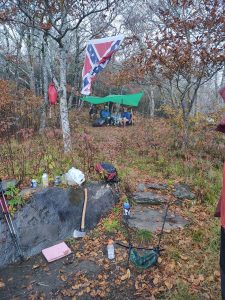 Somehow, the skull and crossbones has been replaced by Dixie colors. Again, that is a Richard thing.
 Marguerite set a record for youngest ascent of Hangover. At five years old, she and Tipi whipped me up pretty good. But, I am used to taking beatings from young girls, and have the scars to prove it.
Myers really gets some good ones.
It was a festive crowd, undeterred by a little rain, unlike others in the past. I don't know anyone who bailed because of a frightful forecast,,including a 5 year old child. It was great to catch up with old friends and GET DEM DISHES!  When I look at the people that were together on this trip, it represents diversity and optimism. I hope you plan to vote or already have on Tuesday. This is the most important election of our lifetime and what happens to places like Hangover, hangs in the balance. I would say, if you are happy with the daily drama gushing from Washington, then by all means reject any efforts to restore America to its rightful place on the world's stage. I am looking forward to a time when we can be proud to travel overseas again instead of having to explain why our leader is doing the bidding of Putin.
Cheers.
John
Now let's end on a musical note with a little Stevie Ray in hopes his Texas vibe will carry the state into the BLUE.