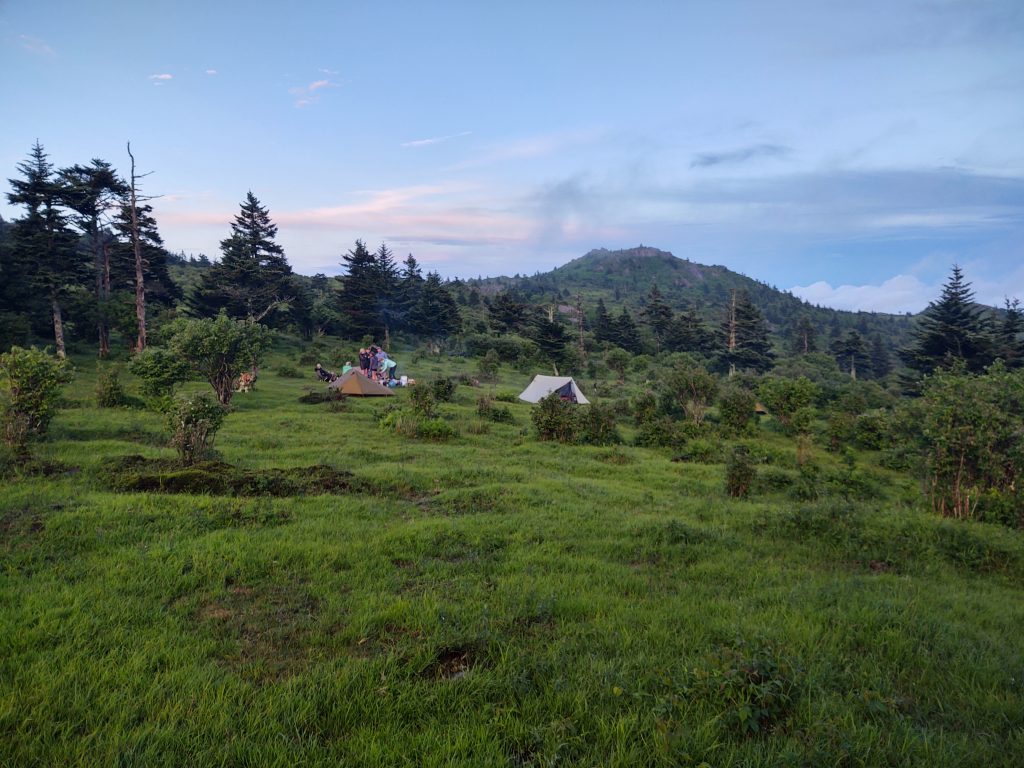 The weather looked quite specious. Rain showers throughout the day with the occasional heavy thunderstorm was predicted for this part of Virginia.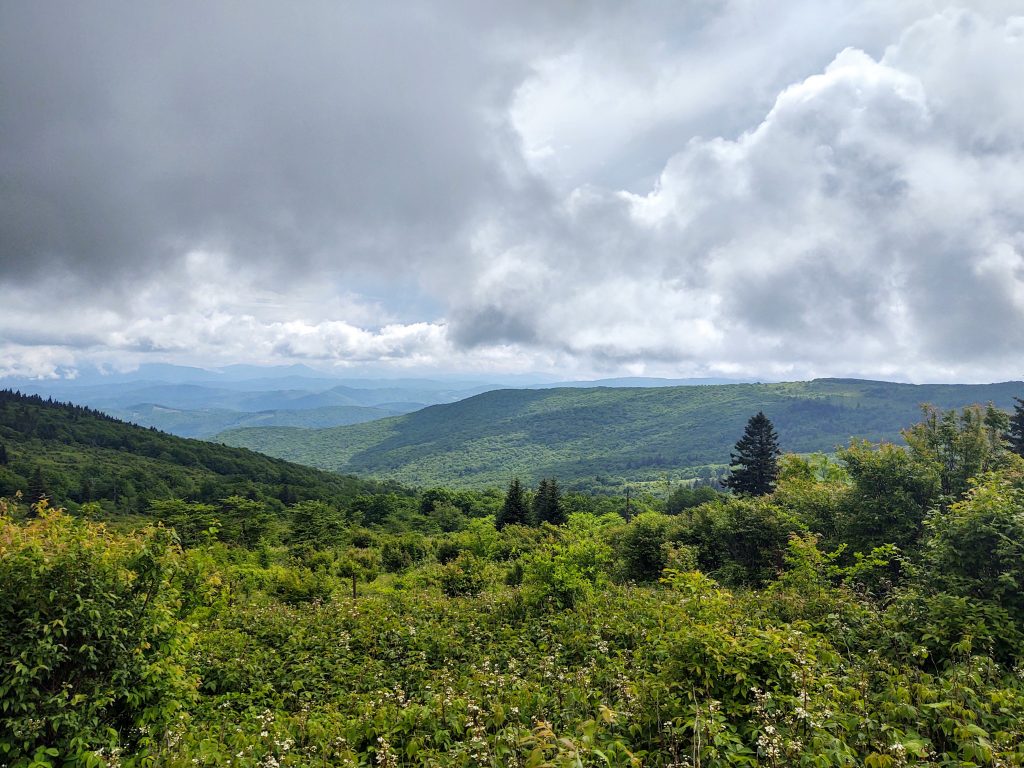 We arrived at the Elk Garden parking lot to a soaking storm. The flying sausage pulled in with his Entourage. They were eager to hit the trail for 5 and 1/2 mi ascent to the base of Mount Rogers summit, the highest point in Virginia. Kelsie and I opted to wait out this round of storm. It would last almost 2 hours, but when it finally broke and our radar indicated such, we rode it like the wind.
Knowing  this would be short lived, we opted for the horse trail which diverted from the AT. I was reminded of having been here in October when Frank and I did our 80 mi section hike to Atkins.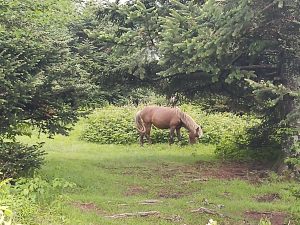 The rain barely touched us as we sloshed through the trail now turned into a creek. A great canopy of trees kept us dry. By the time we spotted our first pony, the skies had cleared.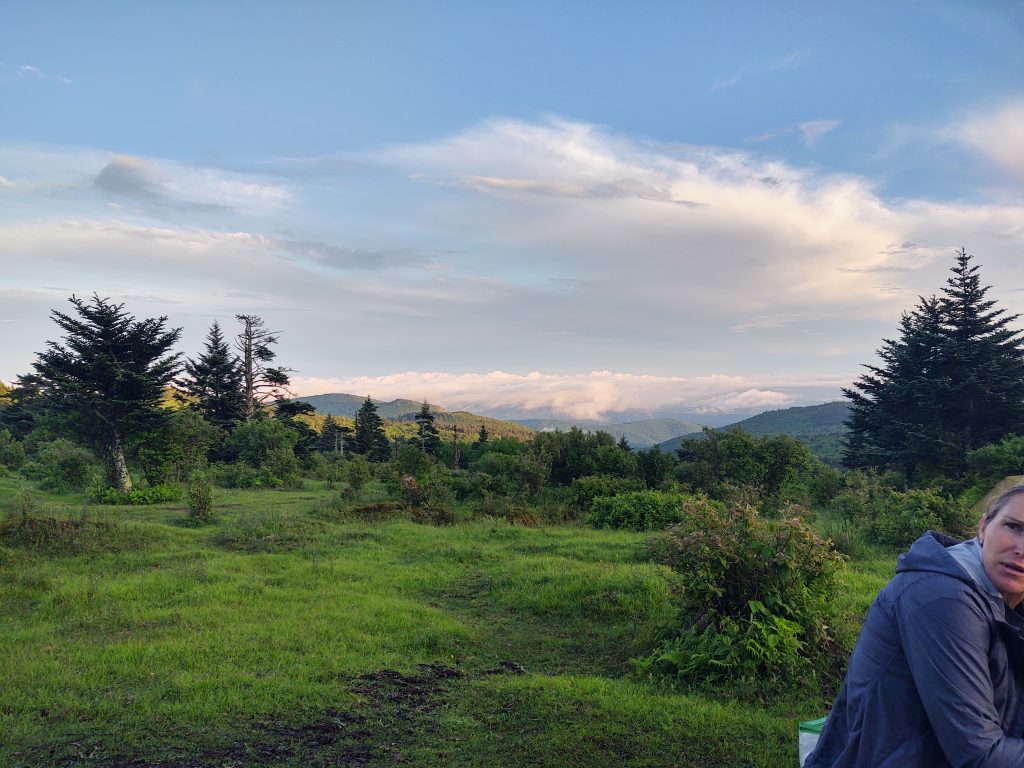 We finally found the Sausage and his group at Rhododendron Gap.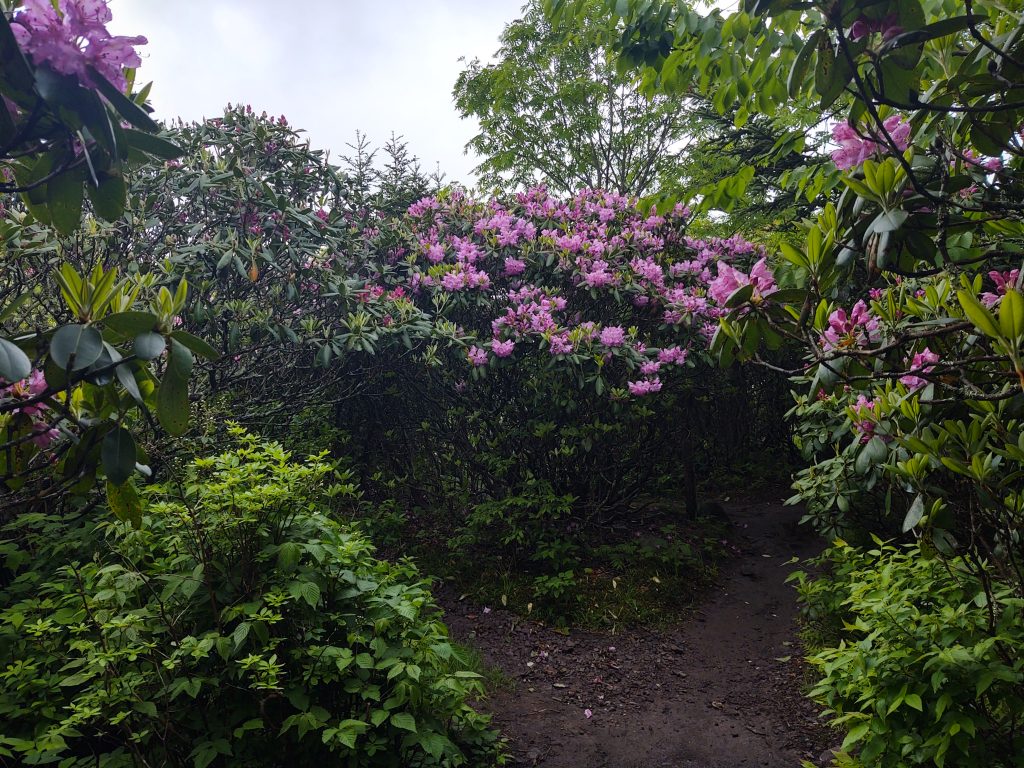 And the Rhodo didn't disappoint.  (Or, as Frank calls it, Rhondo!)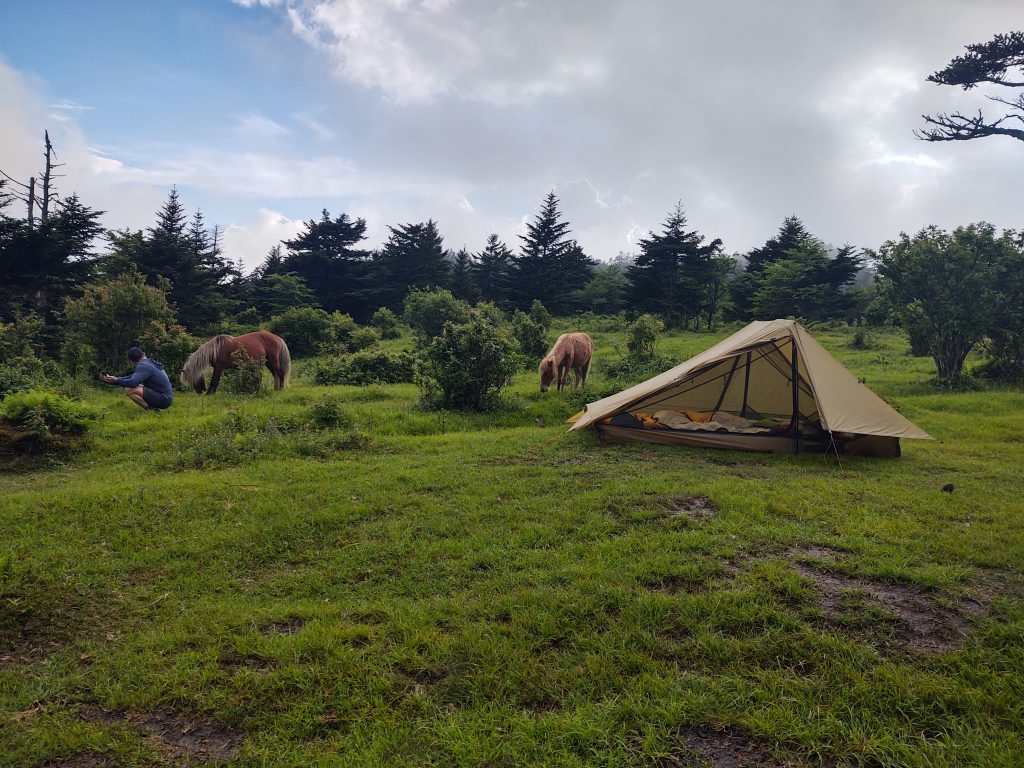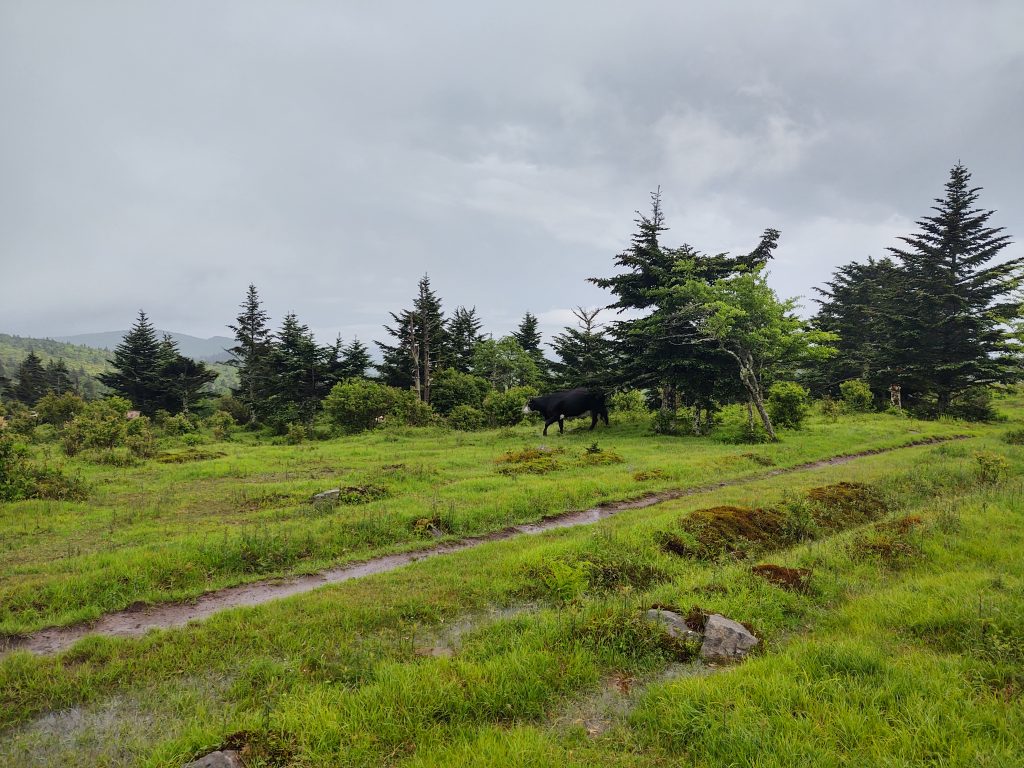 The ponies are a great novelty that draw many many people to the highlands annually
However the longhorn cattle is one I can do without. Especially when at 2:00 in the morning they come stampeding through camp. It gives me flashbacks of the Karakoram and when Brian and I were sitting in our tent which was trampled by ponies. (You can read about it by purchasing a copy of my book, Tempting the Throne Room. )   That's when I discovered that Jimmy Dean has a fear of bovines. Not sure what the forest service was thinking by allowing this cattle grazing up on top of a bald that already is sufficiently defecated upon.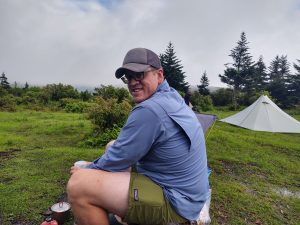 Among the many great guests that Jimmy brought up, was KO and his wife Paula. Would you believe that her dad was the drummer for Roy Orbison. It was fascinating to hear that story.
We had barely gotten our tents set up when a horrific storm crested the knob of this high point in Virginia. It rained sideways with lightning and all of us were fearful of losing our homes.
When the clouds finally rolled out, we had a beautiful, star lit evening.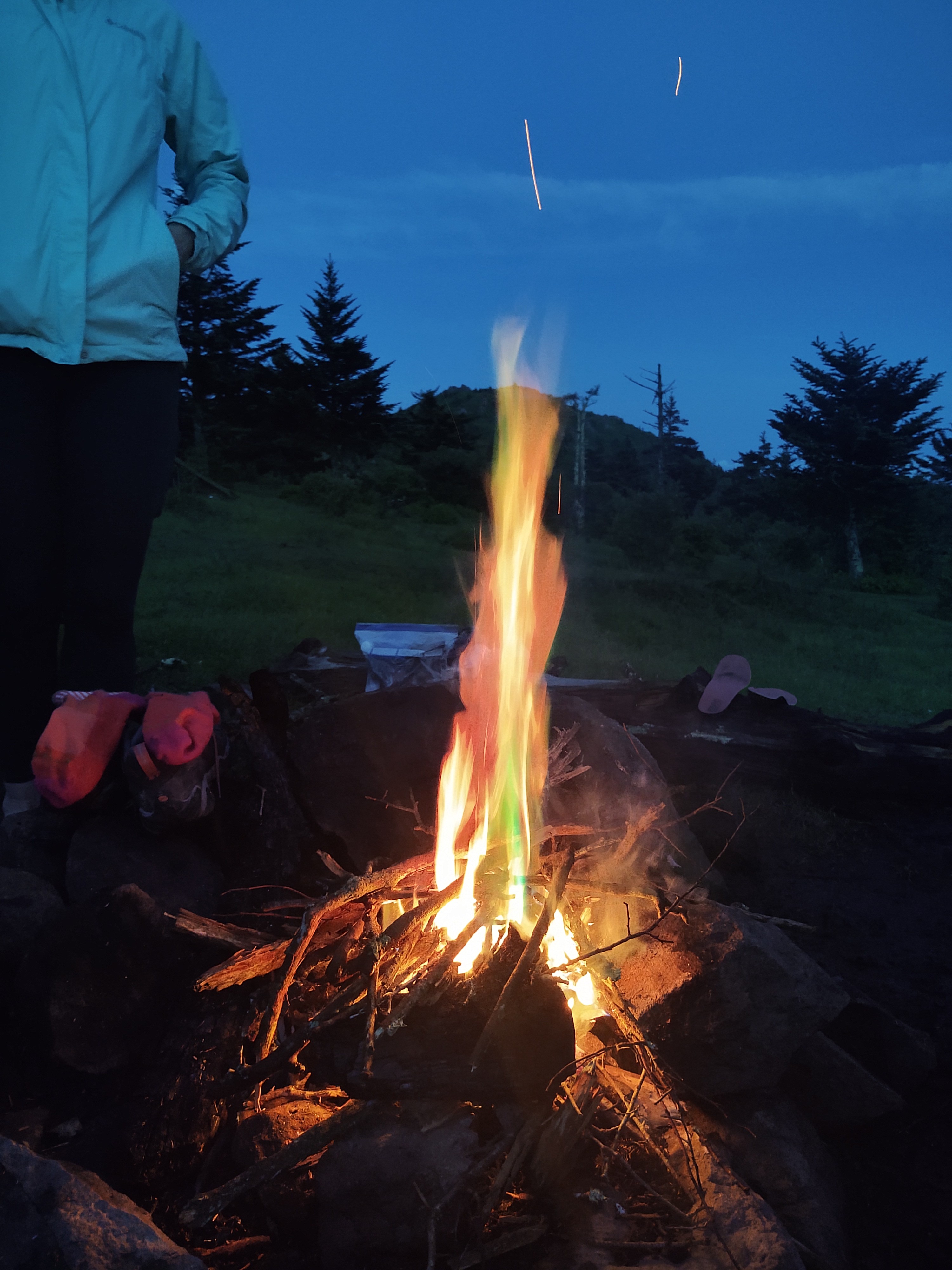 Sarah was able to wrangle a fire out of totally soaking wet wood. I have a lot of respect for anyone who knows how to start and tend to fire.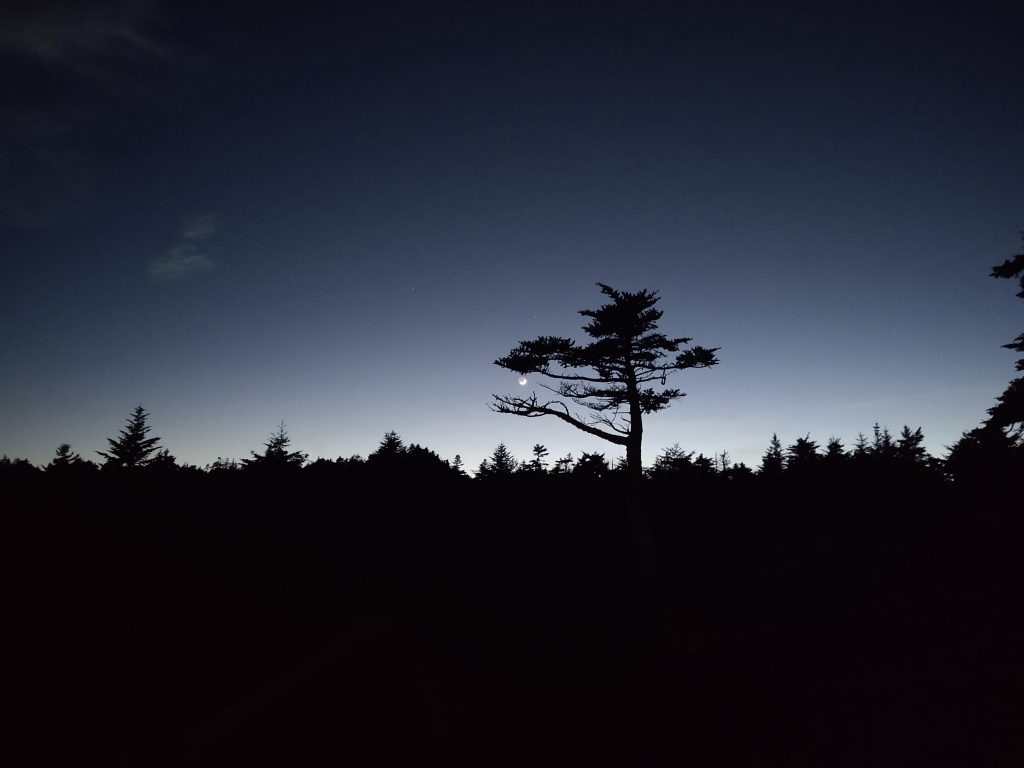 I regret that I forgot to snap a star-scape photo before I went to bed but I passed out pretty hard.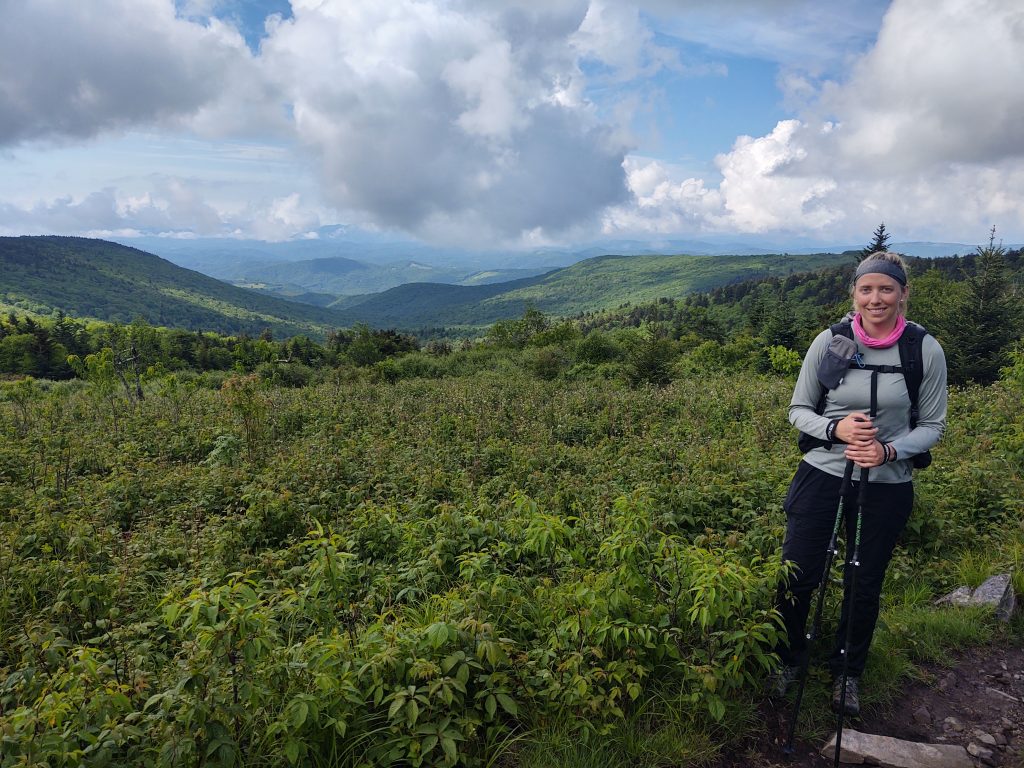 We went back out along the Appalachian Trail to make a complete loop. Sunday was glorious; all the weather we didn't have the day before.
I realize that Mount Rogers and the Grayson Highlands has been trending of late. The pandemic has brought people into the woods that never even thought of venturing out before.
The bad weather worked in our favor. It kept the crowds to a minimum. I'm thankful for the invitation by Jimmy Deane, the flying sausage. It was good to shoulder a pack again.
On other notes, I have a video on youtube that has no accrued 469,000 views. In other words, gone viral. It is one we made in 2019 as we enjoyed a Safari on the Serengeti. I'm still not certain why it has garnered so much attention but if you watch, you will notice that a hyena shows who is the boss to some cheetahs.  If you would like to go on a safari or a climb of Kilimanjaro, please contact me and I will hook you up with the BEST and cheapest trip you can ever imagine.  When I say I have a hook-up, you know it is for real.    Take a gander and just some of the sights you will see on a safari in Africa. My friend will take you in a private jeep to three different National Parks and you can actually tent camp in the Serengeti with gourmet food. It is a bucket-list life experience. Contact me if you want more information. Africa is open for business for vaccinated folks.  EMAIL John
And finally, one of our good backpacking buddies, Gary Duvall, suffered a massive stroke yesterday. If you have any room to pray for him, please do so as his family will be taking him off life support at any time. We have enjoyed many a campfire and trail with him and I can say he is genuinely one of the nicest fellows you would ever meet. He has two boys in addition to his wife. Gary is barely 60 years old with no history of health issues. I know the family would appreciate any good energy you can send his way.