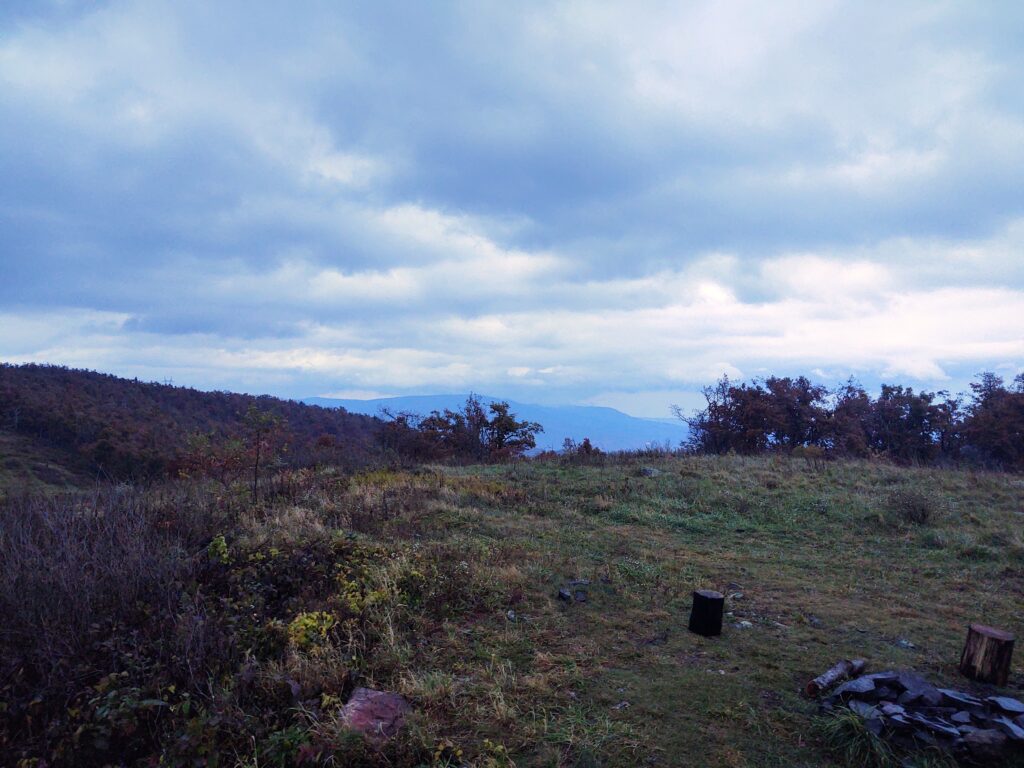 In our latest installment of John and Frank's Appalachian Trail adventures we find ourselves in Pearisburg, Virginia, precisely where we left off several months ago.  After driving for several hours into Virginia and securing a shuttle to drop their car off at the back end we started our 7 Mile ascent to Rice Field. It was largely uneventful and the scenery  unremarkable. We passed a lot of deer stands feet from the trail.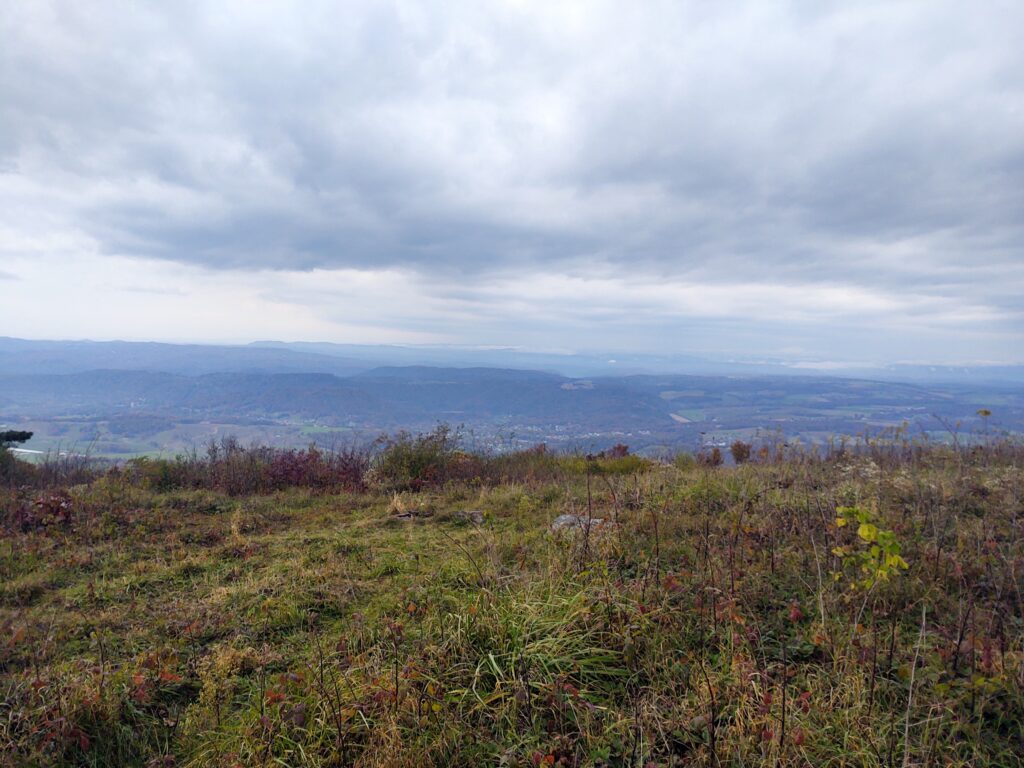 That is until we reach the shelter after about 2400 ft of climbing. Big bad weather was moving in and we knew it. So the rush was on to set up our tents. Reason being there were thru hikers in the shelter. And I prefer to be away from them and their pot smoking antics. I love everything about section  hiking except the actual through hikers. Apparently that sentiment is shared with the shuttle drivers.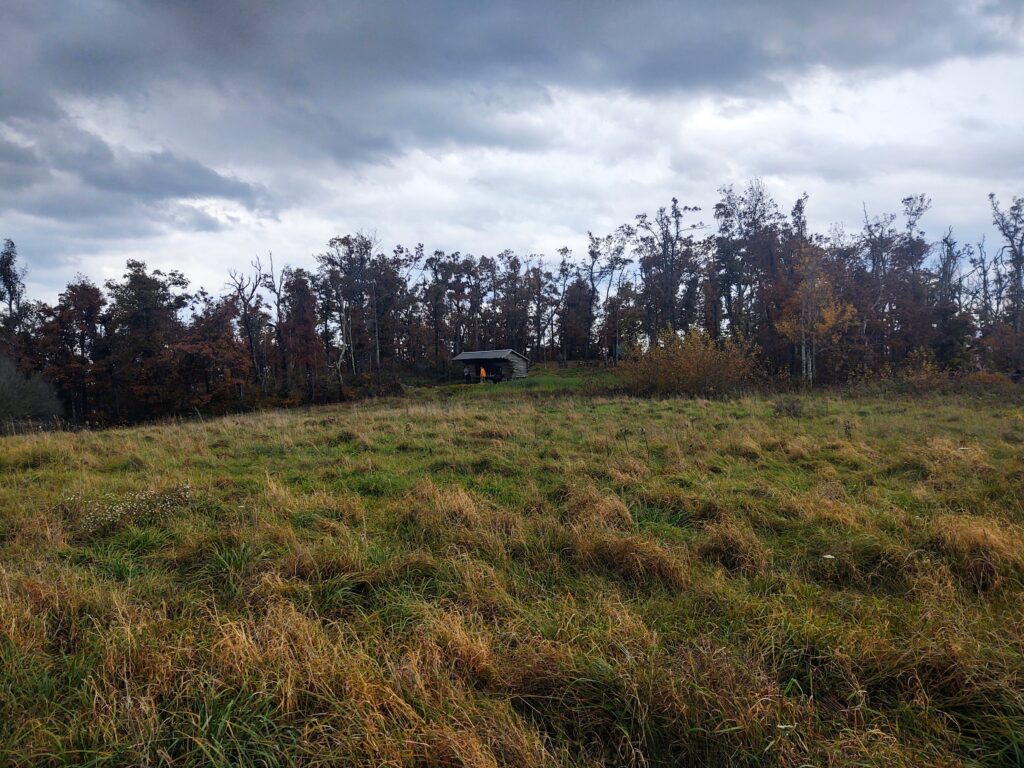 We weathered one hell of a storm up on top of that mountain. And while it threatened to blow us off of it my six moons designs skyscape trekker held up admirably. Frank's tent did great too. I slept peacefully as the rain pelted the nylon. Actually had one of the best nights sleeps I ever had outside.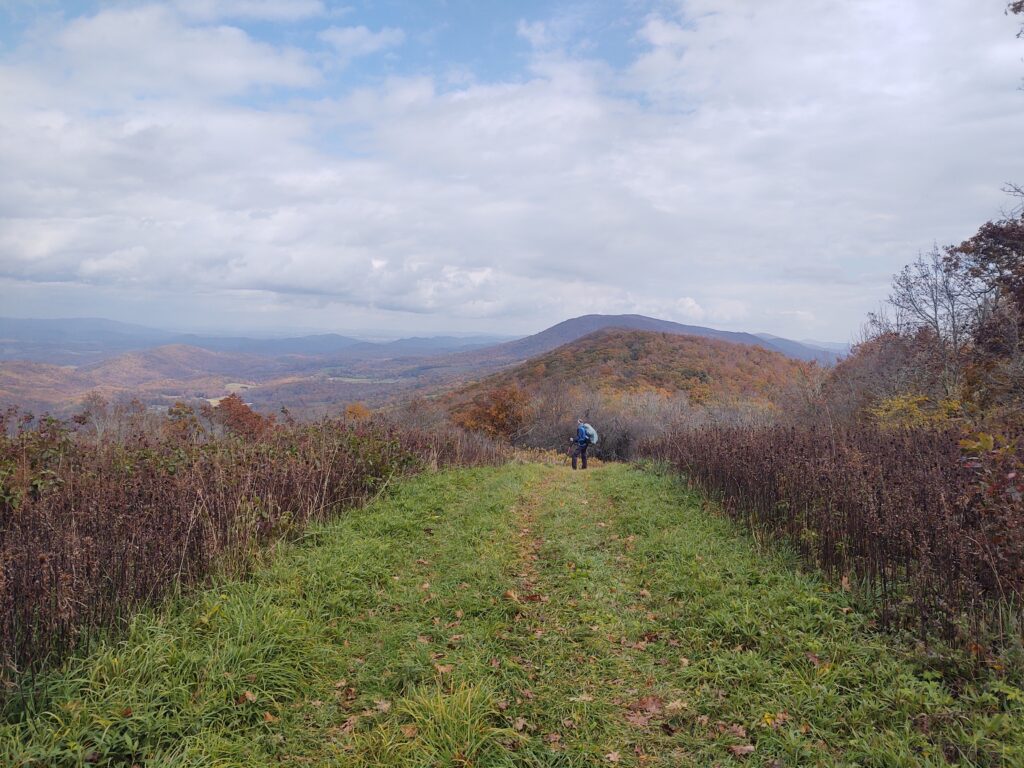 When we arrived on the scene in the shelter the next morning and the rain had abated they could not believe we were out in it.
The incessant, morning, stoned banter of thru hikers reaffirmed my decision to sleep in the storm. Frank and I have come to realize that our reasons for hiking are different than theirs. I don't want to speak for him because he loves that thru hiking culture and talking about gear and distances. But Frank is out there for the right reasons not just to do 24 mi in a day. One guy came rolling into the shelter after we went to sleep in the middle of the storm.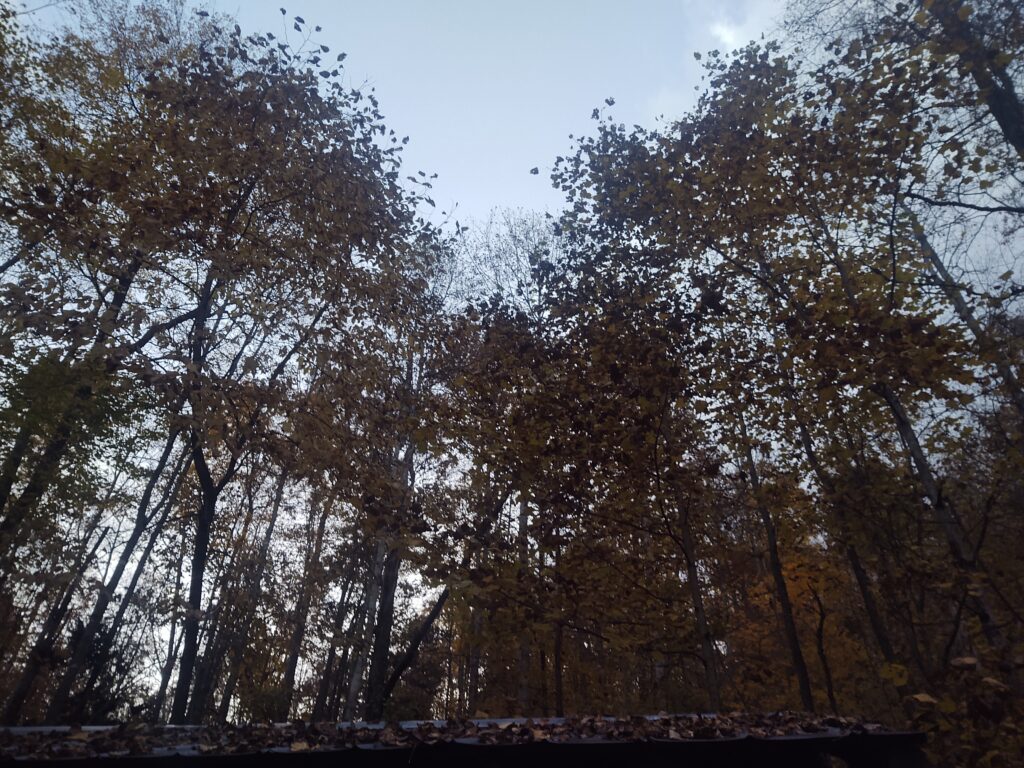 We took off in the super wet grass. And I made a huge mistake. On all of our recent hikes, I've gotten away with wearing regular tennis shoes. What rain we've had has been minimal. But we did 12 miles through fields. And within two miles my feet were completely soaked. Unlike Frankie, who wears proper trail shoes, I just wear running shoes. We did come upon a herd of wild goats that was terrorizing hikers. We were able to fend them off.
And this time I didn't get away with it.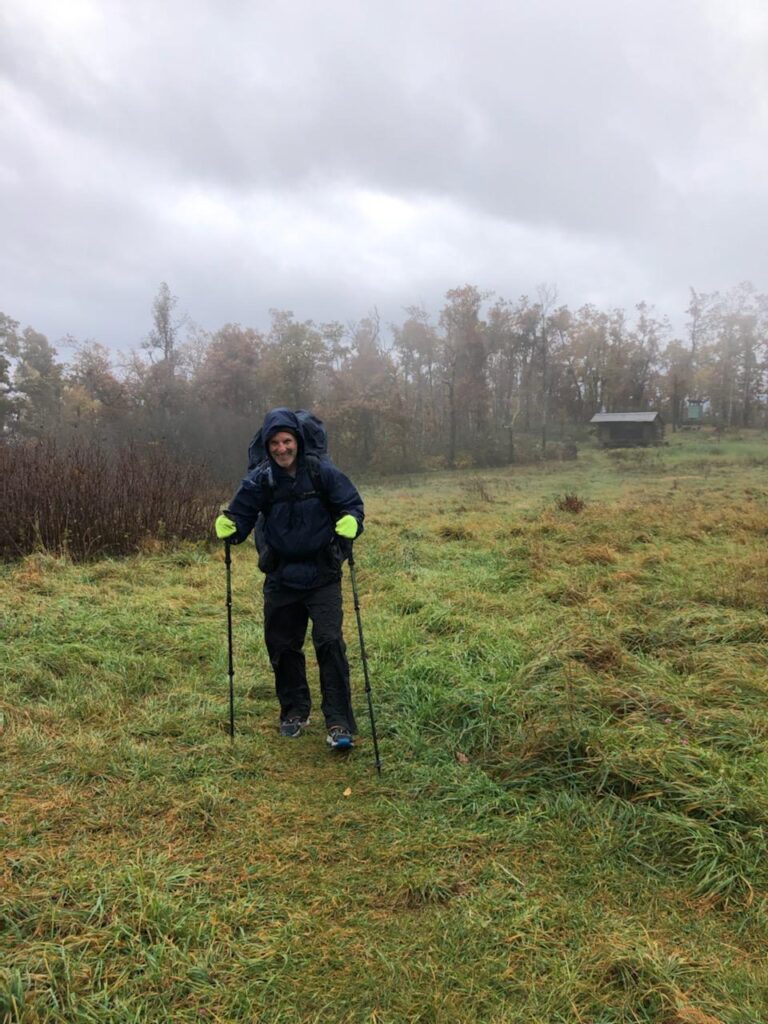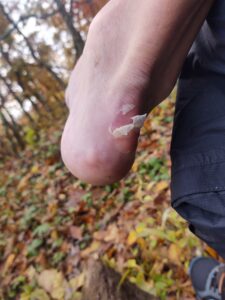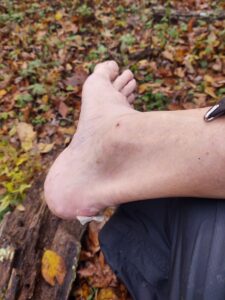 There's not enough moleskin in the world to deal with that. So I stripped down to almost nothing and wore my crocs  the next 10 miles. That created a subsidiary problem.
We finally arrived at the next shelter.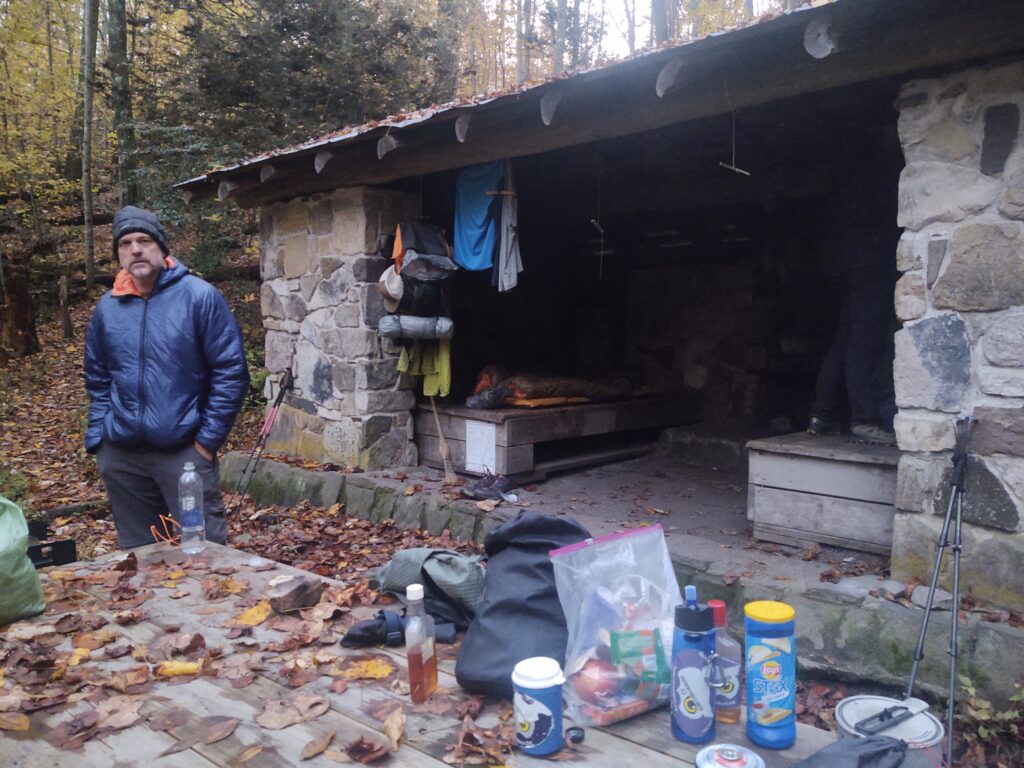 And Frank was mad as hell and not going to take it anymore.
(He loves it when I say that about him)
The temperature had dropped significantly. Like into the 30s. After looking at my feet, Frank wisely made the decision to cut our trip one night short. You know me I was like "oh let's push on." I can finish this in my crocs. But Frank called the shuttle and told him we were going after next day. And that was wise.
But I can't say enough about this shelter, especially since it was called Pine Swamp. It was anything but.  We slept inside it this time since our tents were soaking wet. It was an absolute piece of art. Sporting an interior fireplace and three bunks it was almost like an Airbnb. And again I slept like a baby.I recall the stars bleeding through a moonscape from which I would roll over and soak periodically. We had one guest that night, also named John. Walking 12 mi in Crocs with a 35 lb pack is a little bit more than a workout which contributed to my somnabulance.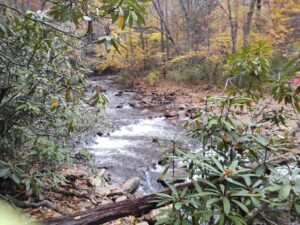 We dropped a lot of elevation along with the temperature which was now super cold. It was a short out.
About the section I'm going to say it wasn't the prettiest that I've done. A lot of the forests have been obviously heavily logged. Multiple power line cuts make it look like a geographic crime scene.
As we hit the road, the trail was just starting to get good and I was wishing we could push on. Steam came from our breath as we awaited our exit vehicle.
I got back to Knoxville the following morning. I couldn't walk and it wasn't because of the blisters. A certain kind of pain in my foot that I never experienced was indescribable. Every step was excruciating. I self-diagnosed it as plantar fasciitis.
2 days of rest, ice, compression, elevation and heat. Then I woke up today and it was fine. Go figure.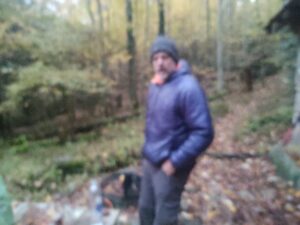 Had "yo yo" not pulled me off the trail I would probably be in traction for a week. He's a good outdoor partner.