♣
Few  traditions are as solid in the Highlander fold as the annual Eagle Creek, Southernhighlander navy pilgrimage. (Not pictured here is Myers and the bail guys, who experienced an acute case of collective, last minute ombrophobia,)  You may remember that the Highlanders are advocates of ombrophobia awareness and organized a hike to memorialize those acutely suffering from this malady. Here is a link to that event many years ago.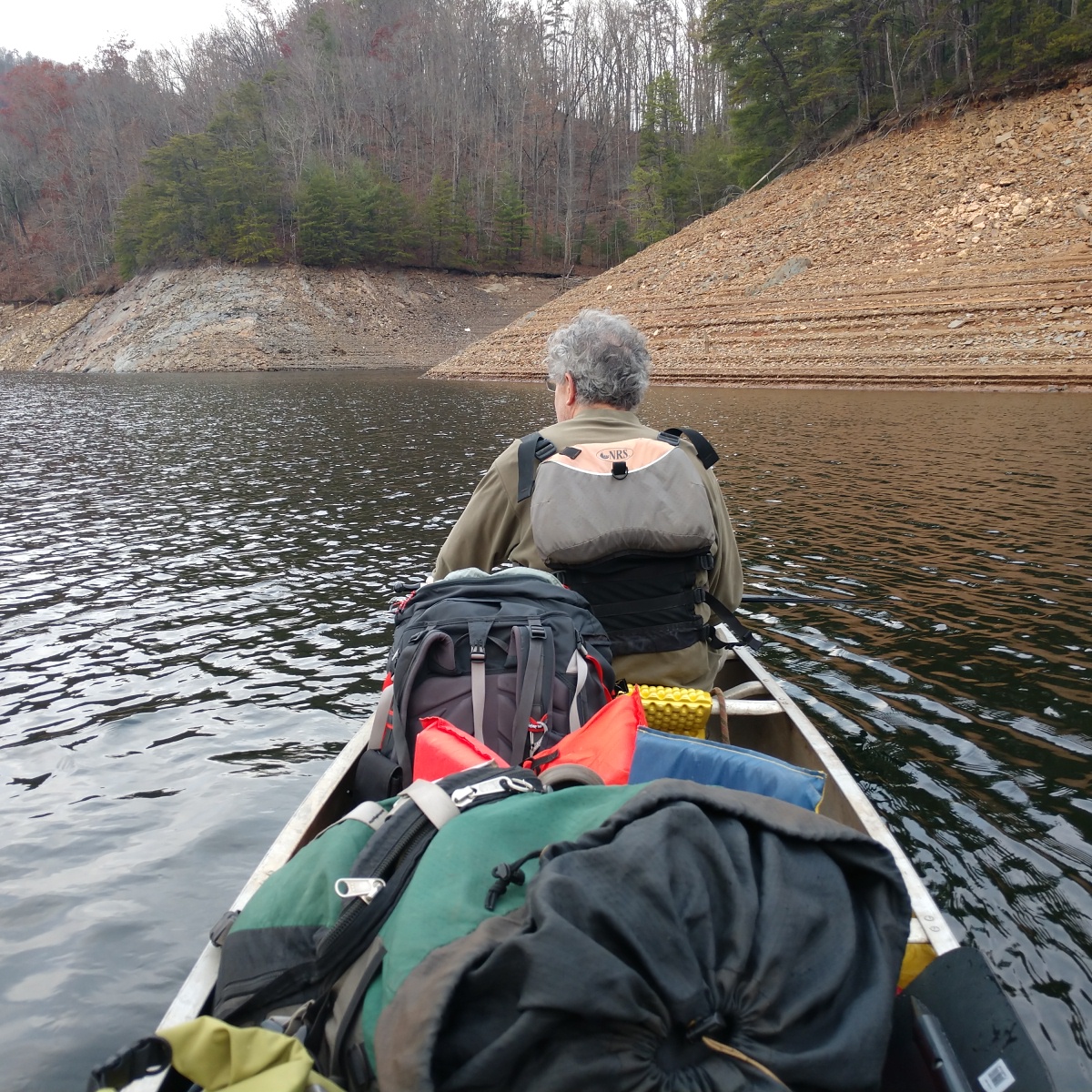 Howard navigates us up to the headwaters of one of the most beautiful places in the park.
Once again the fully loaded USS Steenhatchee set sail from Fontana Marina.  There were so many memories from Eagle Creek such as this one.
†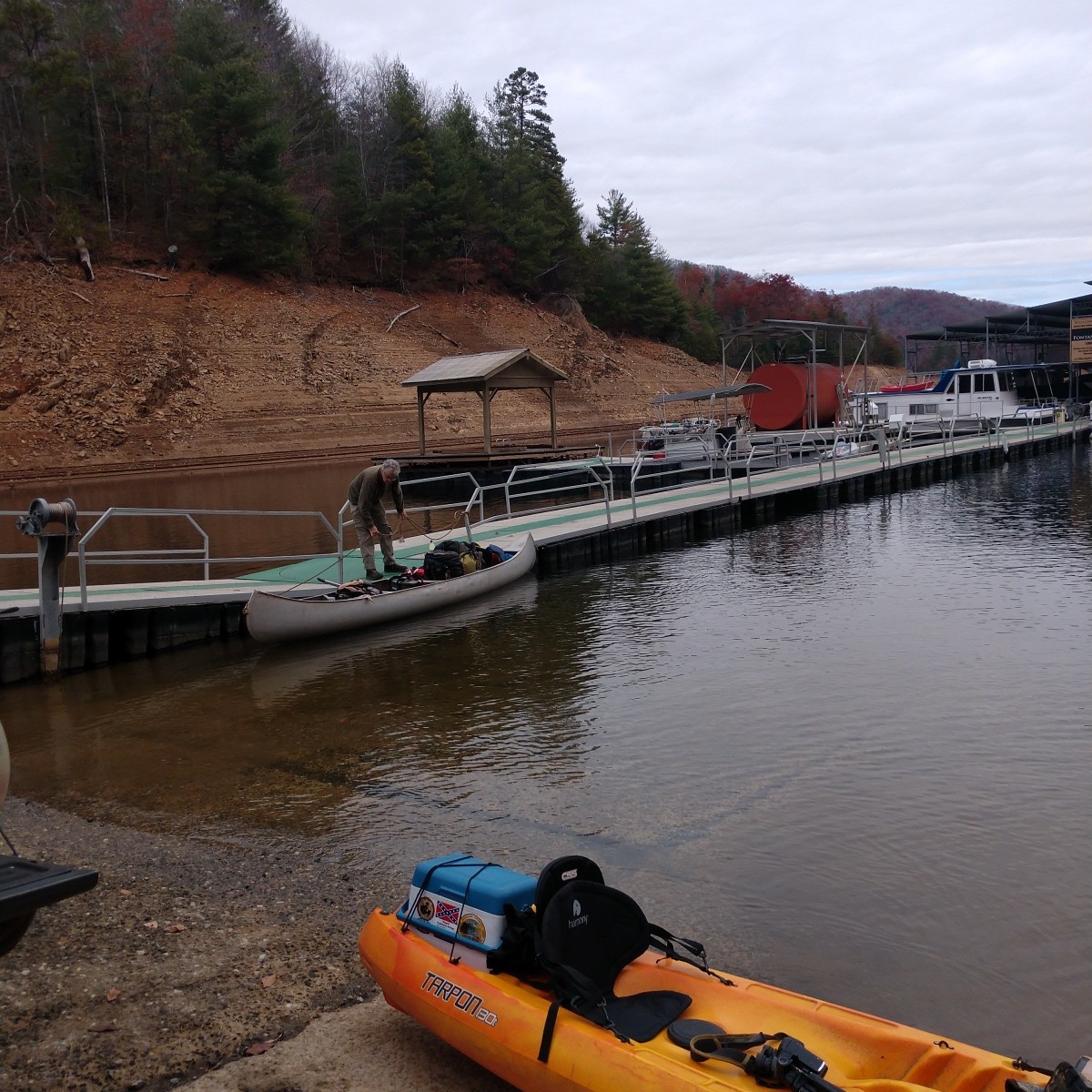 It appeared as if we were about to be overtaken by a Confederate Armada.
Fortunately it was just Richard.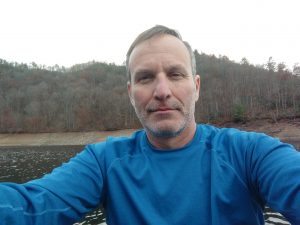 We would soon realize how lucky we were to have him in camp.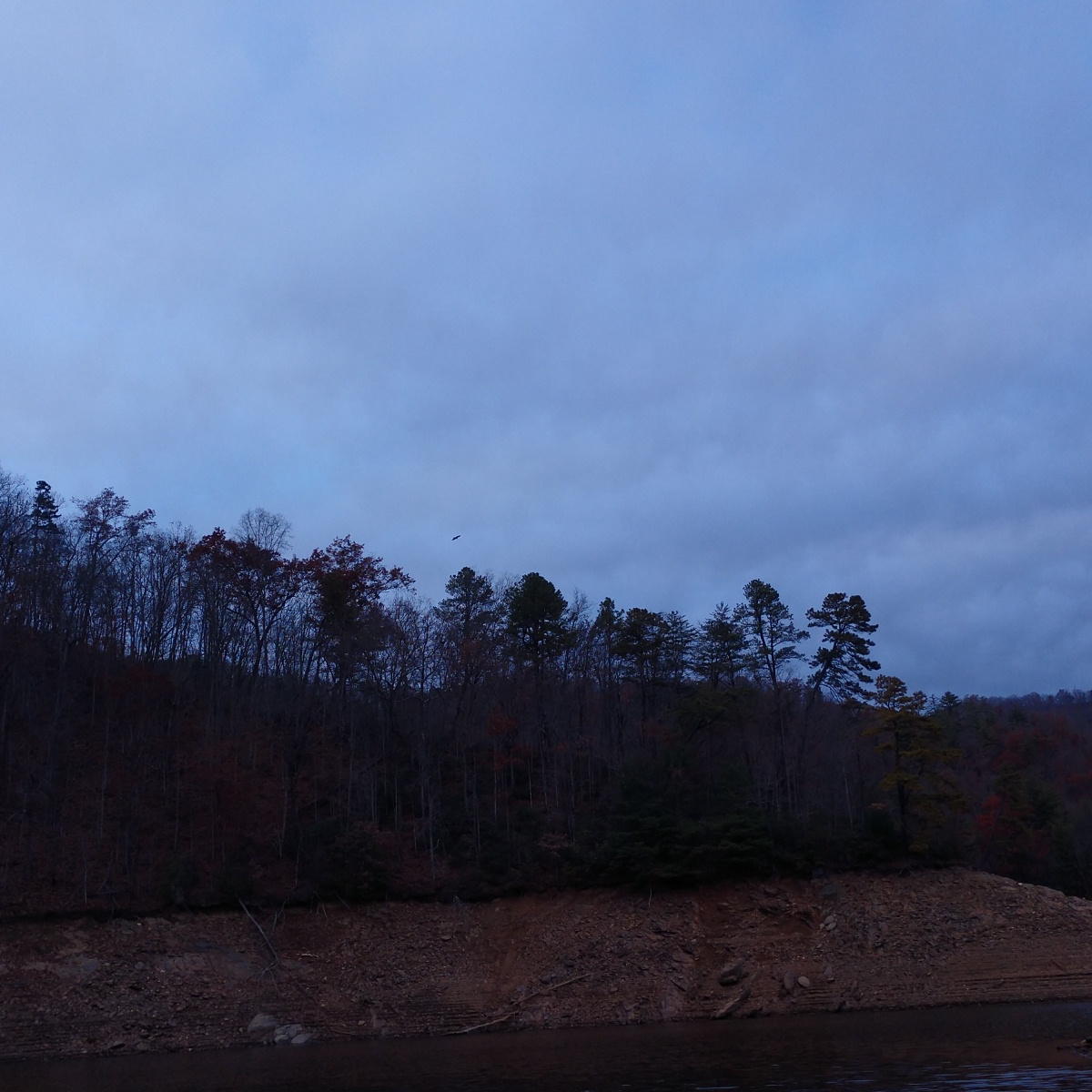 That little blip in the top of the photo is indeed an eagle greeting our arrival at Eagle Creek. It actually flew out from the headwaters of the creek, came down to where we were and circled overhead a couple of times. We took that as a harbinger.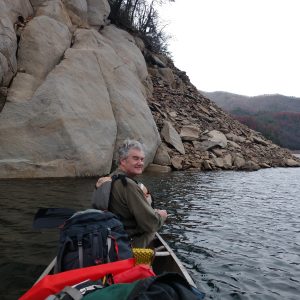 Paddling is cathartic. It is also a different way to experience the landscape and nature of the old Eagle Creek drainage. I was able to share gems with Howard such as the copper mine.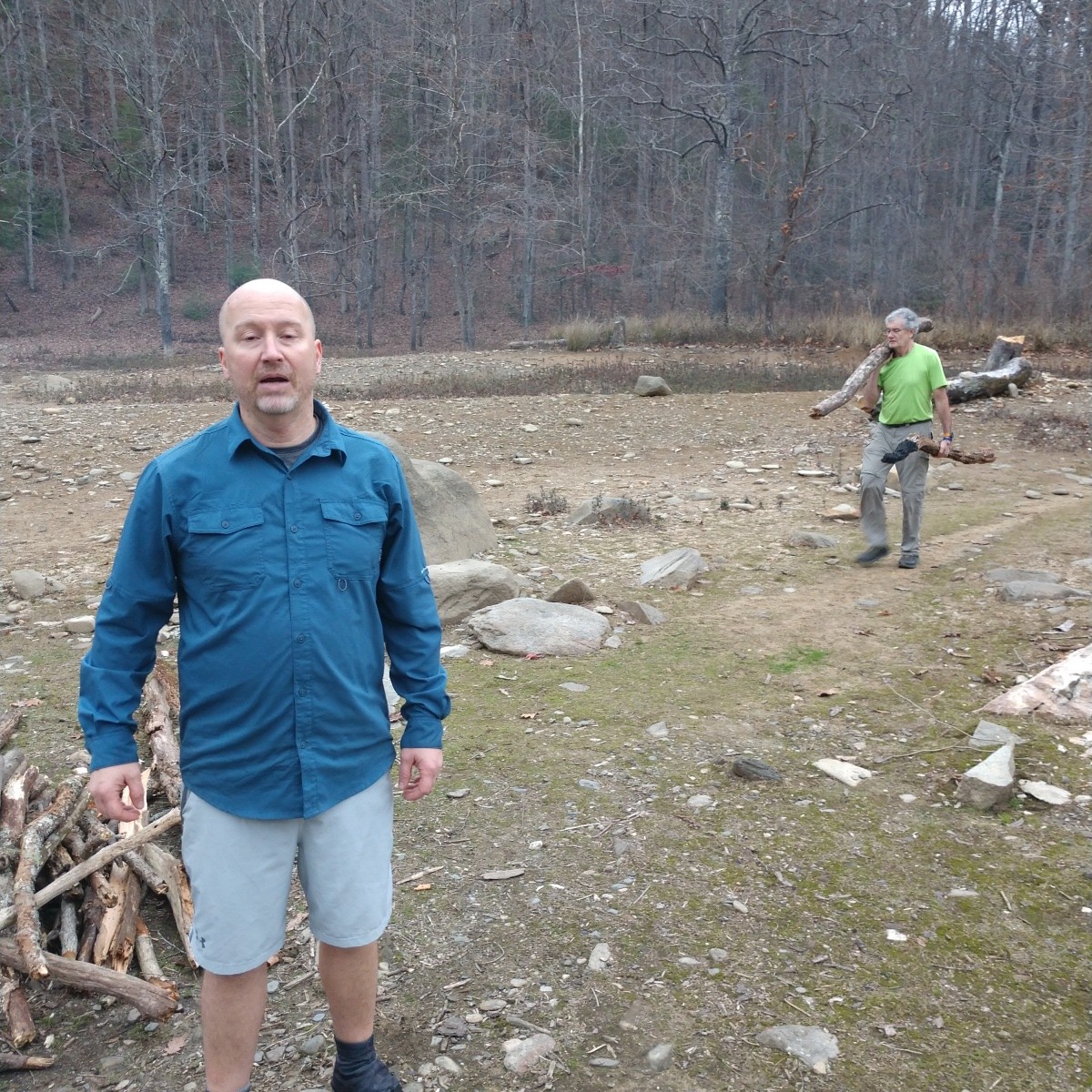 We'd just begun setting up camp when Curt comes ambling in from his auspicious start at 20 mile. In fact, he was so relieved that Curt could not help but to break out in song. His rendetion of "The Hills are Alive, with the Sound of Music" was entertaining.  He rolled up and over the Shuckstack tower to make for a good full day. He was able to drop a cooler full of stuff off at my house for us to ferry over. Therefore, we tolerated the singing. (Benny Hill is doing camp duties in the background as he soon realizes it may be a long night)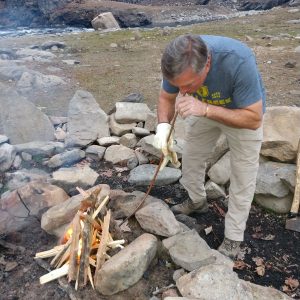 Sithenge was as we left it, virtually undisturbed as if waiting for our return. Richard fans the fire with his improvised bellows device. He toted a fair amount of kit on his small, sit on top, kayak. One of those items included a shovel, take note of this for future reference.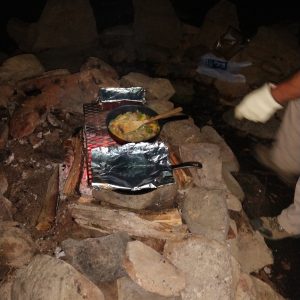 Yeah that's some show cooking there.,friends.  And show cooking brings them out of the woods for show.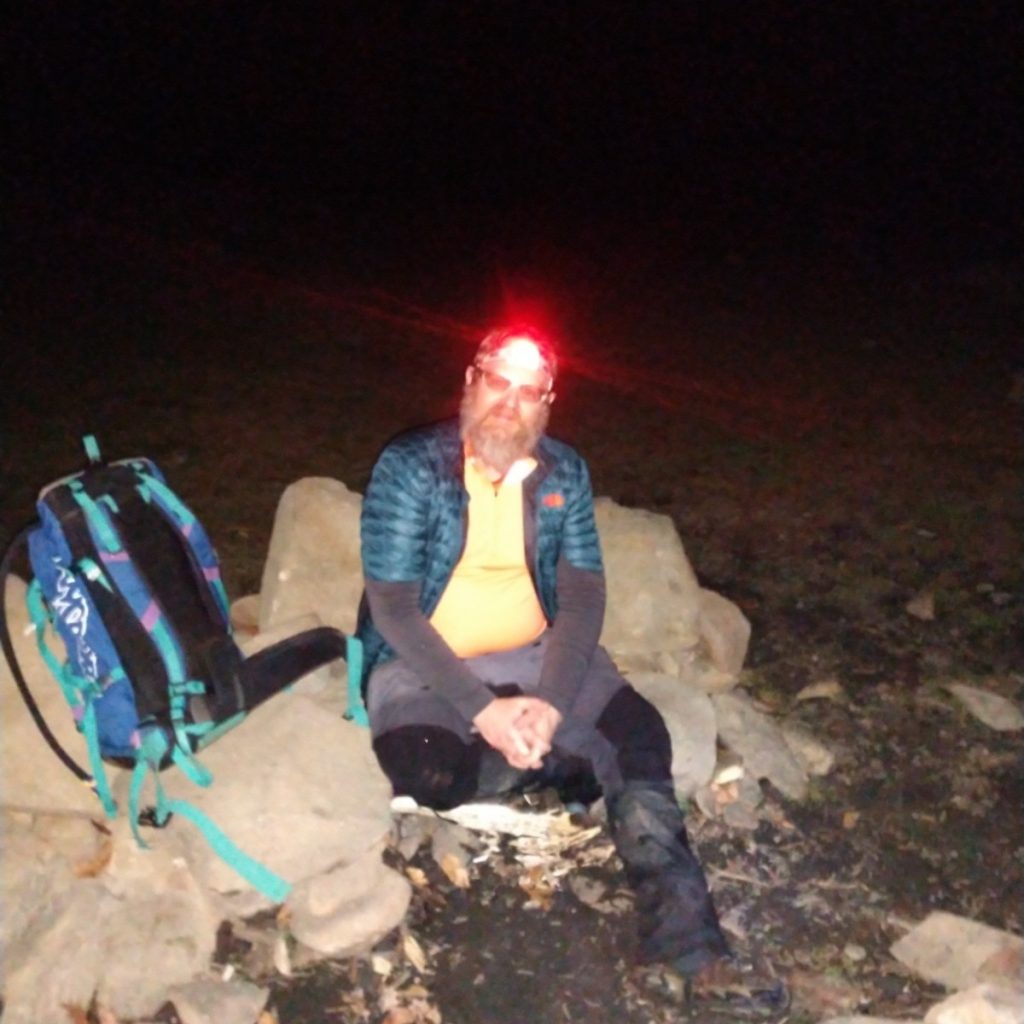 Who do I spy slipping along the edge of our periphery? None other than the infamous Randy Redwood. He can smell the peppers and onions and deer roast. This was a backcountry feast for the ages and Richard treated us like royalty. Randy's timing was impeccable, if not suspect.
With our bellies full and our appetites sated, it was time for a little bit of rest since the rain had begun.  In fact rain would be a nemesis for us the entire weekend. Are we prepared for that eventuality?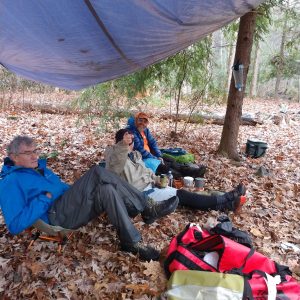 I'd say so. We retired early with the Advent of light rain, a mere taste of that to come.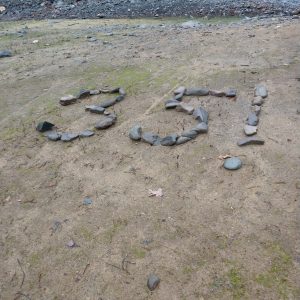 (I later learned that this was to indicated 3.5 inches of rain)
The next morning we took off for some day hiking over towards Hazel Creek.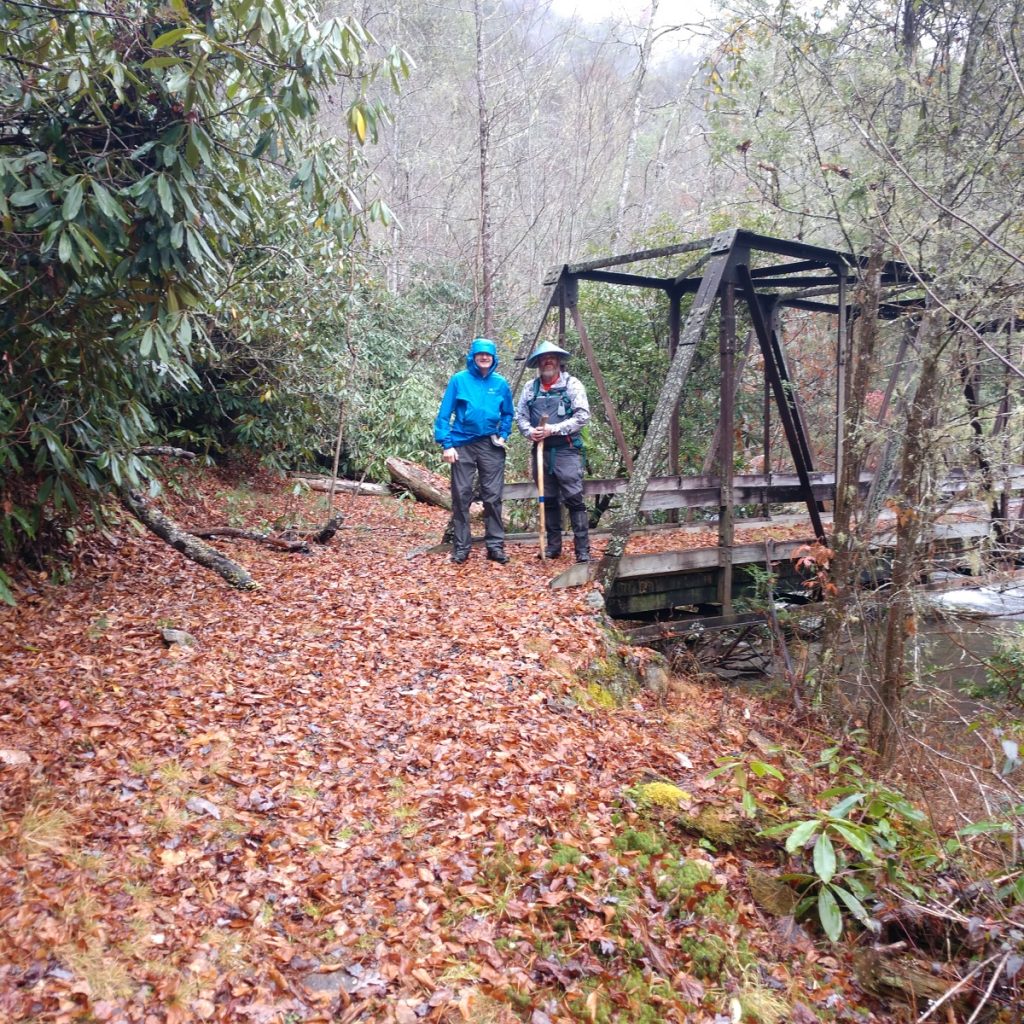 A light mist was no deterrent for Howard and I. We encountered a Viet cong holdout who surrendered without much resistance.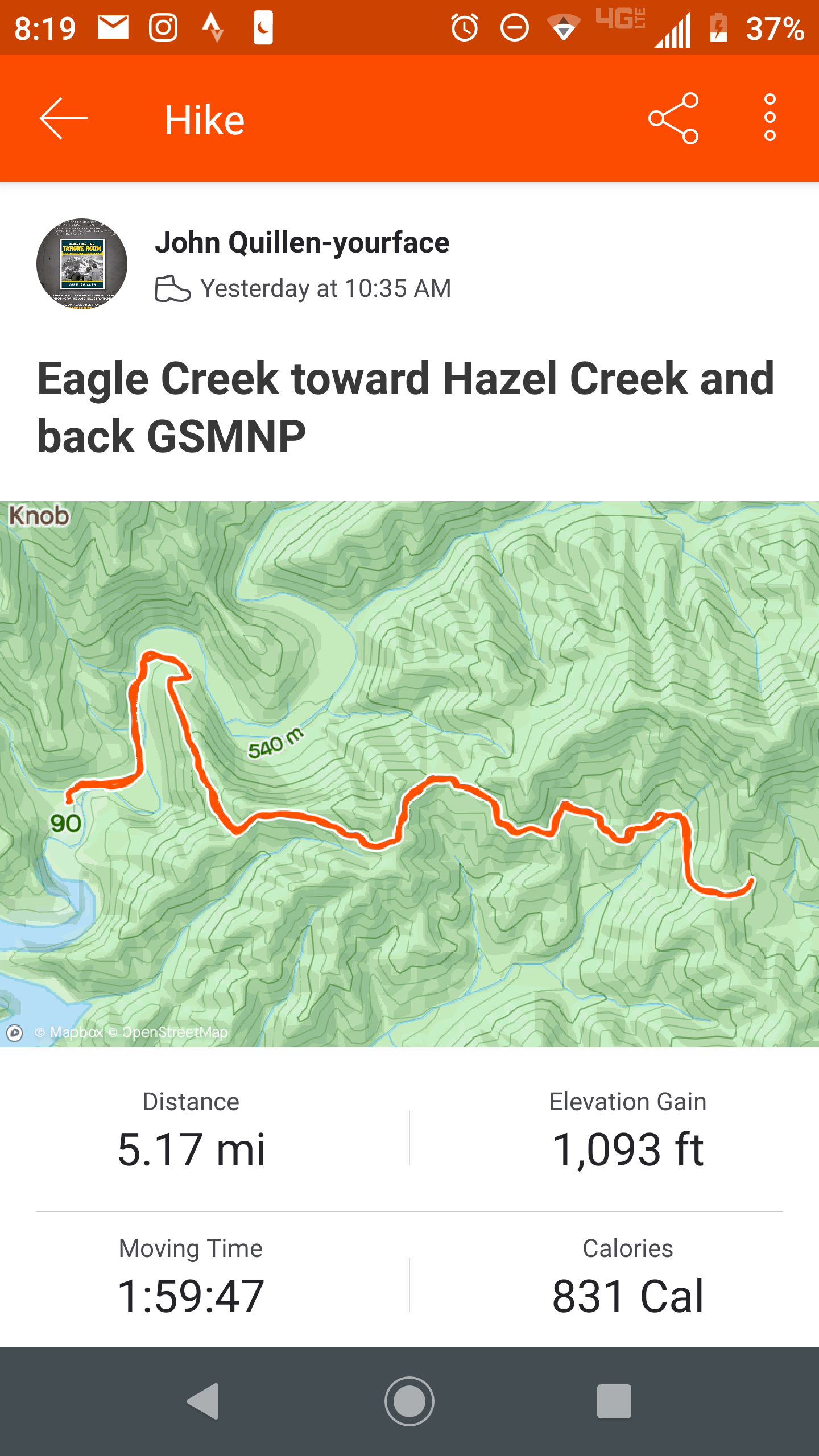 Up and down. That is the Lakeshore.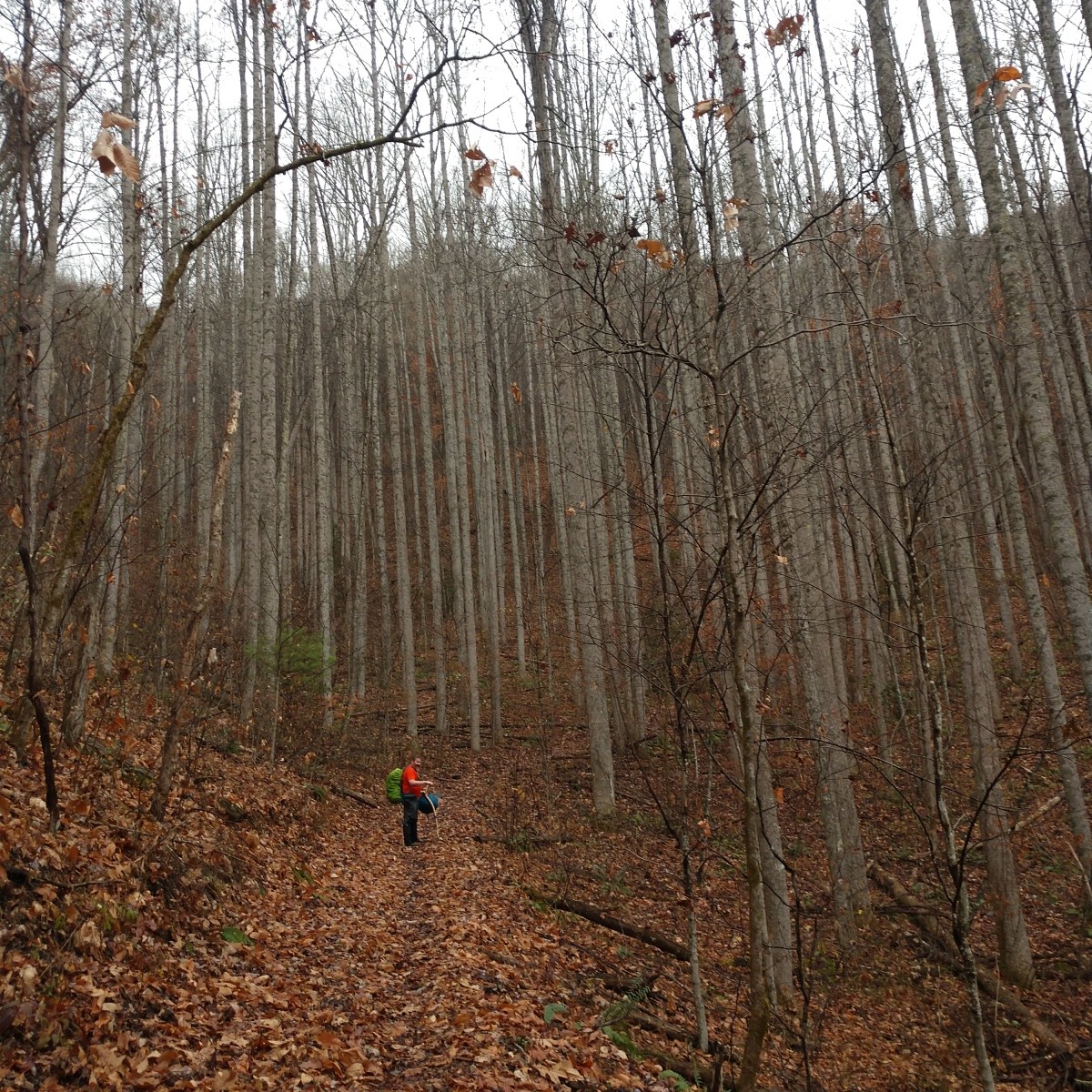 Howard and Redwood pause to appreciate the size of these Ents dwarfing us deep in the wilderness. We were forest bathing sans costume.
The evening saw torrential rains, the likes of which I cannot recall for some time. Bolts of lighting illuminated Sithenge and the mountain was reigning in all her glory.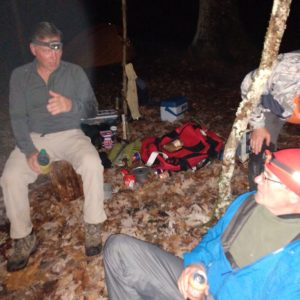 Richard recounts the time he was bitten by a bear at Elkmont. Perhaps you may recall having heard of this experience a few years ago in the paper. https://www.knoxmercury.com/2016/06/15/bear-country-learning-big-inhabitants-smokies/

(thanks for the photo, Howard. Howard's new trail name is Benny Hill(s), by the way, Ballerina Britches.)
Little did Richard realize he would have another story for the ages regarding his dramatic departure from campsite 90 on Sunday.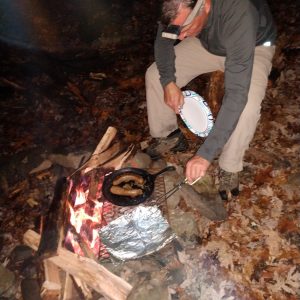 (First he had to improvise a rain fire for more show cooking)
It was a heavy storm. Eagle Creek swelled to flood stage as lightning crashed around our encampment. Our 12/24 foot tarp was draining dozens of gallons per minute as we took bailing duties on rotation. Since Howard is lord of the Admiralty, he was assigned this dubious task, along with Redwood. By 10 pm, all were run into our tents for a memorable evening of non stop storm that would cure anyone of the most extreme ombrophobia flare up,( Myers and Nick.)
The day dawned promising and our storm had passed on through. Richard prepared a delicious breakfast of eggs and sausage for everyone.,  Howard was cracking the whip in his post of lord Admiralty of the Highlander Navy, citing his British heritage and direct lineage to Lord Nelson of Trafalgar fame. We would need the calories for our return in what was expected to be heavy winds. The rain had abated but a cold front was expected to brings gusts up to 45 mph. We didn't want to experience that chop across the Fontana channel, or chunnel, as Lord Howard refers to it.
We hated to leave Richard because he planned to shoot the Eagle Creek rapids in his vessel, loaded down with all the cooking ecoutrements we had collectively enjoyed. Curt and Randy remained so we set sail back toward the marina.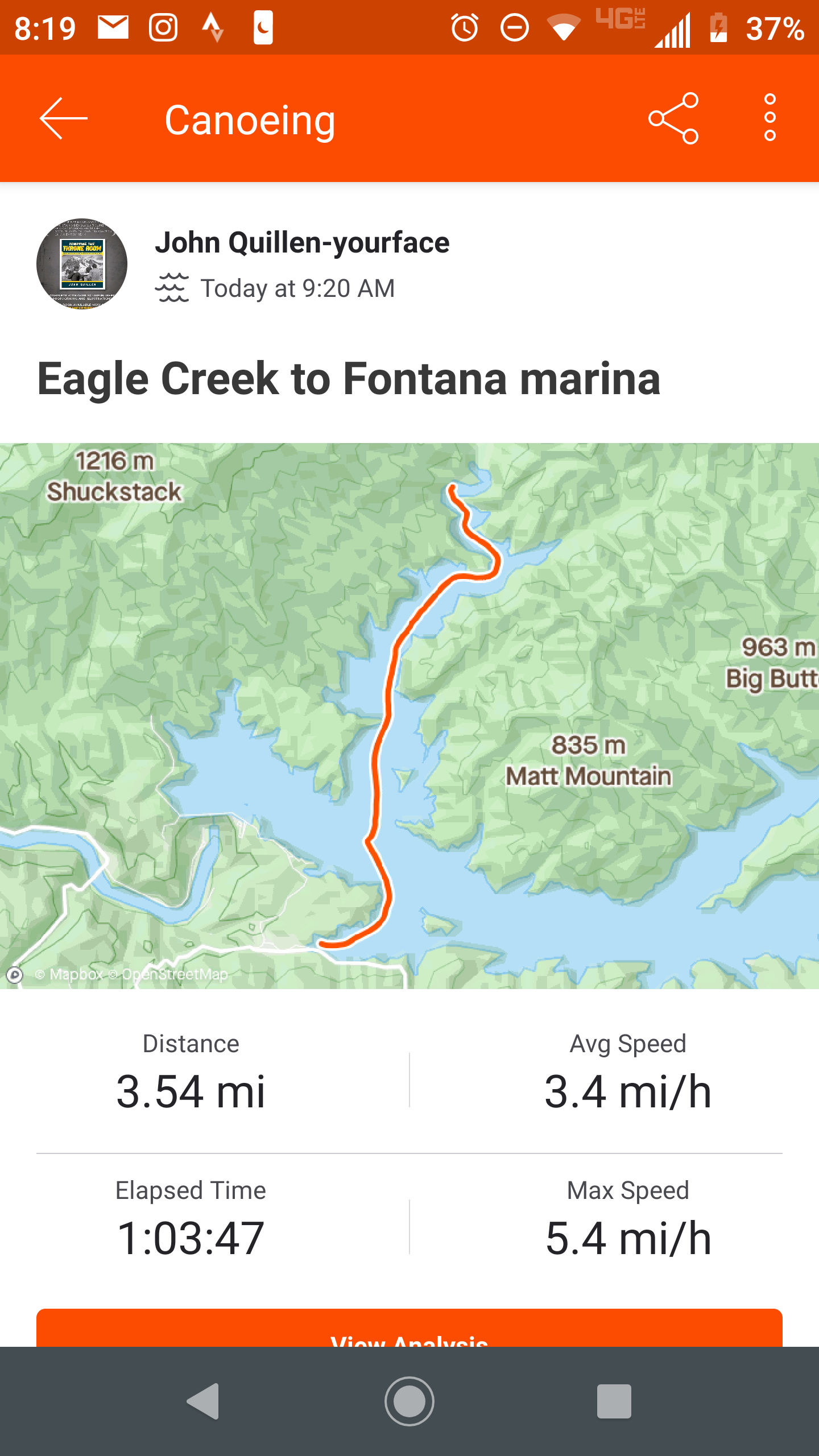 In case you were wondering, it is 3.5 miles paddling over to the marina from Eagle Creek. I know I had always wondered and, thanks to the miracle of Stava, now we know for certain. And good time we made under the leadership of Lord Howard. In short order we had made the crossing uneventfully and were loading the Steenhatchie atop the Slowzuki. By the time we had pulled anchor, stowed our gear and crossed the dam, Curt was rounding the Lakeshore Trail to meet us on cue for a ride back around to 20 Mile.  Everything was going according to plan.  For us, anyway.
Little did we realize that our friend and benefactor, Richard was in a potential life or death struggle on the rapids of upper Eagle Creek. You see, on Saturday, Richard had drug his kayak up to Sithenge in anticipation of shooting the small rapids upon his departure Sunday. Little did he realize the extreme amount of rain we would experience. What happened was he took a serious spill and lost fair amount of gear to include his video camera, coffee pot and, most importantly, paddle.
But, showing true outdoor improvisation, he employed the shovel for his 3.5 mile sojourn back across Fontana.  Now that is one for the ages. He was okay, although wet. It could have been a hypothermic condition but I presume the paddling created enough warmth to offset that potential. So hat's off to Richard. Very thankful it didn't turn worse.
And that is the rest of the story!