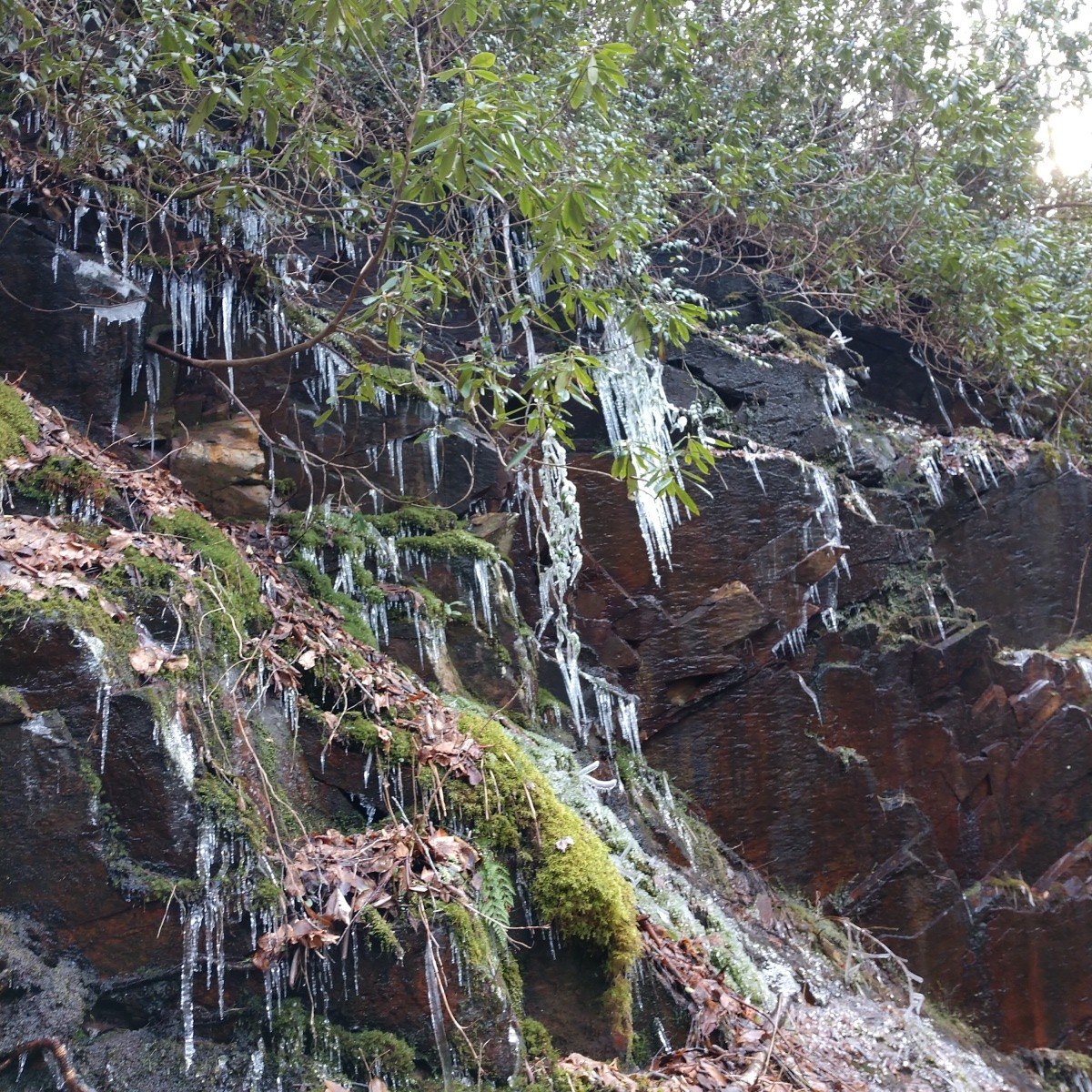 Winter has retained a full grip on the backcountry of the Smokies. But in spite of  the horrible weather that we've had it was time to get out for a weekend. Curt and Brian invited us to come join them on a bushwhacking attempt. Frank had already made plans to go with me and was looking forward to seeing Myers.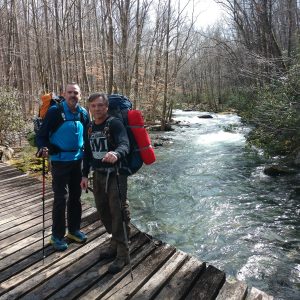 General Beauregard threw on our rope at the last minute and it was good to have Richard in camp.
You may remember him from his much-publicized debacle at eagle Creek back around Thanksgiving when he tried to paddle fight class 4 rapids. General Beauregard lost his battle with the rapids including his coffee pot camera and a lot of significant gear. He actually used a shovel to paddle from eagle Creek all the way back to Fontana Marina. For that he gets an extra merit badge.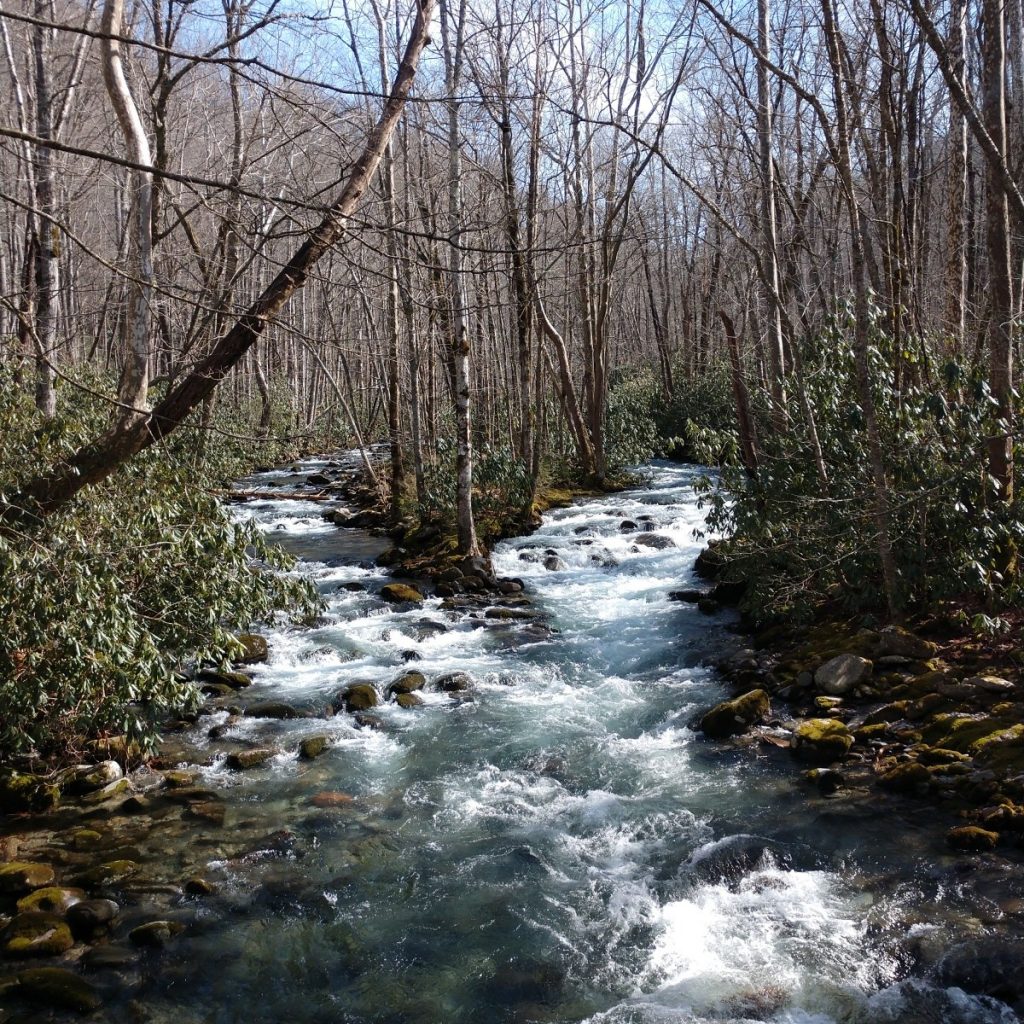 Here is the Big Two-Hearted River spot. I believe that's one of Hemingway's finest works.
Frank is standing here thinking why does Myers hate me? The last time he came down in October Myers was not there either. I consoled Frank and told him that we all still loved him. Especially when he drives almost 5 hours down from Virginia to join us.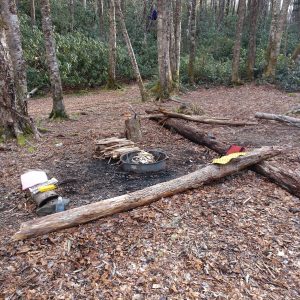 We hiked 7 miles into this camp spot and it was time to start our  wood gathering. When completed, we had time for a small bit of recreation, backcountry bocce ball anyone? Curt and Brian had planned to bushwhack and find the old fish campsite. The water was very high, but we did this several years ago and I am posting a link to that trip here. It was a real walk down memory lane for me to dredge this one from the Highlander archives and you can see why.  http://southernhighlanders.com/Goshen10.html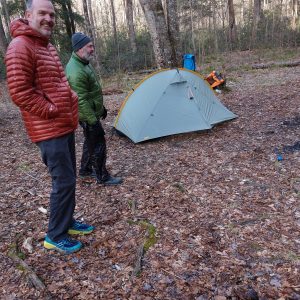 Here, Brian is  trying to get the best of Frank, a former semi- professional baseball player.
Soon we were joined by Suzanne who had arrived in camp early and clicked off several miles to the AT.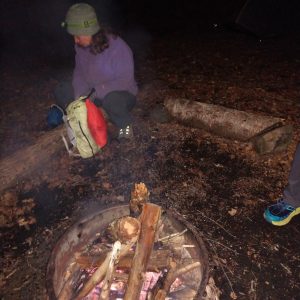 She's an intrepid one, hanging out with all us men this weekend.  I believe it was a tad bit cool for her taste but we look forward to having her join us again soon. Someone said the temperature got down to 24 degrees Saturday night.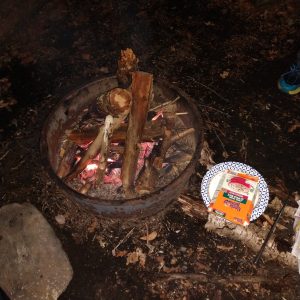 it was a typical Goshen prong kind of fire, not as warm as you would like and a lot of work.
There was another guy who was camped near us who ambled over to the fire about dusk. He didn't say very much but I knew he was from Cincinnati and noticed a patch on his down jacket. It said Everestgear.com. I asked him about it but he kind of shrugged his shoulders. A bit later in the evening someone had asked me about my recent trip to Aconcagua over Christmas. That is when our new friends ears perked up. Matt pivoted around and said, "You climbed Aconcagua?"
I said yes and then asked if he had. He then proceeded to tell me he had made three attempts on Aconcagua. I then asked if he was going after the seven Summits and he affirmed that he already had done them. That is, almost all of them.
Turns out Matt Brennan and I were on Everest at the same time in 2018. That was his first attempt, I later discovered. He went back again to Everest this past  spring.  He apparently was stuck in the notorious traffic jam up top and turned around. Matt will be returning to Everest again in a month for his third attempt and I wish him much success. He's already completed all 6 minus Everest. He obviously has great tenacity and I know many who were able to summit on the third attempt. It is the charm for some peaks. Here is a link to a interview they did with him.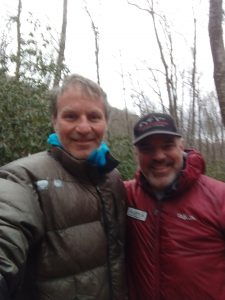 That's Matt. We had a lot to discuss obviously. How strange to run into someone in the Smokies backcountry with that kind of climbing resume that was on Everest with me in 2018. He has two mountains under his belt that I desperately need, Carstenz Pyramid and Mt. Vinson.
As we departed Sunday morning, Matt headed on up the AT to finish a loop that Kurt and I had completed in 2018. I remember this distinctly because it was on that particular trip that I made the decision to tackle Everest myself. Things had lined up for me that year financially and the mountain was calling. Here is a link to that 2018 memory.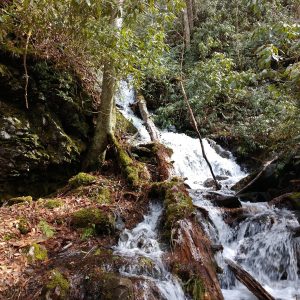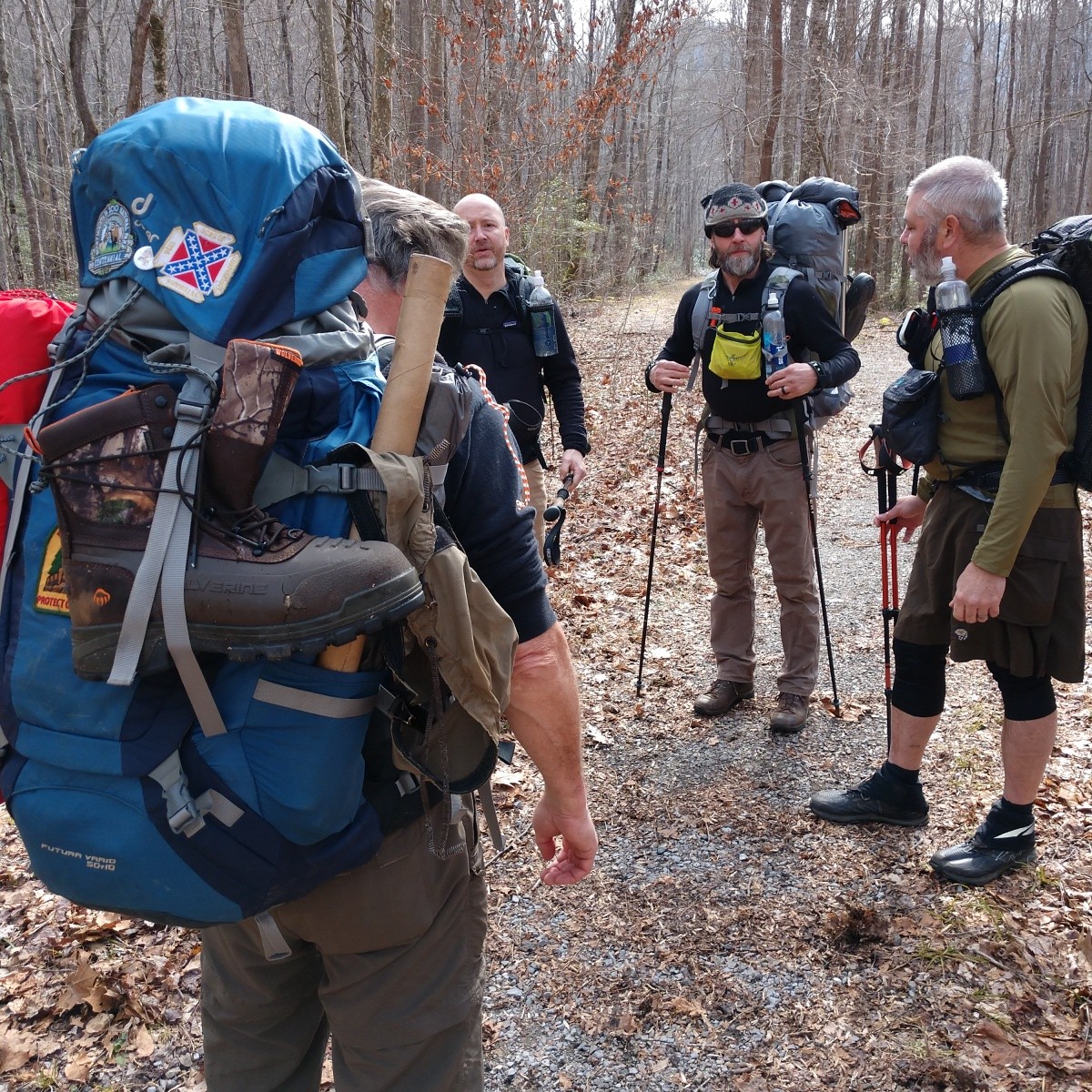 (Greg is a friend of Brian's that we had the pleasure of meeting) Richard is sporting a boot and I am sporting the other. Someone left them beside the creek.
Really felt as if it had been so long since my own boots had hit the good earth in the great Smoky Mountains National Park.
This past month I've been pretty much sick since our returned from Aconcagua. (Howard presently eschews tent camping, having had his fill in Argentina). In addition the weather has been horrible.I had packed and was ready to do a quick hit last Friday with Myers and Nick but decided against it as I don't have a four wheel drive and they needed it to get out of Abrams with the snow the next morning. This weekend was the medicine that I needed. We experienced great fellowship and comraderie.
I will add here at the end, that I feel as if there is a Smokies entrance fee on the horizon. We have been hearing rumblings from our troops in the field. Just today, the Sentinel put out this article which is clearly softening the ground for public support of an entrance fee into the park. If you read the article, you will see that 80% of monies go toward road maintenance. And most folks hardly step out of their cars but for the purpose of defecating on trails, according to this piece. So remember, our forbears had the vision to enact a deed restriction on this road because they anticipated the NPS trying to pull this very stunt. Southern Forest Watch has a copy of the deed restriction on our website.  So get ready! Once the backcountry fee was passed with Lamar's blessing, they started charging for  lightning bug viewing and upped the frontcountry rates. The camel got its nose into the tent and now will be shoving its backside as well.
https://www.knoxnews.com/story/news/environment/2020/02/18/great-smoky-mountains-national-park-how-many-visitors-too-many/4752869002/