Some places are so unique I visit them with regularity. This weekend I was joined by AJ, Richard, Wildcat, lieutenant Dan, Kurt  and Brian.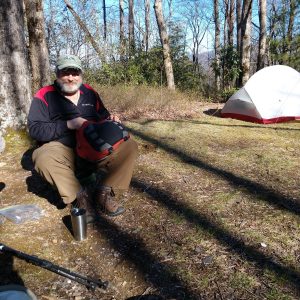 Ole , AJ, aka Otis, came in from Norris Lake Visa via Georgia. It was great to see him.
I began hiking alone up Farr Gap  on Saturday.. I will tell you the road up Citico creek is in as bad a shape as I've ever seen it. My little Suzuki was maxed out and bottoming out.
Anyway ,about three-quarters of the way on my hike to Crowder Branch I encountered Brian our friend from Bob's Bald. He had followed directions and was looking for the campsite at Crowder meadow and was unable to find anyone.
That's because Richard and Wildcat had done the same thing AJ and Jon had done the last time I met them up there.  They hiked down Crowder branch and stayed near the water.
Pretty soon Kurt came in and we were  united up at Crowder branch.  Minus Richard, Lt. Dan and Brian once I pointed him in what I suspected was their campsite.
We had no more than began to set up our tents when we had a visitor in camp.
Bryan DeLay had come up from the Stiffknee route Laurel and I had completed a couple of years ago. He was really looking forward to having some solitude in this beautiful spot. Unfortunately he was about 45 minutes too late. But we all enjoyed each other's company. (photos below from Kurt's Strava, That is me speaking with Bryan.)
 Darkness ensconced us and we found ourselves down at Richard's campsite and their magnificent fire. I spotted this jewel right in the middle of their camp. Very surprised to see one this early at this altitude.It wasn't until I looked up our last trip here and saw the very same flower in the very same spot! As a matter of fact, as I looked back over those photos, it looks like Richard in the webpage that was chainsawing a tree that had fallen across Farr Gap road. Is that Richard? I didn't know him back then, could it be? Richard?  Wouldn't that be unbelievable.  Check it out.
We solved the world's problems underneath an unblemished starscape in the wilderness. As my friend Wayne calls it, medicine.  Don't we need medicine right now that isn't attached to a pharmaceutical company?   I slept like a baby. So did everyone else. After my last night out on Bob's Bald in that incredible storm, it was pleasant to have nothing but star wash to bathe in.
Several of our group had never visited this area. I carry my fishing rod to hit the creek on the way out. Citico Creek skunked me though.
Again the road through and to Citico is horrible.
Brian DeLay is apparently an internet Superstar with his YouTube backpacking channel. Here is a link to that.
If this post seems hurried, it is because I am preparing to leave again for Citico Wilderness in the morning for another overnight. This weather is splendid and not to be missed. I hope everyone is well and getting some outside time.