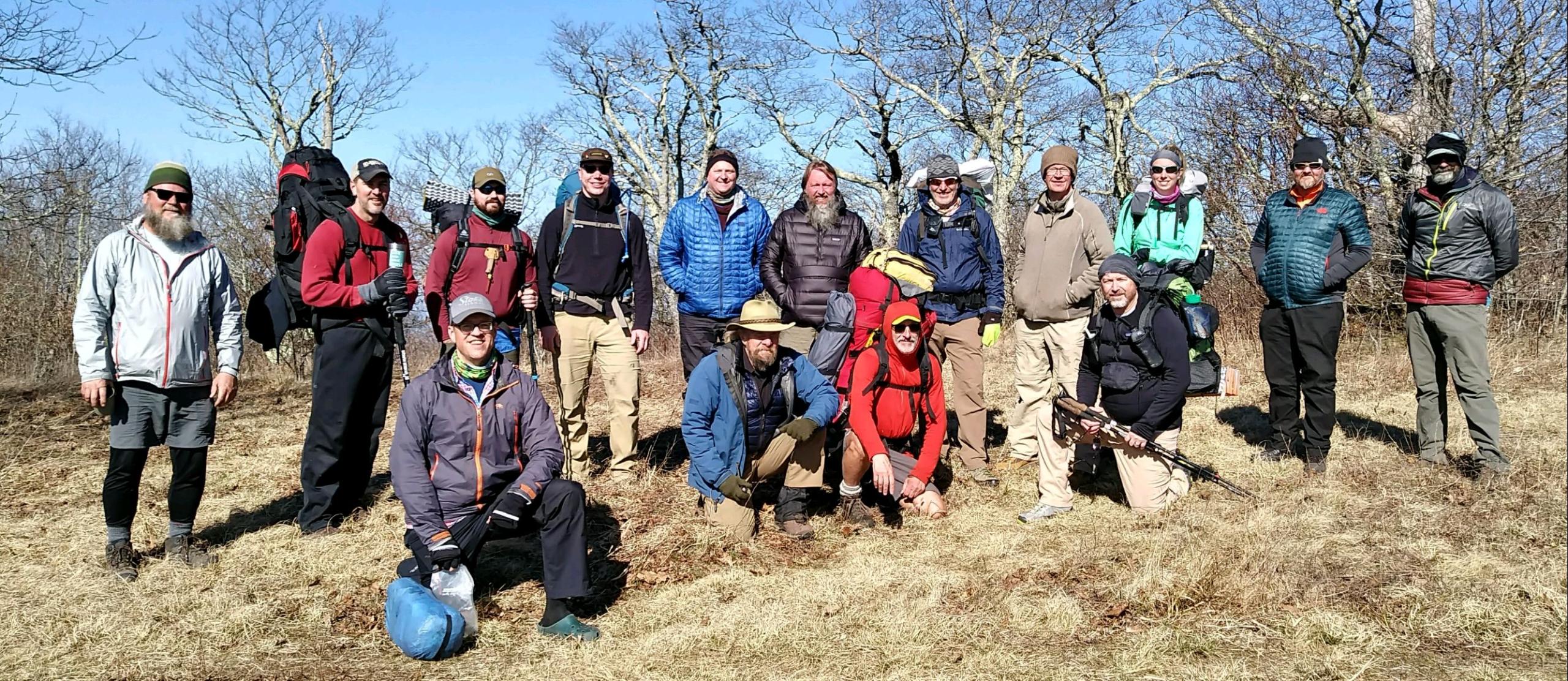 This was an epic for the books. Several months ago, Richard began organizing this event to recognize the remarkable lives of Wildcat and Tipi. It seemed fitting to acknowledge their outdoor exploits. So, He and I set about wrangling these cats. This article documents some of Tipi's history.  From top left to right: Dwight, Jon Chambers, Nick Sexton, Austin Williams, Brian, Robert Carver, JQ, Lt. Dan, Kelsie McNutt, Randy "Redwood" Draper, Scott McClure.  Bottom left to right: "The Flying Sausage", Jimmy Deane, Bert "Wildcat: Emerson, Tipi Walter,  Curt Roberts.  Not pictured, Conrad, Bill Ramsey, Robin and probably some others I have forgotten who were up for Friday only.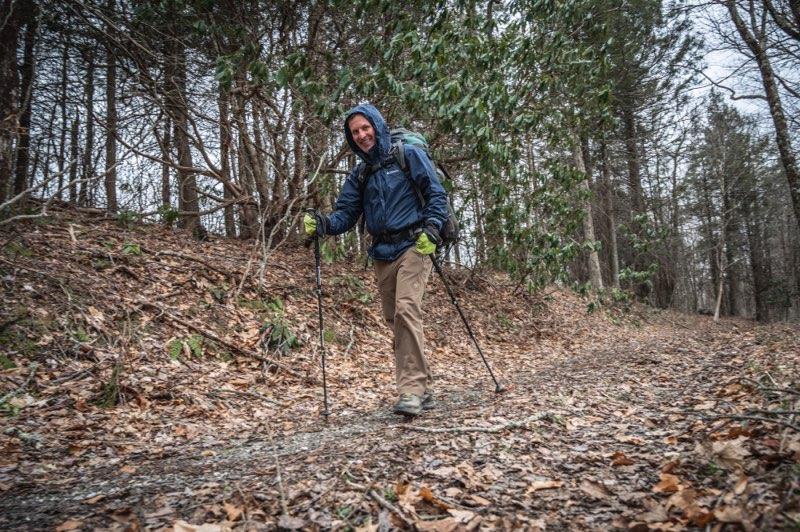 Friday afternoon we arrived atop the bald at dark. Seth Dortch was in tow, so that always means amazing photography. This is one of his. We set off from Beech Gap in the chilly forty degree temperatures. The weather looked perfect for our two night adventure.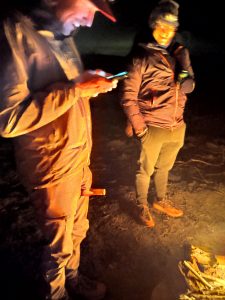 Seth and Jimmy enjoy a hard-earned campfire.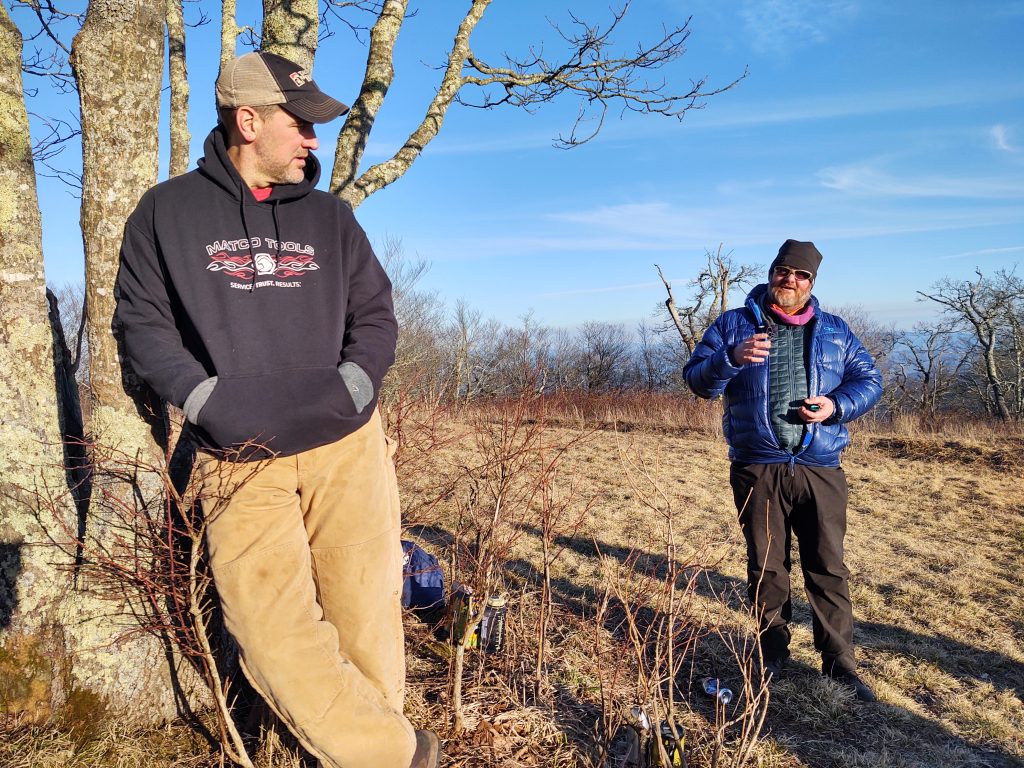 Yes, to the left is comrade Chambers and his right is Randy Redwood sans beard. I hadn't seen him since the Kayak epic on Eagle Creek two years ago. Randy is another one I know solely from our travels throughout the wilderness. It is a small group that frequents these hills and hollers so having us all together for one event was something I will always relish.
I followed Nick, Seth and Kelsie and Austin. We were the last to arrive that evening to a party that was already in full swing.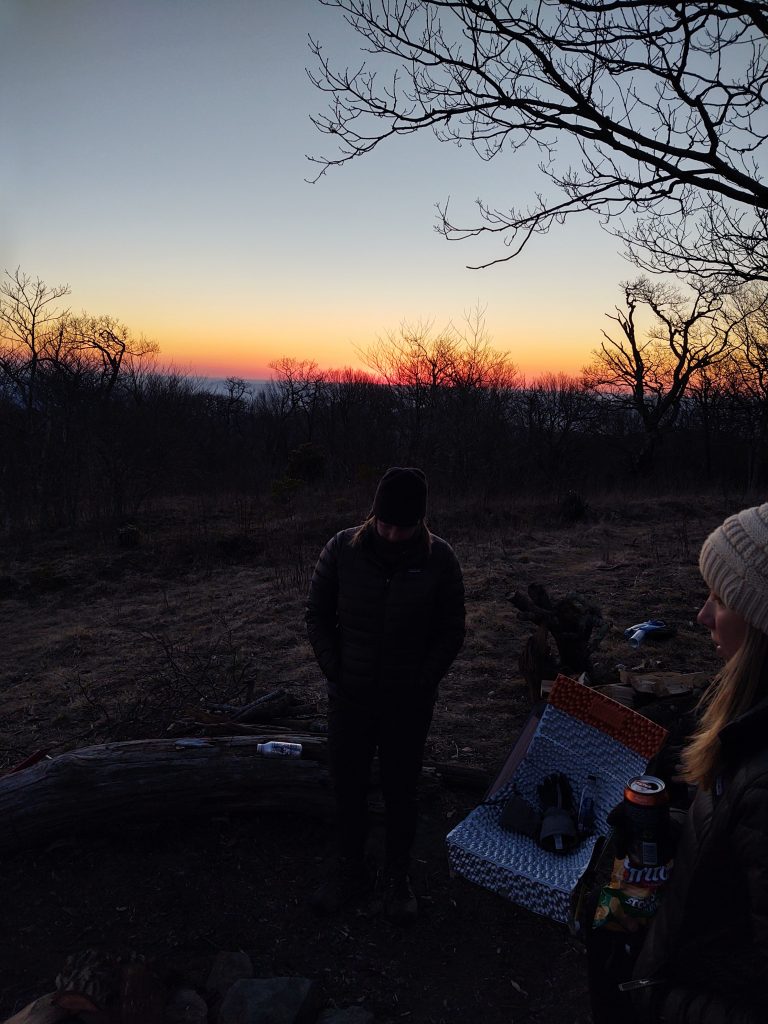 Bob's bald sunsets are their own reward. Kelsie is probably happy to have some female company on this one.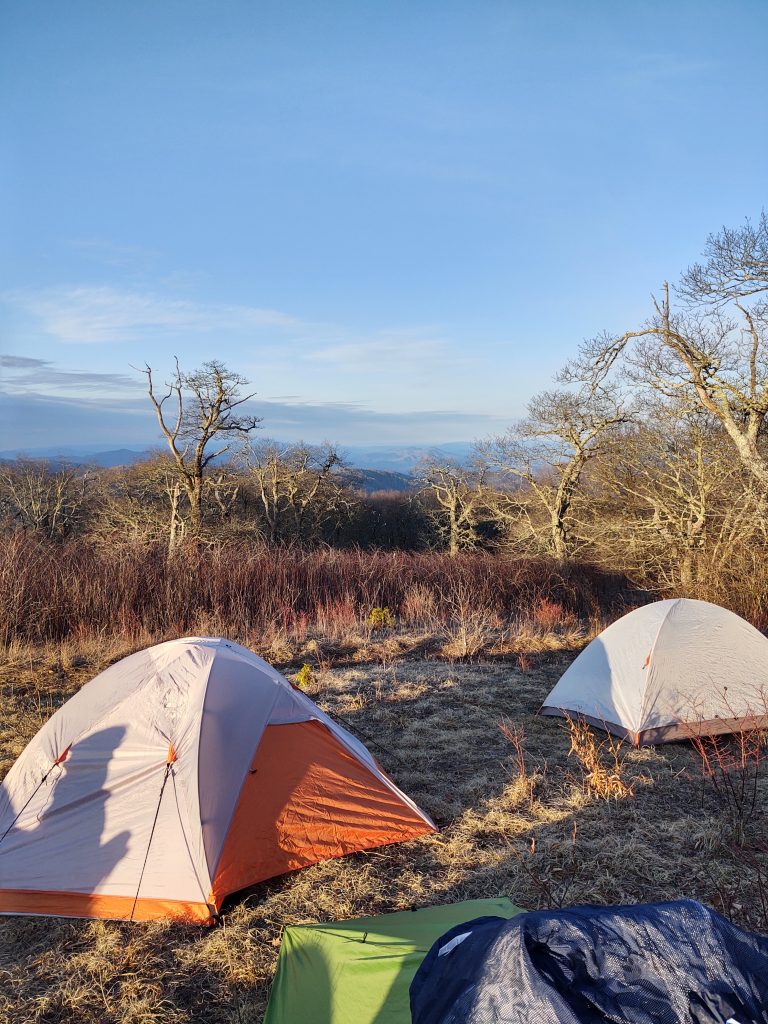 Although beautiful, it was very chilly up there. And on the second night we had another Buick drive by. This time it was Ballerina Britches. He apparently under hydrated on her day hike over to The Hangover. It's easy to do when the weather is chilly. This Buick thing is getting to be a ritual for the SouthernHighlander outings of late.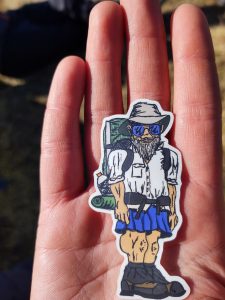 You know you're legendary when they make a sticker in your effigy. This is Bert "wildcat: Emerson in all his glory. He was running around working the bald so much I didn't get to spend much time with him. This story gives you some overview of his Triple Crown exploits.   https://www.knoxmercury.com/2015/05/27/tales-of-the-wildcat-bert-emmersons-hiking-adventures/ 
Bert has been an influence on many an aspiring thru-hiker. He once served as Chaplain of the Applachain Trail. I appreciate his support of Southern Forest Watch and our efforts to eliminate the backcountry fee. His voice was critical to that effort.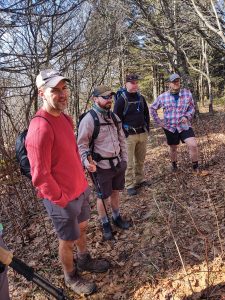 Here, our  group listens intently to advise dispensed by Tipi as we make our way over to the Hao and eventually Hangover.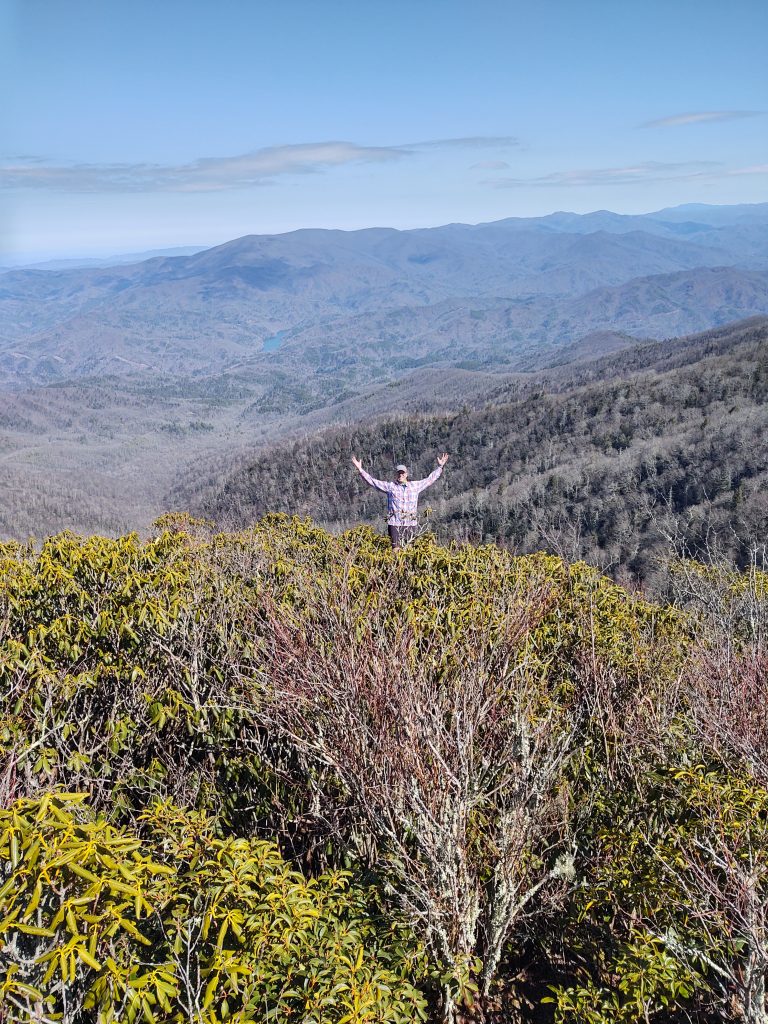 Jimmy Dean makes a scene in the holiest of holies at the bottom of the hang. Our dayhike over to Hangover was inevitable.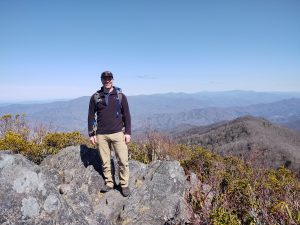 Austin strikes a pose for his tinder profile. It was great to have him and Seth and Chambers along.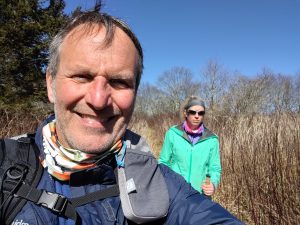 Of course Kelsie's the one none of us can keep up with.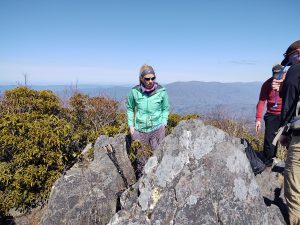 She'll be on top of Rainier before we know it.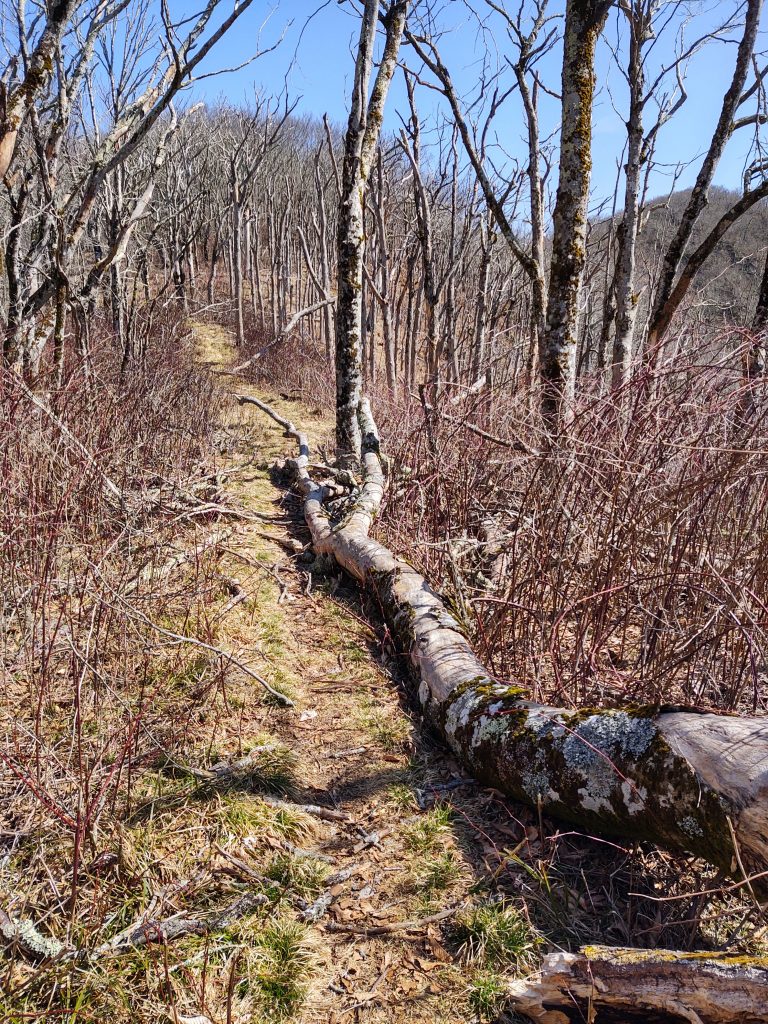 It's always a needed dose of mountain Prozac for me getting back up to the saddle between hangover and the Bob. I think about the events of this past year. Almost  to the week I joined Richard at the Bob one year ago. A huge storm blew in that night; wildcat was there with us. When I returned to my tent nothing was left.
It  had blown clean off the mountain and wrapped itself around a tree with all my belongings inside. Little did I know what metaphor that would hold for the coming 365 days. Now almost exactly one year later, we come together to reflect upon this year and celebrate the lives of two people who have been mentors in the outdoor world. This past year I've seen people lose their health, they've lost their jobs some  have lost family members. I personally feel like I've aged about 10 years in 2020.
So it was sublime to be atop this beautiful mountain peak on this gorgeous but cold weekend. With good friends warm fire and a jovial spirit we said goodbye to the events of this past year. And look forward to the new one.  All the credit goes to Richard for this one. He spent many months planning and making preparations. Richard was excited to bring Tipi and Bert together as they are kindred outdoor spirits. Indeed, there were many folks in attendance who have lived the kind of outdoor experience many can only read about. Tipi embodies wilderness. As I said in an instagram post, he is the Sage of Citico, the John Muir of Slickrock. To spend 21 days alone in the wilderness multiple times per year means you are in harmony with it. You are a part of it. I am envious of his experiences there. He is a gentle spirit and dispenses wisdom like drips from a summer spring at the Hangover. I told him that I relish any amount of time we spend together. He made a comment about the famous mountaineers I have encountered in my travels. My retort was,"I would rather spend time with you."  And that is the truth. There is no ego with Tipi, just humility and truth. So lacking in this world today.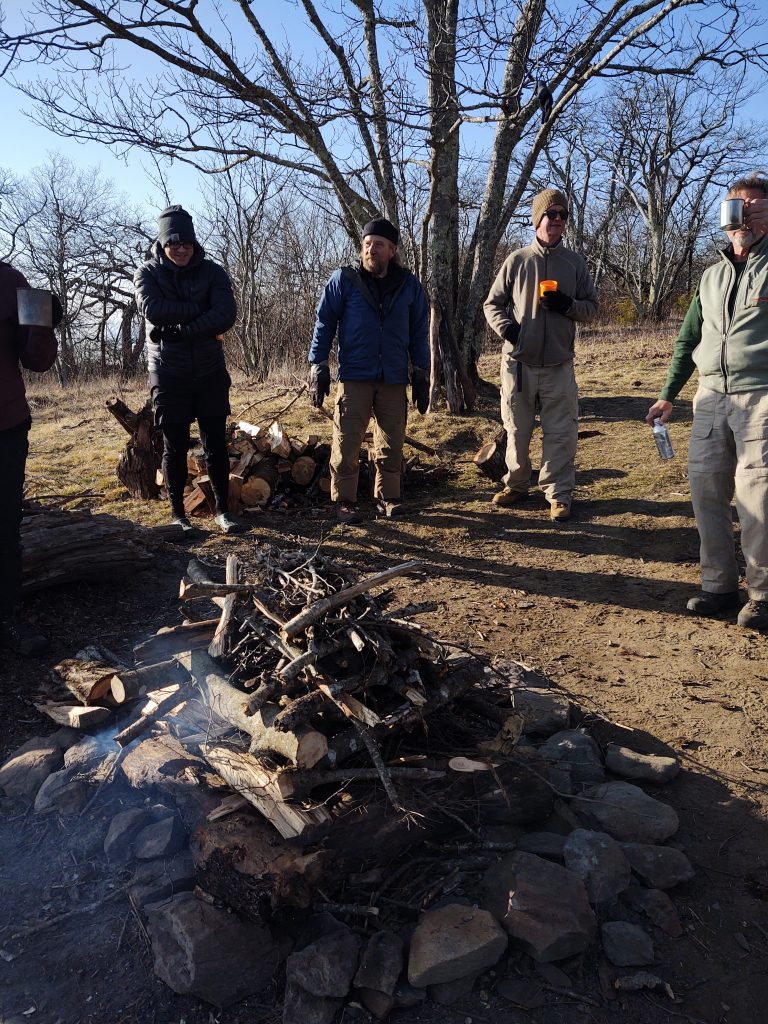 Here, Richard is seen lifting a cup to wildcat. Tipi was shyer about the group ceremony.  Richard ran around like a chicken with his head cut off trying to take care of everyone by cooking and making fire. Even went up the weekend before to make sure everything was in order. I'm guessing we had at least 25 people over the course of two days.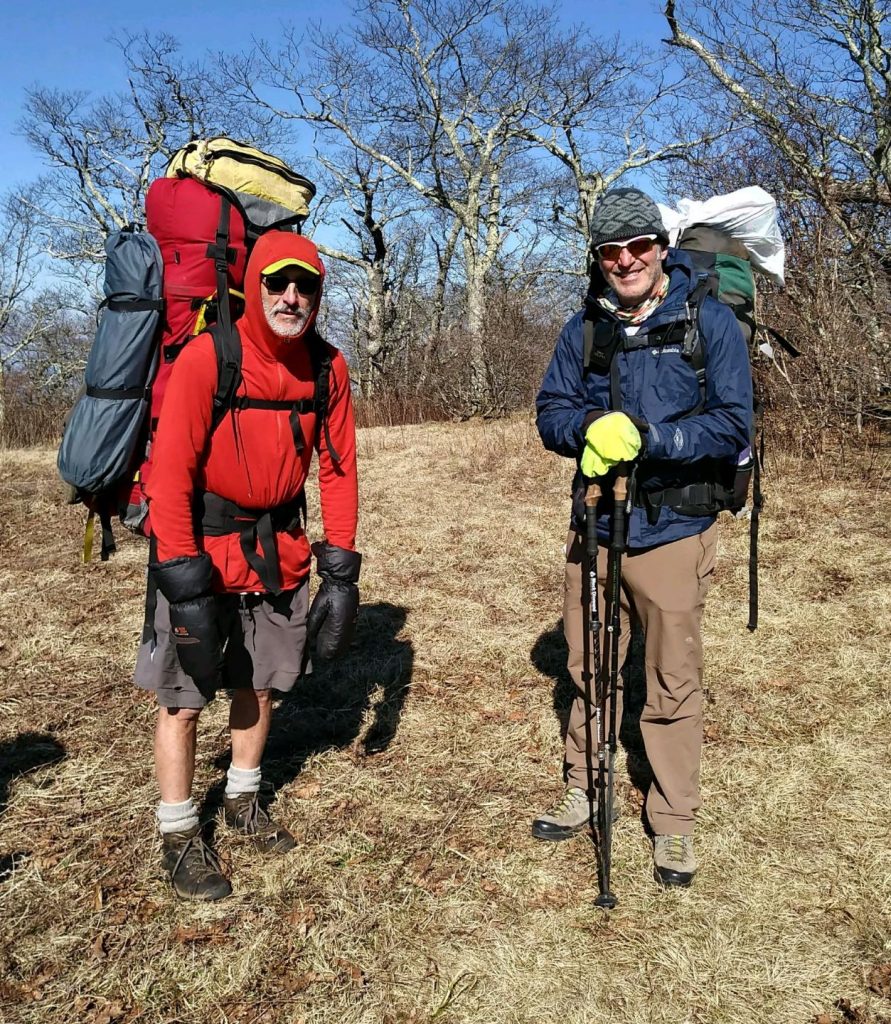 I've lost count of the number of times I've been somewhere in the backcountry of Citico/Slickrock and run across Tipi. It is more than coincidence that the universe brought us together. There are at least two different times when I took a wild hair to go into some little know spot low down on Slickrock Creek or over towards Mill Branch. And here would come Tipi rolling in with his dog. He would say something to the effect that he hadn't planned on dropping down off the Fodderstack trail but for some reason did that day. And I could say the same things. To a Presbyterian like myself, we have another word for this phenomena.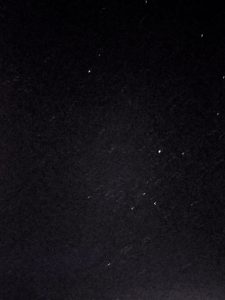 Unblemished starscape on the Bob. It was in the teens Saturday night. Water bottle, freezing, I say.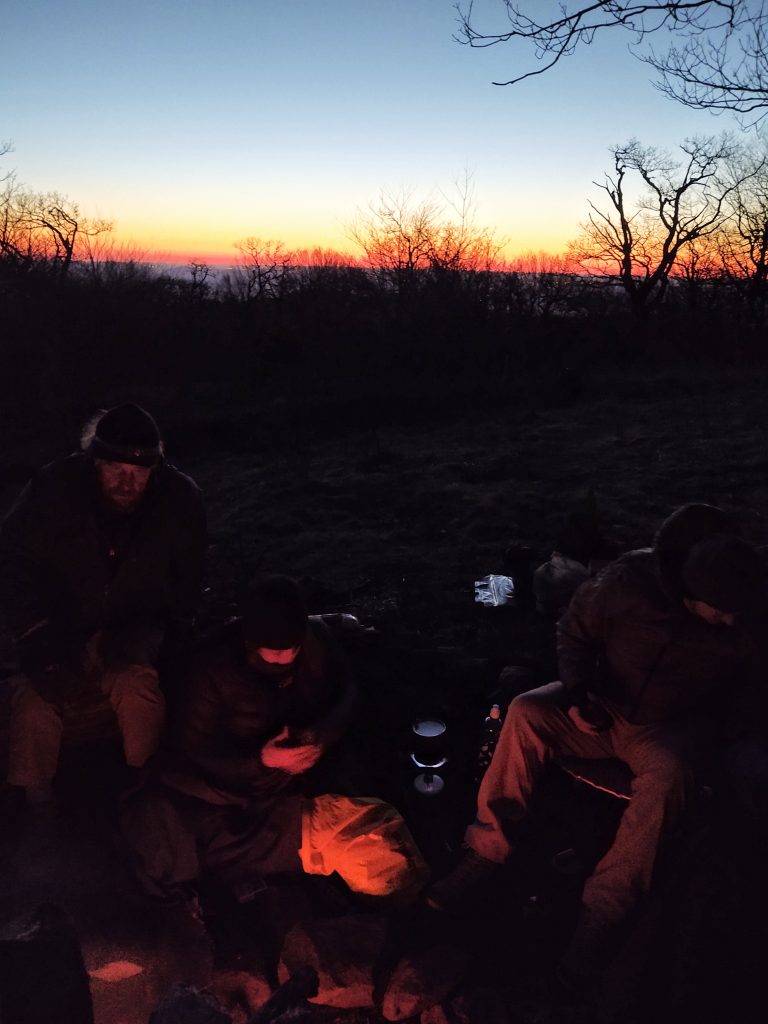 Wildcat enjoys the warmth and regales us with trail tales.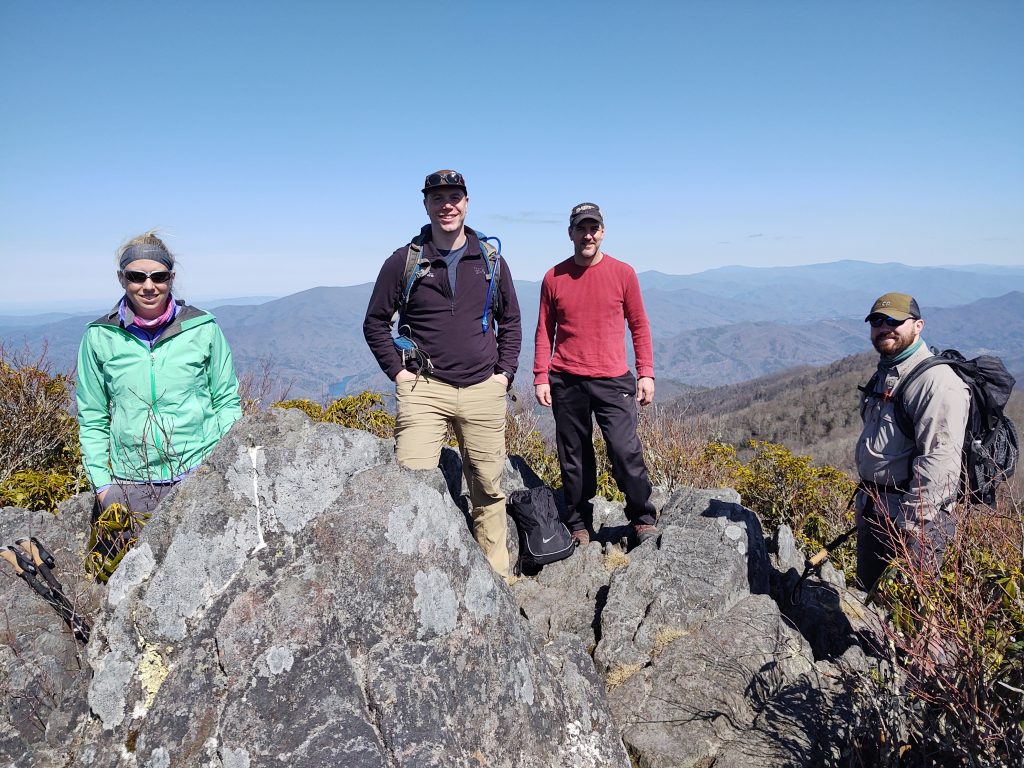 Our Hangover crew.
Definitely an epic. Many thanks to Richard for putting this one on.(the only thing missing was our Muir Faction brothers, Martin and perhaps AJ and Jon)  This trip was a Remedy for one year of blues. So this musical tribute is entirely fitting as I've been on a Crowes kick of late. By the way, ,my friend, Dave Gorman, is brother of Crowes drummer, Steve Gorman.  Random factoid. I worked with Dave at Peninsula beginning in 1988. He is now a teacher in the Knox County school system. Great guy.