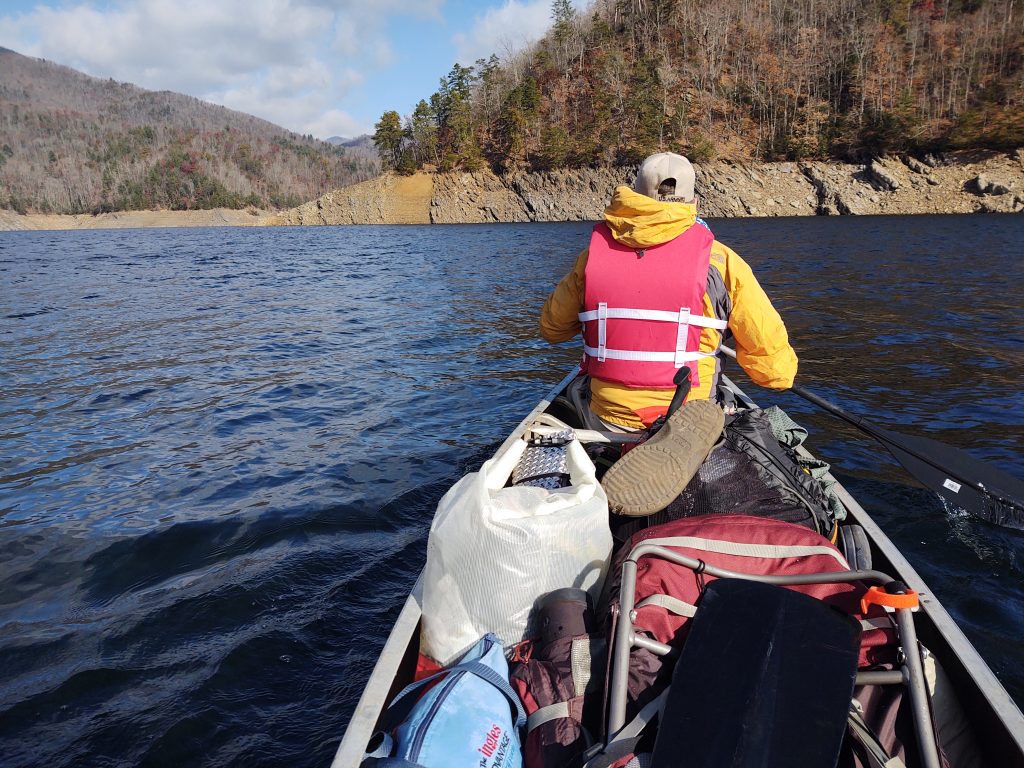 The post Thanksgiving tradition continues. and the Highlander Navy set sail on a very crisp and cold Friday morning. The temperature was in the low 30s. and we made the four mile crossing with a small bit of chop. Yes that's Martin up there at the bow. Hadn't seen this guy in several months. We have been doing Eagle Creek since 2002.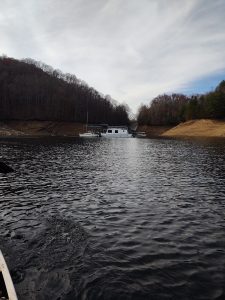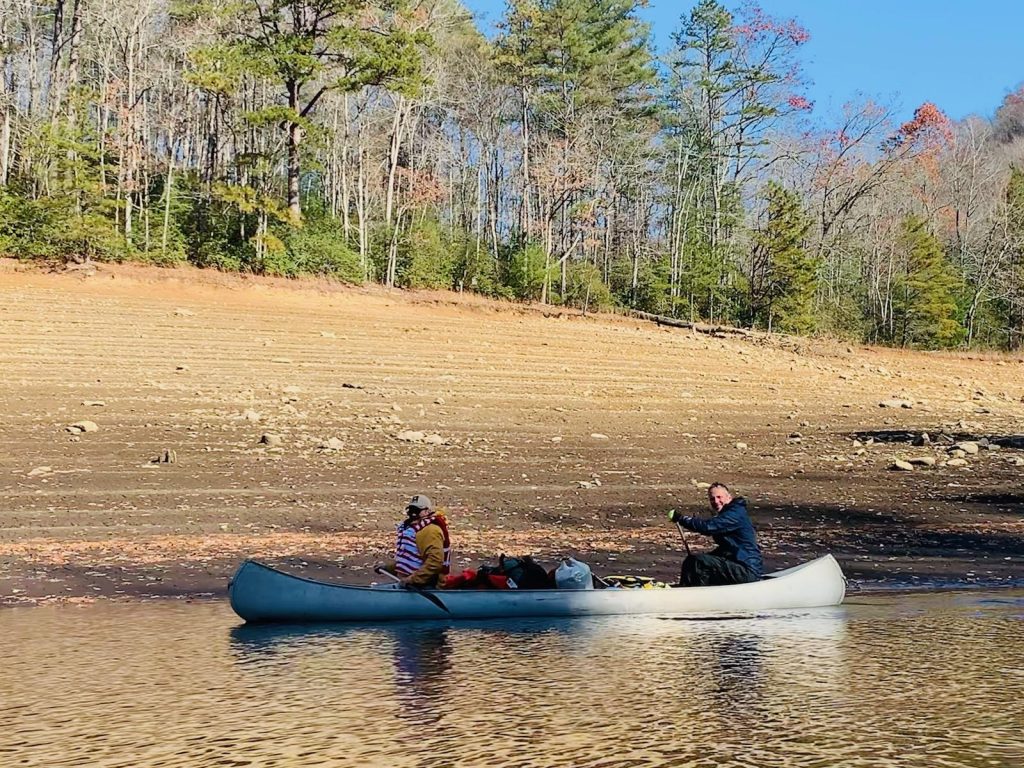 The Steenhatchee sails once more.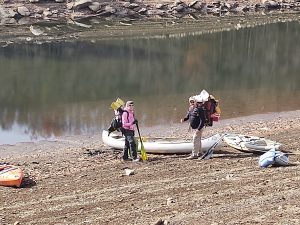 AJ and Kelsie provided their own transportation via kayak. A full Armada landed at the beach head on Eagle Creek. In this picture if we were to zoom you would probably see an object. But our group was too focused on getting into camp as it was cold. There was a lot of fire duty to be completed.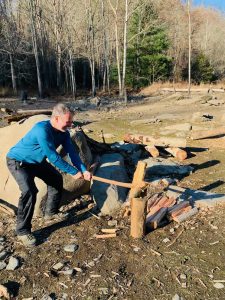 Sit Henge was as we left it. Here, I'm making the wood wrist sized.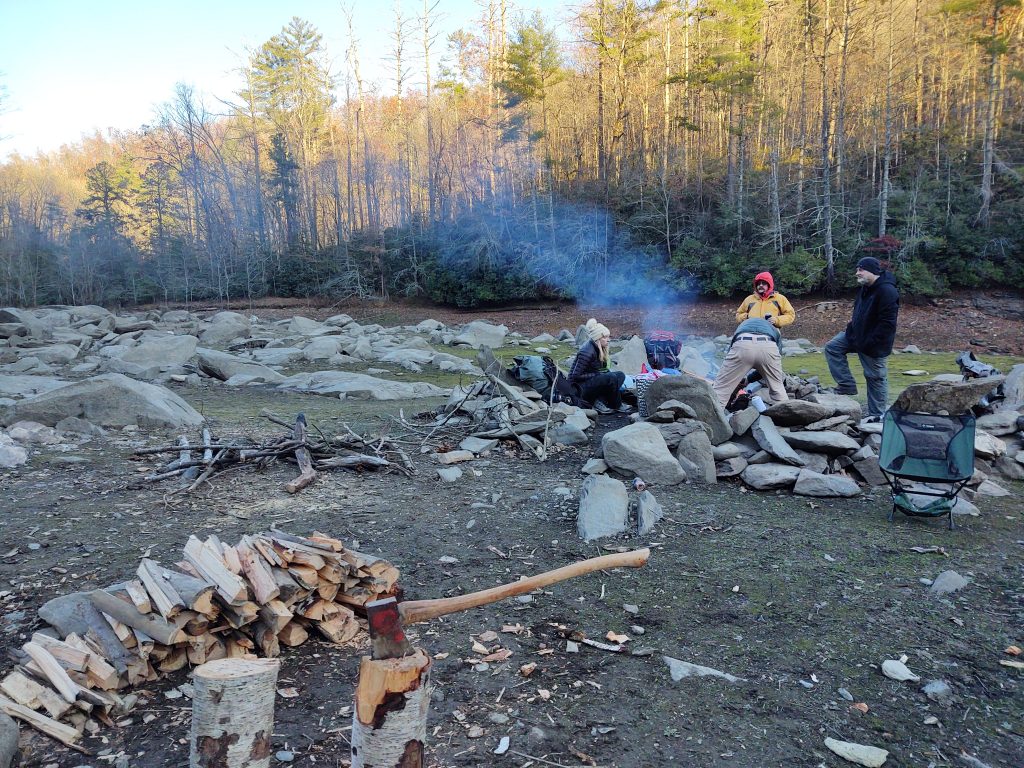 It got into the very low twenties on Friday night.  We were anticipating the arrival of Curt via his kayak.
And before dark he appeared on the horizon. But he was bearing an unusual archaeological treasure. You see, Curt opted to ride over on the shuttle and have them carry his sit on top kayak. He noticed the winds were choppy and decided to play it safe. You also recall that Curt was with us year before last at Eagle Creek. This was the scene of an epic involving Richard. This link will take you to that trip.
http://southernhighlanders.com/new/2019/12/03/eagle-creek-2019-ombrophobia-flare-ups-and-and-some-dangerous-rapids/
after reading that link you will remember that Richard took quite a spill on his kayak on the way out. The result was loss of personal possessions and injury to his arm and no paddle with which to return across the creek. He was literally up the creek without a paddle. the Richard returned several times to try and locate his possessions unsuccessfully. Chief amongst those was his video camera. He even brought a professional diver over on one of those excursions. To no avail.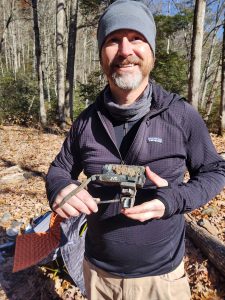 But there sitting in the mud as he disembarked from the shuttle between our canoe and kayak sat this relic. It had to be Richard's. Most remarkable are the number of times Richard has returned to Eagle Creek in futility for that very piece of technology. We were all convinced there had to be nudes on that Sim card.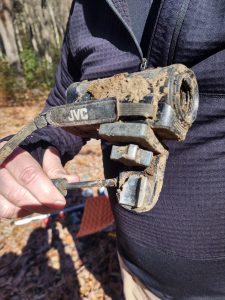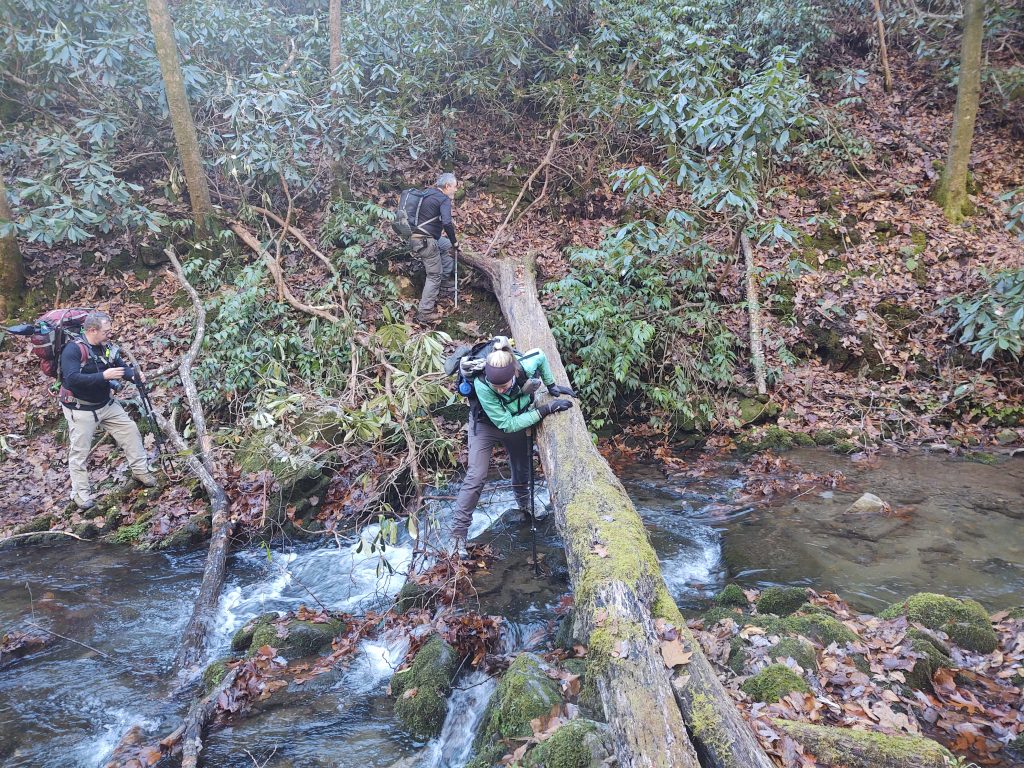 it was in the twenties that night, super cold. But we managed to coax a roaring fire. The next day we were off for our usual ascent of Lost Cove to the Shuckstack tower.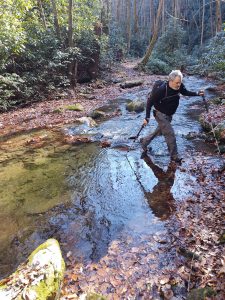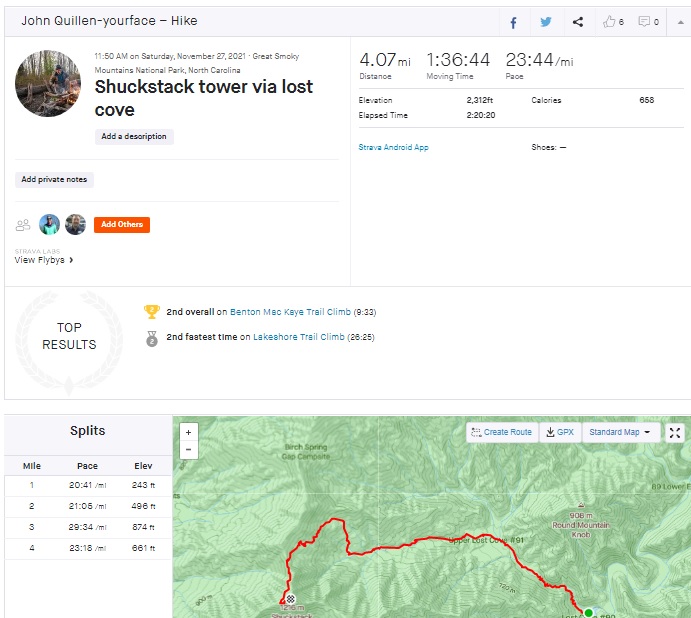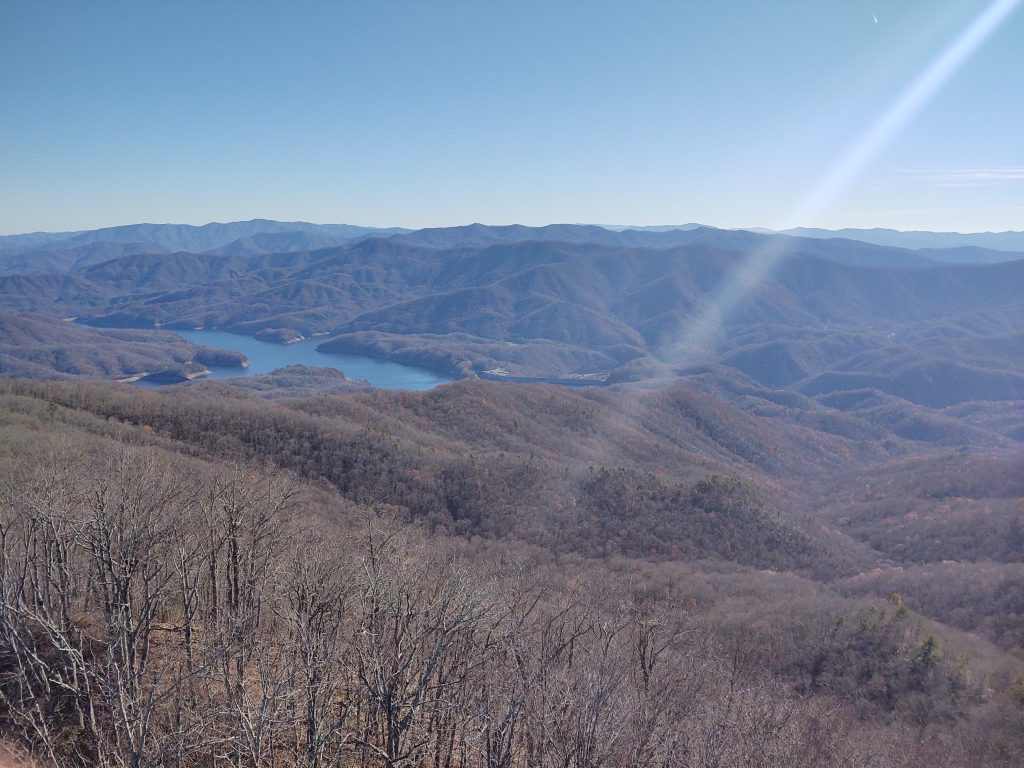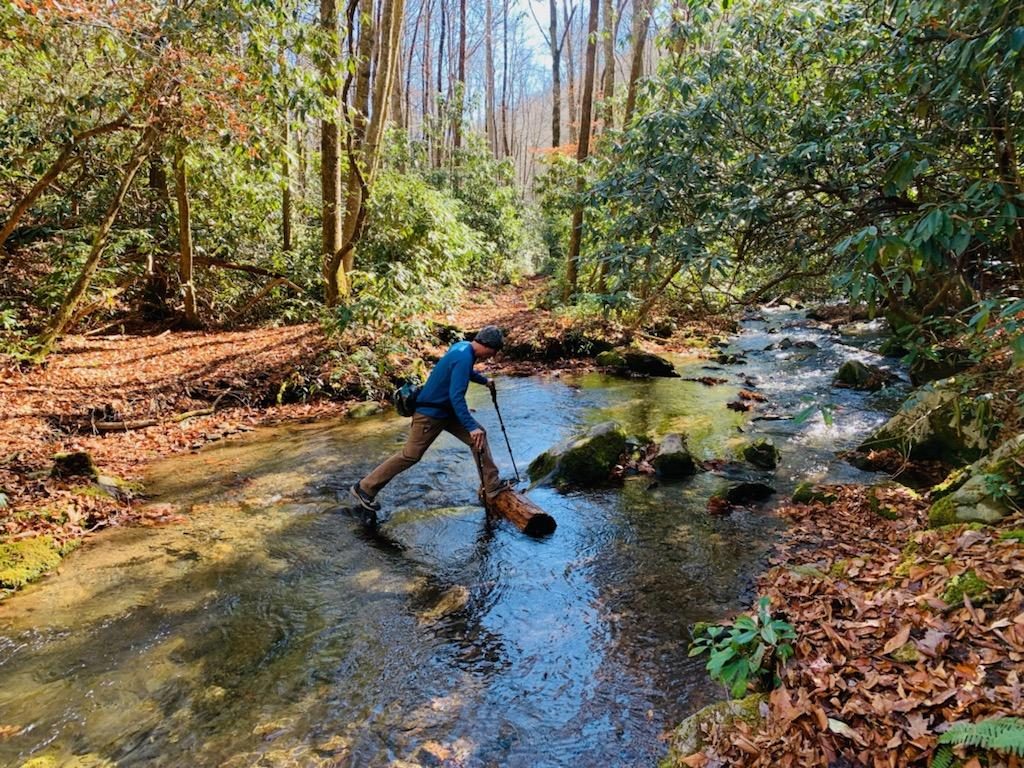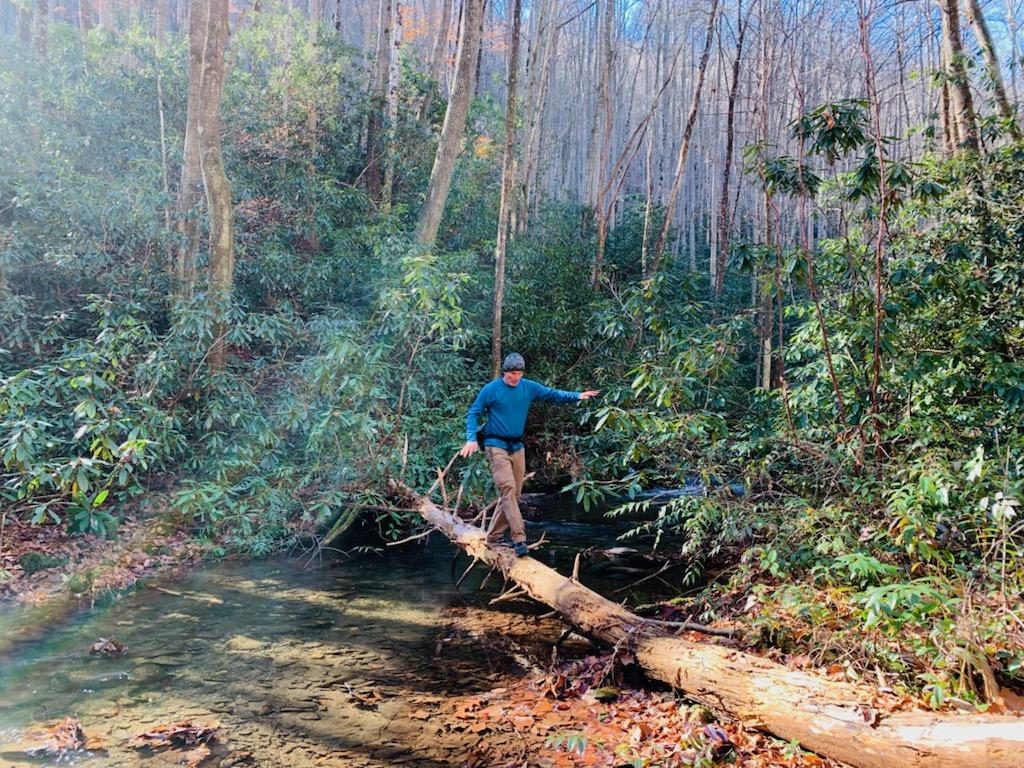 I couldn't wait to get to the tower because I knew there would be enough cell service there to text Richard and find out if this were indeed his video camera. I was able to fire off a text but not receive a response. We had such a wonderful climb up the 2000 ft to the tower. It was a crisp late fall day and the creek crossings were very manageable. We spent probably 40 minutes up in the tower. Just a glorious hike all the way around during our 8 Mile excursion.
Kelsie took these photographs.
On return to a camp, Kurt had been fishing all afternoon but  took a couple of hours to split and chop wood. Real teamwork on this trip. It was a  solid crew of fun folk.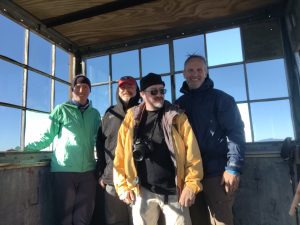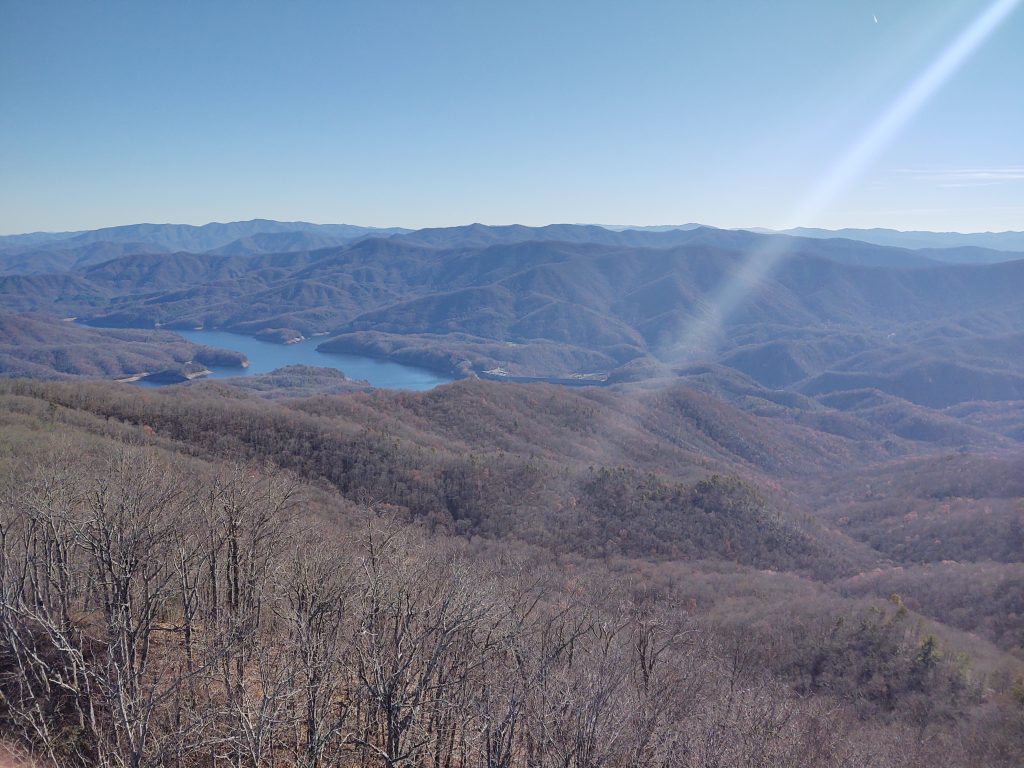 We settled in for another cold evening with a roaring fire. I retired a little bit later 10:30 which is late for me. This Crew stayed up all night till about 2:00.
One of the things I most enjoy about Eagle Creek is lounging about with my percolator drinking coffee. It just seems to taste better back there. Once we got packed up and headed for the launch,  Mama Bear and her Cubs were waiting for us to leave. That was the only real animal sighting we had on this trip. Usually, I paddle beneath the wings of eagles as we come to the mouth of the creek and boar as we ascend lost Cove. But I'll take a bear encounter any day even though it was Curt who saw them.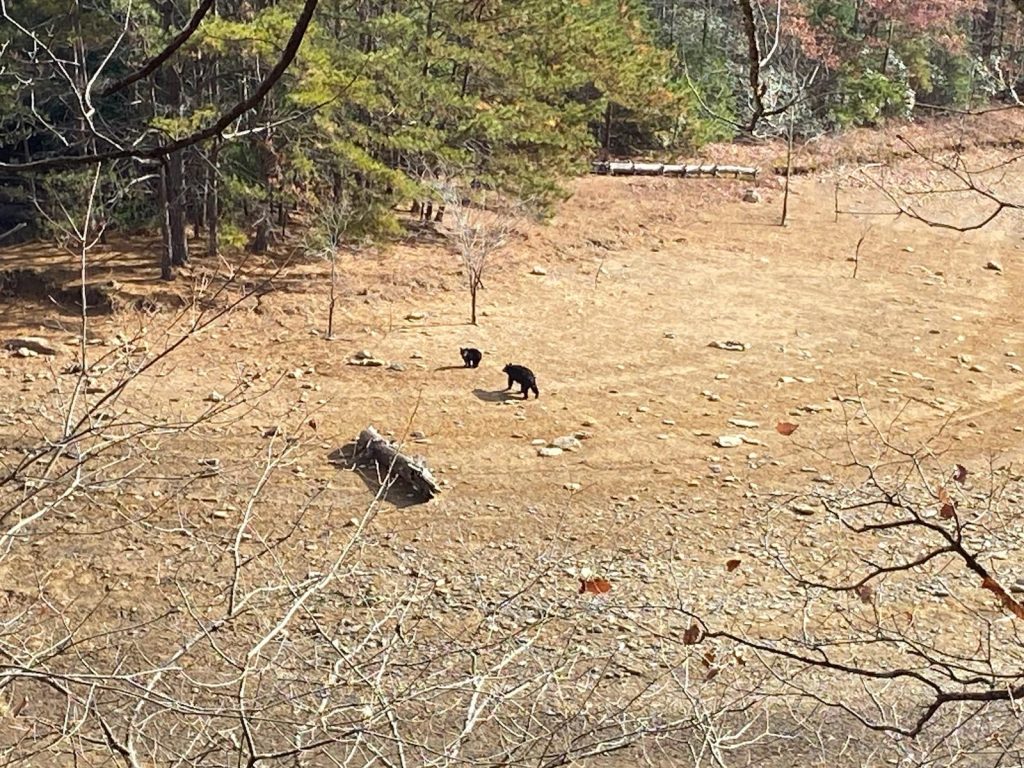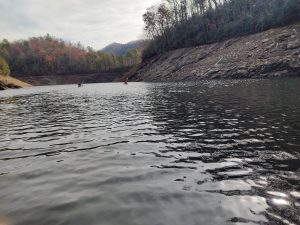 We had quite the sporty -sporty coming back across. Martin and I had to head into the wind. But we all made it safe and snug. A truly epic SitHenge Highlander outing. It just doesn't get much better than that. Richard met us in Maryville to retrieve his belongings. He was fresh off a hand surgical procedure. And delighted for the recovery of his camera. Unfortunately, we had to keep the sim card to prove it really belonged to Richard. At which point he threatened to fight all of us, thus proving the existence of nudes and multiple attempts at retrieval. None of us needed the accompanying mental imagery.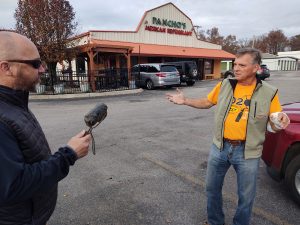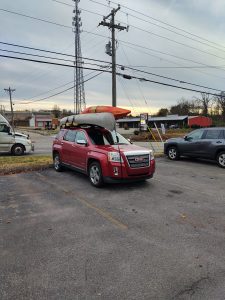 This really was one for the books. Probably colder than any of the ones we've had, but some of the best fires, walking and general outdoor time I can remember.
Let's conclude this week's venture with some classic Flatt and Scruggs covered by the incredible Earl's of Leicester. These guys have nailed it better than Lester and Earl.