This was the final night of my three days in the back country. We ended up at campsite 30.
But it begins the weekend before with Steve McQueen, which is actually his real name. (Frank asked me what his real name was.)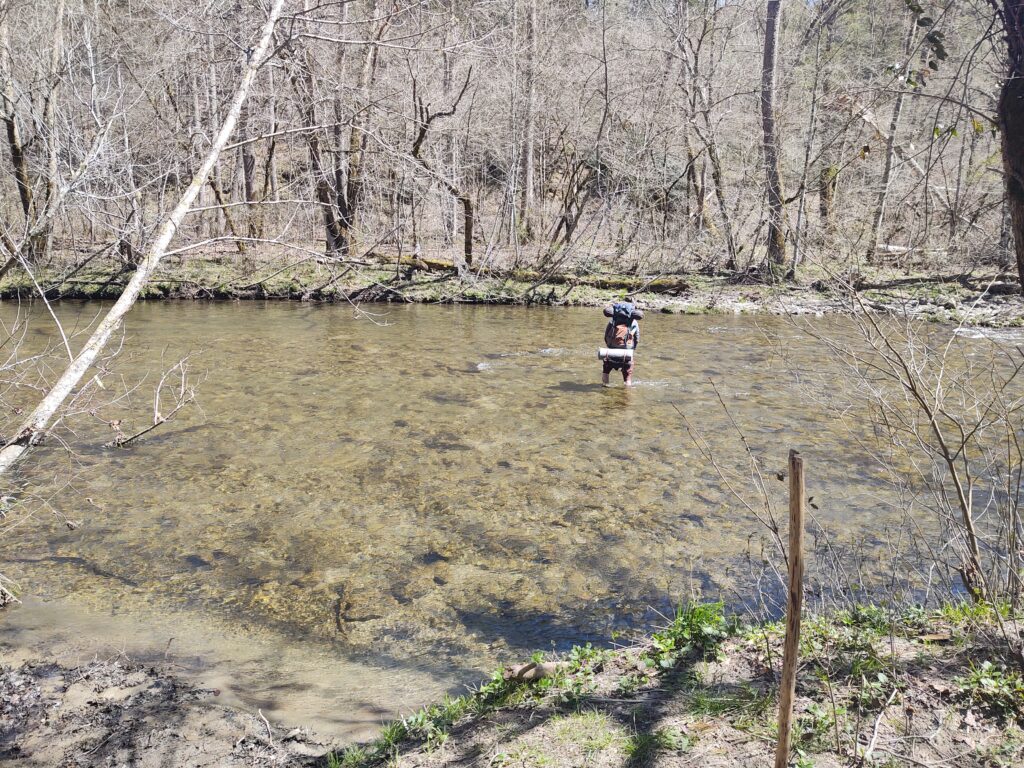 And a ridiculously cold crossing of Abrams Creek. I counted 35 steps from shore to shore. My toes were frozen by number 20.  We had one more to do outside of campsite 15.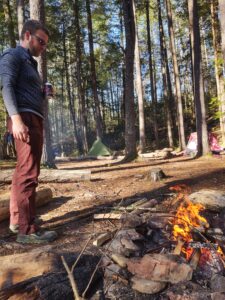 You may recall the heavy winds that precipitated the Wears Valley fires. That's why we had rabbit Creek to ourselves. That and the two cold crossings.
Now fast forward to the following Friday. Frank Whitehead was itching to get out. I hadn't seen him in almost 2 years. We decided to take off Friday and first go up campsite 20.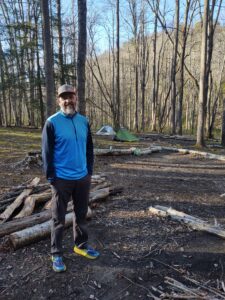 Mr Yo-Yo has turned into Santa Claus. This was the last adventure Frank and I shared. Hard to believe it has been that long. http://southernhighlanders.com/new/2020/10/13/a-t-time-damascus-to-atkins/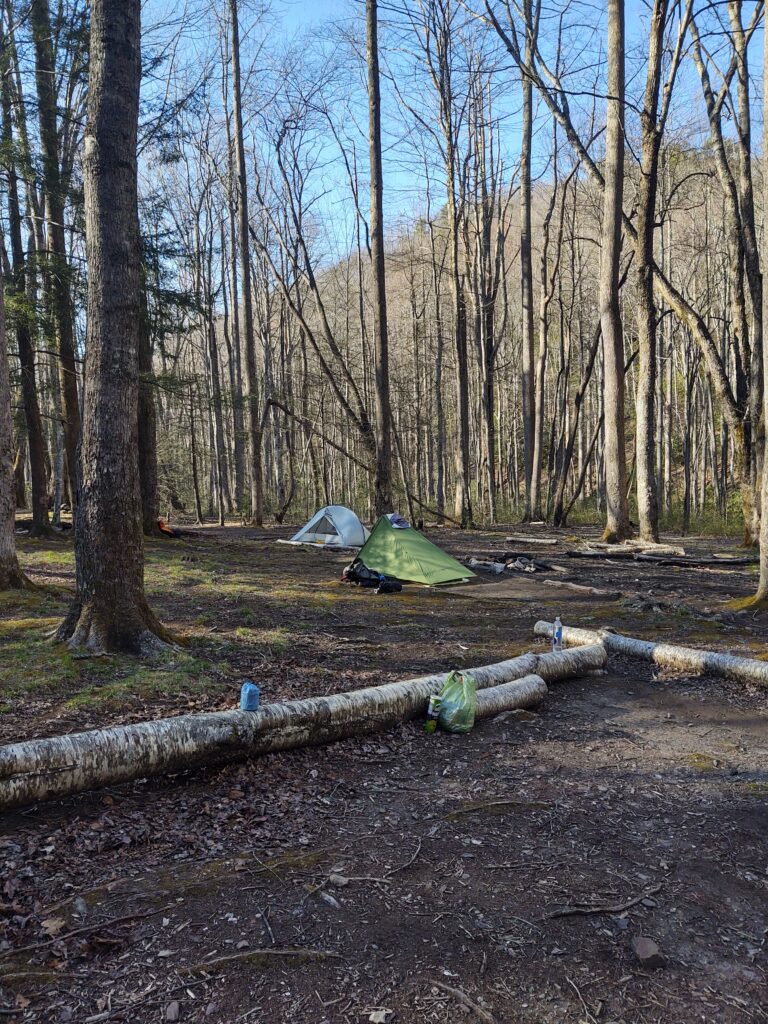 Despite showing full in the reservation system we had the place to ourselves. this is a familiar tactic with the national Park service as you will recall we proved in this article. https://smokymountainnews.com/archives/item/17708-a-strained-relationship-suspicion-of-nps-lingers-among-some-backcountry-users-parkside-communities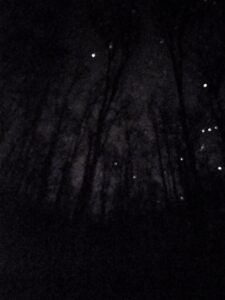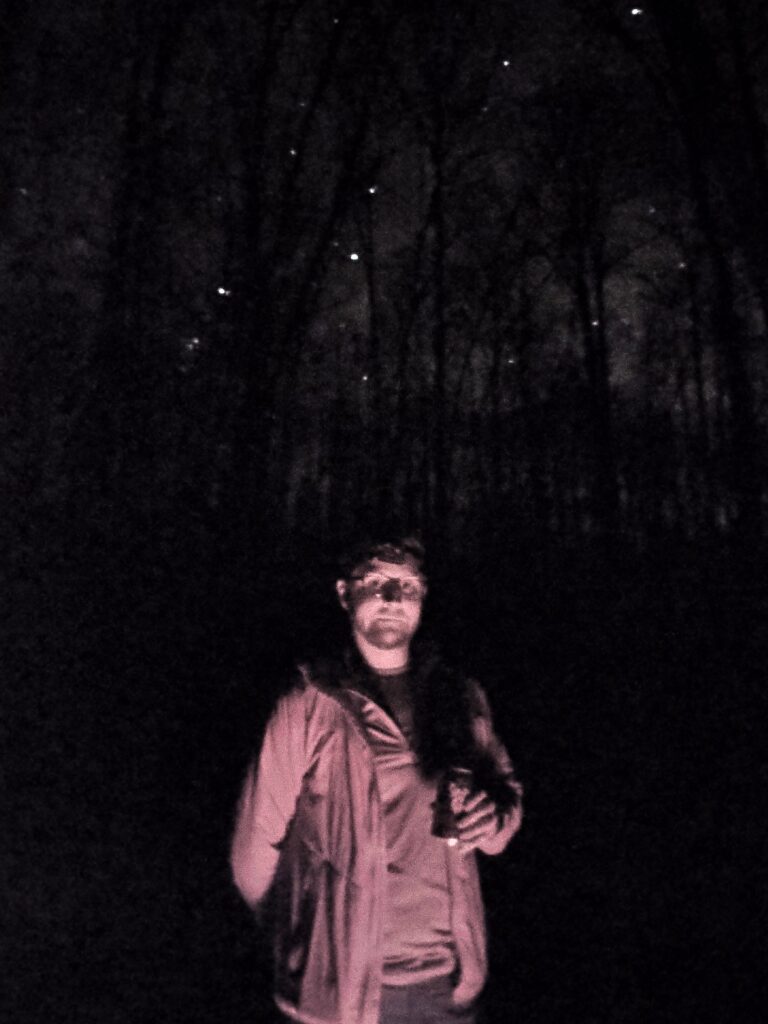 Queen joined us that first night and soon we were regaled by stories from his time working at the blue oyster bar.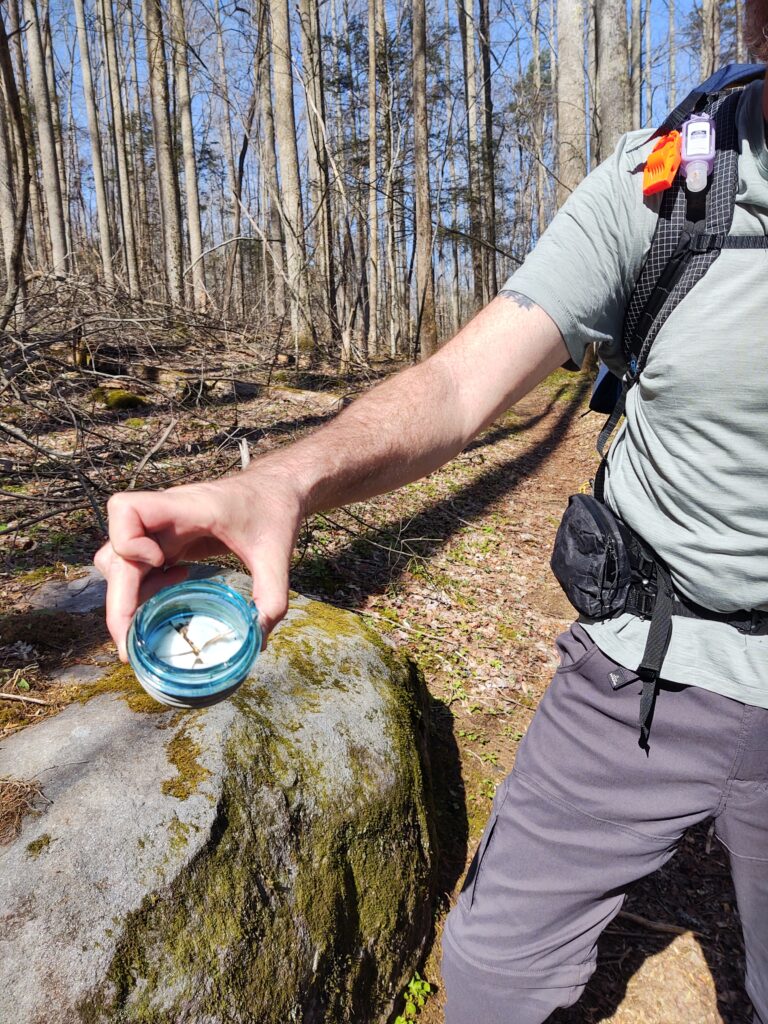 Something bluish caught my eyes we hiked out Saturday morning. It was the remnants of this old mason jar with the ancient cap and the colored glass.
We came by the car to replenish supplies and I ran into my old friend Carl Monin. He just returned from our destination, campsite 30. It was great to see this guy with whom I have shared a trail and campsite. He has been a supporter of SFW and we appreciate his efforts.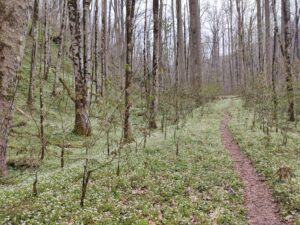 It was a perfect April weekend. Crisp days and l cool nights. A carpet of wildflowers accompanied us up the Little River Trail. We had a few crossings to make.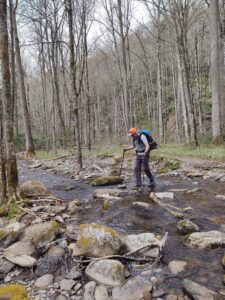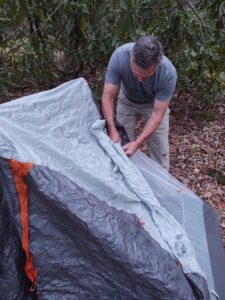 At campsite 30, we were joined by Kurt, who slayed fish up and down the trail. He caught 15 that first day. Then in rolled Richard who forgot his tent poles. I've done this before and had to rig it just like he did. Hiking poles are quite versatile.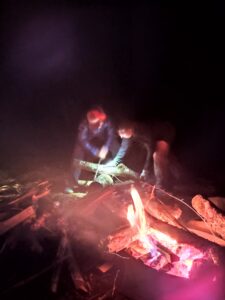 Another delightful evening was enjoyed around the campfire with intermittent stars. I heard little noises outside my tent and wasn't able to sleep very well. Next morning I woke and noticed that some animal had chewed holes all through my shirt. I'm thinking it was a mouse going for the salt.
Either way our plan for the day was to say goodbye to Frank as we departed on a bushwack up towards the dome. I'd always wanted to explore that area and see how far we could get up through the rhodo.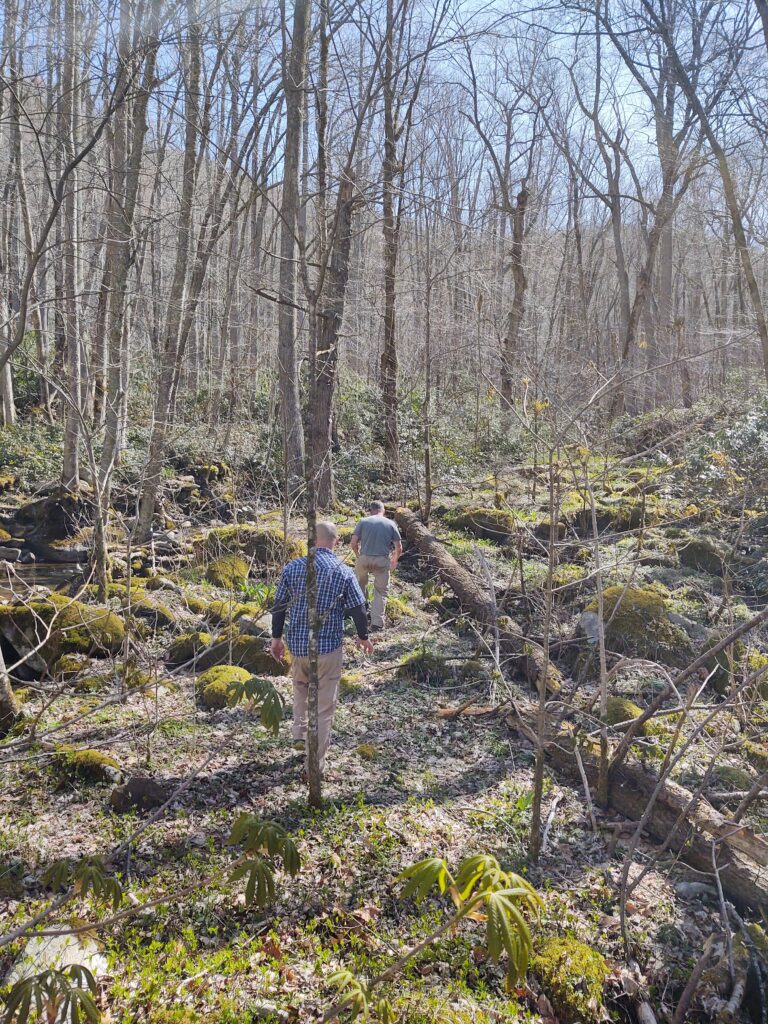 It was a glorious spring day. Fields of phlox and wildflowers abounded.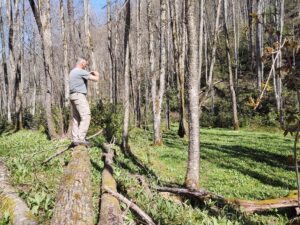 We crawled at times on our hands and knees through dog hobble and rhodo. Then we find these open areas that look like they were associated with the rail lines.
You run across strange things off trail in the Smokies. Something had been nesting  under this little cave and apparently had a fire.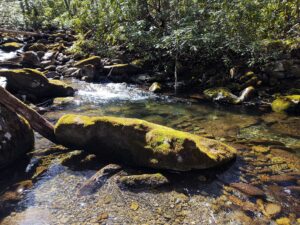 We were cris- crossing the stream hopping over logs and rocks. I was reveling in the majesty of this beautiful April Sunday morning. I was thinking about how blessed I am to be able to do these things. We joked about all the off trail adventures I've had and how it's a wonder I haven't gotten seriously injured. We worked our way back towards camp on the opposite side of the creek. Kurt now took the lead as we hopped Little River  for probably the 20th time. I've been making these epic jumps and nailing every landing. I was walking across logs 10 ft off the ground.
Kurt had just jumped across a little bit of berth. I followed him. My foot slipped and I did not nail this landing. My right foot sailed off the greased rock with the eloquence of fat albert in ballerina tights. I was now airborne and heading for the creek arm first. I remember the landing quite distinctly. It was my right arm that broke the fall mostly. That along with my hip. Soon I was laying sideways in the roiling water. Kurt turned around to try to move me, but my body was having none of it. I had to lay in that water for at least  15 seconds. Despite the fact it was ice cold, I wasn't feeling that. It was the pain to my hand and legs. Eventually I mustered the adrenaline strength to roll over onto a little bit of a rocky bank and laid face first there for about 5 minutes. I  wondered what was  broken. This scenario of hiking out 7 mi back to the car came to mind. I was able to get righted with Kurt's assistance. I didn't think that I had broken anything in my leg system. But my hand was another matter. Either way I knew I was good to get back into camp.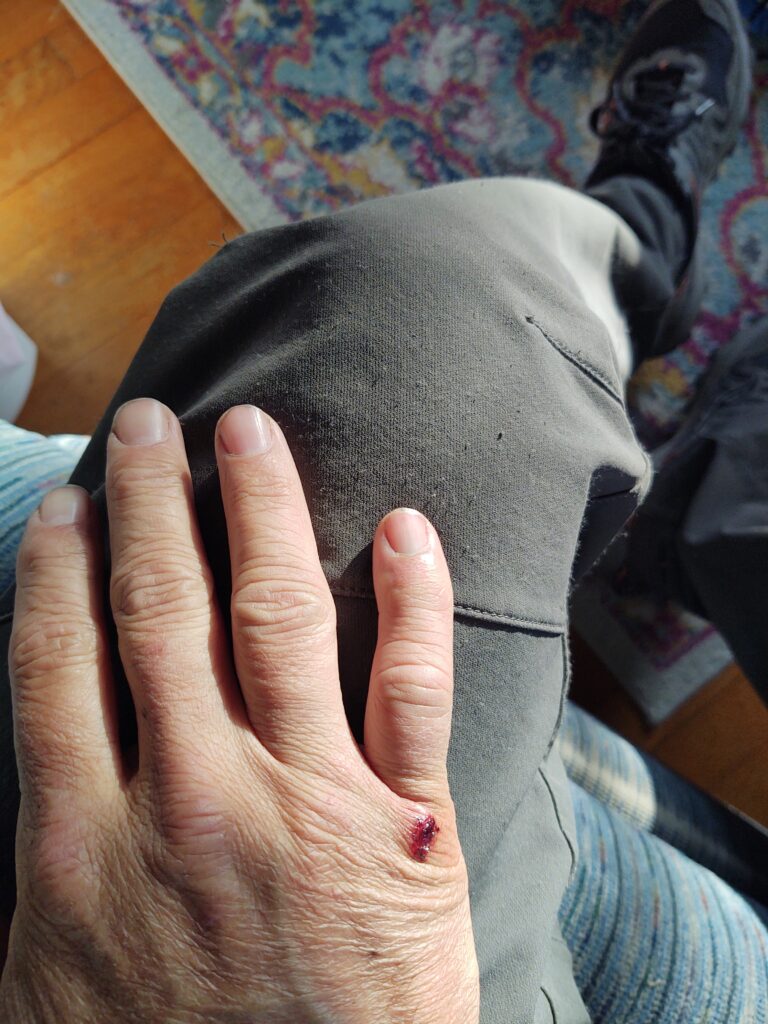 I felt like that I probably did damage my hand in some way. I was able to hobble back into camp and relax for a little bit before breaking camp. Richard and Kurt were kind enough to follow me back down the trail to the car. A couple of ibuprofen were a lifesaver. A trip to the X-ray machine the following day confirmed that I had fractured the bone in my metatarsal. Not bad considering the fall that I took.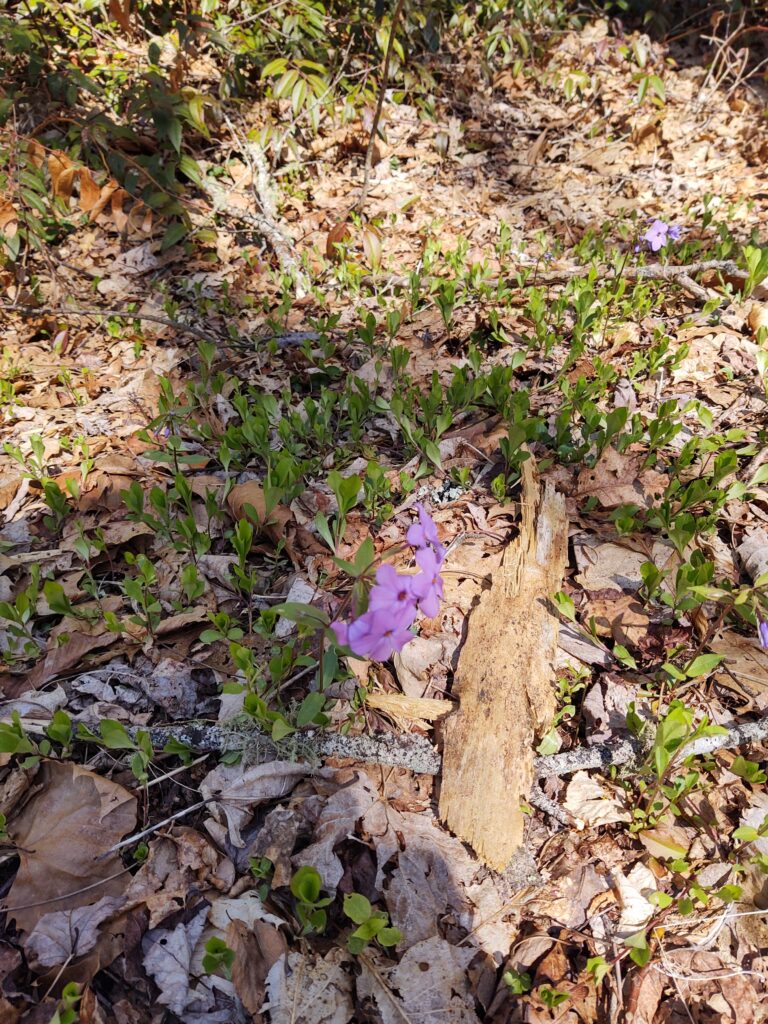 Aside from that little incident it was a glorious weekend and week. Great to see Frank again and spend time with Curt, Richard, and McQueen. There will be no rock climbing content in this space for a little while.