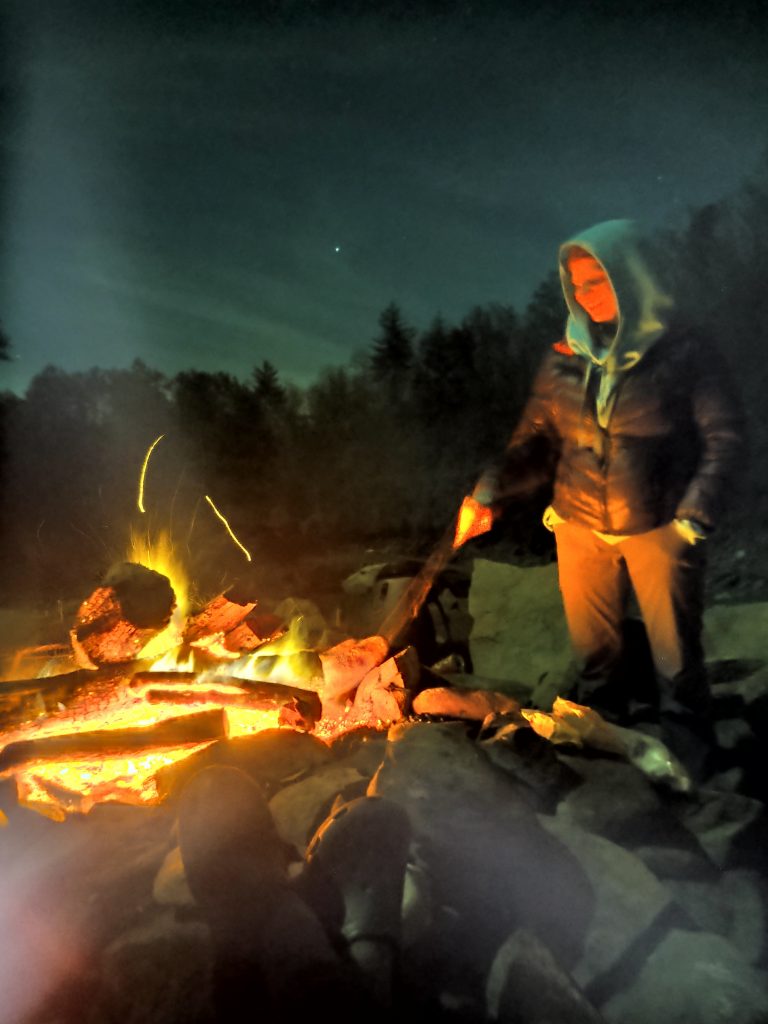 Becca stirs the flames in anticipation of nightly events.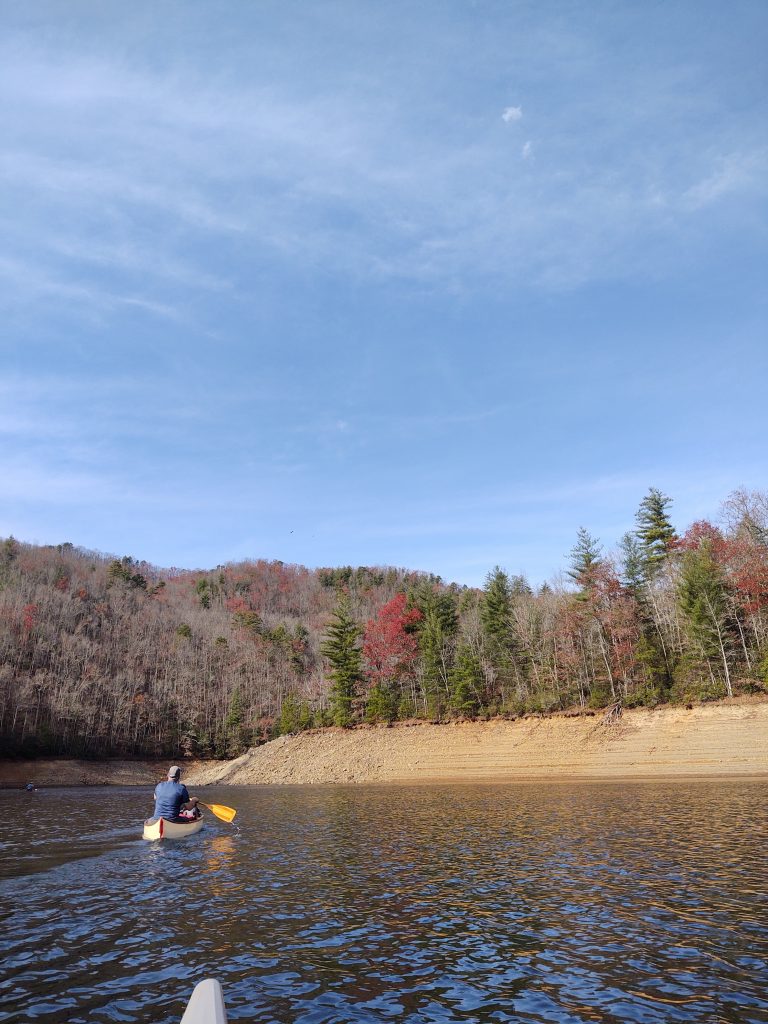 But we'll start at the beginning. It was Greg Hawkins who asked me about doing the Eagle Creek trip this year. I ran into him several weeks ago over at Abrams Creek. But you may remember him from over a year ago from up at Mary ridge. He is the one who awakened to a bobcat in his face and was accompanied by Ark. We had all apparently originally met several years ago over at Caldwell fork. These guys obviously share our love for backpacking.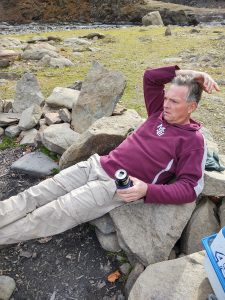 As we pulled into Eagle Creek, Richard and Paul were paddling around after looking for his belongings from the previous year's outing there. You may recall that Richard took quite a spill and made an epic paddle across with a shovel. Since they both had to work the following day they were only able to paddle over for the afternoon but we enjoyed their company and he left us with fire-making accoutrements.
There are three eagles in this photo but you probably can't detect them. For the past three years as I paddle into the mouth of eagle Creek, we are greeted by at least one of them.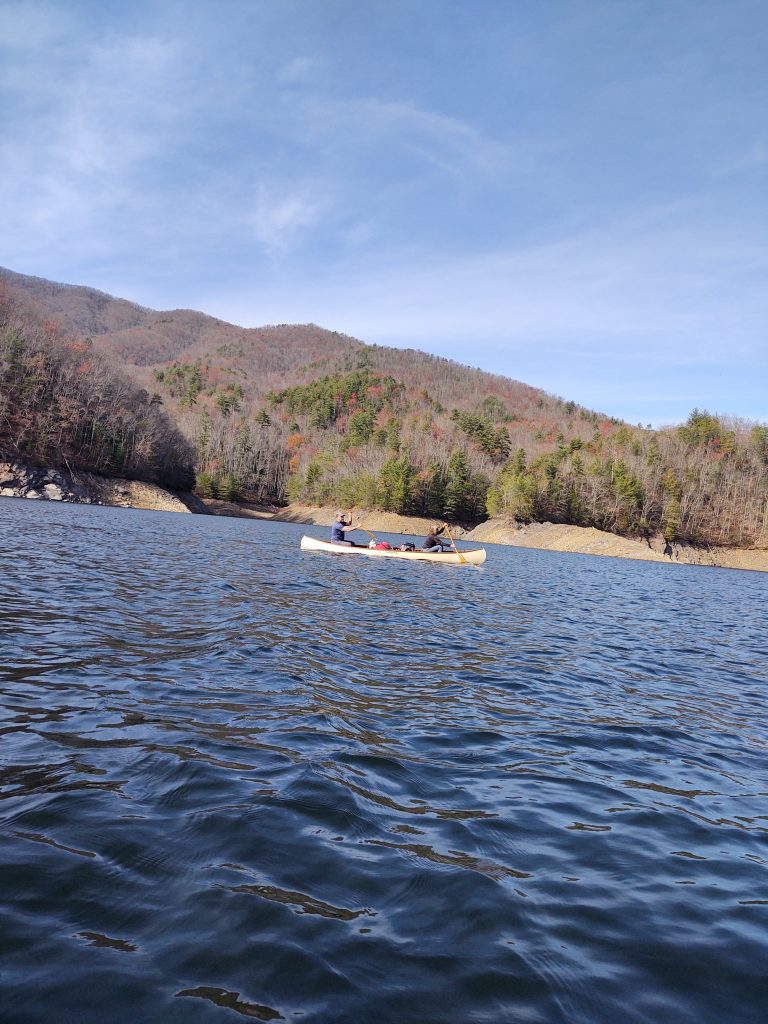 Ark his wife Jennifer accompanied me along with Greg and his wife Amy. It was a perfect Friday afternoon paddle,  we made really good time as you can tell.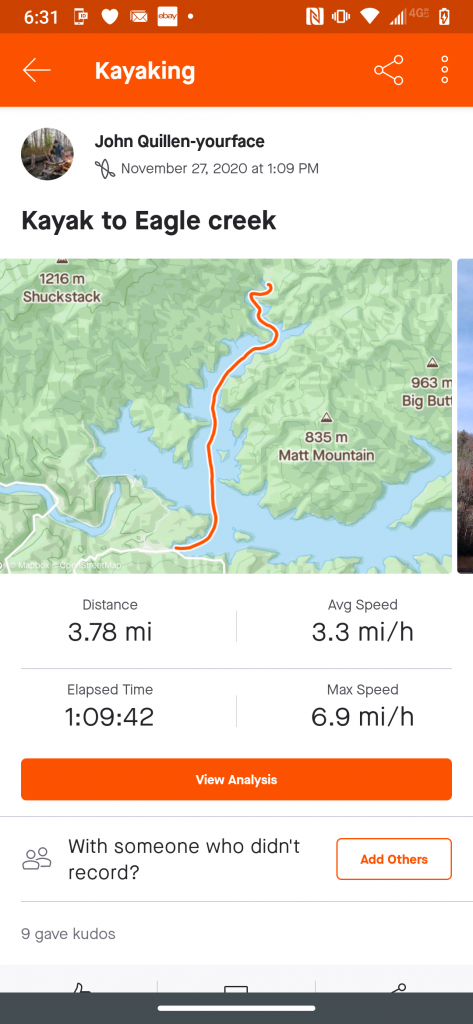 Jennifer and Amy put on quite the show cooking seminar . Ark performs his usual supervisory duties.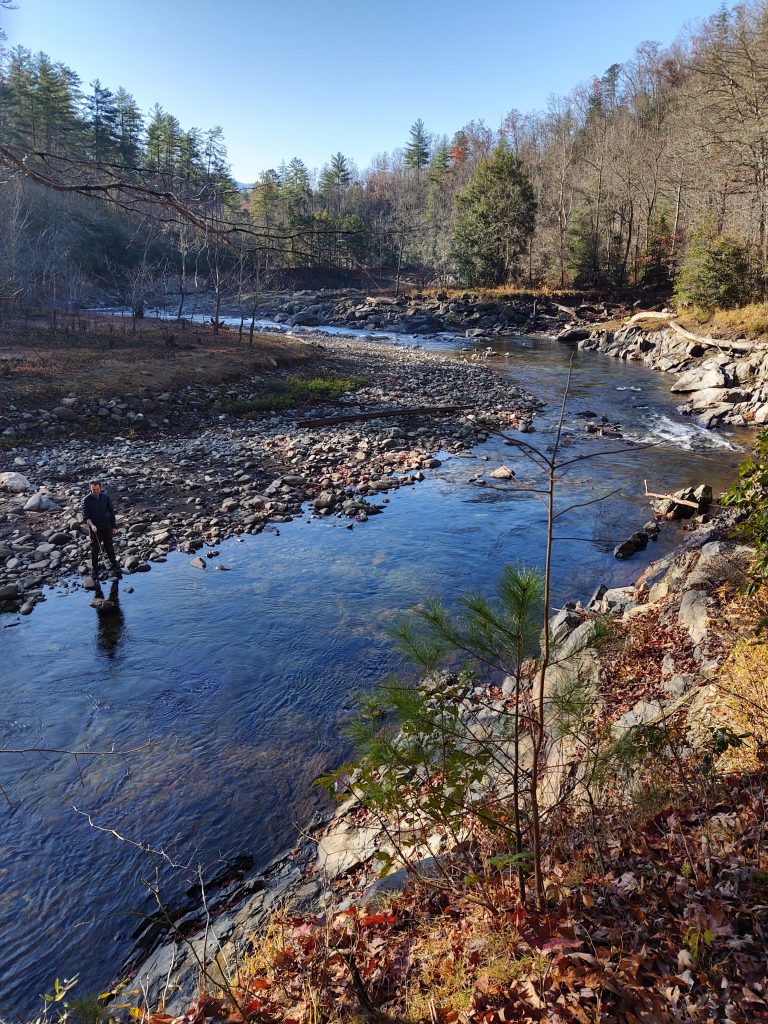 There is a bit of fishing up the creek.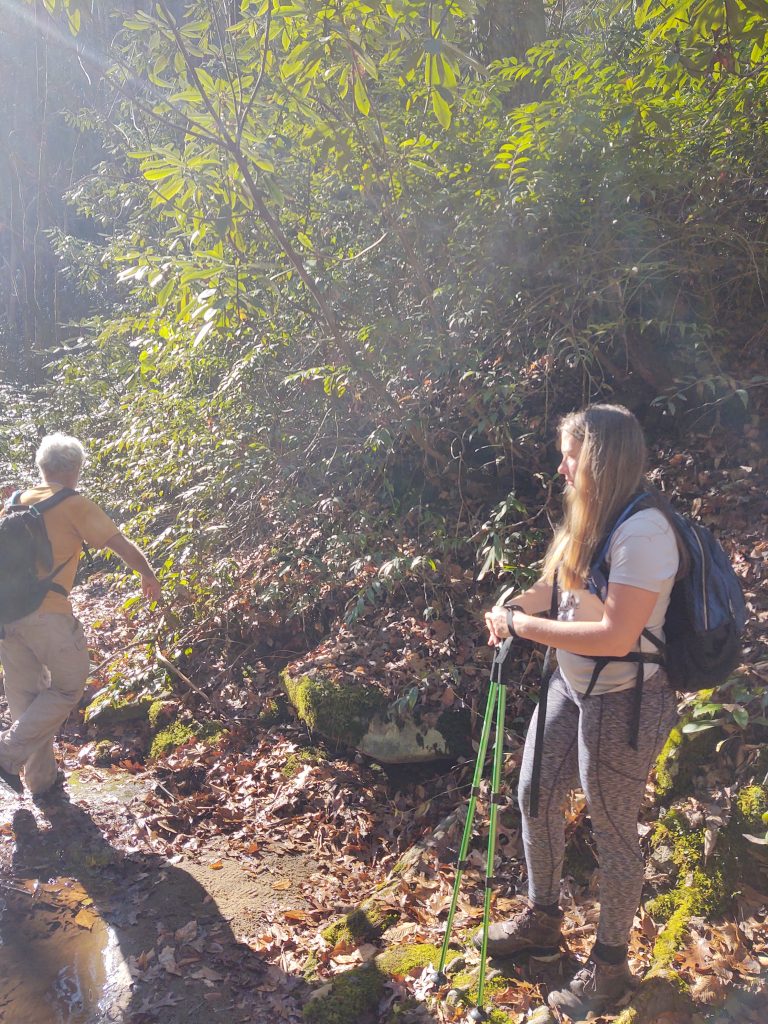 Following a  very restful Friday night, we arose  Saturday to f percolate a lot of coffee and begin the traditional sojourn up t Shuckstack summit.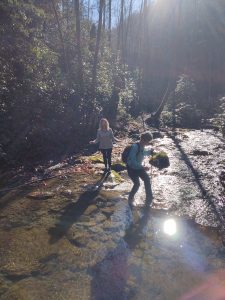 It's one mile from eagle Creek  to campsite 91 and there are six stream crossings; wet ones I might add.  At the Lost Cove campsite, a big ascent looms which culminates in 2200 ft gained to the Appalachian Trail terminus. I look over my shoulder after spying on two monster boar gliding the adjacent ridge and here comes Becca, barefooted. She had rubbed a blister on her heel from all the wet crossings and decided to forego  boots.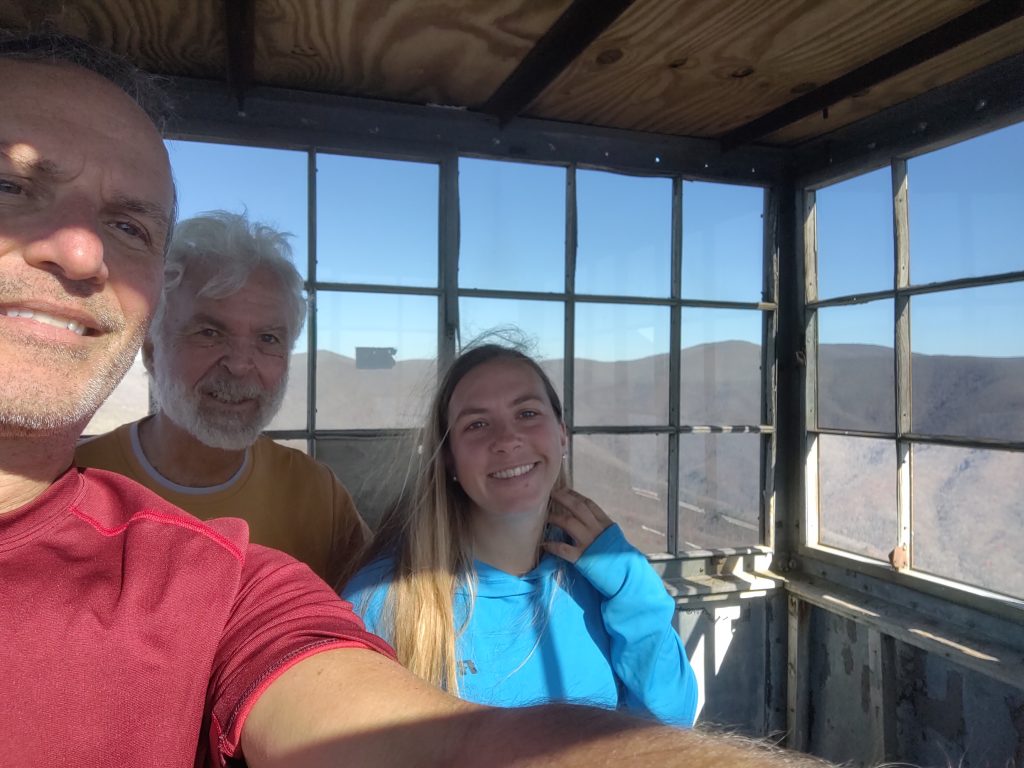 She's definitely John's daughter, and gained our respect accordingly. There was a crowd at the tower base and I had forgotten my jacket, so not much tarrying occurred here.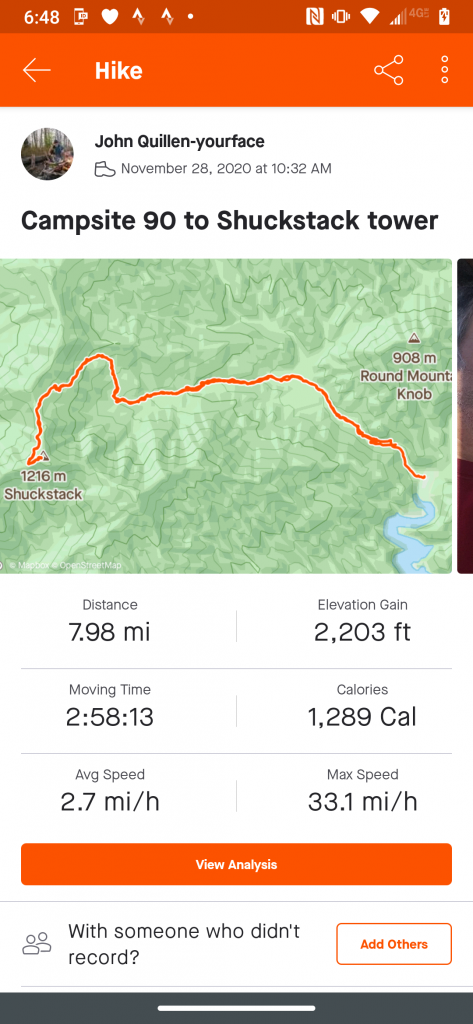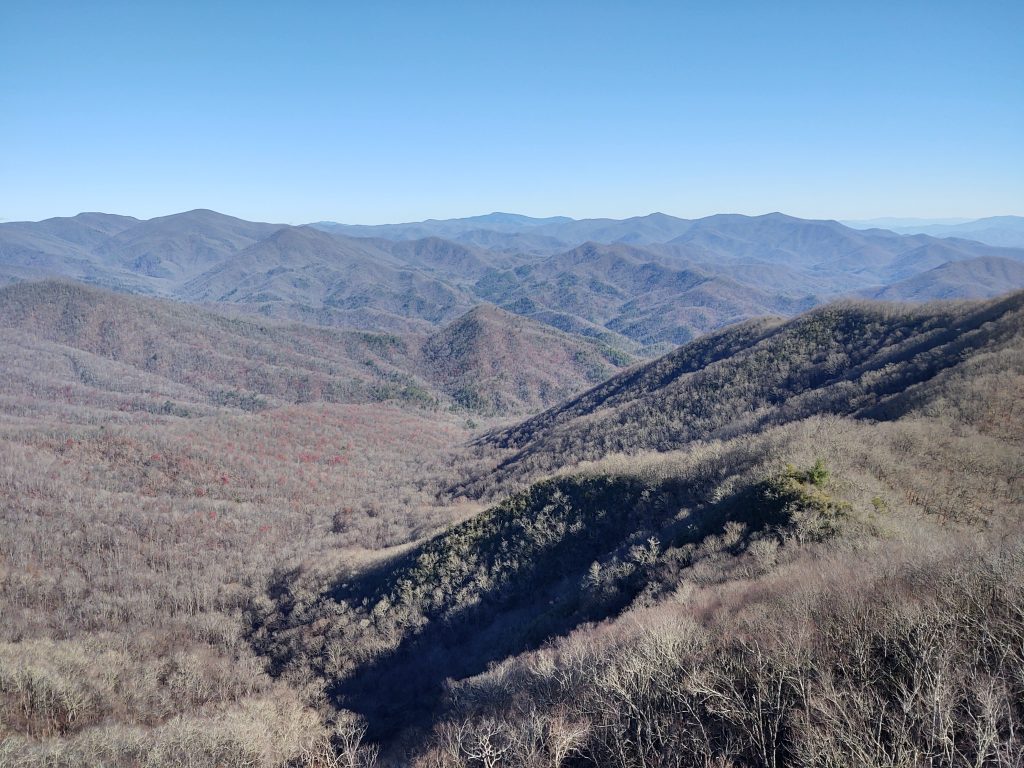 It was an A+ day. Bluebird all the way. I kept hoping to see Myers and Frank. AJ was unable to join us as his wife had experienced some medical issues and I hope she's recovering well. Myers was supposed to paddle over with me but his father also experienced  medical issues and he was similarly unable to join . Fortunately he was released from the hospital without much diagnosis.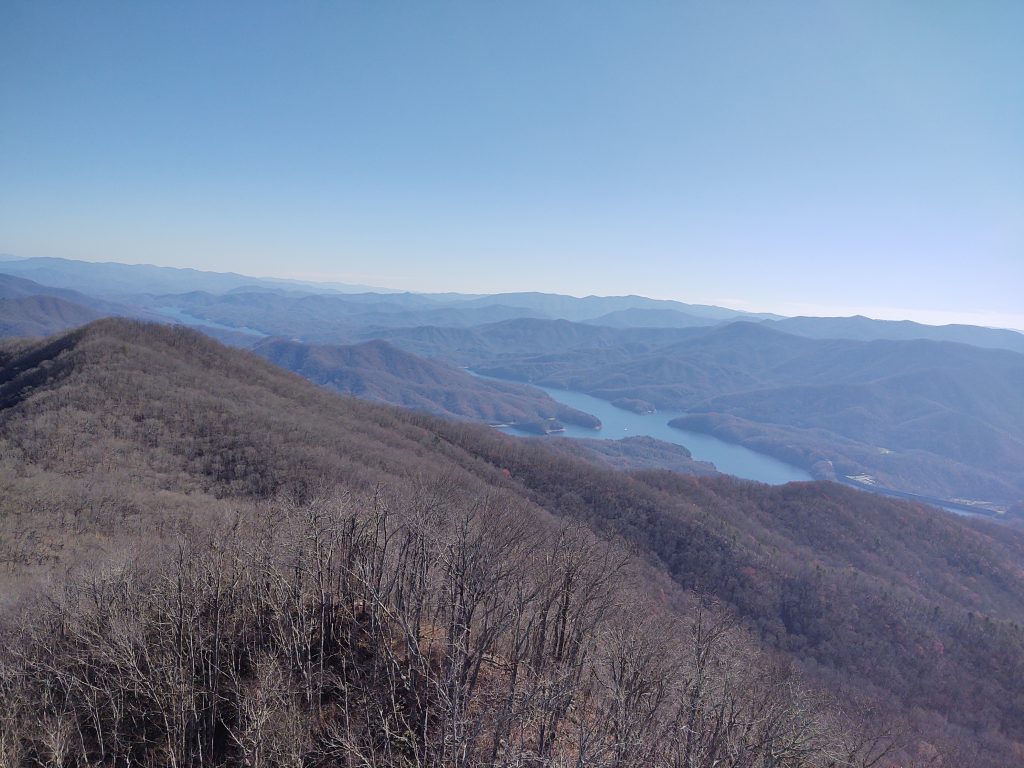 Not a single cloud in the sky.
Ark and Greg chose to attend to the campsite in our absence. After all, I told Ark it was part of his duty as a potential initiate to gather wood and water.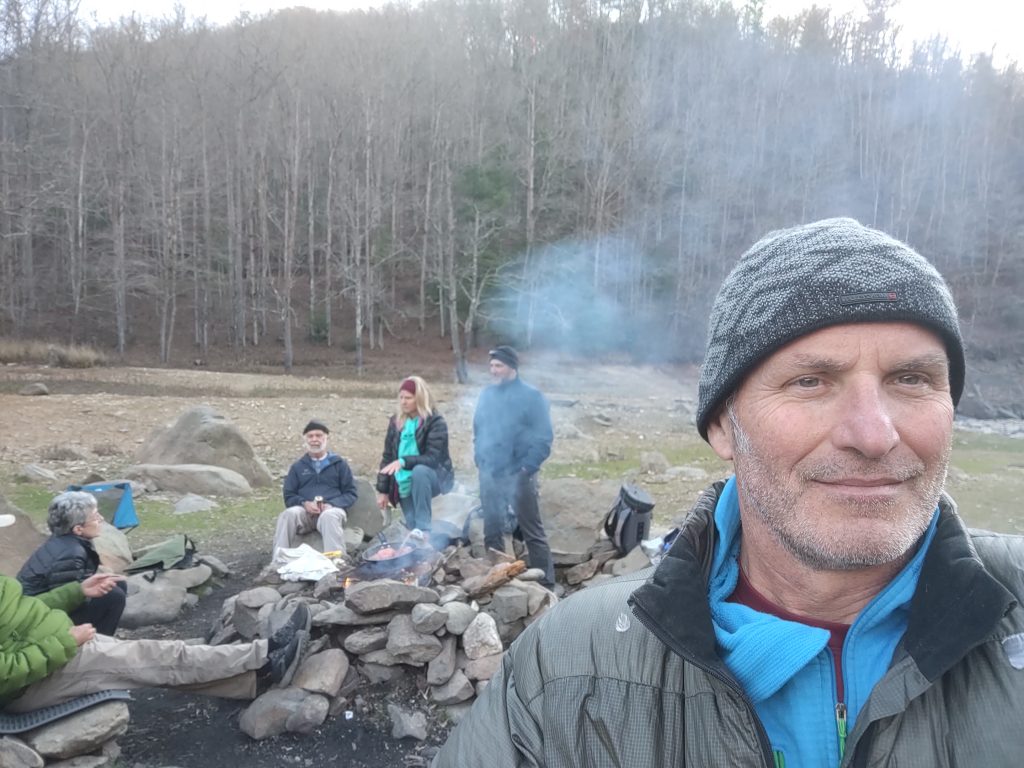 Soon, everyone was back down from the top of the mountain and our 8 mile hike. Ark and Greg  spent some time gathering wood for the festival council fire at Sithenge.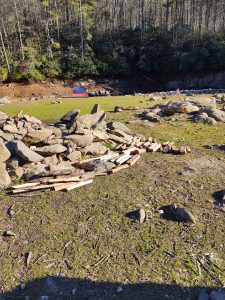 Split and stacked, that's how we roll.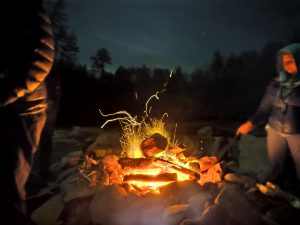 Becca Stokes the flames as we begin the initiation process. Ark was eager to cast his lot with the southern Highlander crew.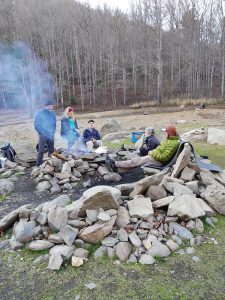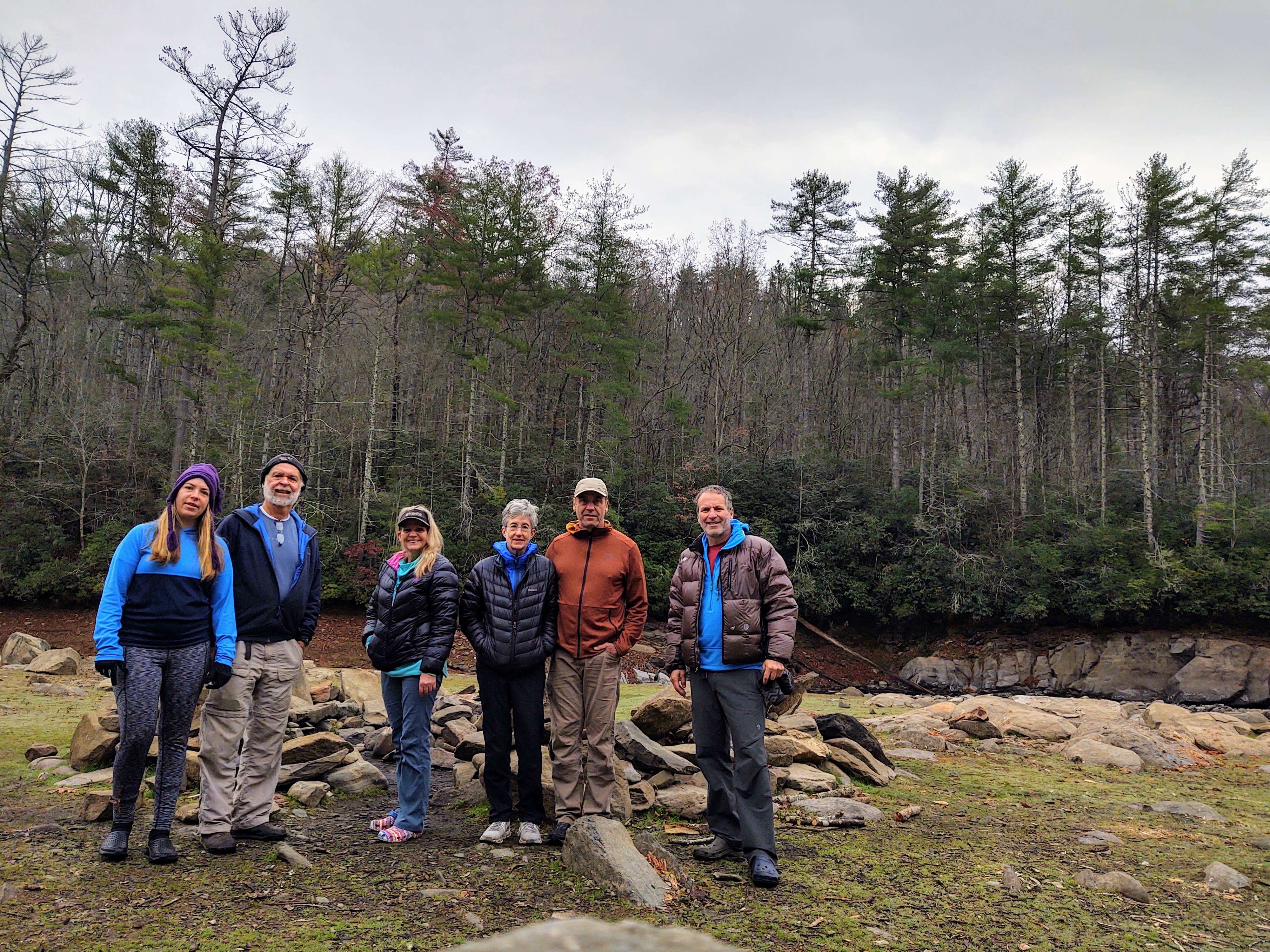 There was much discussion about the history of Highlander initiation ceremonies. Ark made his case for installment and even performed a small skit. After a round of voting, however, it was determined that he was not quite ready for full-fledged membership this year. The deciding vote was cast by his sponsor, Greg who determined that Ark had not fully passed the bribery portion of his duties. Greg agreed to mentor Ark for the next year in anticipation of potential induction at that time.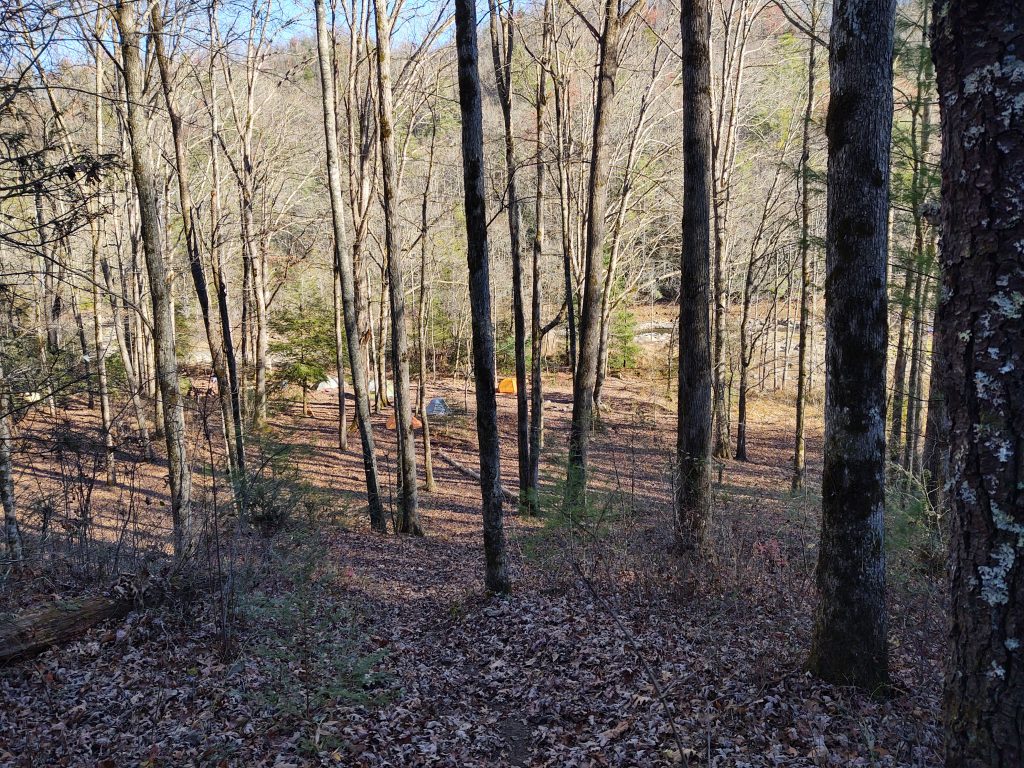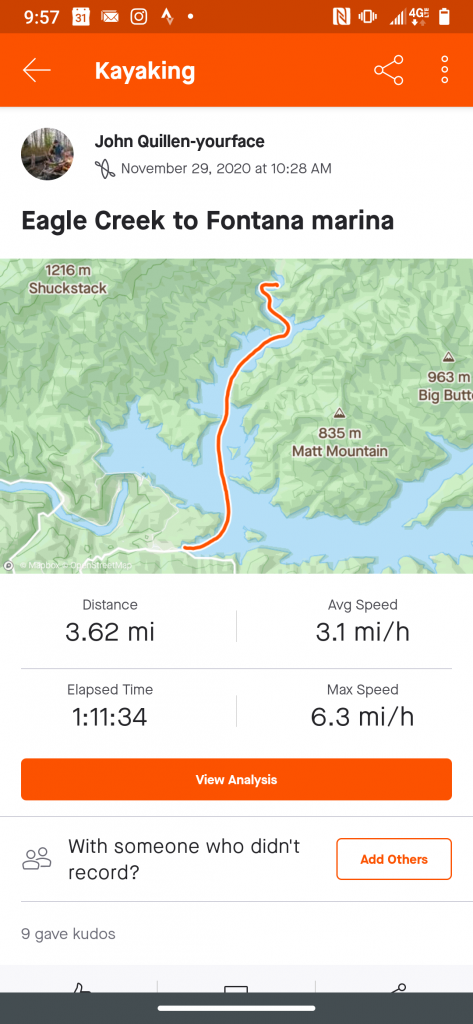 In summary, we had an incredible time at Sithenge and campsite 90. I will say that someone has cut down a lot of trees out on the Sithenge area. And that is incredibly disappointing. These were obviously healthy trees that have been here for years. This only tends to happen in places where boats or horses frequent, haven't you noticed? Folks who are too lazy to work their way into a site are apparently too lazy to cross a bridge for firewood. The same thing goes for canned foods. No backpacker carries this type of item but we find them in these places, often toted by the same offenders. The pandemic has brought folks off the video game world into the natural one. But with that comes responsibility. I think a mandated leave no trace course should be considered before a backcounty permit is issued. What are your thoughts? We found wet wipes dumped in the creek and food left in the fire pit. This is inexcusable.  I also had a guy with his dog up at the Shuckstack tower.  This is ridiculous.
Aside from this, we had a perfect weekend.  And I really enjoyed the company of Ark and Jennifer, Greg and Amy, Jon and Becca. Eagle Creek did not disappoint and our weather was superb. The only rain seen was a bit after we all bedded down on Friday. We made the channel crossing as the winds picked up, just in the nick of time.