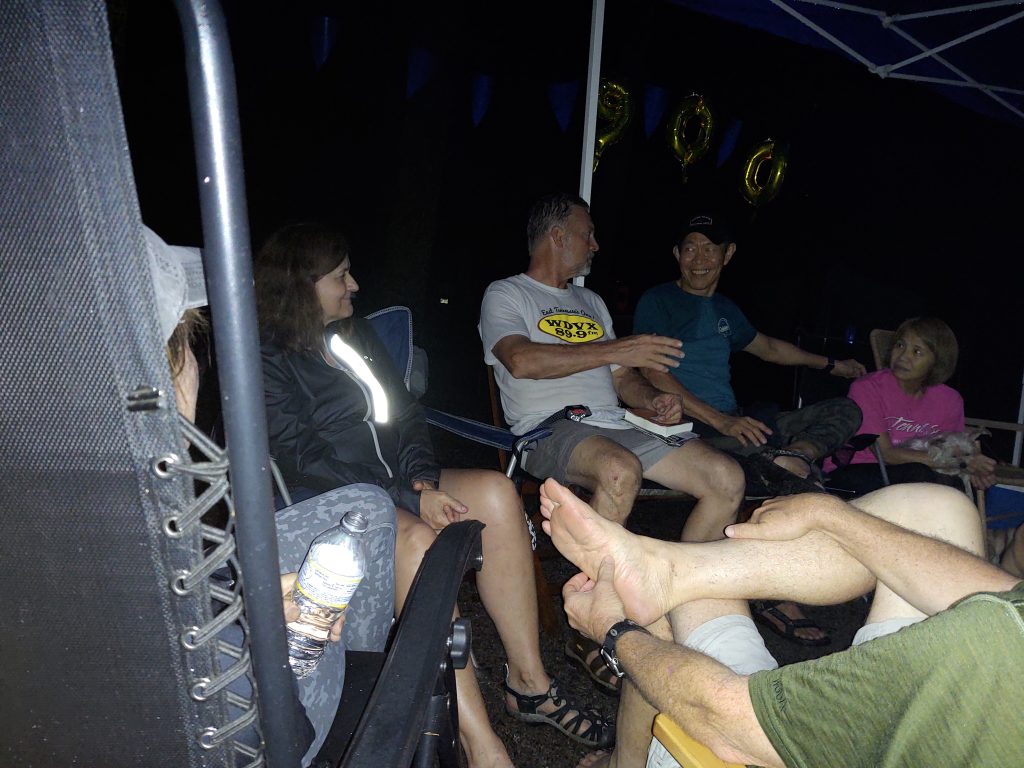 Richard and Keene tell stories of their many years and 900 miles through the Smokies around a rainy camp in Elkmont on Saturday evening.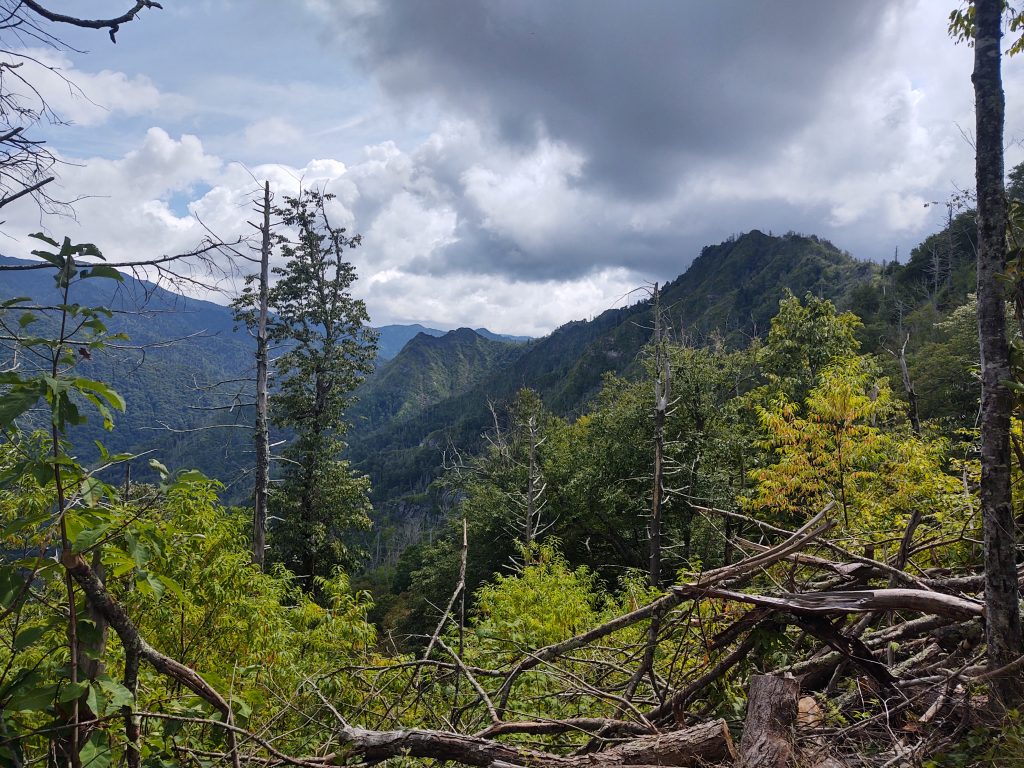 We woke early Saturday morning to embark on a shuttle ride up to Clingmans dome so we could drop down Sugarland Mountain trail 14 miles. My allergies were giving me a hard time but once I got on the trail things felt wonderful. I believe there were 12 of us on the shuttle.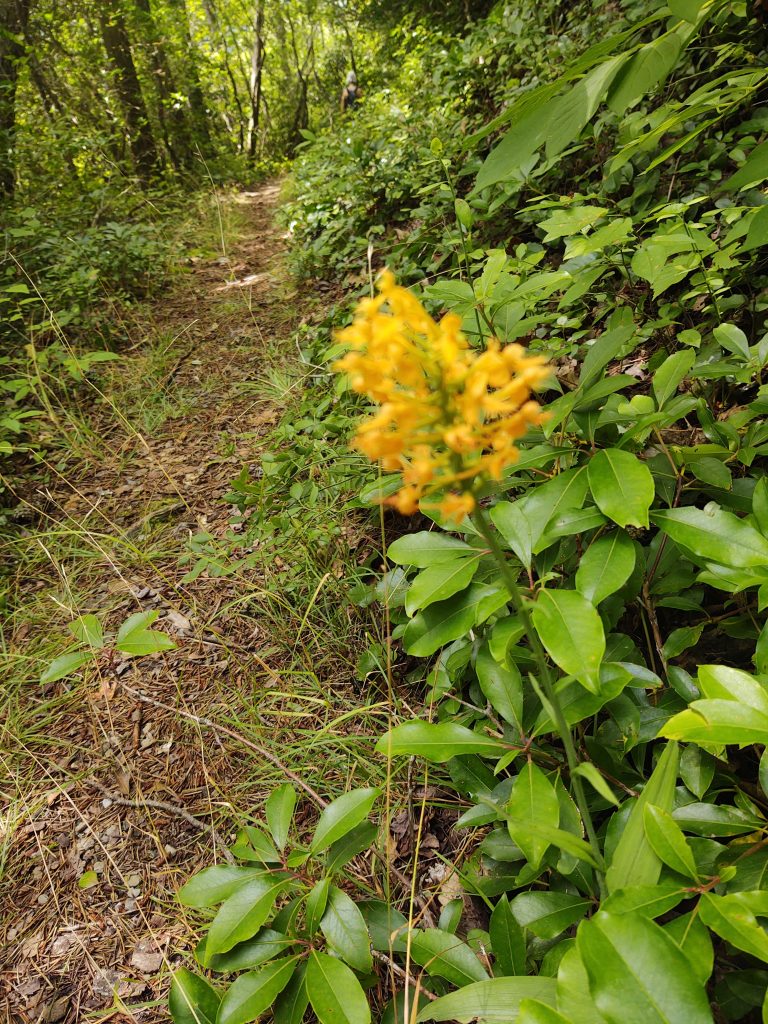 The weather was fantastic and the views breathtaking. I enjoyed listening to Laura speak of Richard's selflessness on her hikes with her. He was always first in camp to start a fire and provide food for everyone, as was the case this time. I concur, he's a pretty good dude. This meetup crew is a varied group. I got to know them through JD but mostly of late, through Richard and Kelsie, which is how they met. I had to dig deep to find this, from when I finished my miles many years ago. http://southernhighlanders.com/SETTLETHIS.htm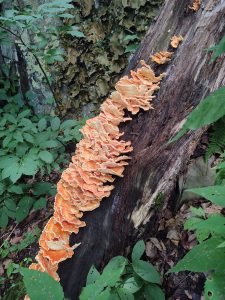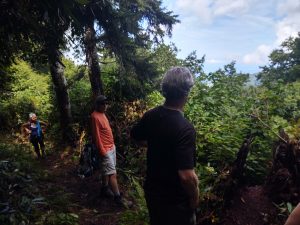 Richard had tasked me and Patrick to find the start of the manway up from the Chimneys which intersected Sugarland mountain. I had written a story for the Farragut/Northshore Magazine about this offtrail several years ago. Here is a link to that. http://southernhighlanders.com/Chimneyscan.htm  I'm going to post a link from past Highlander epics when we did this.
However, Richard pulling up the rear, never arrived. And after 45 minutes Patrick, Laura and I shoved off on down the trail.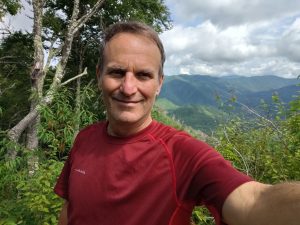 I was sick here and didn't even know it. Much more on that later.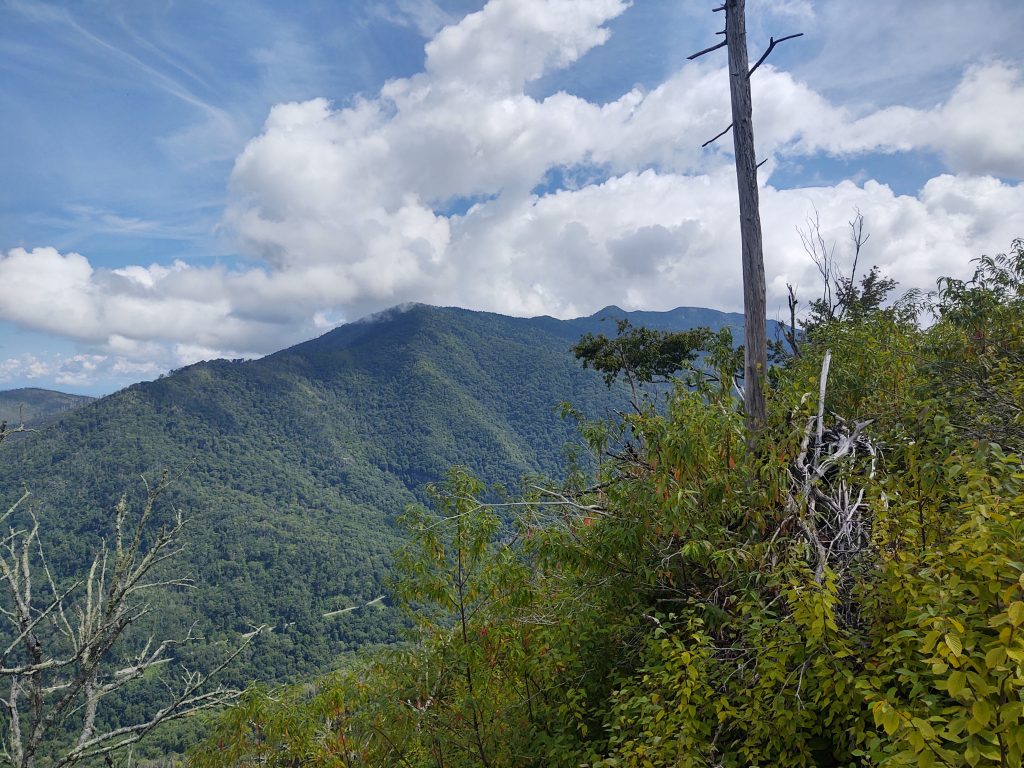 The wildfire went from here clean over to the bullhead. I had not walked this trail since.
We gave up on waiting for the rest of the team as Patrick, Laura and I were running down the trail. Kelsie was with the other group helping Keene finished his last miles over on Meigs Creek.
We finally got to the bottom of Sugarland Mountain after about 13 miles. Laura was sitting on a log waiting. Storm clouds were gathering so it was decided that Patrick and I would hike two miles around into Elkmont and retrieve a rescue vehicle. And then the sky opened up.
Big time. I should have just walked through the creek into the campsite. Instead we shortcutted through the Wonderland hotel, or what remains of it.
Guess who pulls into the campsite? I feel it appropriate to post a link to when JD and I first met on the trail many years ago. He was over on LeConte doing some miles as we were sweating down from the "dome". Still the issue remained of rescuing everyone over on Sugarland Mountain. So we assembled a convoy and headed back that way. After I changed into dry clothing of course. By now I was feeling less good than before. I thought that the hike had just worn me down now we'd done almost 15 miles.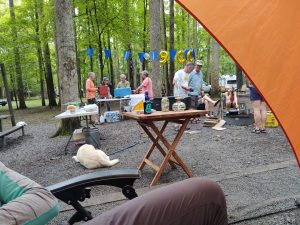 Keen and his group beat us back by several hours. A big party was going to happen that evening with barbecue, buck dancing and all sorts of shenanigans. We had probably 23 people there.
I could feel myself starting to go downhill. Those allergies were really kicking my butt
It started sprinkling off and on. As we socialized and visited around camp, our companion, the rain, paid visit. I can feel myself sinking lower and lower into my outdoor chair. After dinner I indulged the need to retire to my tent. This was about the time the dancing portion of Richard's party initiated. I'm very proud of them for finishing their miles in such style. If you are interested in renting Richard for the weekend he is available for weddings and Bat Mitzvahs. His stage name is Gen. Beauregard and he will entertain your family, work gathering or bachelorette party in true Southern style. That includes hatchetry, woodsmanship and feats of strength.  Here is a publicity photo for those interested.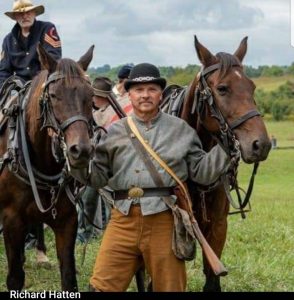 I awakened early the next morning. It didn't take long for me to realize that this was more than allergies. When Kelsie came out of her tent, I informed her of my intention to stay distant from the group. This meant skipping the much anticipated breakfast for which we had contributed provisions to include Benton's bacon.
I was achy and not from hiking. My head was swollen, my sinuses enlarged. This feeling was all too familiar. I packed up camp and collapsed in Kelsie's truck. We drove back home with me fully masked. The rest of that afternoon was a complete wash. I could hardly move from the couch. I knew what had to happen the following morning. I was first in line at the health department after waiting 30 minutes to be told that they could not covid test me as I had health insurance. Not that they couldn't put a sign out there like they did the time before. The question everyone needs to be asking themselves is why do we not have free covid testing? This is after all a pandemic. My bill for lab services only through my family Dr is unknown. But I have a 6k$ deductible.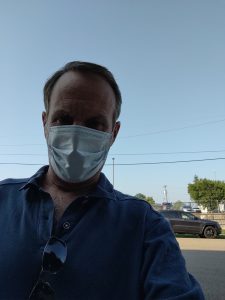 After being turned away from the health department which tested me in December and confirmed my original covid diagnosis, I laid myself at the feet of my primary care physician and begged them to work me in.
The following day I had the results of the PCR test. Covid positive. Again. I was fully vaccinated in March and you will recall that I was fully sick in December. 4 days of flu-like symptoms. Another quarantine, and week's worth of unpaid missed work.  Yes I blame Bil Lee, our derelict governor.  He's too busy pandering to the gun and Fox news crowd to care about the health of his citizens.  I developed what they called a breakthrough case. Lucky me. Had I not been vaccinated I think I would probably be on a ventilator in the hospital.  95% of the people on ventilators in hospitals are unvaccinated.
So that's my weekly rant, oh wait, no it isn't. You may have heard about the parking fee for Laurel falls trailhead. I certainly have from everyone. So the Southern Forest Watch sent a letter to superintendent Ca$h outlining our concerns. The comment  period seems to have been shortened.
This is of course to avoid capturing negative sentiment about the proposal. We've been on this rodeo before. They're just greasing the wheels for more fees for parking at Alum cave and elsewhere. But they need the money to pave Cades Cove road again. (not a pothole on that road, been riding it on the bike on Wednesdays).
Please be safe, GET VACCINATED, wear a mask indoors and quit shaking hands etc. So far, I appear to have infected no one. And we did contact all the folks at the Elkmont event. Praise to the Lord. Understand that if you are afraid of the vaccine, then think about what your children will say when you are on your last breath at UT Hospital as one of the dying unvaccinated. This stuff is serious, it is NO fun and very uncomfortable.  I'm so appreciative of Kelsie and Hilary Burgin for looking after me with groceries etc during this second infection.
I had a piece published in CityView this week and hope you get to take a look. As you know we have been climbing here for a while and I wanted to showcase the work done by the East TN Climbers Coalition.  Thanks to Rebecca Whalen at CityView.   https://cityviewmag.com/black-mountain/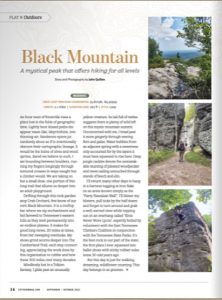 Peace.  Now for some music. We're going to go way back to the 70s for this timely piece of masterful guitar/vocal work by Greg Lake.